Generators have easily become one of the most efficient tools for those who like travelling or have backup power in case of power outages. Portable generators are the best options to consider in case you want something easy to move around.
Thankfully, there are many products on the market with great features, so it's a matter of choosing a quiet unit that works for you. In case you farm and run grinders (or other electric tools), these portable generators may do the job efficiently for you. See our best camping generator article, and also our Genpower generator review article.
Quick Comparison
Using Gentrax for Your Caravan Air Conditioner or Other Tools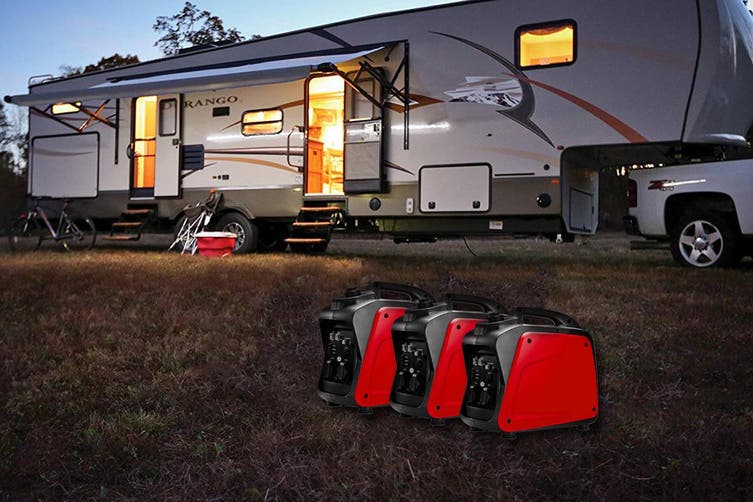 One of the most popular brands regarding these product types is Gentrax. GenTrax generators have been used by many users for years since it offers a wide range of product quality products at a great value, which other different brands don't do. If you're looking to purchase GenTrax generators, you've landed on the right page.
We know how hard choosing a good generator can be, especially if your three or two prior generators didn't do the job. The best way to make a good purchase is to choose something that caters to your needs, so we're going to give you an overview of everything you need to consider about GenTrax generators before you make your purchase.
Things to Consider Before Buying a Portable Generator
Whether you're looking for an affordable or expensive product, you must be on the lookout for several different factors in these sensitive electronics. Remember that every generator comes with different features, and the GenTrax generator lineup isn't the exception to that rule. We're going to provide you with a list of things you must keep in mind before purchasing any other generators.
Generator Type
When it comes to generators, you have two types: the inverter generator and the utility generator. In essence, the inverter generator is much smaller than the utility one, so it's recommended for Australian campers to get that one to avoid any problems.
On the other hand, if you're looking for something to power up a whole caravan air unit plus several other items at your home, using a utility generator instead of an inverter generator may be the best way to go.
Units we have written about include the Cromtech units, Briggs & Stratton generators, and Engel brand generators.
Warranty / Support
It may not seem as important, but getting something with a good warranty is as important as the product itself. Cheaper generator brands often offer poor warranty and support, meaning that if your unit fails at any moment, you may not be able to repair or replace it.
On the other hand, going for reputable brands allows you to get a much better warranty and spare parts for your unit, ensuring a reasonable life expectancy.
Noise Output
Noise is one of the most important factors in choosing these products since a considerable noise problem can ruin the experience for most people. Many brands claim super quiet experiences but offer a noisy generator, so you must be on the lookout for these.
Most recent generators (including the GenTrax generator lineup) offer a max output of 60 decibels, which is decent. However, make sure to test your generator's noise level frequently to ensure you're not disturbing anyone.
If the max output is too loud for your current generator, some people modify it with an under body sound deadener. A sound-deadening enclosure may keep the problem away for a while, but it's always best to get a reputable product from a reputable brand and give it a good test before going out camping. Unless you're the only people on the site, having a noisy unit can be a problem.
Size
Depending on the reason you want the product, you may consider its size before making the purchase. If your goal is going on camping trips, you may need to go for a smaller product since there's typically little space in your vehicle. Additionally, these smaller generators are much easier to move around.
An inverter generator often weighs much less than 15kg, making it a suitable load for any vehicle. On the other hand, if you just want an "out-of-the-box suitable for backup power" generator, you may go for products with a bit more size since you're not going to be moving it around so much.
Price
As mentioned before, there's a wide range of prices for these products. Depending on the size of the generator and its features, its pricing may range from $800 to even $2,000.
Performance / Fuel Tank
Finally, a generator's performance rate is going to determine whether you're getting good value for your product or not. An inverter generator is typically decent for most people since it can run up to 10 hours, depending on the brand. Keep in mind that the performance/power of these generators depends on several factors, such as:
Fuel consumption
Tank size
Climate
Number of connected devices
Maximum output
In these cases, getting a fuel-efficient product is the best thing you can do since it's much better for camping, according to several reviews. Additionally, modern products come with an 'economy mode,' which allows the user to keep the product running for a longer time. It's also important to know what you're actually going to use the unit for, for example running a 12 volt air compressor, running a fridge, heater, air conditioner etc.
Some people try to make modifications to these units to make them better. A first modification option, for example, would be to add hard plastic internal mouldings and bituminous flashing tape to fully line the casing and ensure it makes less noise.
Still, the best option to take is to get a generator that already comes with a good tank, a reasonable sound meter, and overall good value to avoid having to make any modifications.
Best 12 GenTrax Generators You Can Purchase Today
Now that you know everything about choosing the right generator, it's time to take a look at this product review guide and discover the best GenTrax generators you can purchase for a reasonable amount of money.
GenTrax Inverter Generator 4.2KW Max 3.5KW Rated Portable Camping RV
This is one of the most versatile generators on this list. Overall, it provides up to 4.2KW of maximum output and up to five hours of continuous work time. If you're looking for something you can use to travel and power up easily, this may be one of the best options on the market to consider.
Additionally, this generator offers a real-time LCD that shows your energy output and runtime so that you ensure everything is working smoothly. You may read more about this model here.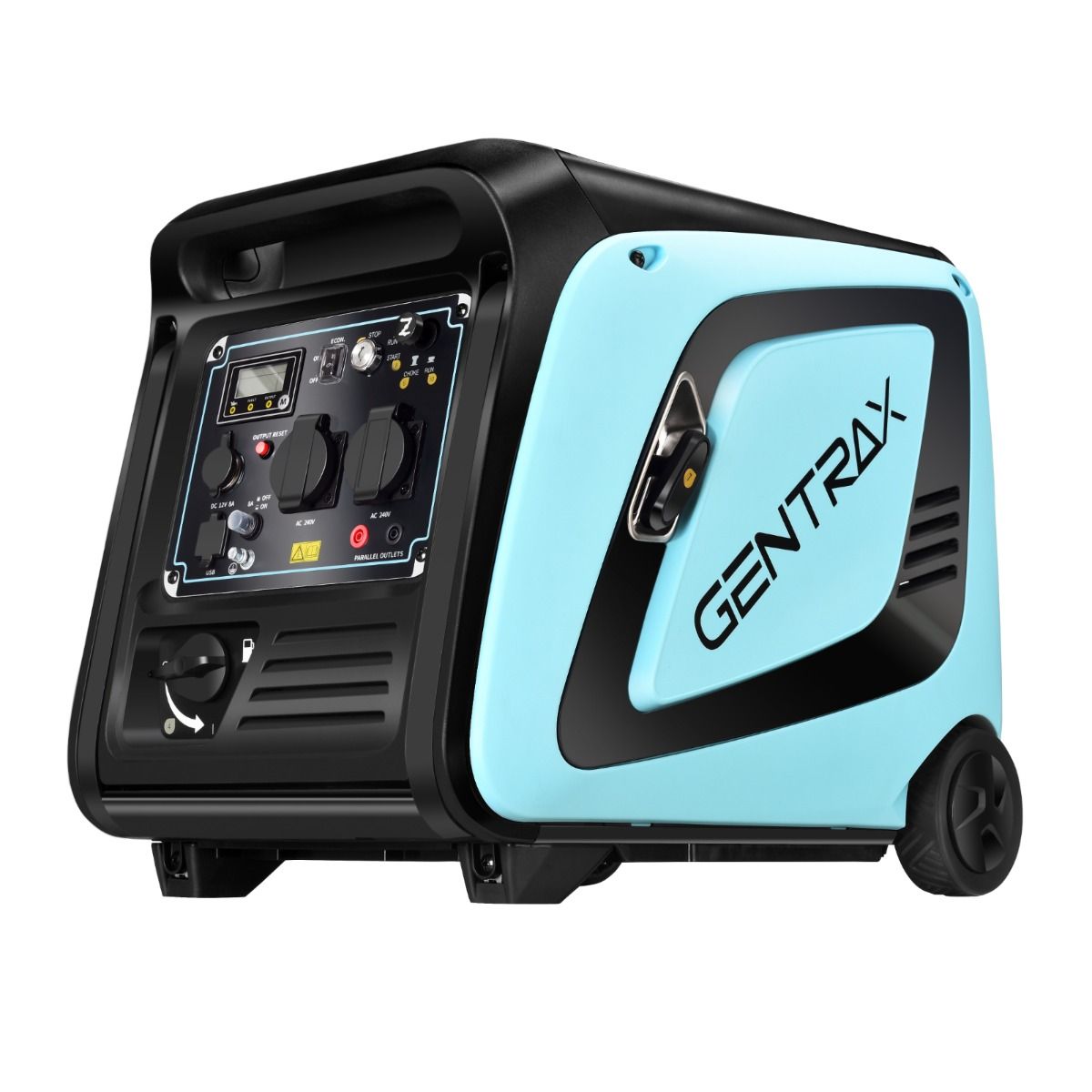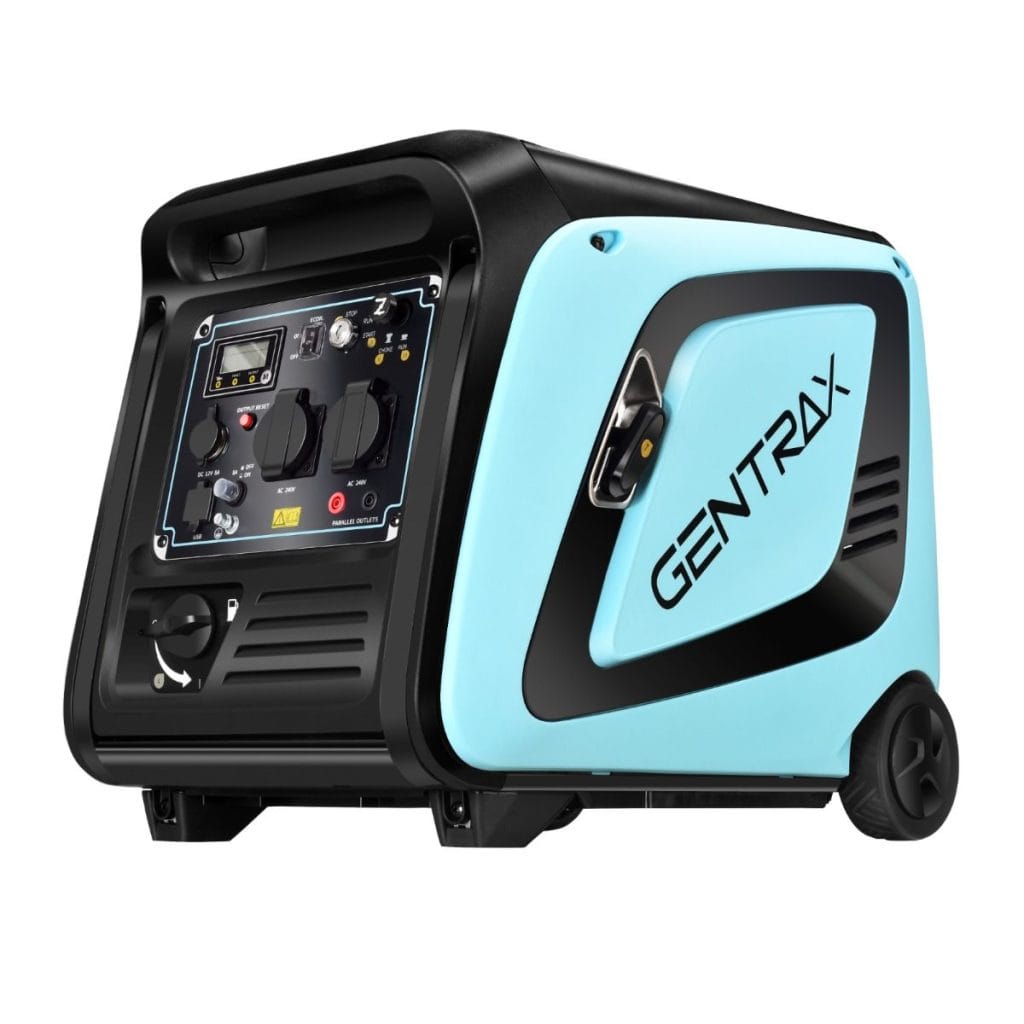 GenTrax Inverter Generator 3.85KW Max 3.5KW Rated Portable Camping
In case you're looking for a really quiet unit, this may be a great option for you. Overall, it features 100% sine wave, Australian-approved weatherproof AC outlets, and a quiet open frame generator that works at 64dB.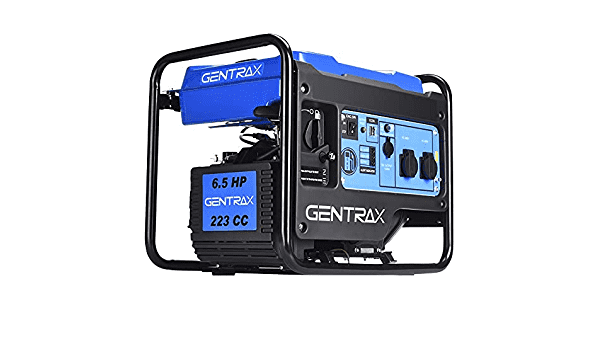 This product comes with an economy mode that allows it to work for almost eight hours, which is excellent for the money it costs. Finally, you can expect computerized overload protection from this product, which shows the apparent effort of this brand to keep its generators as safe as possible.
GenTrax 3.5kW Remote Start Wave Petrol Inverter Camping Generator
While this is one of the most expensive generators on this list, it's also one of the most powerful ones. It weighs 38kg, which is a decent load for any vehicle. Still, it comes with built-in wheels for easier transportation.
In terms of performance, this product may run for at least 5.5 hours with its 7.5L fuel capacity tank. Finally, you may check the generator's output and running time through its LCD screen.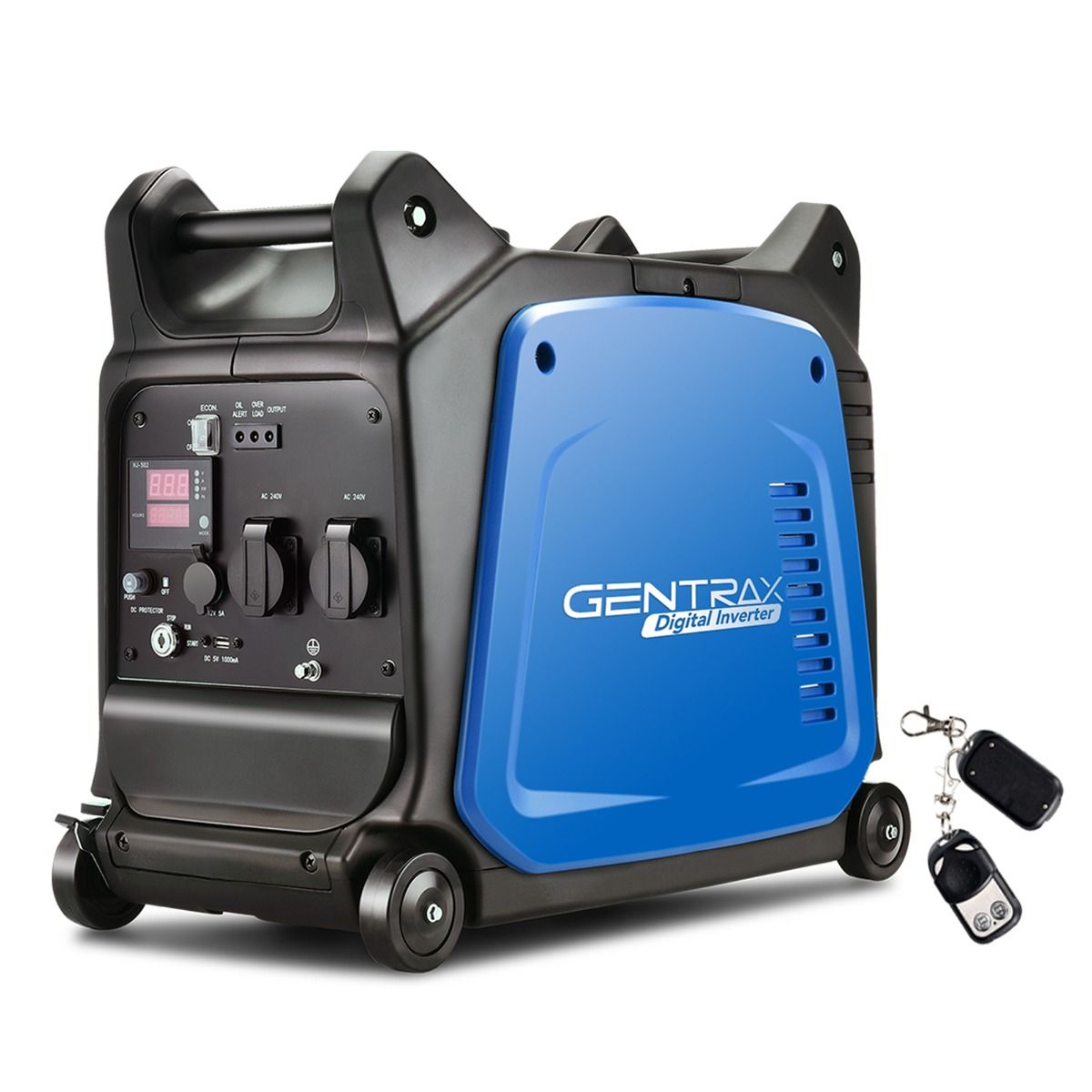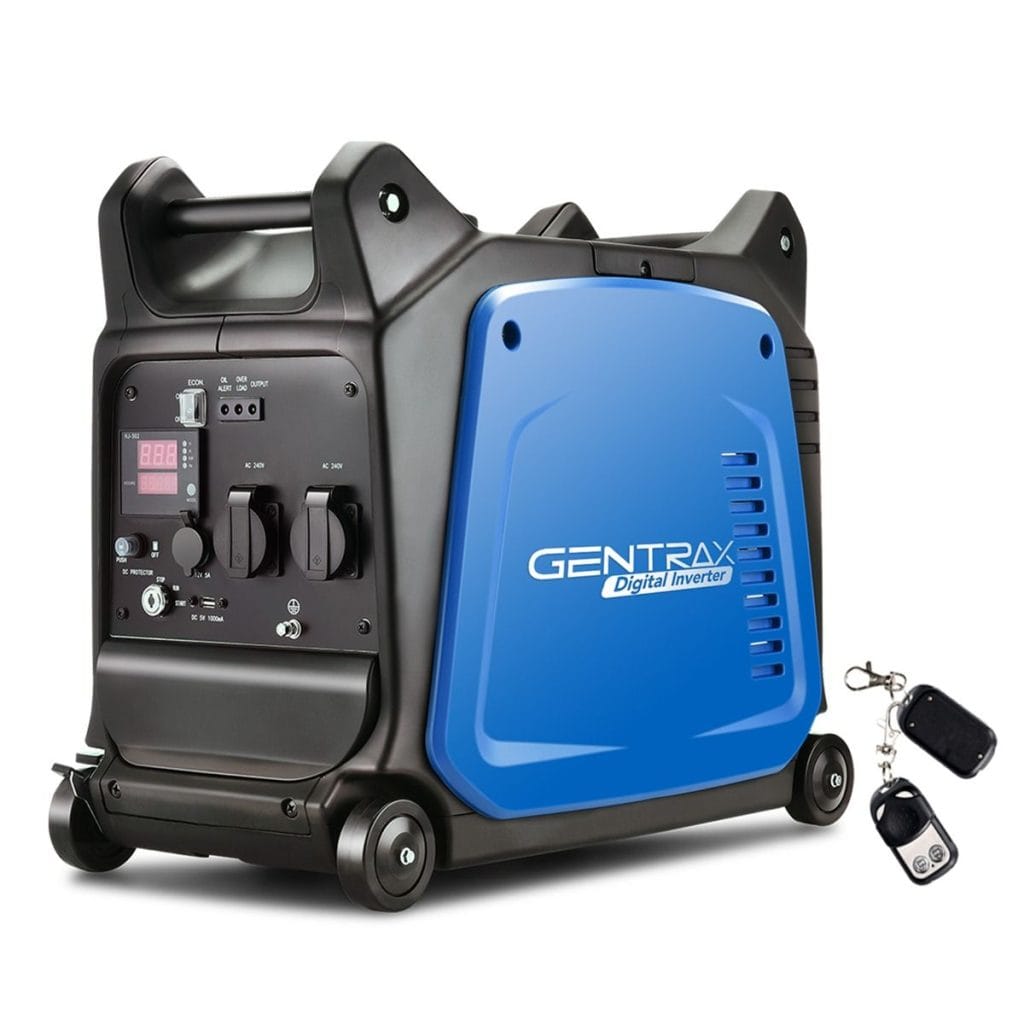 GenTrax Inverter Generator 2.2KW Petrol Sine Wave
This generator is fairly similar to the previous one. The main difference is that this one provides hassle-free oil replacement and maintenance, which is appreciated. Additionally, you may expect a much better muffler system on this product since it works at 59dB.
You may want to purchase this product if you're looking for power and convenience at the same time.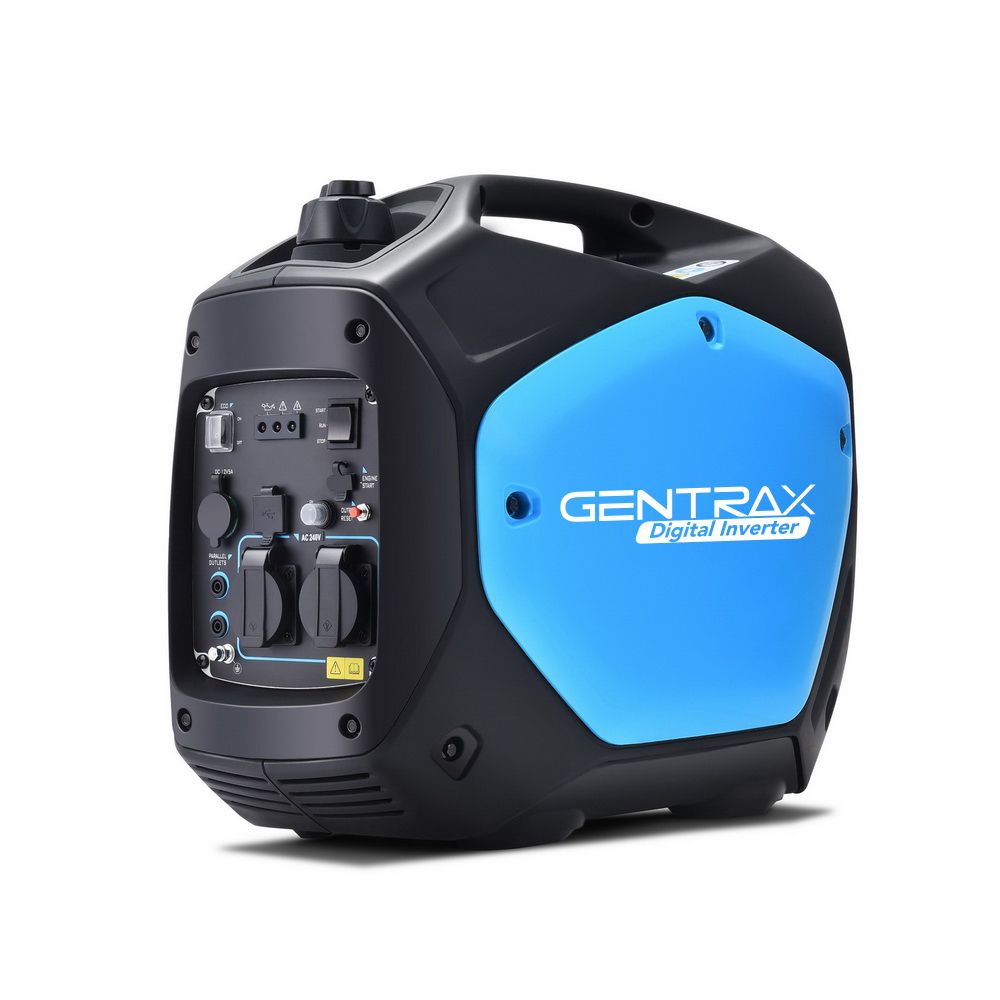 GenTrax 2.2kW Premium Inverter Generator Petrol Wave
Aside from having a great oil system and a good noise reduction system, it also comes with one USB terminal for charging small electronics. If you're going camping, this may be a highly convenient option to consider.
You can read more about this product review here.
GenTrax 800W Mini Pure Sine Wave Petrol Inverter Camping Generator
This unit continues to surprise us since it offers a lot of value for its price. In essence, it only weighs 8.5kg, making it extremely portable. Additionally, it's fuel-efficient and may work for up to six hours without any problems.
GenTrax 2kW Pure Sine Wave Inverter Petrol Portable Camping Generator
This is another great product if you're looking for something at a lower price. Overall, it offers an amazing nine-hour runtime which is much higher than other products in this review. Additionally, thanks to its system, it doesn't interfere with sensitive electronics.
Finally, its low-oil level alert allows the product to prevent engine damage.
GenTrax 1.2kW Pure Sine Wave Petrol Inverter Camping Generator
This is one of the least expensive products on this list, and it offers you everything you need to comply with your camping or backup power needs. In essence, it comes with a 3L tank that can provide at least 6.6 hours of runtime.
Additionally, it works at 58dB, which is good enough for most people.
GenTrax 800W Max Rated Portable Pure Sine Wave Super Premium Inverter Generator
Aside from having a stylish and compact design, this is a light and portable product that may suit most users' needs. It comes with a sine wave to protect sensitive tools, and it comes with both a 12V DC output and a USB port to power up electronics.
GenTrax 3.5kW Pure Sine Wave Petrol Inverter Camping Generator
According to GenTrax, this product can power everything from lights to air conditioning systems at supposedly higher outputs. While the load listed in the product is fairly high (28kg), it's still a good product for those who want more power while camping.
It's important to note that this product may run for up to eight hours, making it a reliable choice for those looking for extended sessions of camping.
GenTrax 2.5kW Pure Sine Wave Petrol Inverter Camping Generator
No one wants to have a loud generator, and this product comes to solve this issue. Overall, it works at 58dB and offers up to eight hours of continuous running time in economy phase, making it a perfect choice for most people who want to camp or have a reliable generator at home.
Additionally, the product features a low-oil shutdown safeguard that ensures the engine doesn't get damaged.
GenTrax 6KW Pure Sine Wave Inverter Generator
Finally, we have one of the most expensive products on the list. It works at 6KW/3600 RPM max, which is a lot. Additionally, it comes with an LCD that shows all the data you need to keep track of the power consumption levels.
Unfortunately, this product isn't as small as others, so if you're looking for something portable, this may not be the one for you.
Bottom Line
As you can see from these reviews, there are many great options to consider. Whether you're looking for something with better ventilation holes or more power, there's likely something in this review that may work for you.
Remember you cannot rely on prices only, so make sure you're looking for something that fits the right balance between price and value for you.