Just like swags, auxiliary power is crucial in any 4×4 camping trip. A dual battery system is the best plan as you have two separate batteries that run for different purposes. The first battery ensures your vehicle is always ready to start, and the second powers up any electrical appliance you tag along.
A dual battery system is excellent for camping as it does not drain your car's powerhouse and ensures your beer is served cold! This article will help you understand how dual batteries work and find the best dual battery setup for your 4×4.
Our Top Picks
What Is A Dual Battery System, And How Does It Work?
A dual battery system, such as the King battery box, is a system with a secondary battery used to power auxiliary gear and accessories. The two batteries run as two isolated systems, each with its functions.
The primary vehicle battery works as an alternator and powers all the electronic parts of your vehicle.
When the vehicle is powered off, the second battery comes alive and powers all accessories and gears attached to your vehicle, so you can run your portable fridge, inverters, and lights without having to keep the car's engine turned on.
Having each battery perform specific functions ensures you have enough power to run your accessories and does not drain the starter battery. We've seen some vehicles allowing you to use both batteries to start your car in case the primary battery voltage drops. Not all isolators allow this function, and you need to check with the manufacturer.
Deep cycle batteries are the go-to options for auxiliary power as they can charge and discharge without impacting their lifespan.
What Is Included In A Dual Battery System?
If you buy a dual battery system, you need to know the several components that make up this kit.
2 x lithium or AGM deep cycle batteries
Wiring kit
Inverter
The inverter and solar panel kits are not a must, but they may come in handy when camping for a long time.
How To Choose A Dual Battery System That Works For You
Buying a dual battery system is not as easy as you may think. There are a lot of terminologies and figures to remember, plus the brands can get confusing. Nevertheless, we have made it easy to choose an ideal dual system battery kit that powers your accessories, and it is worth the salt.
Power Consumption
First, you need the number of devices that need battery supply and a rough estimate of their power consumption. Usually, this would include camping lights, a portable fridge, caravan air-conditioners, phones, fans, or any other device you deem essential.
Check the device voltage or amps and note each device's hours of use. Multiply the values, and you'll get the combined power consumption. Battery manufacturers recommend a maximum of 70 per cent discharge, so in a 30Ah daily supply, a battery of 100Ah is required. This means that even with dual battery systems, reducing power consumption can extend the life of your battery.
LEDs are great energy savers; if you replace fluoro or incandescent globes with these, you are on the right track. A combination of LEDs and camping torches provides ample light for camping so that everything will be visible.
Without a dual battery system, the other alternative is using a camping generator.
Type Of Battery
Knowing the type of battery to use in your dual setup is a crucial part of the process. You need to look at the brand, power output, van compatibility, etc. Still, from an expert perspective, there are three main deep-cycle battery options: AGM, Lithium, or lead deep-cycle batteries.
Lead Deep-Cycle Batteries
Lead deep cycle batteries are readily available and the most affordable option and they can be easily recharged and have a high output. However, lead is not an environmentally-friendly material and can be toxic to the human body and the environment.
AGM Batteries
Also known as Absorbent Glass Mat Batteries, AGM batteries have a longer lifespan than lead-acid batteries and prove to be more efficient in some ways. They work using the same principle of lead batteries, although they reduce efficiency over time. AGM batteries have a low resistance to high voltage and can sustain damage easily.
Lithium Batteries
Lithium-ion batteries are the latest inventions and are considered the best option. First, lithium is already used as a standard material for batteries in laptops, phones, etc. That's because they have an excellent discharge capacity, are lightweight, and are durable. Though the best in the market, lithium-ion batteries haven't been in the market for long, so their sustainability is still questionable.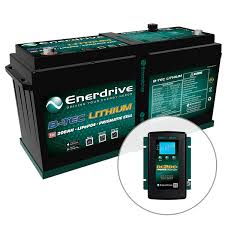 Installation
Installing a dual battery system is not easy, and 9 times out of 10, we recommend hiring a professional. It is something you should consider as installation costs can go as high as $800. If you're REALLY handy with the tools and know your way around a vehicle, you can get your dual battery system up and running.
Here is a simple step-by-step guide for those who are confident installing a dual battery system.
Find enough space for your dual battery setup, probably in the cabin of your vehicle or engine bay.
Disconnect the starter battery and mount the secondary battery to your rig, ensuring you have plenty of wire to make necessary connections.
Install the Voltage Sensitive Relay (VSR) and place it away from hot moving parts.
Cut cables appropriately to length.
Add lugs to the naked ends of the cable by cutting off 15mm of insulation and crimping them in place. Add heat shrink over the lug to provide a waterproof seal.
Use black wire to earth the relay.
Earth the secondary battery.
Connect the VSR to the mounting plate. You may not need to attach positive cables to both batteries.
Start with the negative leads and connect to the starter battery, then to the second battery.
Test the connection if it is working with a multimeter.
Best Dual Battery Systems Reviewed
DCS Ultimate 12V 260Ah Lithium Dual Battery System (Our Top Pick)
If you're tired of the old lead-acid batteries in your 4WD, there is finally a game-changer. Deep Cycle Systems(DCS) has unveiled a range of Lithium dual battery kits to fit the most popular vehicles. These batteries are designed to perform under harsh conditions of the engine bay. The system is built with insulating materials and has a cell balancing that withstands temperatures as high as 80 degrees Celsius.
This kit has a Victron Smart Battery Protector module that eliminates the need for a battery isolator. This means you can take charge of the 260Ah battery and run continuously without risking complete discharge. The Smart Battery Protector cuts off power from the battery during overloads or when the charge is almost over, leaving enough power to start an engine.
Plus, you can charge the batteries directly from the vehicle's alternator without using a DC-DC charger. It will only take you 30 minutes!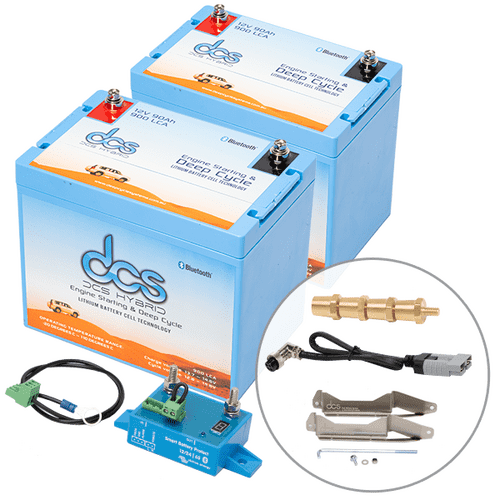 Pros
Robust construction
Handles high temp easily
Faster recharge time
Superior performance
Bluetooth-powered DCS App for monitoring
Cons
Enerdrive ePower B-TEC 200Ah Lithium Battery Pack
Enerdrive is a well-known company in the Australian market and is considered one of the leaders in producing high-quality lithium batteries. Campers know the rising importance of lithium over lead acid and are slowly shifting their purchase options.
The Enerdrive B-TEC 200Ah is one such alternative that offers tons of features ideal for off-grid camping. Its massive 200Ah power means you can run inverters as high as 2,600W, which powers typical appliances, plus a microwave.
The B-Tec 200Ah has an impressive tolerance to heat and should be stored at a temperature between 20-60 degrees Celsius with 5-75% relative humidity. The battery pack has an excellent 2,000 discharge cycle, which means you can charge 2,000 times before the performance deteriorates.
The B-Tec allows remote monitoring using the Enerdrive app, allowing you to see the battery's voltage, capacity, current, current, and more information. This battery can be charged with the Enerdrive AC charger and the DC2DC+ charger with MPPT Solar Controller.
Warranty is crucial in lithium batteries as it protects you from unexpected surges. Enerdrive offers a 5-year warranty, which is way above the average of most companies in Australia.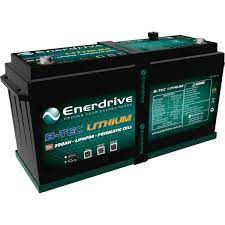 Pros
Intuitive battery management system
Wireless monitoring via a smartphone app
5-year warranty
Raised terminals for easier installation
Cons
Baintech 160 Amps Dual Battery Kit
This is the most efficient system if you're a minimalist and need continuous power throughout your camping trip. The Baintech kit has a compact design, with wires, heat shrink, connectors, lugs, and a 160A voltage control relay system.
160A is powerful enough to charge your battery and ensure all appliances are running. No need to worry about cooling your refreshments. All parts of the system are IP68 waterproof and were made to survive harsh conditions.
This kit is super compact and weighs only 2.30 kg. You can fit it anywhere in the car. The only caveat to the Baintech charging kit is that you must buy the batteries separately. This kit is only meant to charge the battery and not provide power to the electrical appliances.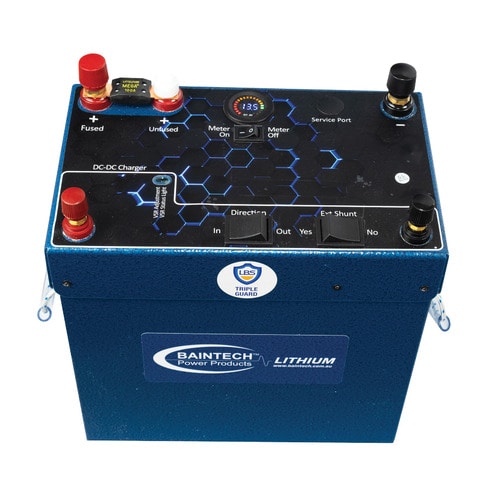 Pros
Compact
Cheap model
High power output
Easy to install
Cons
Some wires may be too short.
Kickass Slim 12V 170Ah Deep Cycle AGM Dual Battery
Kickass understood the need for storage space in the dual battery system, and they delivered the perfect solution- the Kickass Slim AGM battery. Instead of the traditional setup where the battery lies down, this one sits upright, saving more storage space.
The Kickass Slim 170Ah AGM battery has a high power output and can power several appliances. OF course, AGM batteries are relatively heavier than their lithium counterparts, but luckily this model comes with a handle for more accessible transportation.
Low resistance means you get quicker charge time and better responsiveness to loading charge. The design was carefully crafted as its overall shape withstands vibrations, extreme temperature, and corrosions.
Pros
Withstands vibrations and corrosion
Solid construction
Efficient discharge recovery
Detachable handles
Cons
Redarc BCDC1225D Charging System
If you want a robust system from a company that has been in business for over four decades, the Redarc BCDC1225D should be your top pick. Research is a popular company in Australia for its ground-breaking solutions to mobile electrical components.
The BCDC1225D is an excellent tool with multi-phase charging algorithms and solar power compatibility. The charger comes with fuse kits, cable, lugs, and other hardware accessories. It features an MPPT regulator and a Green Power Priority, ensuring the main battery charges first before the auxiliary battery.
Setup is a bit technical, and you'd do better with professional installation. The battery charger can be kept on the engine bay or chassis, although the maximum temperature it can hold is about 79.5 degrees Celsius.
Pros
Multi-stage charging
Waterproof and dustproof
VOA compatible
Solar/wind controller
Cons
Pricey
Low amperage rating
No manual link
Revolution Power 200Ah Low Draw Lithium Battery Solution
Revolution power is a brand famous for producing efficient batteries with long lifespans. These batteries work well in low-power consumption environments with appliances such as LED lights, mini-fridges, phones, laptops, etc.
The unit has an innovative solar power charging system and Bluetooth connectivity to monitor your charging status. These batteries are compact and emit less heat when in use, and it is also a sustainable solution as it requires minimum maintenance.
Unlike most lithium batteries, you can operate this item at high temperatures without damage. The built-in heat sensors compensate for the heat emission by the voltage, while the batteries are waterproof and shockproof for added safety.
Pros
Withstands hot temperatures
LEDs for indication
Safety features
Easy to install
Excellent performance
Cons
A bit expensive
Only used for low-voltage appliances
Frequently Asked Questions (FAQs)
How does a dual battery system work?
A dual battery system consists of two batteries. One is the main battery that comes with the vehicle, which is used to power the car's electrical components. The second battery works when the car's ignition is off and is used to power other appliances such as phones, laptops, tablets, etc. The complete system includes cables, connectors, and an isolator to direct the power source.
Which battery is best for a dual battery setup?
A lead-acid battery may be the most affordable solution as it retails for about $350 and is friendly for beginners setting up their first dual battery system. Lithium and AGM batteries are your best bet if you want quality and longevity, though they are costly.
Are our dual battery systems worth it?
If you're planning on a short camping trip with little to no electrical equipment, you may not need a dual battery system. But a dual battery system can come in handy for longer trips, especially when you have appliances and are constantly on the move.
How do you charge your second battery while driving?
There are several ways to do it; the best way is to use the alternator to charge the battery when travelling on the road. As long as you have a voltage sensing relay or an isolator switch, it should be able to charge your second battery on the go.