Campers tend to enjoy being outdoors all the time, but they need a specialised sleeping system, such as the 23Zero Bandit Double Swag 1400. It's a four-season swag made of high-quality materials and features heavy-duty construction. That way, you stay dry and warm regardless of the weather. We also have a review of the Weisshorn swag and a comprehensive guide on the best double swags and Oztrail Mitchell Expedition.
Its smart design makes it stand apart from the crowd compared to other double swags on the market. You're sure to appreciate the adjustable gussets, four-way entry, and near-vertical wall form with this swag. In fact, this is a spacious swag designed for comfort in wet conditions or dry!
Considered one of the best in Australia
Loved by many campers
Considered the go to brand for those who know swags
Made for Australian conditions
Not as well known
Relatively new on the market
Cheaper pricing may be perceived as lower quality (this is not true)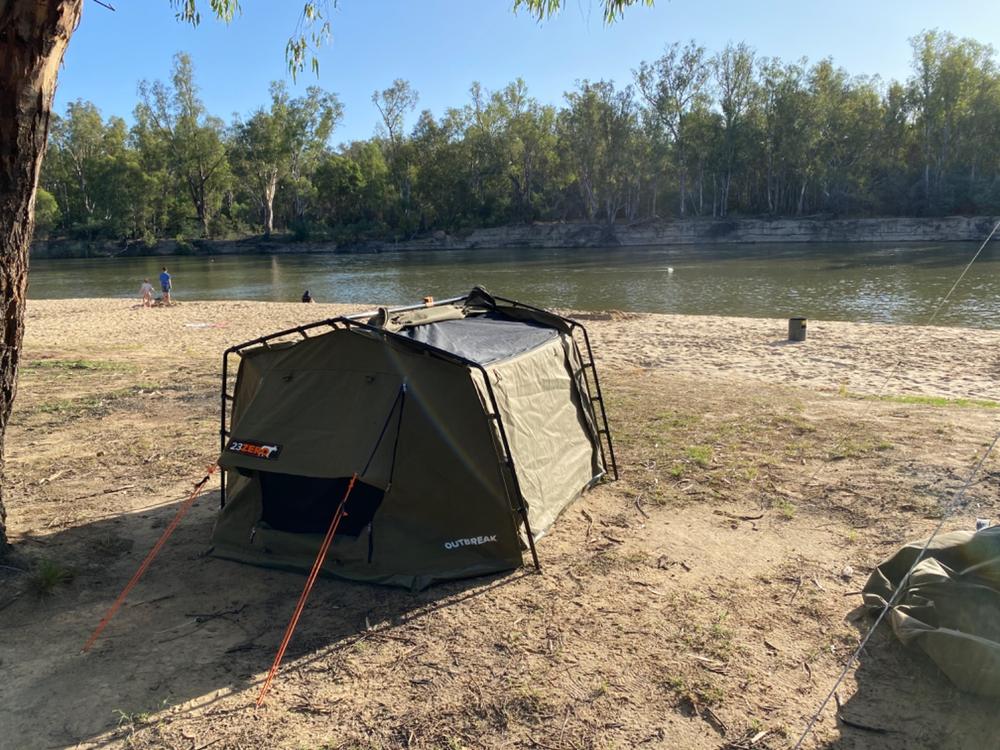 Overview
Swags are usually used for dry conditions. Though they stand up in rain or wind, they aren't the best for winter camping. Those who prefer an outdoor adventure any time of the year need a swag with all-weather features and construction. Overall, it needs a full zip, superfine mesh, and must be fully sealed.
When it comes to versatility during the seasons, the 23Zero Bandit Swag takes the stage.
It has plenty of room for two people, and there are four zippered doors to make it convenient to enter and exit. You're sure to find that it's easy to roll up the covers for air to pass through. When it gets too cold, just unzip the unique end gussets on the double swag to prevent condensation from forming. With this flexible swag, you get useful details that can be appreciated by all types of camping enthusiasts.
If that weren't enough, you get a tropical fly included with this swag, and it can hold a mattress.
Best Features for the Camping Gear
The exterior of this swag alone shows you how well-built it is. The feel of the fabric is heavy and thick, indicating that the 23Zero Bandit Swag has excellent moisture resistance. Plus, the interior gives each person plenty of room. Still, there's more to the swag than spacing and a good structure. Let's learn more:
Versatile Enough for a Sleeping Bag
One way to determine if the camping gear is good is to test its versatility. Camping gear must be used in various ways to reduce the maintenance requirements. With that, you're not buying more accessories all the time. Some campers like to invest in a versatile and more expensive piece of camping gear because it's more cost-effective in the long run. Overall, the 23Zero Bandit Swag has all the features you could want, making it adaptable for various camping needs.
Freestanding – This swag is stable, even if you don't stake it down. Plus, you can set it up completely and then move it around if needed. The freestanding design of the swag lets you use it as a stretcher to keep its base off the wet or cold ground.
Four-season Swag – This swag can adapt easily to all types of weather. Just roll up the zip-down covers to let more air in during the summer or put down the storm covers when it's raining or cold. With a controlled airflow like this, you can enjoy yourself no matter what it does at night. Plus, the adjustable gusseted window awnings on both ends may be zipped up tight during winter or left open in humid conditions.
All-weather Awnings – There are two metal grommets found at the corners for each cover, and you can attach those to optional awning poles. The extra awning lets you cook, store camping gear outside, and so much more. Plus, there are four of them total, so there's more space and options for you.
Four Entryways – Most double swags make it hard for you to get in and out, but this swag is convenient, regardless of the side you're on. This feature is especially helpful for two people who share the same camping swag. Plus, while you're in the Bandit, you may unzip one side and enjoy the view and fresh air without baking in the sun or getting wet in the rain.
Extra Durable with Carry Bag
You're sure to appreciate that the 23Zero Bandit Swag can handle the harshest conditions with its excellent construction and material choice. For example, it uses 400GSM ripstop polycotton canvas, which is the gold standard, and a urethane coating under it for the cover.
While it's heavier than traditional fabric, the woven material is more durable and moisture-proof. Plus, the sewing technique of this swag is sturdy and features Tex 90 polycotton with the 501 lockstitch seams. Any exposed seams on the swag are seamed from the inside, so you don't have to season it before using it.
At the bottom, you can find the HF-welded PVC bucket floor, which should keep the space warm and dry. You also get three alloy poles with an adjustable ridge pole and trigger lock. All of these are anti-corrosive, easy to use, and heavy-duty. When you want to use the roof rack of your vehicle, the carry bag keeps your swag safe while you're in transit. Plus, the bag is made of the same canvas as the swag. If that weren't enough, it opens fully to make it easy to get the swag inside.
Well-ventilated and Comfortable
Swags aren't good if you can't get comfortable. To ensure that you get a good night's sleep, this product features a high-density foam mattress of 70mm. It features a black polycotton cover that you can remove and wash. Plus, each doorway uses superfine mesh for insect protection and air circulation.
The mesh panels are coated with PVC to add durability to the mix and help with moisture control. One thing you're sure to like here is the unique box shape. There are three angled dome poles, which stretch the cover's corners. This design prevents your walls from drooping in and offers more height for mobility.
Available in Many Sizes
The 23Zero Bandit comes in three sizes (1400, 1100, and 900) to suit your camping requirements and needs. The model numbers focus on the width in millimetres for each swag type. However, they each have the same length, with only slight height variations. This means solo campers can get the same features, too.
Things to Note with This Good-quality Swag
There are so many features to like about this swag, and you're sure to get the best camping experience, whether you're on an adventure in winter or summer. However, some things might not be suitable for all campers. Here are the things to consider:
Very Heavy
This camping swag weighs 19kg, so it's hard to carry around. Campers who like to do lightweight hiking might find this product too bulky and heavy. You can attribute the weight to the heavy canvas material, the number of poles, and the foam thickness of the mattress. These components do make the camping swag ideal for extreme conditions. Therefore, if you're not going on such an adventure, this product might not be right for you.
Takes Time for Set-Up (Similar to Double Swag Bags)
Double swags like this one use sleeve and clip systems to set up the poles. With that, you must attach your adjustable ridge pole to ensure the top stays taut. Though assembly isn't complicated as with other quality swags, it does take longer to set up than normal. Again, though, the extra support and intricate assembly reinforce the strength of this product!
RELATED: A Review Of The Darche Camping Swag
Misplaced Inner Pockets
While most people like the design of the 23-Zero Swag, there are two inner pockets included that somehow ended up at the foot end. It's an unusual thing but a minor issue. Still, some users might find this to be quite inconvenient, especially for a camping swag. The pockets can be useful and are well-made, though it might have been better if they were located near the head section to be easier to access.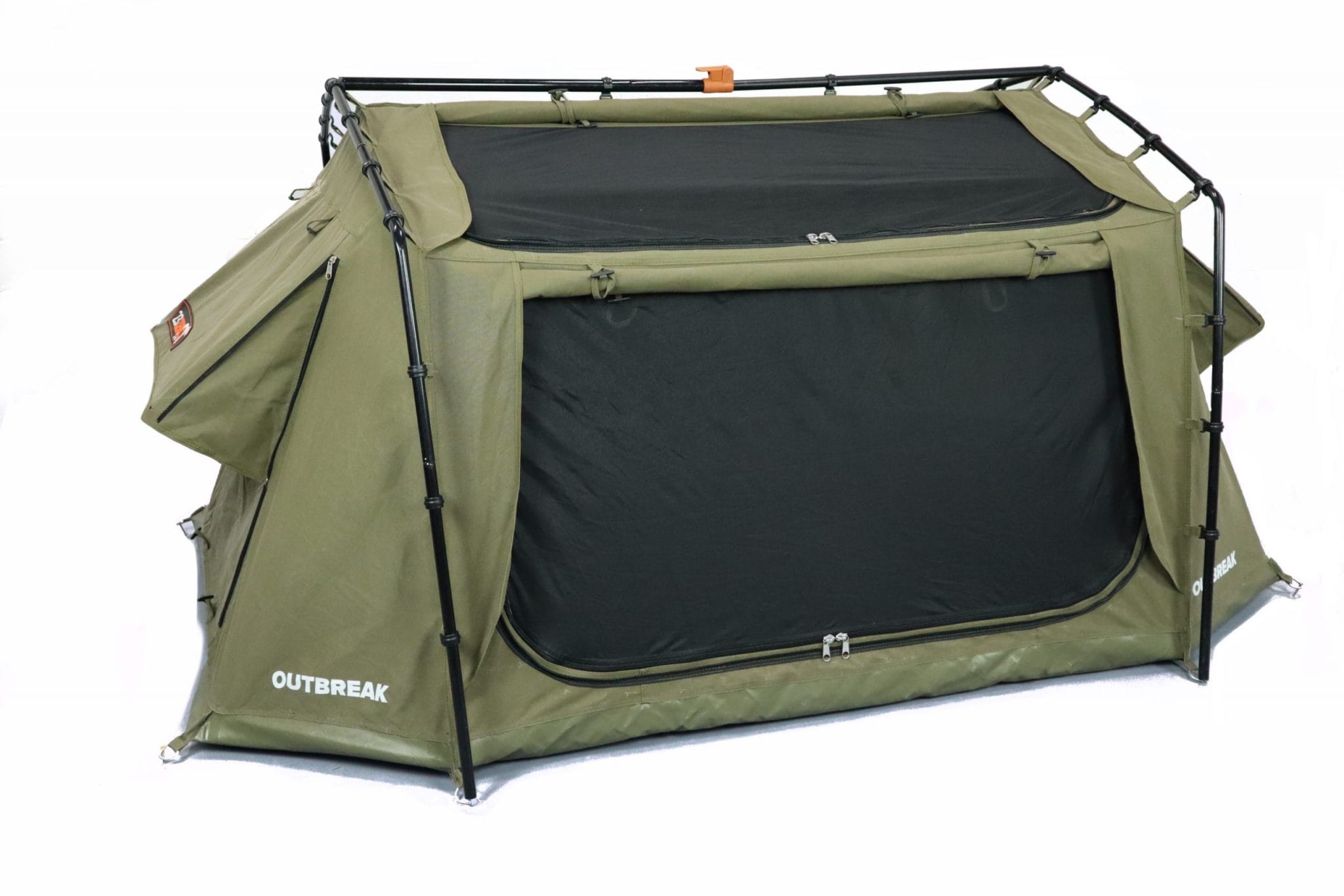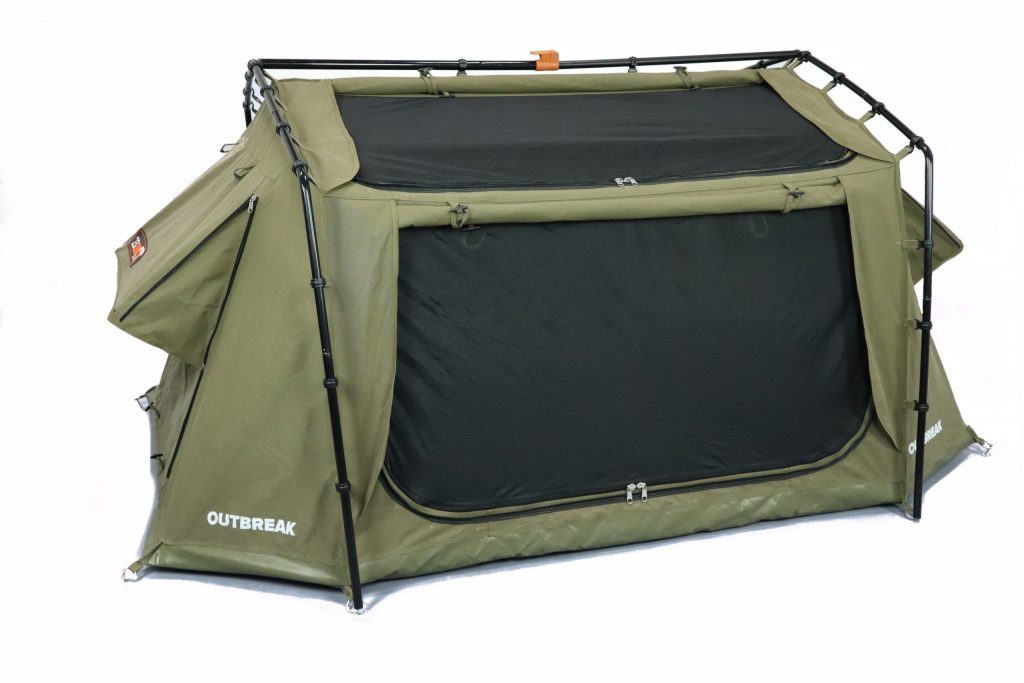 Pros and Cons
Pros:
Can be paired with suitable stretchers
Freestanding
Four-season option with adjustable canopy gussets
Canvas bag opens fully for storage and packing
Includes three alloy poles with an adjustable ridge pole and trigger lock
Sealed inside on exposed seams
Sewn with polycotton thread
Thick canvas with a urethane coating
Four doorways to make easy access
Mattress included
Storm covers with metal grommets to attach to awning poles
Durable PVC bucket floor
Cons:
Requires more set-up time
Very heavy and bulky
Pockets not accessible
High price compared to others
Conclusion
Whether you've got kids or you like to go camping with your mates, now is the time to consider the 23Zero Bandit. If you regularly camp during winter or in poor conditions, this review is a sign that there'll be more comfort with this product.
Those who prefer versatility, convenience, and durability are sure to appreciate this swag. It has great construction with minor issues to the design. You can enjoy your outdoor plans more thoroughly. Plus, it's spacious, and you can fill it with blankets and other comfort items to make it feel homier.
Though it's quite large and might not be best for casual campers, it is a worthy investment choice for seasoned adventurers who want to handle harsh camping conditions and enjoy the outdoors throughout the year.