If you are looking for a well-made compact swag with a carry bag that is affordable, you have come to the right place—the Weisshorn King Single is an excellent value-for-money piece of equipment, as is the 23 Zero swag.
It comes with sturdy poles and a ripstop canvas cover. The design is similar to the Weisshorn biker swag with its PVC waterproof floor and foam mattress.
This product incorporates many comfort and convenience factors such as breathable sky mesh panels, heavy-duty zips, a soft mattress, and an air pillow.
The best thing about the Weisshorn Swag is that you get to enjoy the great outdoors without a heavy and bulky set in tow.
It is one of the most popular options on the Australian market due to its great features. A great UV-resistant swag can mean better quality sleep and a more enjoyable camping experience. It is easy to see why this is the most popular choice of tent for the people of Australia.
Remember it's always important to season a new swag.
Quick Comparison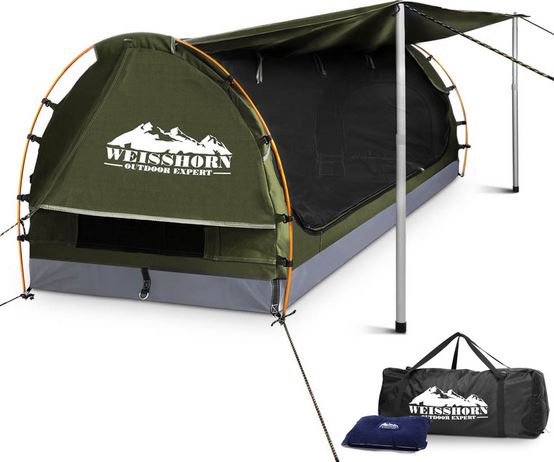 Overview
Weisshorn King Single Swag is great for both experienced and casual campers. The camping swag has exceptional components from base to cover, which help it to remain stable when exposed to the elements.
It is more compact and lighter than the Weisshorn Biker Swag, which makes a big difference.
Erecting your Weisshorn King Single Swag is effortless and packing it away is a breeze. It includes a convenient carry bag that is small enough to be transported anywhere.
Of course, no swag is complete without factors that add comfort. Besides its air pillow and soft foam mattress, this tent also contains sky mesh for peaceful stargazing, insect protection, and fresh air. Spending time in the outback of Australia has never been this simple.
The pegs are perfectly sized and can secure the swag firmly to most terrain. You can attach the tie-down straps at the roof end or the head of the tent. That is a handy feature that can prevent you from losing them.
Its recommended to set up your new swag on a tarp or groundsheet. That helps protect the flooring from any damages.
The swag can be used in most weather conditions if erected correctly. It's recommended to set up under a rigged tarp or awning to protect yourself from the hot sun or rain. By doing this, you create storage space for your gear. You may also be interested in our Darche Swag review and our review of the Oztrail Mitchell Expedition swag.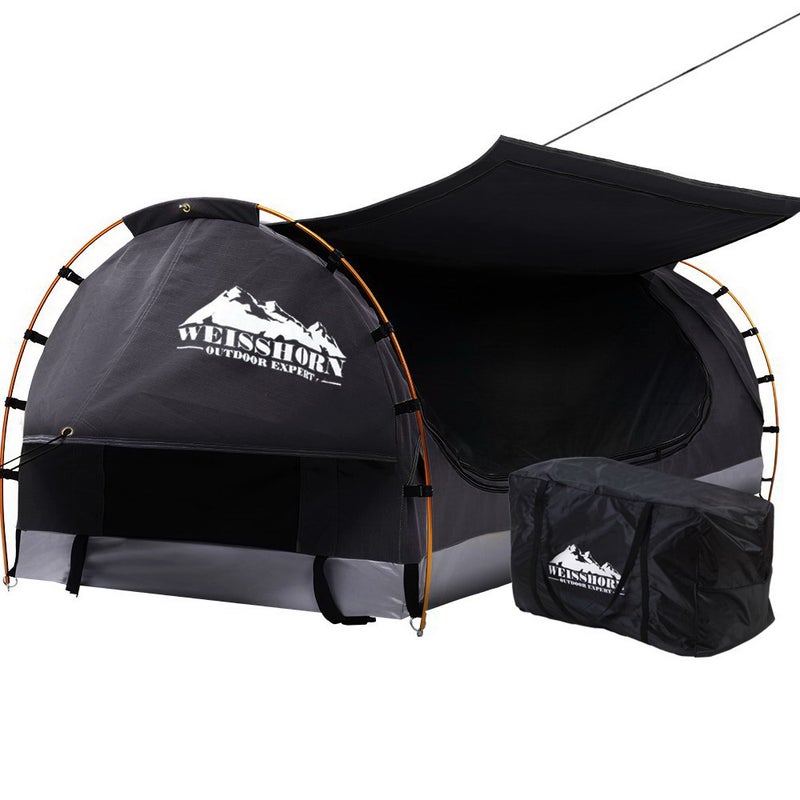 Best Features
Comfortable, light, and durable is the name of the game for the Weisshorn King Single Swag. It has all the vital essentials for a fantastic swag camping trip. Furthermore, not everyone likes to ride solo, so it is good to know that other swags out there can fill your desires, such as the double swag.
Pre-Curved Poles
The Weisshorn King Single Swag is your home away from home in the outdoors. It has extra strength pre-curved poles that add stability and toughness to the dome.
These poles are made from 7001-6T aluminium, which is anti-corrosive and sturdy. The curve in the bars helps to make it more snap-resistant in windy conditions.
Ripstop Cover
It provides you with mould, dew, and moisture protection while increasing longevity. A ripstop polycotton canvas is used on the Weisshorn king single and double swag.
The fabric makes it easy to roll up and offers UV protection for those scorching days. It has a design that distributes heat accumulation evenly.
Thick Flooring
The bucket base protects the swag from water leakage that could come from the ground. An extra floor height helps prevent dirt, sand, dew, or water splashes from entering the tent.
Additionally, the combined quality of the flooring and UV-resistant cover keeps the swag comfortable and warm. It allows the swag to be used in a variety of weather conditions.
Robust Pegs
These pegs are far from flimsy and keep your Weisshorn swag or biker swag secure and taut. Each one is thick and heavy-duty, strong enough to keep your camping swag in place.
Eyelets for Guy Ropes
Threading guy ropes are generally through the less durable stitched loops. Weisshorn chooses to use grommets or metal eyelets for the guide ropes. That way, the flaps at the foot and head ends can be stretched without damaging your swag canvas or guide ropes.
Sturdy Carry Bag
The Weisshorn swag includes a carry bag that is made from 420D Oxford canvas. It has PVC coating for mould and moisture protection, making it safe to transport on the roof or back of your truck.
Comfortable and Well-Ventilated
The company ensures that its swag keeps you comfortable, whether enjoying the outdoor scenery or sleeping. Its mattress is made from 50mm high-density foam that is thick and soft enough to keep you elevated from the ground.
You might find that the beds are not as nice as others, but this factor makes them more accessible, more breathable, and easier to roll up.
The covers of this tent swag are washable and removable, making this swag easier to clean. There are air pillows included, so you don't need to purchase an additional one. You could easily throw a sleeping with these compact pillows if you prefer to travel with one.
Top-notch ventilations can be found with the Weisshorn swag. It has a UV-treated canvas cover that aids in reducing heat accumulation. The canvas cover can be fully zipped down to reveal the sky mesh panels.
Besides insect protection and ample ventilation, the sky mesh provides you with an unobstructed view of the sky. It is just perfect for sleeping under the stars.
You find mesh panels at the foot and head ends that help keep air circulating even when you have the top flap down. The canvas has an awning that allows rainwater to disperse quickly.
Some of the features include the Weisshorn Swag, which adds convenience; for example, inside, you can find two side pockets, perfect for storing items such as your phones or keys.
There are also two boot mats at the head and side entryways where you can keep your shoes. That is one of the great features which help prevent dirt and mud from entering your swag.
Easy to Set Up and Compact
These factors are what make the Weisshorn King Single Swag so popular. Weighing only 11kg and a manageable pack size of 80cm x 40cm, you can be sure this is one camping swag you can be taken anywhere.
It is often used by people who like to take short weekend trips and don't have a large 4WD for excursions. This great swag can easily fit on your backseat while travelling, so storage is not a problem.
The compact size means that assembly time is set to a minimum. Packing up the camping swag is made simple by using the sewn-in tie-down straps attached to the fabric.
It has three poles that fit perfectly into the canvas sleeves attaching to the body with plastic clips.
Good Value
Even at its low price, the Weisshorn swag manages to incorporate details and quality construction into one compact tent.
It is a feature that makes it ultra appealing to camping enthusiasts in Australia, especially considering the excellent quality to price ratio.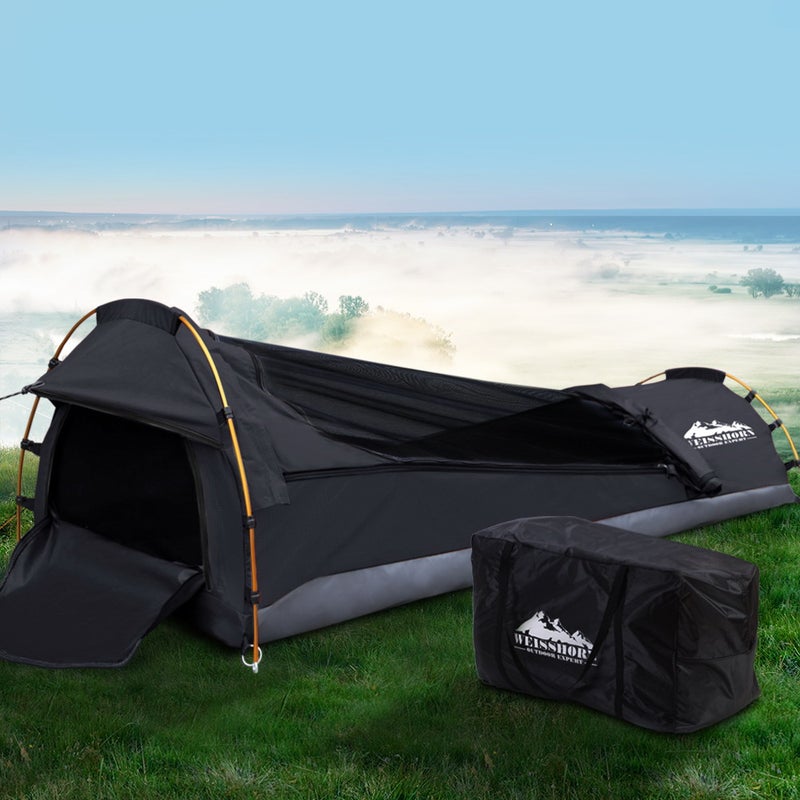 Things to Note
There are a few drawbacks of the Weisshorn King Single swag that should be mentioned. Due to its compact size, some features have been removed or reduced. Here are a few things to take into account.
Lacks a Vestibule
With light and compact swag, you can't expect to store your bulky camping gear. However, setting up a flysheet or tarp over your swag can assist with its lack of a vestibule. Using either one can help give your camping swag added protection from the rain and sun.
Smaller Than Similar Swags
If you compare the Weisshorn Single King swag with other models, you find a lower height. Bigger guys might find that it is too cramped, and it would be best to try it out before purchasing. While the dimensions could be limiting to some people, it helps to keep the camping swags portable and light.
Not For Harsh Condition
The Weisshorn King Single only has mesh panels protection if you don't have the ripstop canvas top. That gives cold air a lot of entry points to come into the space. The mattress thickness might not be for everyone, so bringing an extra sleeping bag for comfort and warmth.
In extreme weather conditions, it is not precisely one of the best swags to use. It is the preferred choice if you like camping during the dry season.
Inside the Box
Upon its arrival, you might be shocked at how compact the box is. The mattress is wrapped, packed, and compressed for transport.
That makes it ideal for Weisshorn to bulk ship this product. It takes some time for the foam mattress thickness to expand to its original depth once unpacked.
The package includes the swag, mattress, carry bag, four ropes, six pegs, instruction sheet, inflatable pillow, and three curved aluminium poles.
At first glance, the carry bag might seems too large for the swag. Packing it for the first time, you quickly notice that it is the perfect fit.
Final Thoughts
Keep in mind not every person enjoys travelling with a four-wheel drive, extreme outdoor adventures, or requires spacious swag.
The Weisshorn King Single Swag is ideal for short weekend camping or recreational trips. It is compact enough to fit in the back of your car, and its lightweight makes assembly easy.
Thus, the Weisshorn King Single Swag promises many years of camping with mates or family.
Once assembled, it lets you enjoy the starlit night sky or have a peaceful rest, all while keeping out those pesky insects and critters.
Don't forget to check out our guide to the best double swags in Australia.