Dometic/Waeco portable fridge freezers have long since been regarded as some of the most premium mobile cold storage units in Australia.
The alfresco dining culture associated with this country fuels the demand for quality appliances set up specifically for flexible mobile living and adventure.
From a scenic coastal road trip to a luxury family picnic at the park to camping under the stars- there are few outdoor situations that a Dometic/Waeco fridge freezer cannot improve.
In this review, we look at some of the most popular portable fridges Dometic sells currently. We not only discuss the most impressive features each model offers, but we also compare them to one another to help you decide what one is the best for you.
Additionally, this review provides an honest look at how Dometic equipment stacks up against other units to see if it is worth the hype (and the money!). Overall, we hope to sum up the important factors a potential buyer should consider before committing to a purchase.
You may also be interested in our review of the Australian Bushman fridge.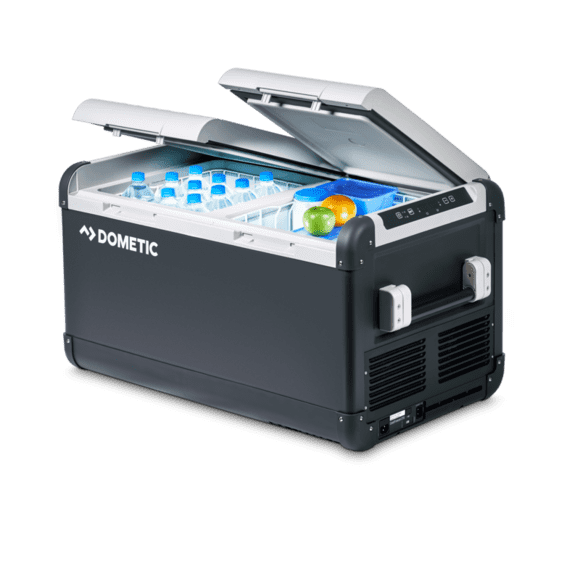 The Range: A Brief Overview
Before we talk details, let's take a look at the Dometic/Waeco Brand as a whole. To clarify, Dometic and Waeco is the same thing, just with slightly different branding.
As the parent brand, Dometic marketed its range of premium portable fridge freezers under the name Waeco, which remains the product name in Australia.
Globally, however, Dometic has moved more into the forefront and now includes its name on the CFX fridge line. After a century in business, you are allowed to switch things up a little.
Regardless of the packaging, this appliance manufacturer is a bonified industry giant.
Product Breakdown
In this review, we focus on three of the best Dometic CFX fridge freezer models on the market today, as well as the classic CFF45. Each of the units in this range is highly regarded and known for their impressive quality, and generally, we have to agree.
Capable of doing so much more than just keeping a few beers cold during the footie, any one of these fridges qualifies as a very worthwhile investment. What we wanted to find out was just what is the difference?
CFX3 (35//45/55)
The Dometic CFX3 range is amongst the best known in the Australian camping community and is widely praised for the great job that each model does. Within the range, there are many variations, but the 35, 45, and 55 are the originals.
All three are energy-efficient, stylish, single compartment units that come with multiple advanced features. The ambient temperature range on each goes from -22 degrees Celsius to 10 degrees Celsius, meaning they can function as a fridge or freezer- just not at the same time.
Pros
There is a unit in this range for every occasion and family size, with fridges available in three different sizes.
Consistent five-star reviews are awarded on both the Dometic website and other review sites.
The 55 (the largest of the three) can hold around 85 cans, making it ideal for campsite parties or long trips.
Construction on the boxes themselves is impeccable and extremely durable.
All three CFX3 models come with a built-in drain plug.
Mobile temperature control and USB charging are included with the entire line.
A sleek, stylish finish makes these appliances very attractive to buyers.
Up to five years warranty is available with these products.
Cons
They all carry a price tag with four figures on it, making them some of the most expensive fridge freezers out there right now.
The cable that comes with the fridges is quite short.
All the CFX3 models are single compartments, so there is no separate freezer available.
CFX 75DZW
Portable fridge freezer units do not get much better than this. The CFX 75DZW is one of the biggest and best in the entire Dometic/Waeco range, and possibly even the entire market!
With a huge capacity of around 75 litres split into the main compartment and small compartment, and an impressively low-temperature capability, you can keep food ice-cold even on longer trips.
The CFX 75DZW is designed to be as energy-efficient as possible regardless of the ambient temperature, length of journey, or additional features. It is also built to last, with reinforced corners, aluminium handles, battery protection, and a secure carry box.
Of all the models discussed in this review, this is the only piece of equipment that functions as a fridge and a freezer simultaneously thanks to the independently temperature controlled compartments.
Pros
Dual compartments with independent temperature settings allow for ultimate cooling flexibility.
This giant portable fridge can hold around 110 cans, making it perfect for campsite parties or extended adventures.
WiFi controls make adjusting the setting quick and easy.
The CFX 75DZW is a good looking appliance!
Compressor technology helps to reduce energy consumption without affecting the temperature.
It comes with a sturdy carry case for ease of use and protection. The case also helps to better distribute the weight.
Cons
Compared to the other products in our review, this one is quite noisy.
Some users have reported trouble connecting to the WiFi and seeing inaccurate readings.
CFF45
Across the board, Dometic is not a budget brand. However, the CFF45 is a lower-priced option when compared to the others on this list. It still claims to provide the same quality of performance but without some of the bells and whistles.
The internal temperature is easily adjusted to work as either a fridge or freezer, but there is no possibility to do both at the same time. Removable compartments make it easy to organize your food and drinks, and the lid opens quickly from any side.
Previous units in this range, the CF40, and CF50 had restricted features and required buyers to purchase optional extras, including an insulating cover.
This updated model comes with the cover included, which provides extra storage and reduces the energy consumption slightly.
Pros
This is the most affordable unit in our review of the best Dometic fridges.
It comes with an insulating cover and tie-downs.
Excellent temperature ranges of more than 30 degrees Celcius let you adjust to any weather.
Because this model is compact and does not require much ventilation, it can fit easily in almost any car.
Any purchase comes with a three-year warranty.
It is tall enough to store wine bottles.
Cons
There is no drain plug in case of spillages.
CFF45 does not come with Bluetooth mobile controls or a USB
The single zone limits the flexibility of what you can store.
Design-wise, this older model is not quite as sleek as some newer types.
CFX 50W
Of all the Dometic CFX portable fridge freezers, the 50W is the best known. Although the CFX3 line is newer and the units have a few new features, this sturdy and reliable model remains a fan favourite.
It performs exceptionally well in all the categories that matter, including low energy consumption, thick insulation, durability, and temperature control.
There is no shortage of features built into the CFX50W, including a USB charging port, a WiFi app controller, adjustable brightness, and battery protection.
It also has a Fahrenheit temperature range of between minus eight degrees and 50 degrees, providing plenty of cold air for the large capacity using either AC or DC power.
Pros
From the Dometic line as a whole, the temperature control and accuracy are the best on this model.
Multiple power chord options work with different power outlets.
The insulation on this model is highly effective.
Even weight distribution helps make this trunk easier to carry, despite the chunk build and large size.
Cons
There is no energy-saving mode available with this model for when the battery is running low.
Short cables restrict where you can plug it in.
It costs a lot of money.
Product Comparison
With all these options and varying features, how can you tell what one to choose? We have compiled a briefly summarized list of some important comparisons to make between the models to help narrow it down.
First of all, only the CFX 75DZW has separate compartments for simultaneous fridge/freezer usage. If you require both appliances but only want to buy one unit, this is the best option for you.
The CFF45 is the only model on our list that does not have a WiFi or Bluetooth-controlled app to remotely adjust temperature settings. It is also the only one without a USB charging port.
Price-wise, the CFF45 is the cheapest at around $850, and the CFX 75DZW sits at the other end, coming in at almost $1500.
If you want a compact model, the CFX3 35 is the best choice. It weighs less than 17 kg, compared to the CFX3 55's 20.4 kg, making it much easier to lift. The internal compartment is still big enough to hold 50 cans, so there is plenty.
The CFX3 line in general has the most modern additions, whereas the CFF45 and CFX 50W are a little more old school. If you like bells and whistles, look at the newer products first.
Pros and Cons of the Dometic Fridge Freezer Line in General
There are a lot of similarities between all the models included in this review, and Dometic comes with a certain standard.
Across the board, here are our biggest pros and cons of the Dometic brand and the fridge freezers it sells.
Pros
Dometic is a trusted, reliable brand recognized country-wide as one of the best in the business.
The fridge boxes are built with thick insulation and heavy-duty construction to stand the test of time.
Every unit comes with the option to add solar panels for increased energy saving and avoid the risk of a dead battery halfway through a camping trip!
Features vary from unit to unit, but even the most basic fridges include some excellent additions.
The warranty agreements are solid, lasting between two and five years depending on the deal.
On every unit, the unique Dometic lid design ensures easy access from every angle.
The battery life on all the fridge freezer units mentioned in this review is impressive.
No other brand has mastered the temperature controls quite as well as Dometic has.
Cons
The price tag attached to a Dometic portable fridge unit is undeniably high.
Some of the most recently added features are tricky to get working at first, namely the Bluetooth connection to mobile devices.
Most of the models are single-compartment units, meaning they cannot function as a fridge and a freezer at the same time.
The 12V cables that come with the fridges are a metre and a half long, which may not be long enough in every situation.
Dometic Features
We have mentioned a great many features on display in one or more of these portable fridge freezer units by Dometic, but let's take a closer look at some of the best ones.
Please note that not all features are included in every model in the CF line, and some are optional extras that carry an additional charge.
Mobile App Control
All the recently developed Dometic designs include app-controlled settings. You can connect your phone or tablet via Bluetooth and adjust the temperature and energy settings remotely.
On your way back from a hike? If you left the cooler running on low to save energy, boost it to extra cool just before you get back to make sure the drinks are perfect!
You can also adjust the settings in the morning without having to get out of bed, which is great on chilly campsite mornings.
Next Level Energy Efficiency
DC power and smart insulation help keep the cooling to a maximum and consumption to a minimum. Even the lid is insulated to control energy usage.
The interior light uses minimal power and is adjustable for times when it is not needed.
Overall, Dometic is an efficiency-focused brand, and it shows in these products.
Battery Protection Settings
Three-stage battery protection ensures that you don't suddenly lose power mid-trip. This feature extends the battery life and maintains power for longer.
Draining the battery completely is bad for the unit, as stated under the warranty details, so the protection feature gives you a chance to connect and charge and not be caught short.
Spring-Loaded Aluminium Handles
Every unit is built with these sturdy handles on either side for maximum control when lifting the fridge.
Getting the box in and out of your vehicle could be tricky when the box is full to the brim, but these durable and strong handles give you peace of mind when the heavy lifting begins.
Advanced Temperature Controls
The temperature display is on the exterior of every fridge freezer in the Dometic range and is one of the things the brand is known for. Every detail has been taken into consideration on this control panel, from the display brightness to energy readings.
You can monitor and adjust the settings based on the ambient temperatures throughout the day at the touch of a button and can switch between a fridge and freezer temperature level whenever you want.
USB Port
Most Dometic portable fridges now come with a USB port built-in to the box. Charge your phone and keep the fridge contents cool at the same time, all from the comfort of your car or campground.
Although connecting to the USB drains a little bit of battery power, it is not enough to make a dent or affect the fridge temperature.
A USB may not seem like a particularly important feature for a fridge freezer, but you are unlikely to feel that way if your phone dies when you are miles away from any mains power!
Internal Baskets
Keeping food separate and organised inside the fridge is essential during a camping trip or extended road adventure. Internal storage baskets allow you to keep everything visible and easy to find so that there is no trouble when it comes to mealtimes.
All of the Dometic portable fridge freezers include at least two baskets, but you can buy more if you wish. They come in various shapes, depths, and sizes for different uses, so you can keep your sandwiches tucked away neatly under your drinks basket.
Built-In Ice Maker
An ice-maker is invaluable during a camping trip. Fresh beverages on a hot afternoon are one of life's greatest pleasures, made even greater with a few ice cubes to keep them cold.
Sadly, not every model includes the ice maker feature, so make sure you check the specifics if this is something that you want.
Fridge Slide
Loading and unloading a fridge from the car is made significantly easier with the addition of a fridge slide. Dometic claims that its fridges are easy to maneuver anyway, but the larger models get heavy when it is filled.
The fridge slide is not included with any purchase, but it is available as an add-on for those who are interested. If you are swaying towards the CFX 75DZW or the CFX3 55 (two of the largest models) then it may be worth considering this handy aid.
Solar Panels
Another optional add-on is a portable solar charging panel to charge the battery on the go without the need to connect to power. The initial cost of the solar panel is outweighed by the money it can save in the long run, especially for those who camp often or who plan you use their fridge frequently.
Solar power in Australia makes sense, especially during the summer camping season.
If you have one of the smaller units, such as the CFX3 35 or the CFF45, you could charge it up entirely and keep the cooling temperature going without using electricity at all.
However, if you have a model with a USB port, the solar-charged battery may drain a little too quickly.
Why Choose Dometic Over Cheaper Brands?
There is no denying that Dometic portable fridge units are expensive, with all but one on this list displaying four-figure price tags. That said, finding another brand with the same consistent quality as this is just not going to happen.
Premium products don't come cheap, but in this case, you absolutely get what you pay for. Price aside, Dometic CFX fridges beat the competition on every front, from construction to cooling power.
The features packed into every Dometic unit are more than just bells and whistles- they are value-adding elements that further increase the quality and power of the refrigerator.
When compared with other brands to examine energy efficiency, Dometic performs consistently well, but it is possible to find a more efficient unit from a competing brand. However, nothing comes close when comparing the temperature controls and general ease of use.
Put simply, a Dometic portable fridge freezer unit is expensive but a worthwhile investment. It is worth buying one of these fridges due to the power, performance, and reliability.
Additionally, it feels good to know you have the best of the best to keep the contents cool in the back of your car, regardless of how hot a day it is. Some of the other brands we've reviewed include the Brass Monkey brand, and the popular Evakool brand.
Final Thoughts
It is worth taking note of the exceptional reviews that all these products get on both the official website and various other places. Dometic/Waeco is an Australian powerhouse, and these products are truly impressive.
Sure, they are pretty pricey, there is no getting away from that, but they are an excellent investment for anyone who likes to be in the great outdoors and who needs some reliable and highly efficient extra cooler space.