Going camping is a fantastic idea, especially if you have friends or loved ones to accompany you. However, if you found this review, it means you're looking for a convenient fridge to help you keep your meal stock cool at all times. Read on, and find out more about this fantastic model – it might be what you want! You also may be interested in out Dometic fridge freezer review.
Energy efficient
Fantastic reputation
12v and 24v ability
Exceptionally robust
Great reputation
Wi-Fi app
Higher end pricing (get what you pay for)
Very popular so sometimes out of stock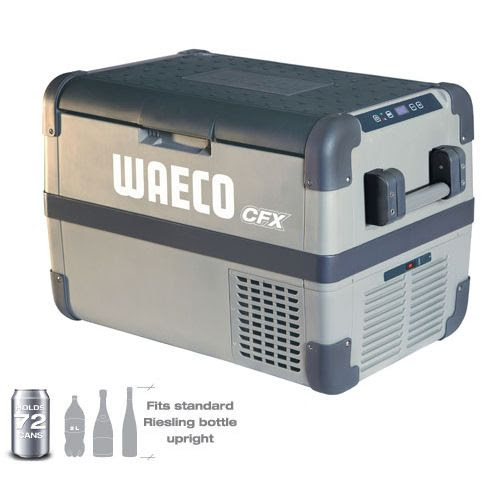 Overview
When you're going on day trips, you probably make sure you have all you need in case you get hungry or thirsty. Fortunately, you can bring everything you want if you have a Waeco fridge.
Having a portable freezer is essential to ensure your food doesn't go bad, and to guarantee you always have cool drinks by your side during hot days. Waeco fridges are available for you to take advantage of their features, and they're perfect for any caravan or vehicle. You only need to choose your model and start storing things in their main compartment.
Portable fridges are immensely convenient, and you're going to need one if you plan on traveling on a caravan or similar vehicle. All Waeco fridge options can work thanks to your car battery, so they are the ideal option for long journeys.
In the specific case of the CF50, the fridge has some features you must keep in mind, for example, two handles to help you keep it safe. At the same time, it's extremely easy to open, and it has a removable basket, which makes the cleaning process easier and lets you store different things inside.
The Dometic Waeco fridge can run on your car battery for a few days, and you might not need to recharge it. If you have a second battery, you may save a lot of time, but if you don't, you can safely arrive at your destination first before recharging the fridge again.
Additionally, the fridge freezer includes a dairy compartment, which is a fantastic feature because it means your butter, cheese, and similar items can never get squashed between the rest of the things you store inside.
Even though the fridge looks sturdy and appears to be a top-quality item, you should consider all of its features before buying it. Buying a great unit requires you to examine its specs, so keep reading to find out more about the battery life, temperature, compressor, lid, and more.
Appearance and Uses of the Portable Fridge
Looking at the fridge for the first time is the first thing that might make you want to buy it. It's small, black, and with a handle on either side of it. Therefore, it's appealing and elegant but functional as well.
Just like other products from the same brand, you need to locate the controls on one of its sides. Once you find the stop, you might be able to change the temperature, battery protection settings, and more.
Although there's only a single compartment in the interior, the basket separates it into two different halves, so you can distribute your items between both of them and ensure everything's organised. A nice LED light brightens your food when you open the fridge, which is also very convenient, so you can find what you need even if it's late at night.
Furthermore, the fridge's package includes an insulating cover. Thus, once you make your purchase, you don't need to worry about buying anything else unless you want some solar panels to make your recharging process easier and environmentally friendly. The myCoolman fridge also runs well on solar.
Since your purchase includes the insulating cover, you can use it to protect your freezer from dirt, keep it cool, and ensure your battery lasts a long time. You can also easily move the lid on the fridge, which makes it an immensely easy-to-use item.
Fridge Temperature
The first need you need to know about the fridge freezer's temperature is that its insulating cover is designed to ensure your food stays cool for long, which is why it includes hot air openings.
Moreover, you can set this dedicated fridge freezer combo to 50°C below the ambient air temperature, and that's very incredible since the item cools much more than other models.
In many cases, customers have said that the fridge works perfectly when you set the temperature you want, often reaching it in a matter of five to 10 minutes. The model previously had a Danfoss compressor (now Secop), and it's immensely popular due to being a high-quality power source.
If you're buying fridges, ensuring you can set the item at a very low temperature is essential because you're probably spending hours in your car. You don't want your drinks to get warm, or worse – your food to go bad.
Waeco fridge freezer models have been on the market for a long time, and this model is ideal if you want something that goes well below ambient temperatures. People who want to keep the fridge running for hours can still enjoy all the benefits of its low-temperature options!
Power Consumption
When you're looking for a freezer that's a top-quality option, its power and battery consumption are probably two of the most important features you should keep in mind.
Going camping is immensely fun, especially if you're in a car or similar vehicle, and you're traveling with friends or your loved ones. However, you need a reliable fridge if you want some peace of mind. With a refrigerator that keeps the set temperature, you can arrive at your destination hours or days later and have cool drinks to welcome you the moment you step out of the car.
Nonetheless, not all fridge or freezer models offer you remarkable characteristics, especially when it comes to battery power. On some occasions, fridges can reach a low temperature, but their battery might run out before you reach your destination, so you may have to recharge it or replace the power source.
Fortunately, that's not the case with the Waeco CF 50. It uses 100-240V AC or 12/24V DC power, and you can directly charge it with AC power without needing a DC adapter.
Additionally, the Waeco CF 50 includes a battery protection feature, which automatically switches the freezer off if before you completely drain the power source. Your battery consumption can increase if you use it as a freezer, but it can still last a long time and reach the temperatures you wish, which is why many people believe it's a good buy! Also see our review on the Engel 60L fridge / freezer.
Optional Features that Waeco Fridges Offer You
The brand's staff are constantly looking forward to giving you a wonderful service. Thus, the unit has everything you need: two cables (one AC and one DC), a cigarette lighter socket connector, and a protective cover.
If you buy this unit, there's not much more you might want to purchase. In some cases, people look for cables for sale or protective cover options, but the Waeco unit has it all, so you don't need to spend any extra money.
Nonetheless, keep in mind that the power cables are two metres, so you might need to buy a longer option if your setup includes your fridge freezer being further away than that.
Even though there's not much more to add when you buy this unit, you could get a fridge slide for your vehicle to make your trip easier. Thus, you could mount the fridge freezer in the back of your car, so you wouldn't have to spend much time reaching deep into the unit each time you're getting something.
Another fantastic optional item you can buy is a second power source, which can help you save a lot of time if the original battery dies. Lastly, some people buy solar panels as well, especially if they know their trip might be long – you can use them to charge your fridge freezer during the day and keep it on while you're sleeping. Other fridges you may be interested in include the Brass Monkey brand and the Evakool fridge.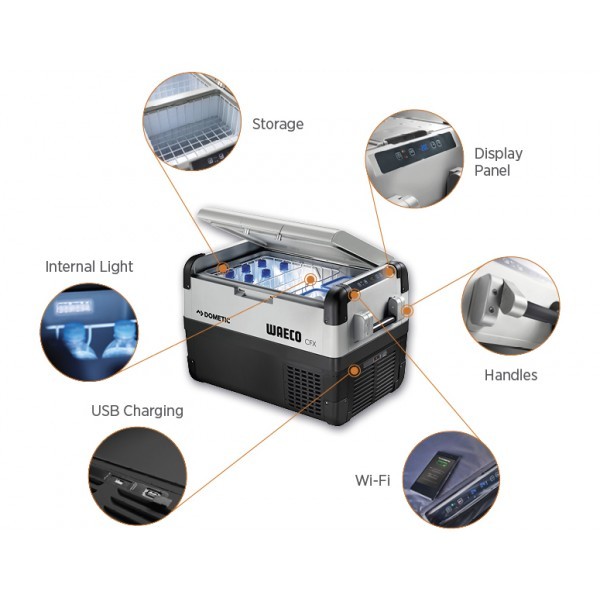 Some Issues You Might Experience
Overall, the Waeco fridge freezer is a high-quality unit, and most people have said that it works fantastically. The brand offers many endurable and trustworthy fridges, and this option is definitely one of the best ones you could buy for a low cost.
Even though reviews are favourable, every product you buy has both advantages and disadvantages. In this case, the first con you should keep in mind is that it doesn't include USB ports.
Additionally, the lid might seem convenient, but it's made of plastic. Therefore, compared to the rest of the unit's parts, it might easily break off, which is why you may want to be careful, so it lasts a long time.
The lid on this fridge freezer is reversible, which means it can hinge from both sides. Make sure you handle your unit gently, otherwise, it could easily damage.
Lastly, some customers have said that after 10 or more years of using the unit, the thermistor stopped working, which is the specific part of the fridge that measures temperature. In comparison to other units, 10 years of service is a long time without having to repair something, which is a very good indicator of the item's quality.
Is the Portable Fridge Long-lasting?
You can search for many reviews from people in Australia who have used this fridge, and they all might say similar things: it's immensely long-lasting.
Compared to other fridge options, the Waeco is very convenient since keeps your items cold, it can stand up to two-litre items inside it, and it's made of highly endurable materials.
Overall, people have said the fridge lasted more than 10 years, and that's remarkable, considering that it can always keep your items cold. Therefore, if you hope to buy a long-lasting item that stays with you on all your trips, this might be the perfect option for you.
There's a difference between buying a Waeco fridge and purchasing a different one. In Australia, there are many options available, but not all of them offer relentless cold, a useful lid, incredible cooling temperatures, and a protective cover to keep the heat away.
Consequently, you should review all the features of the fridge by yourself and determine if it's the right alternative for your trip. It's definitely one of the best ones you can find out there, and hundreds of clients have enjoyed it for many years, so you can become a happy customer as well!
What Other Customers Say
This fridge is famous for having very few negative comments. In most cases, people say the unit lasts a long time, and that its cooling features are just what they were looking for.
Additionally, some customers have mentioned that the lid broke off eventually, though they have said that it happened after eight to 10 years of constant use, which is not particularly negative if you think about it. Buying an item with parts that last so long is very convenient.
At the same time, you can enhance your experience if you buy a fridge slide, but you don't necessarily need to spend any more money. All units include everything you need unless you require a power cable that's longer than two metres. If not, you can simply start enjoying the item's features!
Clearly, if you get this fridge and use it for years, it might get some wear and tear marks, but that's completely normal, and it probably happens with all the products you buy. When you go camping, you might accidentally bump the freezer into some things, which can also result in scratches or similar marks.
However, the Waeco fridge can still endure everything, unless it falls from extreme heights or something similar. Daily use might give it a few bumps and scratches, but nothing too serious.
You should also keep in mind that having the Waeco fridge in the car means it's going to keep items inside, and they might move around while you're driving. Therefore, its inside is what's prone to suffer from wear and tear, which is why keeping your food and drinks neat and organised is essential.
Nonetheless, most clients are happy with their fridge, and often leave a good review when they're discussing all of its features. You can buy it at a fair price, it doesn't give you any trouble, and it's one of the most endurable items you could get if you want something to keep your meals safe while you're driving.
Final Verdict
This fridge, just like the Bushman, is portable, offers remarkable features, lasts a long time, and you can buy it at a very convenient price. Therefore, it's one of the best models you can find out there, which is why it has so many good reviews. Evaluate everything it offers and find out if it's what you're looking for! You may also be interested in our article on the top portable and camping fridges in Australia.