Are you someone who likes to go camping? Perhaps a trip to Queen Mary Falls in South East Queensland may interest you.
Whether short trips or longer trips, having something cold to drink while out there is never a bad idea. To achieve this, some people may buy ice to achieve the desired temperature for their drinks.
After all, you're already buying camping gear, so the less you need to spend, the better, right? Sadly it doesn't work like that. You may want to save money by grabbing ice from the store, but plain ice just melts, once you don't have the right mechanism to house it on your trip.
Worse even, your drinks begin to swim in water, and your containers end up wet. Portable fridges make a much better alternative. Today is all about reviewing a couple of Adventure Kings fridge options and more.
Choosing Your Portable Fridge
You can't just pick up the first fridge you see and expect great value. Spending time to contemplate the advantages of each option is the best way to go. Who knows? The unit may not see regular use but you do want to ensure that the fridge/freezer is up to the task when it's time to hit the road.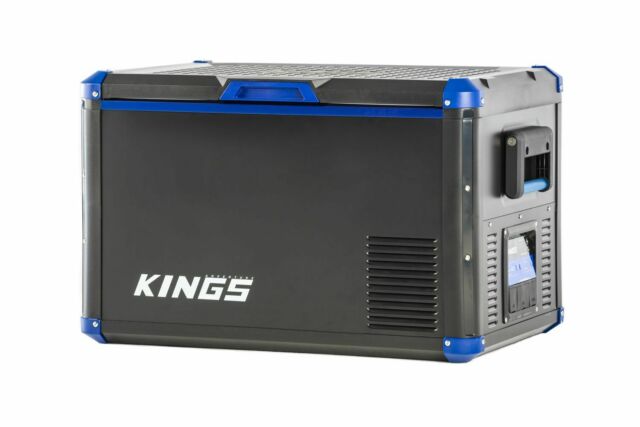 Here's a look at some of the considerations you can make to ensure that you hit that target. Thankfully, different brand options can meet these requirements. We also have a comprehensive article on the best portable and camping fridges in Australia.
Size Considerations
One could argue that one of the primary considerations that yield the purchase of a fridge is its size. Before you head to the 4WD Supacentre to purchase a unit, for example, you need to have some kind of idea of what your sizing requirement is.
Maybe an Adventure Kings 60L fridge/freezer is what one person may find appropriate while another may not even have the car real estate for it. Here are some great questions to consider?
How many people are going to be a part of the trip?
How long will you be gone?
Will you be in a remote area or is it possible to stock up on items regularly?
What kind of products are you packing?
If this is gonna be your car fridge, how big is the car?
A 25L model provides enough capacity for individuals, while a couple may want up to 40L. Small families that can stock up regularly are best suited by a 50L model. If the fridge has to hold more because stocking up is a problem, then a 65L build may be appropriate. Additionally, if the camping trip is for over a week, then it may be best to get something over the 65L mark.
Both a Fridge and a Freezer?
What kind of fridge mode is appropriate? Can it be just a fridge or are you going to need a freezer to boot? Most people prefer to go for a fridge/freezer combination. Of course, these fridges can't serve as freezers simultaneously, but they do allow you to switch on demand, meaning you can keep your stuff chilled or frozen, depending on what you prefer.
The dual-zone model is the exception to the normal rule, as the presence of separation allows you to protect your food/drinks via cooling and freezing at the same time.
Weight
The weight factor is broken down into two major considerations. First, to what extent can your vehicle handle the weight of the item. If your car is supposed to be lugging the fridge/freezer around for weeks, then this becomes even more of a concern.
Next, there's the mobility once you get to the desired location and the camping is underway. You may need to lift the fridge and you can't just hope for the best. You want to be calculated with these kinds of decisions.
Type
You can choose between two types of camping fridges. The first is the two-way fridge compressor type, while the second is the three-way absorption type.
The former is the most common choice among campers, and they use a compressor to cover your cool air requirements. This is also the more powerful option of the two options.
A three-way absorption-type capitalizes on a gas flow heat exchange instead. Campers who need a fridge to cover them for longer trips may use this kind of device.
Brand Name
This one goes without saying. Some brands have so many bad reviews that you'd be doing yourself a huge disservice by buying one of them. On the flip side, names such as Adventure Kings consistently deliver in build quality, power consumption regulation, etc.
Less than stellar brand names may present difficulty just to keep the fridge running and working fine.
Remember that you are always going to get what you pay for with these kinds of product decisions, so it's in your best interest to cover your bases effectively to get the quality you need.
Construction
As you proceed toward your destination, there are likely going to be some bumps along the way. While there may not be direct contact with the fridge, it is going to take some recoil and you can't depend on hope to ensure that it stays in good working order.
A quality fridge may cost you a bit more, but it has likely also gone through more rigorous testing measures than its more cost-effective or less intricately designed contemporaries.
As a rule of thumb, you want your fridge to be comprised of fibreglass, plastic, or metal. Fibreglass is best for those who are going to be around water a lot since it's corrosion-resistant. Plastic happens to be very flexible, while metal is highly durable.
Temperature Settings
You need to be able to set temperature settings to whatever is needed to keep your stuff cool. Typically, a good fridge with a well-insulated cover is going to allow for a temperature range of 10 degrees celsius to -18 degrees celsius.
On the refrigerator side of the spectrum 2-4 degrees celsius should be fine, while the freezer is going to require something along the tune of -15 degrees celsius.
Budget
This is one of the most obvious points to note. Even with the right capacity that can meet your power requirements, and serve you for weeks is no use to you if you can't afford the cost.
Nevertheless, you can't make your purchase decisions solely based on affordable prices since you may be compromising on what may have been a solid feature set otherwise.
Camping fridges are never exactly cheap, running close to the $1,000 very often. Still, this is a long-term and one-time investment, so just ensure your money is well-spent right off the bat.
Power Consumption
Having power inlets is one thing, but to what extent does the fridge meet your power consumption requirements? You're going to find that the consumption is expressed in Ampere-hour (Ah/h) or Amps DC per hour.
One running as only a fridge should hover somewhere in the range of 1-3 Amps per hour. In freezer mode, you're looking at 2-4 Amps per hour. Pay attention to the 24-hour power average as some fridges can reach their optimal temperature ranges quicker than others, which makes the requirement more forgiving.
Quality of Life Features
Interior light presence, digital controls, potentially having a SECOP compressor, etc. are some of the quality of life inclusions that you may want to compliment the build quality, price, and ability to store an adequate amount of food for the trip. Some of the other welcome inclusions are:
USB ports
Flush mount cooling elements
Thermometer
Specific temperature control
Baskets
Removable lids
Top-tier Camping Fridge Models
Adventure Kings Camping Fridge/Freezer
Adventure Kings fridge designs are very popular because of their ability to serve the intended purpose so well while still managing to remain relatively affordable. they continue to be impressive because they include great features despite not being incredibly expensive.
This is a single zone model and can be set to temperatures between the very desirable 10 degrees celsius to -18 degrees celsius range. The presence of integrated module handles makes them easy enough to carry around.
You can purchase a range of normal sizes including 20L, 35L, 50L, or even 65L. Therefore, you should be able to get whatever size you need for your camping needs. The warranty runs for two years.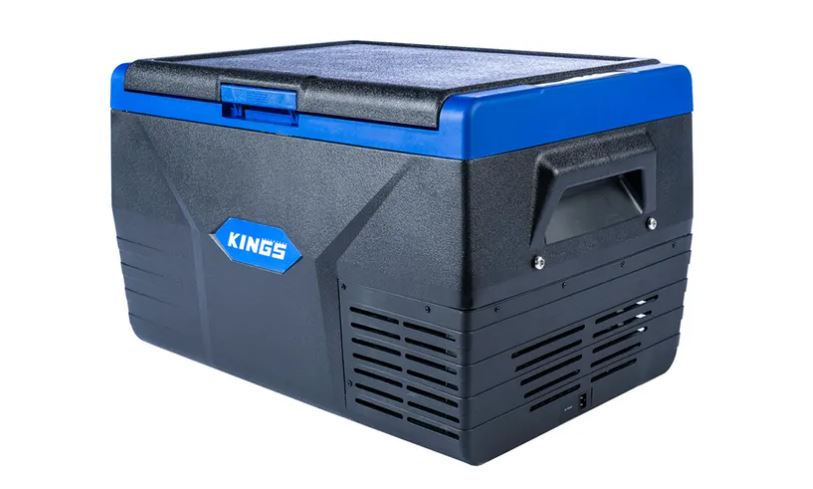 Adventure Kings Dual Zone Fridge/Freezer
Here's yet another Adventure Kings fridge, and this one, being a dual-zone build is perfect for those who want to be able to cover the bases of chilling and freezing at the same time.
Again, it doesn't cost an exorbitant amount of money but it still manages to provide features that some of the more top of the line options would. A digital control panel is present just like the previous model and it allows you to set your temperature anywhere between the optimal range.
Note that either compartment can be used as a fridge or freezer. You also have a two-year warranty claim window with this Adventure Kings fridge.
XTM Dual Zone Fridge/Freezer
This is hands down one of the best affordable dual models you can pick up in Australia. The two size options available, 75L and 100L are both on the larger side of the spectrum, which means you want to ensure that your vehicle can lug them around both from a spatial and weight-based perspective.
There is one removable basket in one zone while there are two in the other, which means that keeping your food and drinks organized is no inconvenience at all.
One of the XTM design's claims to fame is its durable composition including its latches, black powder-coated body, and strong seals. Another is the presence of either a powerful SECOP compressor or an EvaKool DL22DC, which is also quite powerful. A two-year warranty period covers you here.
Dometic CFF Camping Fridge
This model from Dometic is known for providing incredible value to its users. Whether you want something lightweight, affordable, or with a respectable capacity, you can get it all in one convenient package here.
The composition features polypropylene alongside nylon and steel handles. Stainless steel components are also present.
You can get this one in 45L or 70L capacity options. The former is the standard single-zone model, while the other offers two zones. Note that there is an internal basket that is shipped with removable dividers meaning you can keep your bottles upright if you so desire.
Your warranty coverage for this fridge is three years. You can see here our review of the Dometic Fridge range.
Companion Steel Dual Zone Fridge
This is one can be purchased in 65L, 75L, and 100L sizes, with the larger two offering two zones. They are incredibly spacious as you can probably imagine and provide users with immense versatility.
Removable baskets are present internally, which means that packing your items and unpacking them present no inconvenience at all. A very efficient LG compressor sits at the centre of the cooling capability. Some of the quality of life inclusions here are the LED lighting, soft close lid, and three-stage battery monitor.
Your warranty coverage here is going to afford you three years.
My Coolman Dual Zone Portable Fridge/Freezer
While this name hasn't been on the market as long as some of its contemporaries, it has certainly made a name for itself with very high-quality fridges/freezers and this model reinforces that point.
Inlets are present at both ends of the fridge making it very flexible and convenient to use. The handle design is very much appreciated since there's no protrusion meaning the relative size of the fridge remains constant.
Built-in bottle openers are included, as are a thicker lid, USB port, and charger. If that wasn't enough, while you can operate the fridge via its cutting edge display, you can also do it using a mobile app.
As you'd expect with this kind of feature set and the kind of power you get, the price here is on the higher side of the spectrum. See our comprehensive myCoolman fridge review here.
National Luna Dual Zone Legacy Camping Fridge
Here is yet another well built double zone model. The South African design was built to withstand harsh conditions. Some fridges, for example, can't take too many bumps. However, this is most certainly not one of them.
The National Luna off-road compressor is used to provide cooling power, and it yields a very impressive temperature range that runs between -24 degrees celsius and 20 degrees celsius.
Your only size option here is a 50L capacity and it happens to be quite lightweight. One of the stranger things about this design is that despite its high price, some of the features that tend to be synonymous with expense are simply not present here.
The warranty coverage you get spans three years.
Evakool Travelmate Camping Fridge
This is a top-tier double zone model with what is considered to be one of the biggest names in the world of portable fridges. You can get it in quite a few convenient size options including 51L, 80L, or even 96L.
As far as the composition goes, there's polypropylene alongside nylon and steel handles. A SECOP compressor is used in the design, which is synonymous with efficiency, especially considering the low rate of power consumption.
Either of your compartments can serve your fridge or freezer needs effectively. An interior light is present and the lid is completely removable, making packing and unpacking super convenient.
Digital controls, tie-down handles, three-stage battery protection, and a USB port complete what is undoubtedly a very convenient package.
The warranty you get here has two stages. The compressor is covered for three years, while the rest of the fridge gets five-year coverage. We have a full review of the Evakool fridge range here.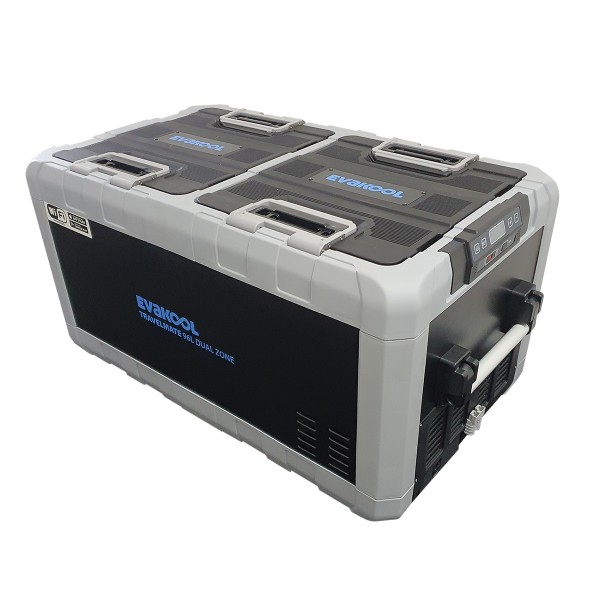 Conclusion
Now, you should have a much greater grasp on some of the most amazing portable fridges available from brands such as Adventure Kings. 60L, 100L, 50L, etc. sizing options are available and you need to ensure you have the right name, features, price, power consumption, etc. in the mix too if you want to optimize your purchase as much as possible.
The 4WD Supacentre is a great place to get some of these fridges and there is no doubt that you should be more than capable of selecting the right ones. Other fridge reviews include a review of Engel, and a review of Brass Monkey.
Frequently Asked Questions (FAQ)
Is It Worth It to Invest in a Portable Fridge?
If you're going to be going on camping trips and you need to keep food and drinks chilled or frozen, this is the way to go about it. Buying ice repeatedly is way more inconvenient by comparison.
What if a Fridge Has So Many Bad Reviews That I Can't Ignore Them? Should I Avoid It?
Bad reviews are never something for you to ignore. Reviews are the sentiments of others who purchased an item you are interested in before you. Apart from checking for the features that appeal to you the most, reviews are another great element to guide your buying decisions.
Is It OK to Use a Cooler in Place of a Fridge?
Technically, you can use a cooler with ice to keep your stuff cold for some time. However, there's a limit before the ice melts and everything is swimming around. Additionally, there's no freezing capability in going this route.