Byron Bay is a beautiful place on the NSW North Coast. Many families and friends go there all year to enjoy the many beaches and views this place offers. With many modern facilities available, busy camping grounds, and more – Byron Bay is an excellent place for all to enjoy.
This is a list of some of the best campgrounds for people to enjoy while visiting Byron Bay. There is something for everyone in this beautiful area. Also see our guide to Bribie Island camping and the best campgrounds on the Gold Coast.
Suffolk Beachfront Holiday Park
Suffolk Beachfront Holiday Park is great for those who want to pitch a tent and enjoy some camping with friends and family. You can also lie down outside at night and sleep under the stars. During the day, tourists can walk down the road and enjoy the sun, sea, and beaches in Byron Bay.
Additionally, there are many different accommodation options for everyone to enjoy, like tent camping, self-contained cabins, powered sites for camper trailers and vans, or Safari Tents. If surfing is something you're looking for, tourists will be happy to know that Tallow Beach is right on their doorstep. Tallow Beach is one of Australia's most well-known surf breaks.
However, if you do not enjoy surfing, then take time out and go swimming in the ocean or try out some local fishing spots. Afterwards, feel free to visit one of the local pubs for a cold drink and some heartwarming food. Moreover, Byron Bay town centre is only a 10-minute drive away, so tourists can go into town and enjoy any fun activities available there.
First Sun Holiday Park
First Sun Holiday Park is located on the beachfront and in the heart of town. This is the perfect place for those who want to enjoy the famous nightlife before relaxing on the beach during the day. Also, the park has modern facilities, so everyone at First Sun Holiday Park can enjoy their time in Byron Bay in style.
Two camp kitchens are always well-stocked, and a lovely picnic area overlooks the ocean. Also, if you want direct access to the busiest beach in town, you won't be disappointed with this choice because it is right on your doorstep. Feel free to catch some rays, go surfing, and people watch on your vacation.
Byron Bay Holiday Park
If a family-run holiday park is what you're looking for, then you won't be disappointed with Byron Bay Holiday Park. It is located on 28 acres, where tourists can catch a glimpse of echidnas, wallabies, native birds, and koalas. The best part is this is the perfect place for those who want that bush camping vibe.
Additionally, you can access Tallow beach and a lovely tea-tree lake, where you can relax and enjoy the water. If you want to head to Byron Bay, then it is only a five-minute drive from this location. Moreover, there is a wellness centre, cafe, bike hire, and more available for all to enjoy.
To top it all off, dogs are allowed at this site. Bring your furry friends along for the vacation of a lifetime.
Broken Head Holiday Park
If magic is what you're looking for, then Broken Head Holiday Park is perfect. Take a walk up the small lush rainforest path to the white sandy beaches, so you can experience the magic that is Australia. This is the perfect place for all nature lovers because you are away from the busy town centre.
However, don't feel like you won't have the best accommodations available because you will. There are beautiful and modern places to stay, so you can have your luxuries while camping in this beautiful space.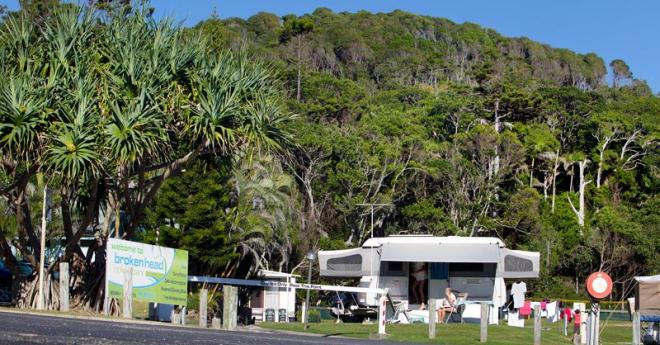 Glen Villa Resort
In the centre of Byron Bay, Glen Villa Resort is the perfect place for those who want the traditional camping experience while looking at the excellent views. Also, it is in a convenient location and affordable, so it is perfect for tourists looking to save some money. Additionally, if you love to surf or want to take some lessons, you can do so at Main Beach. The waters are crystal clear, and it has the perfect surfing conditions. The best part? It is only a 500-meter walk away.
It is the beachfront location for all to enjoy. Moreover, take advantage of all of the relaxing activities you can do like swimming in a saltwater pool, exploring the tropical gardens, or lying down on the grass and soaking up some much-needed sunshine. However, if you want to be more social, you can walk straight to the town centre and enjoy all the amenities available there.
This is another beautiful place to stay in Byron Bay.
Reflections Clarkes Beach
If you want to stay somewhere that has campsites available up and down the coast, then Clarkes Beach is the right one for you. Unlike other holiday parks, Clarkes Beach is just a short distance from the bustling restaurants, shops, and bars. However, many people like that they are close enough to Byron Bay while still being far enough away to enjoy some real peace and quiet.
Additionally, if you are worried about what to do while at Clarkes Beach, there is no need to worry anymore. There are loads of things to do, like having a BBQ or sending the kids off to some fun school activities. Also, there is Wi-Fi, so you can still watch your favourite TV programme before bed.
Discovery Parks Byron Bay
Not everyone is made for bush camping, so Discovery Parks is a great alternative for those who like to be comfortable. Enjoy the filtered swimming pool and deluxe safari tents in style. It is located only two kilometres away from the town closest to the banks of Belongil Creek.
Additionally, this holiday park includes accommodations like cabins, unpowered caravan sites, and powered sites for tents and caravans. It is mainly aimed at families who enjoy socializing while using the BBQ facilities, doing their laundry, and visiting the local cafe. There are also more kid-friendly activities like a waterpark and bouncing pillow so that the kids will enjoy their stay as well.
Ingenia Holidays
Another beautiful area with 28 acres of parkland, Ingenia Holidays, gives people a fun, spacious, and authentic experience of Byron Bay. Enjoy the modern accommodation when picking from the 155 different campsite options.
If you love wildlife, then you will be happy to know that you can catch a glimpse of echidnas, wallabies, and koalas while staying here. Also, you can even see whales during their migration season. Just take a short stroll to the beautiful beaches in the area so that you can enjoy some saltwater and sunshine. However, if the ocean isn't your cup of tea, relax by the holiday park's pool instead.
Moreover, the town centre is only five minutes down the road, so you can pop into town and enjoy a delicious meal after a busy day of relaxation.
Lennox Beach Holiday Park
Lennox Beach Holiday Park is an excellent option if you want a quiet place to stay. This holiday park is located between the beach and Lake Ainsworth, so you can still get those beautiful holiday photos while staying away from the busy lifestyle of Byron Bay.
Instead, enjoy Lennox Head, a village that has a lot to offer, like the perfect right-hand break at Lennox Point to the relaxing tea-tree waters of Lake Ainsworth. Also, do a spot of shopping at one of the cute boutiques before taking a break at the local cafe.
Mount Warning Rainforest Park
This is perfect for those who want to be right inside the rainforest at the foot of Mt Warning. Also, this holiday park has an entrance to the World Heritage Mt Warning National Park. With its breathtaking views, many people enjoy coming here during the summer, so they can get the perfect picture before taking a dip in the mountain stream.
Additionally, you will be able to listen to the birds while sitting around the campfire. Sleep under the stars and enjoy this perfect wilderness experience that you will remember for a lifetime.
Conclusion
Byron Bay has many different campsites for everyone to enjoy. There is so much to see and experience while staying in this NSW area. Tourists can enjoy the beautiful beaches while surfing or swimming in the saltwater. Also, there are many places to catch a glimpse of some wild animals like koalas and even whales.
Additionally, with a wide range of accommodations available, you can stay in either a cabin, a tent, or unpowered sites. Either way, these are some of the best campgrounds that people can enjoy while visiting Byron Bay.