Everyone experiences a busy lifestyle, and since the Covid-19 pandemic, many people are stuck indoors while constantly interacting with technology. Fortunately, the Gold Coast offers people a tranquil solution and a quick weekend getaway from the bustling city life.
City dwellers can ditch their cell phones and laptops for picturesque scenery, safari tents, open fires, and beautiful walking trails.
Campgrounds on the Gold Coast are the perfect place to be when it comes to a diverse range of camp stays and a luxury glamping experience. Besides, what could be better than unwinding with a glass of complimentary Australian sparkling wine?
While the Gold Coast is known for being a surfers' paradise with its beautiful beaches, there are also caravan sites and theme parks you can go to with your family and friends and have an unforgettable experience. Let's take a look at how you can have the experience of a lifetime in the beautiful camping areas surrounding the Gold Coast.
We also have a comprehensive article on the best Byron Bay campgrounds, and camping on Bribie Island.
Binna Burra Campground, Lamington National Park
Binna Burra is a cultural landmark at the edge of the Gold Coast Hinterland amid the subtropical rainforest of Lamington Park. If you are a city lover in a surrounding area, then this is the place that welcomes all visitors who need to rest from the toils of their labour.
Some people may think that Binna Burra may not be a "movie world" scenario since it was hit by some wildfires a couple of years ago. However, today, Binna Burra has some of the best rainforest views you can experience.
What Can You Do?
Binna Burra is located at the Lamington National Park, and aside from having a great settlement camping area, there are many other things you can do, such as:
Taking short walks or long hikes in the hiking trails
Paying homage to the Yugambeh Kinshin group
Experiencing dramatic lookouts, plunging, gorges, and rugged cliffs
Exploring the mountain streams and the park's forest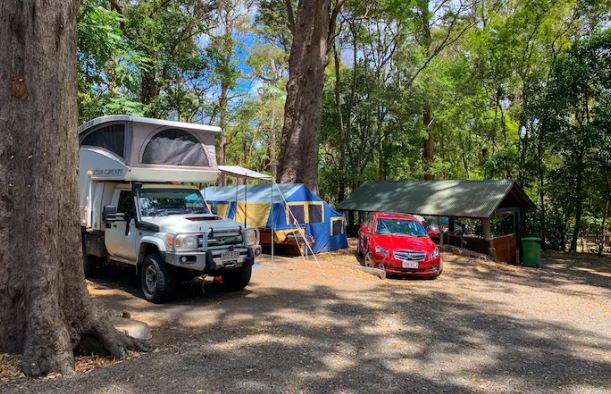 Bottom Line
One of the most interesting things about this park in Gold Coast is that it's currently a refuge area for several ancient songbirds and endangered animals that solely rely on the park's protective measures.
If you're looking for camping getaways with considerable walking distance and beautiful scenarios to take pictures of, you may give this camping area a shot.
Bigriggen Park, Scenic Rim
Bigriggen Park is a caravan park and camping area for the whole family. This wonderland is located in the scenic rim and is just over an hour's drive from Gold Coast. Unlike other national parks, this site is perfect for those who are looking for a remote adventure that takes them off the grid.
The spacious campground and unpowered sites are perfect for campfire nights. The facilities are well maintained on the campground and offer visitors hot showers. The park is also pet-friendly so you can take your little friend on your adventures.
What Can You Do?
Overall, you have about 100 acres of space to set up your camp, which is perfect if you have a big group coming up with you. Moreover, you also have 55 acres of "river-hugging" campgrounds and 45 acres of hilltops.
In case you're a fan of interesting landscapes, you can explore Mt Barney National Park, which has beautiful views of rugged peaks. These peaks belong particularly to Mt. Lindesay, Mt. May, and Mt. Maroon.
As with the previous park, this place is also home to rare animals. However, this park is also home to interesting plant species, so if you want to take some fantastic pictures back home, this may be it.
Bottom Line
You have two options here. If you want a "safer" experience, you can camp in the 100 acres of space since that area is pet and family-friendly. However, if you're feeling adventurous, you may take a hike to the Mt. Barney peak. Still, make sure you're prepared for the adventure!
Broadwater Tourist Park, Southport
In case you're looking for a more "relaxing" environment with several entertainment options, the Broadwater Tourist Park offers a lot for your friends and family. Overall, this place is located 15 minutes from the city centre, so you don't have to worry about travelling that much.
What Can You Do?
As mentioned before, there are several options to choose from. If you want to take it easy, this Gold Coast park has beautiful waterfront pathways, as well as camp, cabin, and caravan facilities which are protected at all times.
However, if you're looking to have a bit more fun, there are several areas where you can play water sports, swim, fix, or just relax alongside other people. If you have children, you may take them to the Rockpools Splash Park and let them have fun for hours!
Bottom Line
This option is for those who don't want to fully commit to a "wild" adventure. This place is fully protected and has several housing options, as well as Wi-Fi, tennis courts, barbeques, and more.
Ocean Beach Tourist Park, Miami
There is nothing more appealing than the smell of the ocean and beach sand between your toes. The following option is best suited for those family and group friends looking for a simple, relaxing, and lovely experience with the sand and salty water.
What Can You Do?
Here, you can choose among several caravan sites or find your favourite spot to pitch a tent. However, this beach comes with all the amenities you may need if you don't want to fully disconnect from the world, such as a laundry clock, a kiosk, and a Wi-Fi connection.
Bottom Line
While it doesn't offer special experiences that other Gold Coast theme parks may offer, the Ocean Beach Tourist Park has proven to be an excellent choice for those who want to keep their trip simple and just enjoy a breath of fresh air.
Thunderbird Park, Mount Tamborine
Thunderbird Park is perfect for those looking for a nice, sub-tropical rainforest environment where they can relax. While there are several unpowered and powered sites for caravans or tents, there are also several options you can consider if you're planning on staying here.
What Can You Do?
Overall, this site is located in the Thunderbird Park adventure playground, which is an iconic area. Moreover, you're also at a walking distance from Cedar Creek Falls, which hold some of the most beautiful sights you can experience from nature.
If you want to take your trip one step further, you can choose from an ample supply of activities that are centrally located, such as zip-lining, horse riding, or going around the Tamborine Mountains.
Bottom Line
Although this park is located 55 minutes from the city centre, it's a worth-considering option if you're willing to enjoy a different, adventurous experience. You don't have to worry about commodities since you also have access to barbeque grills, microwaves, recycling bing, and camp laundry.
Nightfall Wilderness Camp, Lamington National Park
In case you're looking for a more intimate experience or a romantic adventure with your significant other, the Nightfall Wilderness Camp offers everything you need to have a lovely experience.
What Can You Do?
Here, you can set up camp without any problems since the park offers several amenities such as running water, organic bedding, chef-prepared organic meals, and more. It's vital to note that the camping area is capped at eight guests, so if you want to organize a full trip with your friends, this may be an unforgettable experience for everyone.
Bottom Line
This park's camp is located just beside the tumbling headwaters of Christmas Creek, as well as the Lamington National Park's rainforests. Overall, this is a visually amazing experience you must experience at least once.
The Settlement, Springbrook National Park
Springbrook national park's "The Settlement" is one of the most popular camping choices for people near the Gold Coast. In fact, it's so popular that many people have to book a spot weeks in advance. Overall, there are up to 11 defined camping areas for your trailers, vans, or tents. Keep in mind that caravans are not allowed, though.
What Can You Do?
In "The Settlement," you can explore its hiking trails, take pictures of the scenery, and enjoy the area's free electric barbeques. However, one of the most interesting things about this area is its local glow-worm population, which gives a beautiful show for all guests every night.
Bottom Line
The Settlement is the only camping site near the Springbrook National Park, which is why it's so hard to book a spot with short notice. However, if you're able to organize a trip there, you're likely to have a fun and unforgettable experience.
Spring Gully Stays, Canungra Valley, Gold Coast Hinterland
Some people catalogue this place as "hidden in the Scenic Rim shire" since it has several available accommodation options for people, including camper trailers, tents, rooftop tents for vehicles, motorhomes, safari tents, and more. If you're not a fan of spending hours setting up camp, this may be an excellent choice to consider.
What Can You Do?
This is a spot for those who want to explore the Hinterland and take a fresh walk around. While there aren't many amenities available, you can still enjoy barbeque areas, kitchens, and open fires.
Bottom Line
The Spring Gully Stays are 50 minutes away from the city centre, but it's still a decent trip, and if you're planning a quick weekend getaway with your family, this option is worth it.
Fingal Holiday Park, Fingal Head
Embark on a relaxing escape to the Tweed Coast's Fingal Holiday Park, which provides direct beach access, complemented by kilometres of white sandy shoreline. Within a 10-minute drive of Tweed Heads, the township boasts incredible surf breaks and fishing spots that are all close to the park.
What Can You Do?
A wide range of accommodations are available, from pristine tent sites and tourist stops to luxury cabins and safari tents overlooking the beach. The camping area offers guests suitable amenities; toilet facilities, hot showers, rubbish bins, and a covered eating area.
Bottom Line
This is one of the most relaxing options chosen by families in the holidays. If you want a well-established campground with all the necessary amenities, this is a place you can relax and take outstanding pictures
Conclusion
This is just a small selection of areas near the Gold Coast you can enjoy from. However, there are many more areas to choose from. You can browse the parks mentioned in this article and take a look at other interesting camping sites to look out for.
We hope this overview has helped you choose a nice getaway area for you and your family!