Battery boxes are the go-to alternatives to power packs or Kings generators, thanks to their flexible functions. Australia has plenty of battery box brands varying in size, charging options, design, ports, and more. One famous brand is Kings Battery Box. The company has slowly gained traction among off-grid travelers and has a few handy products for off-grid campers.
This battery Box review talks about two battery box products (Kings Battery box and Maxi battery Box) and the batteries that can be coupled with them.
King Battery Box Features
Kings Battery Box measures 44 cm x 26 cm x 28 cm and is one of the most affordable battery boxes under $70. It has lots of features which we'll look at below.
Box Material
The outer material is sturdy polypropylene, and it can survive harsh conditions, bumps, and any roughing in the camp. You can mount it anywhere in your trailer or even carry it around where you want to use it.
Display
The portable battery box has an LCD display with a voltmeter to view the voltage at any time. If you want to see the display in the dark, press the red button, and it will appear. LCD displays are helpful when you have a lot of appliances plugged in or when you need to know which ones are taking up too much energy.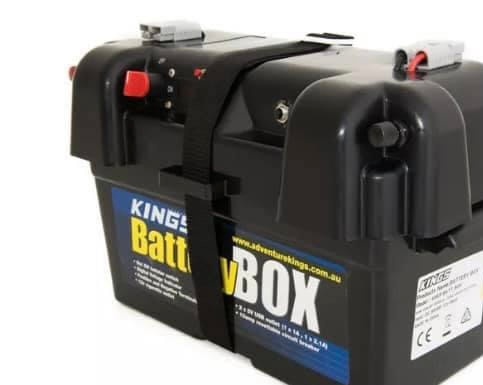 Safety Switch
Safety is the first consideration when dealing with appliances, and Adventure Kings did their part. The battery box has an inbuilt on/off switch to allow you to shut down when not in use, and this lengthens your battery life.
The box also has a resettable circuit breaker to prevent the circuitry from external damage in case a component develops a sudden surge or high voltage.
Power Outputs
The Kings Battery Box has two USB sockets and a 12v cigarette socket. The top of the box has two Anderson plugs which can also be used as inputs and outputs.
Pro tip: Since this box has only one 12v cigarette output, you can purchase a splitter and convert the plug into multiple plugs. This gives you more flexibility and the ability to power an extra set of lights or appliances such as a fridge.
Charging Terminals
You can charge the Kings Battery Box in two ways. The positive and negative terminals can be connected to receive charges. Solar panels with ada[ters can charge using this method, although the terminals are mainly used to receive charge from 12v battery chargers.
Another way to charge this battery box is through the Anderson plug terminals on top of the battery box. With proper wiring, you can connect your car's system to the battery or solar panels with a compatible setup.
However, connecting the solar panel directly to the battery box is not recommended as it can potentially harm the unit with strong currents. So, it is best to use a solar regulator between the battery box and the solar panel to eliminate such risks.
Adventure Kings Maxi Battery Box Features
Adventure Kings also manufactures a bigger battery box, the Maxi Battery Box. It was designed for campers who might need extra battery capacity. While the Maxi is a different product, it has almost all features similar to the Kings Battery Box. The only difference is the size which allows high power usage.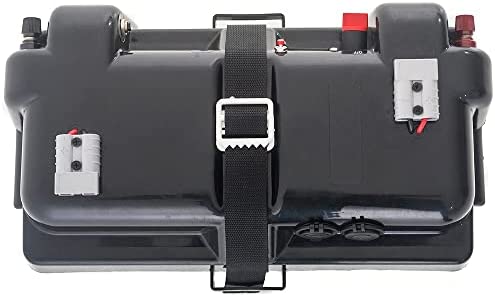 Is The Kings Battery Box A Good Fit?
Absolutely! Kings Battery Box has incredible features and a must-have equipment for a typical off-grid camper. The box has plenty of outputs, charging options, LCD screen for the convenience at night, among others.
Battery Box 101: The Basics
What is a battery box used for?
A battery box supplies a reliable power source for several 12v and USB devices. It provides a safe and secure hub for a battery, adding the convenience of connecting to any appliance inside the box. Battery boxes can power several appliances such as camping showers, camping lights, mini-fridges, etc.
The USB ports charge everyday gadgets like smartphones, tablets, portable torches, and more.
How does a battery box work?
It consists of a plastic casing that covers the battery with circuitry designed into the box such that the box connects to the battery terminals. The box then has outputs and an LCD display that shows the battery's voltage.
What kinds of batteries do you need for a battery box?
Battery boxes need to be fitted with heavy-duty batteries. This type of battery differs from the standard household battery as it has more power and can be used for a long time. Heavy-duty batteries come in two varieties; deep cycle batteries and cranking batteries.
Cranking batteries are the go-to option to start engines as they produce high voltage over a short time. They only need a high enough power to crank up the engine, and that's it!
On the flip side, deep cycle batteries produce lower amounts of current for a long time. They are the ones you need for camping as they can power most appliances throughout the night. That said, deep cycle batteries are best suited for battery boxes.
What are the options for deep cycle batteries?
Adventure Kings has three 12v batteries for their battery boxes. The deep cycle batteries are fully sealed and contain lead-acid AGM, which means they perform well and are safe to use for camping. They have M8 terminals that function between -20 and 50 degrees celsius.
Kings 115Ah Deep Cycle AGM Battery
It's compatible with the standard Kings Battery Box and weighs approximately 30kgs. The battery measures 33 cm x 17 cm x 21 cm. This battery can power up a typical camping fridge for about 48 hours.
Kings 98 Ah Deep Cycle Battery
It is also compatible with the standard Kings Battery Box. The Kings 98 Ah battery weighs approximately 27 kg and measures 30 cm x 17 cm x 21 cm.
Kings 138Ah Deep Cycle AGM Battery
The 138Ah Deep Cycle AGM Battery is the most powerful of the three products and cannot fit in the standard battery box. It sits perfectly on the Maxi Battery Box and is pretty heavy (you might need someone else to help). The battery has a massive power storage capacity and can power common camping appliances for days without running low. It measures 41 cm x 17 cm x 22 cm.
Finding The Best Battery Box
When comparing battery boxes, there are a few must-know features that you need to be aware of. These features will help you filter out models you don't need or those with unnecessary features. Here's a quick review of key factors to consider when buying a battery box.
Battery types
Knowing if your battery box is compatible with deep cycle, lithium, or lead-acid batteries is crucial. For instance, Adventure Kings does not yet have a battery box compatible with lithium batteries. So, if you're buying an Adventure Kings battery box, go for other types of deep cycle batteries.
Size
The battery box shouldn't be as heavy as the battery- it should be portable and easy to carry around. The best size for you will depend on the battery and the amount of power. You can adjust the battery box if you have smaller batteries, as long as it is within a specific "safe" distance to the box. Otherwise, there's a risk of disrupting the AGM battery connection inside the box.
Outputs
A battery box should have as many outputs as possible since it is the epicenter of power. Lack of or few outputs is one of the biggest factors most people consider when buying a battery box. Common ports built-in battery boxes include:
Merit plug
Anderson plug
Engel socket
12 volt charging port
12 volt cigarette socket
External screw terminals
Display
A display lets you know different features like the charge level, voltage, etc. It is a valuable feature as it shows you how much power you're using and when the battery charge is low. Most cheap brands do not have displays, and you may have to rely on memory muscles to camp successfully.
Kings Battery Box- Frequently Asked Questions
Is Adventure Kings the same as 4WD Supacentre?
Adventure Kings is a brand of a selection of camping goods sold in retail outlets across the globe. 4WD Supacentre is a brand that's closely affiliated with Adventure Kings but operates as a separate company on its own.
Can a Kings Battery Box run a fridge?
Yes. If you have a 12v battery (similar to the average household battery), you can connect it to a battery box to run camping appliances such as a Kings fridge. The battery box helps convert the power source to be compatible with the refrigerator.
How long does Kings battery last?
The Adventure Kings 115 Ah deep cycle battery supplies a massive 90Ah capacity for 20+ hours (roughly 6Amps per hour). So, if you have appliances that use less than 6 Amps in an hour, your battery could last more than 20 hours!