A rooftop tent is a great way to explore the unbeaten and beautiful Australian outback tracks without having any fixed accommodation. It's a MUST have for those who plan on doing an extended road trip using their 4WD, SUV or van!
Rooftop tents provide a quick and easy way to camp out on the go. They make it easy and fun to enjoy the beautiful transcendent outdoors without having to carry extra equipment or having to pull a camper trailer.
Car roof tents have their origins in the scenic but dangerous Australian outback and the African bush. They provide people with a safe place to sleep and avoid entanglement with everything vicious, from lions, dingos, crocs, and the large array of creepy crawlies, from snakes to some of the deadliest spiders and much more.
The outback is not a place where you make the mistake of forgetting to zip up your tent because you never know what you'll wake up next to!
At a glance;
There is a range of great car roof tent contenders on the market, both soft and hard shells. It's just a matter of knowing what to look for and what works for you. If you have doubts about what makes a great rooftop camping tent for your needs, then you are in the right place.
In this detailed buying guide, I'll take you through the top 10 best roof top campers, the advantages over traditional tents, and what to consider before purchasing.
Below is a quick comparison of some of the tents.
10 Of The Best Roof Top Tents In Australia
Darche Panorama 1400 Rooftop Tent (No Annex)
Capacity: 2 Person | Weight: 63kg/139 lbs
The Darche Panorama 1400 is the ultimate kit for your dedicated 4×4 rig.
The Panorama 1400 has a compact design and a convenient low-profile pack-down designed to help reduce wind resistance. It features a high-quality 1500mm PU waterproofed 320gsm Ripstop canvas that can withstand a constant wind speed of 80km/h, an HD compressed checker-plate baseboard, and a PVC tonneau cover for added durability. See the full review of the Darche Panorama 1400.
The tent's construction features needle-lock double stitched seams with premium reinforced bar tack stitching on all the stress points and corners for your peace of mind.
The adjustable tropical fly, built-in air vents, and extra-large windows are designed to provide exceptional airflow, maximum ventilation and prevent condensation.
The Panorama zippered window allows you to stargaze and stay cool as you unwind on the high-density foam mattress ( come with a removable water-resistant cover).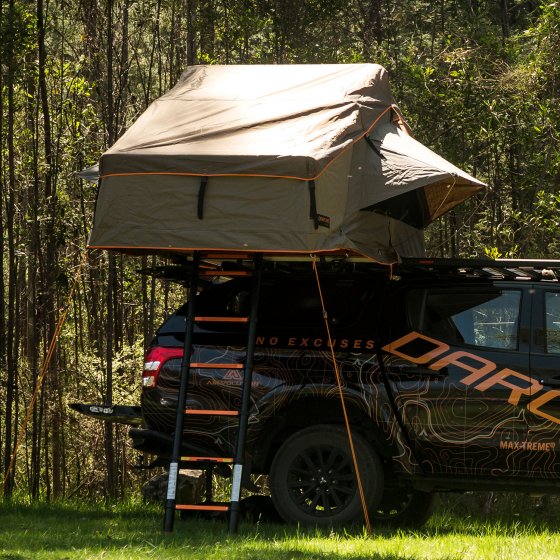 Key Features & Specs
It is made from premium 320gsm ripstop polycotton canvas.
Designed for easy setup & pack down.
Easy-action 2.3m trigger lock canopy pole.
An impressive PU 1500mm water rating that will keep you dry in rainy conditions.
Premium high-density 50mm mattress.
Fully removable, durable PVC cover for tent protection when you're in transit.
Mounting brackets that easily fit on most flat roof racks or roof rail systems.
Fine insect mesh on all air vents and windows.
Internal storage pockets to stash your gear.
Darche also have great camping swags.
Dune Nomad 4WD & Car Rooftop Tent (140 cm)
Capacity: 2 Person | Weight: 56 kg(123.5 lbs) with ladder/ 49.5 kg (109 lbs) without | 300 kg internal weight capacity
The Dune 4WD Nomad Rooftop Tent will elevate your camping experience to the next level!
Made from tough Ripstop Polycotton material, this rooftop tent is lightweight, comfortable, long-lasting, and yet extra durable to resist abuse while on the road. It is waterproofed up to 3000mm to keep you dry no matter how bad the weather gets.
The hydraulic tent mechanism makes it easy to set up and fold down in seconds, providing hassle-free and on-the-go use wherever you choose to explore. It takes about 3-4 minutes to take off/put on.
The Dune 4WD Nomad is a slight combination of a soft and hard shell tent. The base is made of an aluminium slatted frame to provide extra support and aluminium arms that help to hold up the tent structure.
The 5cm thick mattress is one of the main things that we think should've been better Plus, a mattress topper might improve comfort but at the same time cause challenges in closing the tent. It's okay for a weekender type of person but not close to sufficient if you are frequently on the road. Weaknesses as it's only a 50mm high-density foam.
Climbing up into the tent is made easy by the telescopic ladder that is easy to use and attach to the tent (using the two nylon clips on the side of the tent).
Key Features & Specs
Includes a heavy-duty PVC cover
The 140 Model is designed for two people but has extra space and room for a third.
Also available in a slightly smaller 120cm model that weighs 46.5 kg (with ladder), 40.0 kg (without).
Set up and fold down in seconds with hydraulic cylinder mechanism, making set up incredibly fast and easy
Two large shoe pockets conveniently placed on both sides of the door
Telescopic aluminium alloy ladder designed to hold a maximum weight of 150 kg
300 kg internal weight capacity
EEZI-AWN Blade Hardcover Rooftop Tent
Capacity: 2 Person | Weight (Including Ladder) 175 lbs | 80 kg
With almost four decades of specializing in roof top tents, awnings, roof racks, among other camping gears, the Eezi-Awn company is among the best tent brands today. They have an extensive lineup of high-quality tents, with the Blade Eezi Awn hard shell roof tent being one of their very best premium products.
The brand new EEZI-AWN Blade series comes with an aerodynamic aluminium hardtop tent shell design. It's designed to seamlessly blend with your SUV/4WD's aesthetics while providing an unparalleled and comfortable sleeping experience.
"The Blade roof top tent sports many awesome features"
One of the main perks for this tent is the standard K9 Track system. This useful addition makes it easy to mount extra K9 accessories such as a shovel kit, spade, ax kit, or load bars to which you can mount your Maxtrax, solar panels, surfboard, kayak, or even storage boxes.
The integrated gas strut technology makes it effortless and easy to open the tent with just one motion. The gas struts have been strategically placed to optimize functionality which means you can easily open the tent with just one push, making it easy to set up even by just one person.
If you are planning a trip across Australia, the EEZI-AWN Blade Hardcover Rooftop Tent allows you to do so in comfort and style.
Key Features & Specs
Built-in 12v socket and power cable.
Internal gas struts for an automated and fast setup/takedown
280gsm heavy duty ripstop canvas with heavy-duty ykk zippers
270-degree viewing design.
Perfect for the solo camper
Triple entry with fine mesh panels for privacy
the slightly elevated roof rear offers adequate bedding storage
built-in double-size mattress and internal storage pockets
rear rain fly opening supported by spring steel rain fly rods
includes an xklusiv ladder with built-in extension and a ladder bag
Darche Intrepidor 1400 Roof Top Tent with Sky Window (No Annex)
Capacity: 2 Person | Weight: 52kg
The Darche Intrepidor 1400 is an ideal rooftop tent for compact SUVs and soft-roaders. It is slightly cheaper than the Panorama, yet it offers almost similar features. However, it is slightly bulkier when closed compared to the Darche Panorama. The increased bulkiness increases overall drag. The cover zipper is also another issue that most users complain about as it keeps on getting caught in the fabric.
Other than that, it's one of the best rooftop tent Australia that offers value for money. It's an easy-to-set-up tent with superb ventilation, is built with high-quality materials, and provides excellent comfort levels.
Key Features & Specs
Amazing airflow and comfortable comfort.
incredibly easy and quick set up
180° side windows with canopy and fine insect mesh
Lightweight. It weighs about 52 kg
A Zippered window for sky gazing.
Comfortable and waterproof 65 mm mattress density with removable cover and removable base.
330gsm ripstop polycotton tent fabric material with ideal durability
Adventure Kings Roof top tent
Capacity: 2 Person | Weight: 63 kg | best budget rooftop tent
The Adventure Kings Rooftop Tent is probably one of the cheapest tents in Australia. It's an awesome entry-level tent for those looking to spend less than $1000 on their first rooftop tent.
Despite the cheap price tag, it's a quite roomy tent that will accommodate all your camping gear, offer plenty of sleeping space, and comes with all the basics you need for your offroad camping trips. Like most tents, it's pretty easy to set up alone. However, if it's your first time working with a roof top tent, you might need an extra hand to help with the internal poles.
Like many rooftop tents, Adventure Kings use the high-quality 320 GSM Poly Cotton Ripstop canvas, which is very strong and suitable for all weather conditions.
Key Features & Specs
great ventilation as all four sides can open to maximize airflow,
Comes with a durable 600 GSM PVC cover.
2.1m folding Aluminium ladder
Comfortable 75mm foam mattress and storage compartments
the best value for money across the board at almost half the price compared to competitors.
Fully waterproof and insectproof, thanks to the canvas and all mesh windows.
The window awnings provide shade on warmer days.
Large windows for maximum airflow
Incredibly spacious for the price.
23Zero Dakota 2200 Roof Top Tent
Capacity: 3-4 | Weight 87Kg | Perfectly Suited For Family Campers
With almost three decades of experience and an outdoors heritage spanning Australia and the USA, 23Zero is among the best rooftop tent creators.
The 23Zero Dakota 2200 is another quality addition to this collection of Australia's best roof top tents. It's a high-quality, durable tent designed for extended adventures and years of comfort and use.
"This is a fantastic tent for families looking to spend more time outdoors."
It's designed to sleep up to 4 people. However, with a sleeping area of the sleeping area – 2400mm L x 2200mm W x 1200mm H, the tent is more suitable for three adults, or two adults, and two kids. The 280gsm 65/35 poly cotton tearproof canvas w/ LST (Light Suppression Technology) coating is designed to reduce light pollution, torches, and moonlight, guaranteeing a good night's sleep.
Designed with utility and functionality in mind, the Dakota 2200 is built to conform to your needs and expectations of a premium roof top camper. The tent frame features a 25mm aluminium tube that pivots on stainless steel yokes.
The large stargazing roof windows, side vents, and adjustable tropical fly provide exceptional ventilation, airflow, and even better views, all while laying on the hi-density 65mm open cell fitted mattress with a polycotton washable cover. The tent also has enhanced climate control settings, suitable for high outback temperatures.
Key Features & Specs
Optional Dakota 2200 annex in either a 2.1m drop or 1.6m drop.
180-degree full-width windows with all-weather canopy
telescopic extendable aluminium ladders (designed to fit with vehicles with up to 4″ lifts)
2 x full zip down sky windows
Adequate windows and vents to help prevent condensation in all conditions.
Heat-sealed tent seams
600gsm PVC transit cover with D ring compression straps
Three aluminium mounting channels for extra support on the baseboard
ARB Simpson III Rooftop Tent.
Capacity: 2 | Weight: 82kgs
"It's a well-thought-out and spacious rooftop tent."
ARB Simpson III is a solid, well-built premium rooftop tent.
Most users love the Simpson III for the convenience it provides–leaving the beddings inside the tent when you pack it away. This is an awesome feature as it not only saves time, but it leaves you more room to fit other essentials in the vehicle.
Unfortunately, this contributes to a new problem on the roof. The resulting unnatural shape is not aerodynamic at all. That, combined with the bulky total weight of the tent and the beddings, comes about 82 kgs, which means you should expect to burn through a lot of fuel, especially when driving along the highway.
"Plenty of ventilation"
The ARB Simpson III comes with plenty of ventilation, making it ideal for warmer climates.
Key Features & Specs
the easy access straps and zips make it says for one person to set up the tent
Made of 300gsm poly/cotton Ripstop canvas with a polyurethane coating for improved waterproofing.
Offer plenty of ventilation suitable for warmer climates such as Northern Australia.
A durable 600 GSM PVC cover.
Allows for beddings and pillows to be stored inside
Four interior storage pockets that offer great space for keys, phones, or other smaller items.
A sturdy adjustable telescopic ladder
Full warranty & awesome after-sales customer service.
BCF XTM Rooftop Tent.
Capacity: 2 | Weight: 77kgs
If you're looking for an affordable starter rooftop tent, the XTM rooftop tent is a great option to consider.
Just like the rest of tents we've reviewed, the XTM is also made with 320 gsm premium ripstop polycotton canvas fabric. It also features a 210 denier polyester rainfly for extra protection from harsh weather.
"The 2000mm waterproof rating is not sufficient for heavy & consistent rainfall."
The XTM roof top tent is super spacious and easily tucks away in the tough, durable 1000 denier PVC cover.
The extremely comfortable 75mm thick high-density mattress inside the tent will provide you the comfort you need to have a good night's sleep. The mattress features a removable cover that makes it easy to clean or switch.
Thanks to the durable and lightweight aluminium frame, the xtm is an easy and ultra-convenient tent that requires just one person to set it up. The only downside that we couldn't overlook was the weight. It's pretty heavier compared to other similar tents like the king's rooftop tent.
Key Features & Specs
Two large side windows for maximum ventilation.
Superfine mesh to protect you from bugs.
stainless steel hinges for longevity
2m lightweight aluminium telescopic ladder.
Waterproof rating of 2,000 mm
Includes a 75mm comfortable high-density foam mattress
The zipped PVC travel cover helps to keep everything secure while on the road
The xtm is an awesome and affordable starter tent that will be a great addition to any 4WD touring rig.
Dometic TRT120E – 12V Electric Rooftop Tent
Capacity: 2 | Weight: 56 kgs inc. ladder
The Dometic TRT120E electric roof top tent is somewhat pricey but worth every penny.
While certainly not the very best roof top tent, it is spacious enough, well-ventilated, made of premium materials, and features lots of extra storage options.
"boasts of an electric motor and one-button setup."
The main hype contributing to the premium price tag is mainly because it can be quickly set up simply by using the remote control—no more fiddling around with poles. Once you pull up to your campsite, all you have to do is to remove the travel cover, and at the press of a button, your tent will set up itself leaving you all the time to grab a beer as your mates' struggle!
With a 5 cm thick high-density foam mattress, an internal length of 2000mm, a height of 1100mm, and a width of 1200mm, the TRT120E can comfortably sleep two people. The canvas tent is water-resistant, has a UPF50+ protection rating, and has a two-layer construction suitable for all seasons.
Key Features & Specs
A high-density 5 cm thick foam mattress.
Integrated flyscreen that allows for airflow while keeping insects out
Heavy PVC tent cover
ultra-convenient and hands-free set up design
Lightweight aluminium frame & ladder
Water-resistant & UPF 50+ two-layer fabric
Darche Hi-View 2200 Roof Top Tent
Capacity: 4 | Weight: 87kgs
"It has all the room you need for your next family weekend camping."
The Hi-View 2200 is the ultimate family Roof Top Tent. It is not only ideal for 4×4 wagon setups, but it's also particularly fitting for camper trailers.
It features double-entry points and comes with two telescopic alloy ladders. With a fully seam-sealed 260gsm polyester/cotton ripstop canvas, the Darche Hi-View 2200 rooftop tent guarantees performance, durability, and an unforgettable bush experience.
With a sleeping area of 2400L x 2200W mm and a max head height of 1250mm, the tent can sleep, four people. The adjustable fly, built-in air vents, and large full-width side windows improve ventilation and sky roof star gazing views.
Key Features & Specs
Reinforced welded corners & a durable 600gsm PVC cover for protection when you're in transit.
65mm high-density mattress with a water-resistant base and removable cover.
impressive PU 1500mm water rating.
Comes with an in-built adjustable trigger lock canopy.
Gas strut assisted for quick and easy setup & pack up.
Two aluminium telescopic ladders (2.3m height).
Large interior storage pockets to stash your accessories.
seam-sealed and twin needle stitching for added durability.
Heavy-duty construction and reinforced stitching on all stress points.
Includes guy ropes, mounting kit, pegs, window poles, and instructions.
Things to Consider When You're Choosing Your Rooftop tent
Hard shell Vs. Soft shell
When it comes to rooftop tents, you have an option to choose from either the soft shell or hard shell roof top tent.
A soft shell tent is more like the standard canvas traditional tent, only elevated and with a firm flooring. An added advantage to soft shell roof tents is the awning created by the suspended landing off the side of the vehicle. This covering provides extra space that can be used to create a small shaded area for lounging or setting up a prep area for food and much more! They are also cheaper and weigh much less.
The main downsides for the soft shell roof tents include:
– a bulkier and heavier footprint that affects the aerodynamics of the car. This results in more gas per mileage, road noise, and a bulkier overall appearance on top of your car.
– slightly longer and exponentially harder setup and takedown time, especially bad weather – rain, wind, and snow. You have to fold out the tent cover and set up awning poles manually.
Hard shell roof top tents are slightly heavier compared to their soft shell counterparts. The added weight of the shell roof compensates by providing extra protection to your tent during inclement weather like sleet or thunderstorms. They have better attractive aesthetics and are also super easy to set up as most come with built-in gas struts that open or close the tent with just a slight push.
The main downside for hard shells is the sleeping area. They have considerably less space.
Space –Sleeping Area (Length, Height & Width)
Before you even decide on the type of tent you want, you should consider how many people will be sleeping in it. Rooftop tents are available from two persons to larger tents designed to accommodate a family of 4-6.
TIP: Never take the manufacturer's size guide to the latter. For instance, a four-person tent listed by the manufacturer means the tent will fit four people, lying side by side with little room for comfort. Instead, a four-person tent is best suited for a family of two, with two kids or 2-3 adults.
To get a tent suitable for your needs, always check the dimensions of the actual sleeping area and consider if the space is roomy enough space for you.
Weight Compatibility
All vehicles have a specified rooftop weight limit. The manufacturer specifies the maximum weight for the car when it's static (while stationary) and dynamic (while in motion). The dynamic weight is sometimes further classified into two. The off-road rooftop weight limit tends to be less than the on-road weight limit.
So, once you know the type and capacity of the tent you want, you have to check its weight before purchasing to ensure your vehicle is outfitted to handle it.
Remember to factor in the weight of the roof racks(if not included by the manufacturer), beddings, and any other gear you intend to store on the top of your vehicle.
TIP: The extra added weight on your rooftop changes your vehicle's center of balance and efficiency of your drive, which means higher fuel consumption. So, always try to go with a lightweight if it fits your needs.
Rack Compatibility
Once you've determined the tent is within your vehicle's rooftop weight limits, you'll need to consider if your vehicle can be fitted with the appropriate roof racks for the tent to be secured.
The good news is that most vehicles can be fitted with at least some type of roof racks, and generally, all types of roof racks have fittings that will allow you to fix the tent to your vehicle securely.
Just note that in addition to your vehicle's rooftop limits, roof racks also have a weight limit – so you'll need to ensure that the roof racks can also accommodate the rooftop tent. Roof racks will also often have a different off-road weight limit, so consider this as well if you intend to go off-road camping with your roof top tent.
Comfortable Mattress
I can't stress enough just how a good mattress can be a big deal in getting the best roof top tent Australia.
Without adequate and comfortable sleep, your camping experience can drop from 100 to zero real quick! With a crappy mattress and an achy back, many things, including you being grumpy, can go wrong.
So, besides the sleeping area, pay close attention to the integrated mattress if you want comfort. How thick is it? How big? What it's made of? Etc.
Some mattresses feature waterproof protective covers, extra sheets, and anti-condensation or anti-mold mats/pads placed underneath the mattress.
You can always purchase the covers and anti-moisture mats separately if your tent doesn't have them.
Warranty
Dishing out thousands of dollars in a tent is not everyday shopping.
A purchase covered with a warranty, especially a longer one, is a good indication that the company believes in the quality of its products. A warranty with good coverage allows you to sleep in confidence, knowing the tent is covered in case of any defective parts.
While warranties range from company to company, most of them will cover the hull, fabric, and mechanism!
Ease Of Use
After a long day of driving around and activities, the last thing you need is a complicated and arduous tent that takes longer than necessary to set up.
Thankfully, both soft & hard shell roof tents are all quite easy to set up.
"The easiest rooftop tents to set up are hard shells."
Often, all you need to set up the tent is to unclip the shell, engage the hinges, let the gas struts do the rest.
While soft shell tents take slightly longer to set up than hard shell roof tents, they are still quicker and have much more advantages than traditional tents.
Annexes and Awnings
these allow you to create extra space to cook, eat, relax or store additional gear with protection from the weather and bugs. Annexes are only an option for soft shell tents, as they usually attach to the tent extension creating and enclosing the area underneath.
On the other hand, awnings are roof extensions that have been propped up by poles to create an additional open area with overhead protection. Generally, both these items can be purchased separately from your tent.
When purchasing your roof top tent, check to see if it's compatible with either or both, as you might want to add them later.
Usable In All 4 Seasons
When camping off the grid, you want a tent that will handle all the seasons: strong winds, heavy rain, scorching sun, heavy snow, and winter.
Most hard shell roofs have a super rigid hard roof designed to handle all that and much more. Some premium softshell tents that are made with high quality and denser canvas also provide better insulation and can pretty much handle everything.
Other Features & Accessories
Some of the secondary roof top features are designed to provide more comfort while camping. Features and accessories like LED lighting, multiple storage pockets, USB ports, anti-condensation mats, waterproof covers, inner insulation tents, and more offer extra convenience.
What are the advantages of a roof top tent?
Roof top tents provide a quick and easy way to camp out on the go. They also:
make it easy and fun to enjoy the beautiful transcendent outdoors without having to carry extra equipment or having to pull a camper trailer.
offer a more convenient camping experience, especially since they are surprisingly easy to set up
are designed to offer comfort, space, and protection from the elements while sleeping on top of your vehicle.
can be set up anywhere in less than 10 minutes, which means you don't need to find a campsite.
Come in handy when it's raining or snowing outside- no need to worry about getting wet!
Provide you with a luxurious and clean environment while staying off the ground.
NOTE: Most 4×4 can easily hold just about any roof top tent. However, be sure to check your vehicle roof rack weight rating and suitability from the respective manufacturers.
Rooftop Tents Australia: FAQ's
Is a roof top tent worth it?
Yes. A rooftop tent is a good investment for campers who go on more camping trips. Roof top tents are a lot more convenient as you do not have to sleep on the ground anymore. Instead, your sleeping area is elevated from the ground and protected from pesky insects and other animals that might want to make their home inside your tent. Plus, they are so easy to set up – you can have a comfy, dry place to sleep in under 10 minutes.
How much does a roof top tent affect gas mileage?
Basically, not much. Due to added weight and drag from wind, there will be a drop in fuel efficiency. Some studies suggest that roof top tents can cause an average of about 15% in fuel consumption depending on the type of roof top installed on your car. But, whenever you go camping with a roof top tent, the trade-off for convenience and a better night's sleep is worth the minimal increase in fuel consumption that comes with it.
Are roof top tents comfortable?
Yes. Rooftop tents are much more comfortable and far more convenient than traditional ground tents because you do not have to worry about rocks and pine cones poking you in your back. Plus, roof top tents provide better protection from dirty, wet, or slushy camping grounds. They also come with extra features like power outlets, AC units, and lots of storage space.
What is the lightest roof top tent in Australia?
Dune Nomad & Dometic TRT120E Rooftop Tent
Not only is are these two tents the lightest, but they both provide the best of both worlds. The Dune nomad is one of the lowest priced in our review, while the Dometic TRT120E comes with the added advantage of extra convenience.