Evakool fridges are super tough and reliable, and they are less expensive than premium brands like Engel and Bushman. They offer a wide range of options for those who want to keep their meals and drinks cool while enjoying the outdoors. You can also check out our review of the Brass Monkey fridge and our Bushman fridge review.
Australian Evakool has been in the refrigeration business for a long time and is quite familiar with its target market, which means that its products are designed specifically for harsh Australian conditions. You can be confident that there is a product in their range that meets your requirements.
In this article, we review Evakool products to let you know whether they are a worthwhile investment. We also have reviews of other popular brands available in Australia including a review of the Dometic fridge range.
Evakool Range Of Fridges
Evakool's fridges come in four product ranges. They are:
• Travelmate
• Glacier
• Fiberglass
• Fridgemate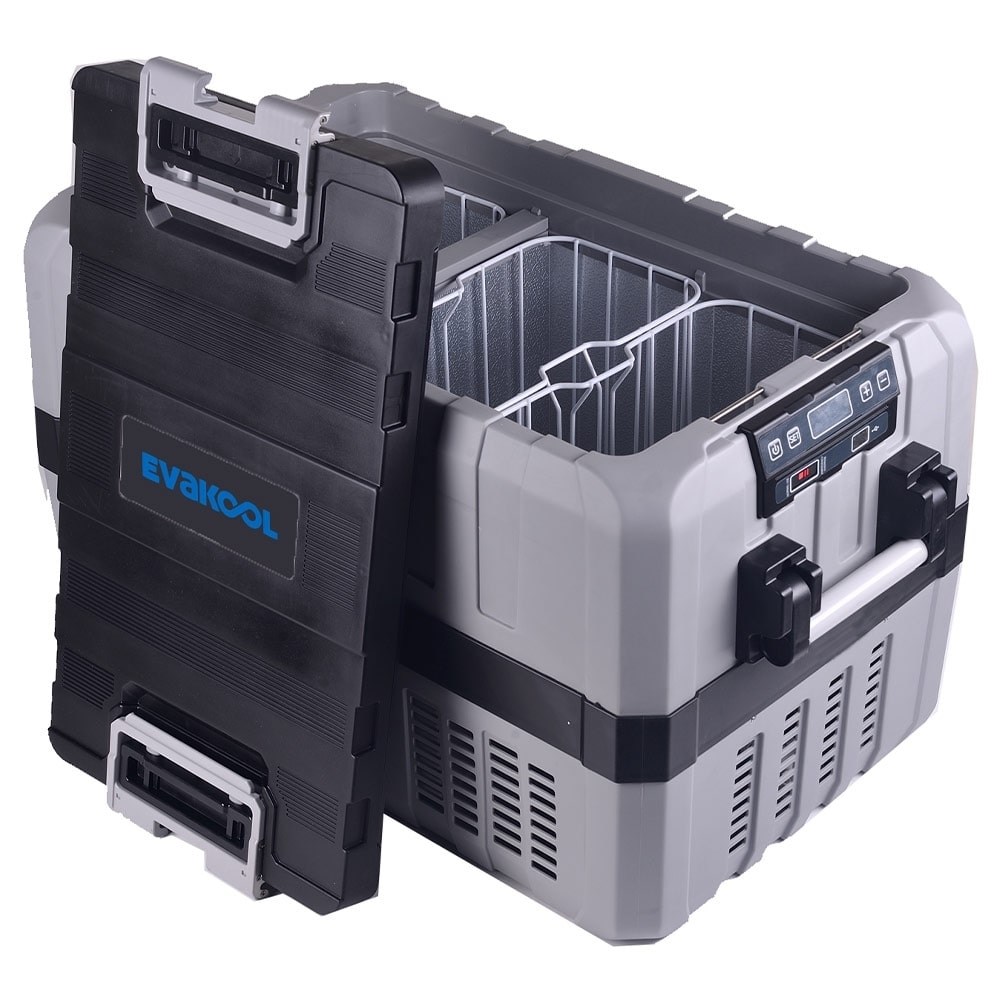 1. Evakool Fridge Review: Travelmate Fridges
The Evakool Travelmate range is the ultimate all-rounder fridge, offering great value for money, whether you need a fridge freezer for camping, boating, picnics, mobile businesses, and more.
Below you can find a quick comparison of the range:
You get a super tough, reliable portable fridge freezer with a five-year warranty for $700 less than competitor models. In addition, each model includes an insulated fridge cover.
When you are on the road, the multi-voltage feature gives you a variety of power modes, and the insulated cover included keeps the Evakool Travelmate cold even in the most extreme Australian weather conditions.
Evakool Travelmate fridges can be divided into two main categories. These are the Evakool TMX Travelmate, and the Evakool TMDZ Travelmate fridge freezers. The TMDZ fridges are the new models in the Travelmate range.
The newer models have a Dual Zone design that allows the user to configure the unit as a fridge freezer or a dual freezer. They still have the Danfoss compressor, Wi-Fi, and a distinctive lid design that allows the lids to be opened or removed from either side.
A great reason to choose the Evakool TMDZ Travelmate Dual Zone range is that this fridge is available in four sizes, namely 43-, 62-, 80-, and 96-liter capacity, so you can use it to store as much, or as little as you prefer.
You can expect to pay a price of $870 to $960 for a Travelmate fridge.
2. Evakool Fridge Review: Glacier Range
The Glacier range, one of the best-selling Evakool ranges, is ideal for those who are constantly on the road. Most Glacier models have metal compartments, and their exteriors are durable. It does, however, make the portable fridge heavier.
Another great feature is their small size, which allows them to fit neatly into campervan drawer openings. It is also important to note that this line has a two-year warranty, which lowers the prices of these fridges.
Glacier refrigerators have a convenient display, and the DX models have dual-zone compartments that can be configured individually. You can expect to pay a price of $600 to $1,100 for a Glacier fridge.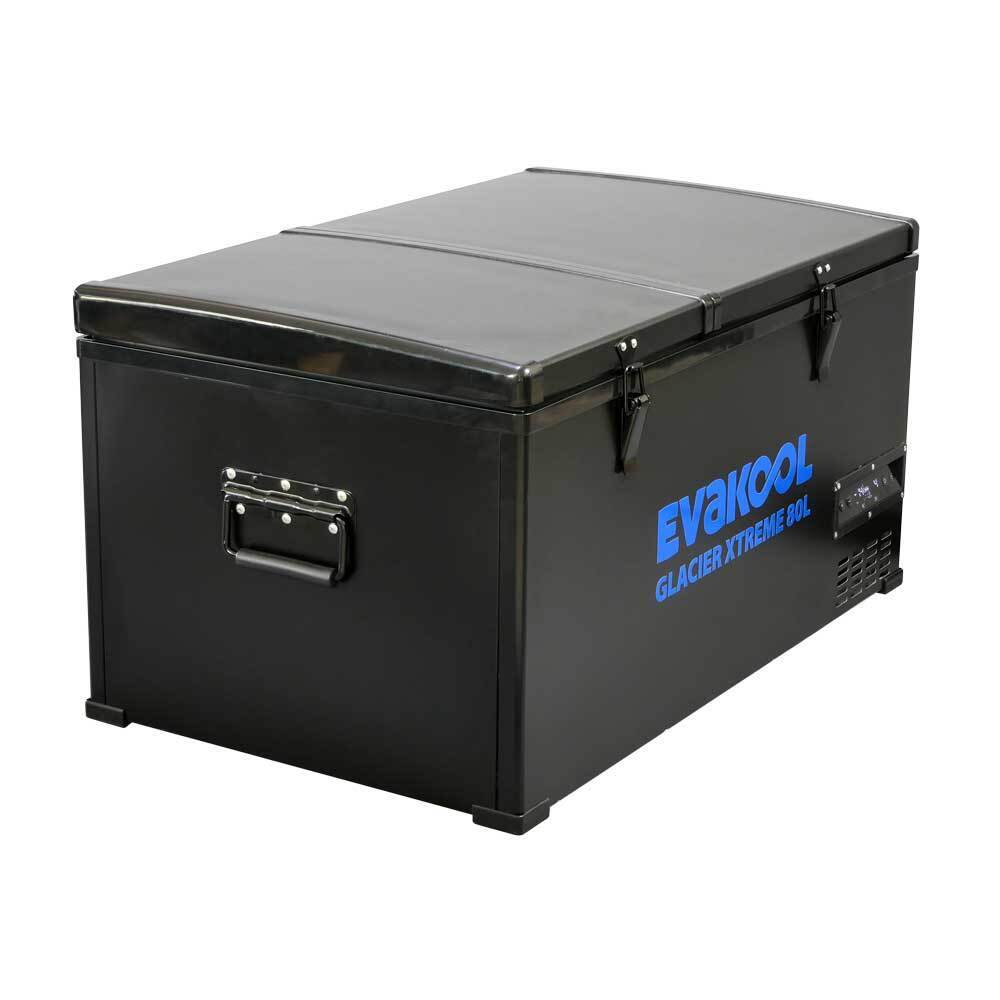 3. Evakool Fridge Review: Fibreglass Fridges
The Fibreglass range is at the top of the Evakool product line. These refrigerators were created with Australian conditions in mind. They perform well even in extremely hot climates if the insulation is increased.
There is no need for an additional external fridge cover on these fridges because the insulation keeps the cool air inside the compartments and hot air outside of the unit.
As a result, your fridge compressor does not have to work as hard to keep your drinks cold, resulting in saved energy, and longer compressor life.
Evakool's Fibreglass range also cools down faster than plastic cabinet refrigerators. They also do not absorb odors, making them a great option for fishing trips.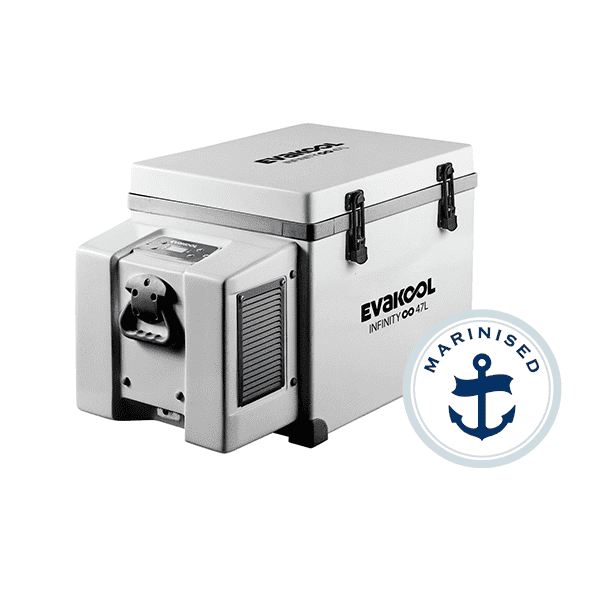 Although these models are more expensive, they are certainly a worthy investment. This is especially true when you consider that every portable fridge is made in Australia and comes with a five-year warranty. You can expect to pay a price of $1,370 to $2,100 for a Fibreglass fridge.
4. Evakool Fridge Review: Fridgemate Range
If you are searching for a tough fridge, the Evakool Fridgemate range is the way to go. The exterior of these models has been made of extra-thick polyethylene. It is no surprise that they are the ideal portable fridge for farmers, contractors, and hunters.
The Fridgemate range is built to last and is super tough. The inclusion of Evakool's durable fully insulated polyethylene cabinet, as well as its EK25DC compressor, is one of the main features of this range.
All fridges in the Fridgemate range come with a five-year no-fuss warranty. You can expect to pay a price of $1,200 to $1,500 for an Evakool Fridgemate fridge.
Evakool Portable Fridge Design
Compressor Compartment
The compressor compartment is kept separate from the fridge freezer, almost as if it were attached to the side. This is clever because it keeps the warm compressor away from the refrigerator.
Refrigerator Lids
Evakool fridges use rubber cords to keep the lid in place and have a variety of modes to choose from. They also have more insulation than many other refrigerators, making them more energy-efficient. The company often says that if your fridge needs a cover, it is not insulated well enough.
Removable Baskets
All Evakool refrigerators include removable baskets that you can choose to use or remove. It is advisable to use a basket around the condenser because they are rather fragile, and you do not want heavy food items knocking against them when off-road.
Remove the basket on the other side if you require more storage space. These refrigerators cool food evenly and are great for keeping your food fresh, and out of the moisture that inevitably builds up at the base of your fridge after traveling for a week.
Fridge Slide
Evakool fridge slide is a solid slab made of powder-coated steel in stainless steel. It includes a self-locking function.
It enables you to slide and move your refrigerator in the vehicle, making it easier to access the contents of your refrigerator in your car's boot. These fridges also have a self-operating internal door system.
Evakool Fridge Freezer Power Draw
The power draw or consumption of a 12V fridge is one of the most important factors to consider when purchasing one.
If you purchase a fridge that draws a great deal of power, you may need a large 12V system to keep it running, which is not very practical. An Evakool fridge freezer is energy efficient, so it does not require much power to keep it running.
If you use the fridge as a freezer, they cycle more frequently and consume significantly more power.
Other Features
With Evakool, you get a vast range of features than you do with other portable fridges. Most Evakool refrigerators have a large internal space for storing food and drinks while on the go. They also have a digital display for you to set temperature settings.
Some refrigerators include a cigarette plug, that can be handy when on the road. They are also super tough and have a good build quality that sets these refrigerators apart from competitors.
Is the Freezer Compartment Useful?
EvaKool fridges can be used for extended periods in the Australian backcountry. Place the container beneath your middle compartment and heat the next compartment to -14 degrees Celsius. It keeps everything in the refrigerator cold and the freezer completely frozen.
If you are going camping, your Evakool freezer compartment may come in handy for storing raw meat that you can cook over a fire.
Handling the Heat: Evakool Fridges Ambient Temperature
Even on extremely hot days, the fridge has never failed to maintain its set temperature. The internal temperature of the Evakool fridge freezer is indicated by a digital display. This temperature is not always stable, but why is that? Is this a sign that something is wrong with your refrigerator?
This is a built-in feature of the electronics that ensures the Evakool fridge does not run continuously, thereby consuming less power. The temperature inside your home and the temperature of the contents of your refrigerator do not differ significantly.
Running Your Evakool Fridge Freezer While Traveling
Battery
Many people power their Evakool refrigerators directly from their car battery. This generally works well when you are traveling.
If you leave your fridge running on a car battery for a long period, the car battery could die, or the fridge could turn off after a while, causing its contents to spoil.
It is advisable to keep a second battery on hand to use when you are not traveling. That way, you can have peace of mind that your car battery is not going to die while you are asleep.
Solar Panels
If you are scheduled to be away from a main source of power for several days, you may want to invest in solar panels. They can keep your battery charged, allowing your fridge to run overnight.
We recommend folding solar panels because they are easy to store and can be set up easily which is a bonus.
Low Speed Versus High Speed
At low ambient temperatures, there isn't much of a difference between low and high speeds, and at five amps, the current draw is low. The cooling time is longer at a low speed. As a result, the running time per hour is greater, and the power consumption remains roughly the same.
If you try to chill or freeze something to a certain temperature, it takes the same amount of energy to do so over a certain period, so it is advisable to keep your Evakool fridge running at a high speed.
Problems Encountered with an Evakool Fridge Freezer
Overall, there have not been many issues with these refrigerators, but two main problems have been reported by users. The first issue is that these refrigerators tend to be quite noisy, especially if you try to sleep with the refrigerator in the room.
You would expect noise from a fridge, but Evakool advertises its products as silent, which does not appear to be the case.
There also appears to be a problem with some units unexpectedly turning off, and then not turning back on for several hours, by which time the contents of the Evakool fridge freezer have come to room temperature or spoiled.
It is difficult to say whether this is a widespread issue, or if it is confined to a few models.
Final Thoughts
Evakool's range of portable refrigerators is a great investment because they are made from high-quality materials and are durable. You can carry perishable goods with you wherever you go, without having to worry about them spoiling.