The Ultimate Rugged, Reliable 4WD, RV portable Fridge/Freezer For Your Outdoors Adventures.
Brass Monkey fridges are made in Australia and Brass Monkey is well known for its quality products, quick customer service response time, and wide range of choices. Brass Monkey fridge freezer can be used as a portable fridge/freezer and also have options that can be mounted to your vehicle.
Whether you're a full-timer, part-time traveler, or more of an adventure camper, Brass Monkey fridges offer a great and affordable option for a dual-zone fridge/freezer. They can store items at as low as -20°C, run nice and quietly at just 38dB noise level, and have an efficient energy usage rating.
Brass Monkey fridges are increasingly becoming one of the best-selling portable fridges/freezers at the moment. Besides Australia, they're quite popular in Europe and New Zealand as well. The unit sizes range from as low as 15L to as high as 115L.
We also have review of other fridges include Evakool, popular Bushman fridge, and the Dometic fridge range. We also have an comprehensive article on the best portable fridges.
Our Top Picks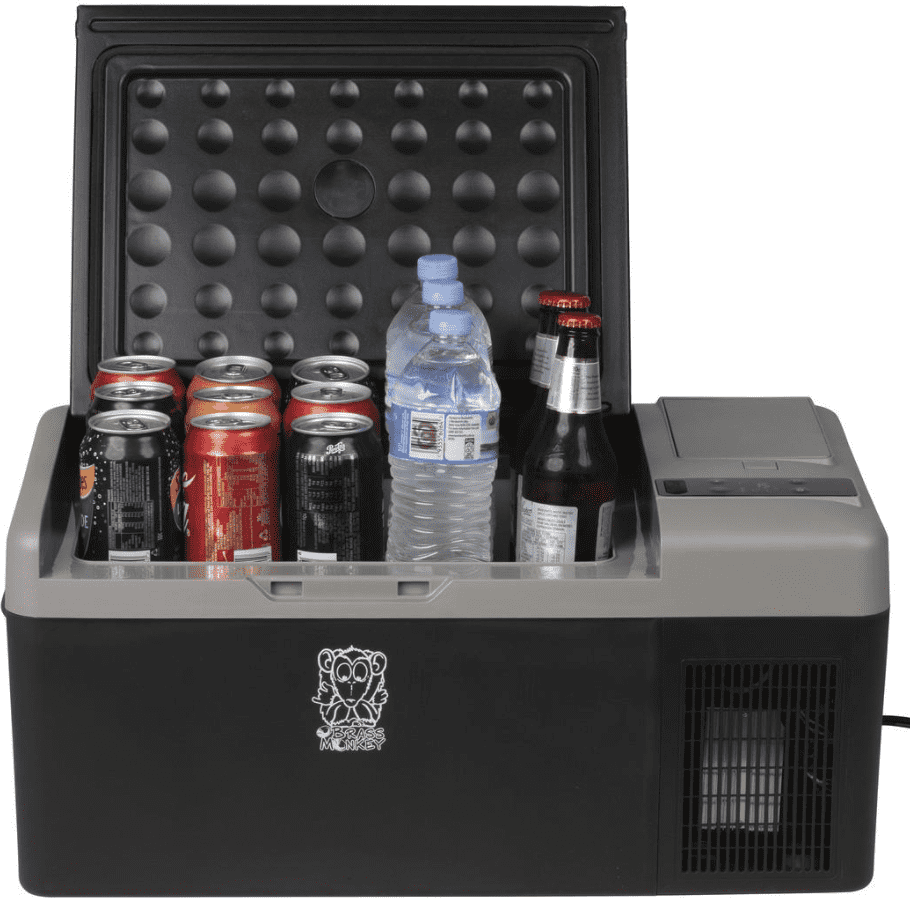 How Does It Compare to Other Brands?
BM fridges are often described as the best of both worlds because of their quality, performance, warranty coverage, etc., but they don't cost you an arm and a leg like most other brands on the market. They are reasonably priced, and they offer a good value for your money than other brands. Check our our review of the Evakool fridge.
Engel is probably the biggest competitor of Brass Monkey when it comes to fridge/freezers as it offers similar wattage and capacity as Brass Monkey's models. However, the price difference between the brands is pretty large.
For instance, a 22L top opening portable brass monkey fridge costs $299, while a similar portable top-opening Engel brand (20L) costs $949.99, a price difference of 650.99! Even when compared to Waeco, the Dometic CFF 20 (21L portable fridge or freezer), BM freezers are still considerably affordable.
For the more serious 4WD adventure camper, Brass Monkey also offers larger fridge/freezers (including an upright 138L slimline fridge) that can be mounted in your 4WD or RV camper. The largest fridge/freezers offered by BM have a 155L capacity, and they can last up to 24 hours when used at 0°C temps.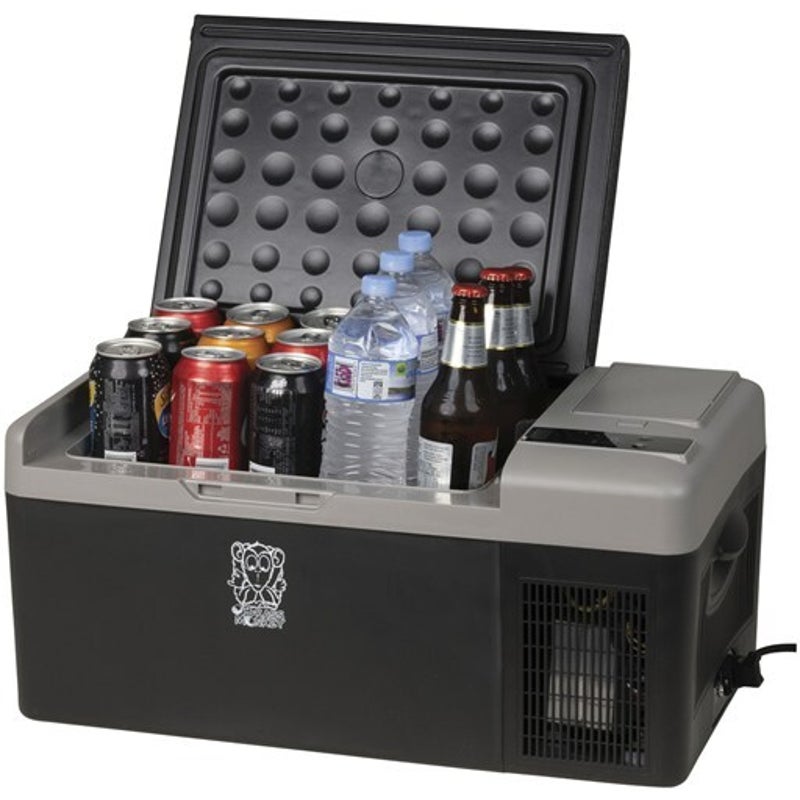 Cheaper & Better!
Pros & Cons of Having a Brass Monkey Fridge/Freezer
Although Brass Monkey fridges/freezers are among the best brands in Australia right now, there are a few pros and cons to consider before purchasing a fridge freezer. These lists may not be exhaustive, but they represent some of the important things you should be aware of when making your purchase.
Pro's
Affordable Prices: BM fridges and freezers are inexpensive without compromising quality. They can be considered cheap prices given the high quality of their products.
Wide Range of Models to Choose: From small to large, portable to heavy, they offer a wide range of choices to suit your needs.
Warranty Coverage: Brass Monkey fridges have a 3-year warranty which is average for most portable fridge/freezers brands.
Top-Opening for Convenient Loading & Use: Most Brass monkey fridges are all top opening, making them very convenient to load items into or take out.
Good Quality: Brass Monkey fridges are made of high-quality materials so they can last longer while being used under extreme conditions
Ultra Quiet Design. They have an efficient design that reduces the noise level to less than 40dB, which is low enough not to disrupt you or your family while resting in the 4WD or RV camping area.
Awesome Extras! Optional extras like folding fridge stand, insulating covers, and slide drawers (for the larger models) are available and great to have if you don't already have them.
Energy Efficient: Brass Monkey fridges are efficient enough that they won't compromise your battery power life while running on your 4WD or RV's electrical system, even when it's being used every day
Con's
Requires all-round clearance for efficient running, 200mm at the back and 100mm clearance on sides.
It could be pricey for overseas customers: With the recent increase in the exchange rate and additional freight costs, it's much cheaper to buy other brands if you are outside mainland Australia.
How Much Power Does A Brass Monkey Fridge Draw?
Brass Monkey fridges are considered advanced energy-efficient appliances.
Their models feature thicker insulation. This means that your fridge will have a longer operating life, run cooler & quieter, and use less power.
Brass Monkey's medium-size models (rated at 60W power consumption) only have to run for about 4 hours per day, on average. This means that they will use less than 0.25 kWh of energy over a typical 24 hour period, and the fridge temp can stay constant without running too much or using extra power from your solar input or battery voltage.
Brass Monkey Portable Fridge Components & Design
Capacity / size
Whether you're looking for a small fridge to fit in the back seat, a medium dual-zone fridge/freezer for your regular weekend trips, or a large capacity fridge for your RV, Brass Monkey has a variety of 4WD fridges to fit almost any car, 4WDs and trucks.
They also have smaller 12/24V fridges designed to fit in most trucks' seats or consoles.
BM camping fridges generally fall into three categories of sizes; small, medium, and large.
Small: 15 liters to 45 liters.
Medium: 50 liters to 75 liters.
Large: 80 liters to 115 liters.
Choosing The Size
The larger the size of your fridge, the more you can fit in it.
When deciding how big a fridge you'll need for your camping trip, consider whether it is easy to transport and if it will fit your car. For most families of four or less, we recommend 60 liters as this can last up to 4 days on an average family vacation.
If you plan to have regular longer trips away from home where there will be less access to supermarkets and convenience stores, we recommend that you get something bigger than 60 liters. A 70-80 liter fridge/freezer will offer you more room to stack up on all your meals, including extras in case of emergencies.
Fridge / Freezer
Brass Monkey offers "Dual Zone" units that have both fridge and freezer functions. The alternative is a single model unit that can ONLY be used as either a fridge OR a freezer, not both at the same time.
The convenience of dual-zone fridge units is increasingly popular in the Aussie camping world as they allow you to control the temperature of the camping fridge and/or freezer separately.
A dual-zone fridge/freezer model can either have independent compartments and thermostats or a removable internal divider.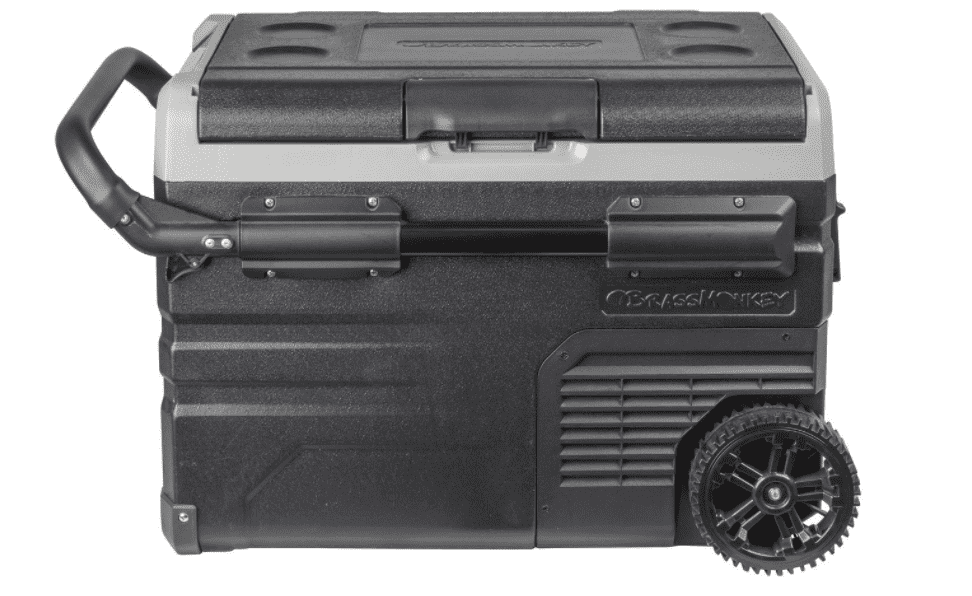 Dual-zone with Independent Compartments
Dual-zone fridges with independent compartments and thermostats tend to be slightly more expensive than those that use a removable divider. The reason is that they allow for more efficient cooling because you can adjust each zone at different temperatures based on what's stored inside them.
This design also allows you to transport heavier loads like your fresh meat or frozen stuff on the freezer compartment without affecting the temperature of other contents in the fridge.
Dual-zone with Removable Divider
Most smaller and medium-size Brass Monkey dual-zone fridges/freezers use a removable divider. These models use an "overflow cooling" method, where cold air from the freezer section overflows into the fridge section keeping your food & drinks cold and nice.
You can also remove the divider to allow the whole unit to be a fridge or freezer.
Models that feature a removable compartment divider are a slightly cheaper option if you don't mind having to open up the fridge every time you want to access what's on one side of the fridge. The good thing about them is that you can remove the divider and carry bulky and large items compared to a dual-zone fridge freezer with independent compartments.
Power Specifications
The power specifications are an important component of any portable fridge.
As you shop for one, you want to know whether you can power it on the go and how versatile it is. Brass monkey fridge freezer doesn't disappoint. They can be powered at home or any powered site, thanks to their 100-240V AC adapter. The adaptor regulates that power to 12V, enough to power the units without
While on the move, you can connect them to any of your vehicle's auxiliary outlets, thanks to the bundled long connecting cable lead.
Availability. Can you buy one in your nearest store?
BM fridges are available for order online and well-stocked in over 250 outlets across all the states in Australia (and New Zealand as well), with Jaycar & RTM being among their major outlet stores. You shouldn't have to travel far to find one!
Currently, due to the ongoing covid restrictions, you will most likely have to order over the phone and have the fridge delivered to your nearest dealer's store or your home. The standard shipping typically takes a week or less, depending on your location.
Brass Monkey; Extra Features
When investing in a portable fridge or freezer, extras are always welcome. Although some of the extra features could be considered overkill, some are worth the extra amount you'll spend on them:
Internal Light
This feature is present in most models, and it's one extra every outdoor enthusiast will appreciate having in their fridge. Often, when outdoors, there is little to no adequate directed to your fridge/freezer. The internal light comes in handy in such instances, so you don't have to ruffle through frozen items in the dark.
Recessed Handles & Wheels
While some bm fridges are small enough to carry from one place to another, newer models have wheels and handle like those you find on a suitcase. This makes it super easy to wheel your freezer to your preferred location without worrying about hurting your back trying to lift it.
Insulated Covers
Insulated covers keep your fridge contents cool even when you're traveling. These covers also help protect your food from dust and contaminants when you're storing the fridge in camp.
The stylish covers come with extra pockets for carrying stuff such as cutlery, small tools, and bottles. If you want a cover that will make a statement and show your love for the "outdoors," you can also get one in camo print.
Brass Monkey Fridge Review: FAQs
What compressors do Brass Monkey fridges use?
The compressor is one of the most important parts of an RV fridge. It converts power into heat and cold, so it is essential that you get a top-quality model with a high efficient dc compressor.
Brass Monkey uses reliable LG compressor systems that allow for easy temperature control and adjustment with minimal power consumption.
They are silent, reliable, and can use low energy levels while remaining highly efficient in cooling and preserving your food/drinks to your desired temperature.
Where can I buy a Brass Monkey fridge?
You can purchase a BM fridge either online or collect in-store from one of the many outlets and suppliers available in your closest region. It's best to go with an authorized dealer to ensure you get the latest model, full warranty, and support.
Are Brass Monkey fridges good?
Brass Monkey Fridges are increasingly gaining popularity across Australia due to their dependability, affordability, and great customer service staff who promptly help resolve queries. The things we like about their fridges & freezers include high-quality materials, average power consumption, and the innovative dual-zone fridge freezer design.
They not only look great, but they offer convenience and can withstand harsh conditions. If you're interested in another high quality brand, check out our myCoolman fridge review.