Your caravan is your second (if not first) home. So you want it to be as comfortable as possible, no matter the location, climate, or time of the day. If you're setting off to a colder place, you need to keep the RV warm. And that's where diesel caravan heaters come in!
Fitting a diesel heater may not seem a top priority for some leapers, but it will come in handy when the time comes. There are lots of diesel heaters in the market and can be bought online in a number of stores. Diesel heaters for caravans have a wide price range, and you can find high-end models costing as much as ten times the price of an entry-level diesel heater.
To make sure you're not caught between these heater brands, we've compiled a list of the best diesel heaters for campers in Australia. Most parts of the review will give you insights into the types, prices, and reviews.
How Does A Caravan Diesel Heater Work?
If you may be wondering how diesel heaters make the air warmer, you're in the right place. Basically, these machines use diesel in the combustion process as it is passed through various parts like the air filter, outlet pipe, silencer, fuel tank, exhaust pipe, etc.
Here is a quick rundown of how this process works:
Step 1: Combustion
Outside air islet in the combustion chamber through the intake duct. Diesel is then introduced to burn the dirty outside air, producing hot gases in the combustion chamber. Gases pass through a metal heat exchanger where heat is transferred to the metal, and the gases are pushed outside.
Step 2: Intake of Cold Air (Conversion Into Hot Air)
Next, the caravan heater lets in cool air into the cleaner side of the chamber and not the one used to allow in the air for combustion. Once the cool air reaches the heater, it goes to the hot metals heated during combustion and converted to hot air. The cold air never interacts with combustion gases, and it's passed to the room through the outlet.
Step 3: Hot Air Moves To the Outlet
The warm, clean air is then pushed to the inside of the motorhome, warming up the temperature. The process repeats itself until you reach the desired temperature.
Our Top Diesel Heaters For Caravans
Webasto is a popular name in the heating industry, and they have been operating for over a century. It is obvious that the manufacturer has built a reputation with serious diesel heaters such as this 2kw model.
It has top-class features such as dehumidifying the air to give nice ventilation and prevent the growth of moulds and dust mites. The heater is compact and easy to install as it comes with an installation kit (60mm ducting hose, hose connector, two duct clamps, mount heater bracket.). It runs on a fuel-efficient tank utilising 1 litre of diesel every 5 to 6 hours.
The caravan diesel heater is thermostatically controlled, so you can set a timer and safely let it work overnight. It measures 121mm x 317mm x 120mm and weighs 2.6kg. So, it won't take much space in your caravan.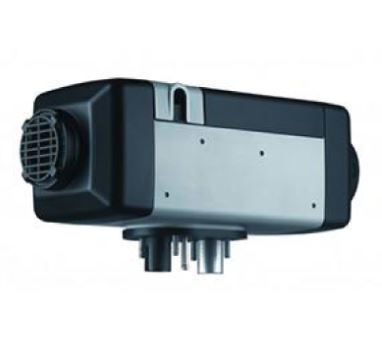 Pros
Has a tank capacity of 4.9L
2 year warranty
Has twin outlets and an extra 24v unit
Includes installation kit
Uses 0.12 to 0.24L/h
Cons
Fuel hose is short (6 meters)
Fuel tank costs extra
The Truma Combi D 6 diesel heater is a powerful heater suitable for larger motorhomes. The heater gives you the best air distribution in higher altitudes with a large noiseless fan. But most folks like the D 6 kit as it has a combined usage- it is an air heater and water heater all at once. Furthermore, since it is made to heat the hot water, it has higher power than most models on this list. It packs a whopping 6kW!
Typically, with such power, you'd expect the Truma Combi to be a fuel-hungry heater, but it is quite efficient. The heater uses the same heat for two functions saving lots of energy. Plus, you get to avoid the hassle of using more than one fuel for all your heating needs.
This heater comes in a frost controlled drain veiled preinstalled and a digital CP plus control panel that gives you full control of the temperatures. If you don't want to keep on adjusting the temperature, there is an automatic climate control function. It is generally chunkier than most diesel heaters at the same level weighing approximately 16.2kg.
Pros
Can be used as water heater and air heater
Works as air heater even with empty water tank
Uses 0.22 to 0.63L/h of diesel
2 year warranty
10L water tank
4 hot air outlets
Cons
Costly
Uses almost 100L of volume in all connections
Eberspacher has a solid reputation for building high quality, industry-standard caravan diesel heaters. The German company produces robust diesel air heaters just like this AirTronic AM2 Diesel air heater. The kit comes fully equipped with a controller, wiring, diesel pump, etc. The diesel pump and intake silencer are sold separately.
The heater has a high-tech feel to it as it can automatically change the fuel to oxygen ratio with its altitude sensor. Eberspacher has increased the altitude limit of this model to 3000 meters. So, while you can travel to high altitudes, the sensor is not yet fit for a trip to the Himalayas. Plus, a night mode function reduces more noise, giving you a good night's sleep.
With a brushless motor, the diesel heater is eco-friendly, and its stepless power adjustment brings you better control of the heater's performance. Its most advanced feature is the Easystart Pro control which incorporates a temperature sensor that measures the temperatures of the passenger section and adjusts accordingly. Plus, you can install an Easyplus remote+ for more flexible control.
Pros
Night time mode
Comes with installation kit
Altitude sensor
2 year warranty
Lightweight
Fuel efficient- 0.28 L/h diesel consumption
Cons
Expensive
Installation manual is a bit confusing
Silencer and diesel fuel tank at extra cost
Autoterm's most compact model, the Autoterm 2D 2kW Diesel Heater, has decent components suitable for use in campervans and motorhomes. It can heat up to 75 cubic meters of hair per hour and consumes about 0.11 to 0.24L/h. The diesel heater comes with brushless motors, a low temperature efficiency, and low fuel consumption.
The Russian manufacturer heavily invests in making noise-free heaters, and we can see this in the number of implementations in this model. It has a balanced fan operation and a revamped noise pump system. Plus, you can add a silencer which will cost you extra apart from its base price.
Like most models, the Autoterm 2kW series comes with a full assembling kit such as a 1m discharge pipe of exhaust gases, 80cm long silencer, 5.5 meters polyamide fuel pipe, rings, bolts, digital control panel, etc. The diesel caravan heater has a self-diagnostic system that automatically shuts down the diesel heater if there are errors like air pump malfunction, battery drain, overheating, low fuel, etc.
Pros
Pocket-friendly price
Comes with a full installation kit
Better noise reduction features
Unit uses 5.3L volume
Consumes 0.10 to 0.24L/h
PU-5 rotary controller
2 year warranty
Cons
Non-Branded Diesel Caravan Air Heaters
While brands like Webasto and Espar have brought a revolution to the campervan market in Australia, we can't assume the entry of non-branded Chinese diesel heaters. They cost a fraction of what you'd spend on an Autoterm or other popular brands. While we typically don't recommend these low entry diesel heaters, you might want to look at the following models.
The 12kW unit is an ideal model for caravans and motorhomes. It operates on a smooth automatic control unit with a pre-set temperature facility. The diesel heater has a decent fuel consumption of 0.54L/h and a continuous monitoring and diagnostic system in case of any errors with the heater.
It operates on low noise, especially when it is fully operational. The diesel heater has a nice compact design measuring only 34cm x 11.5cm x 11.5cm. It contains a 10L tank and can be fueled from the vehicle's tank as long as it is diesel. The heater follows the euro IV engine emissions as it has a low fuel consumption in terms of eco-friendliness.
However, the kit included has a few technical requirements, and you may need a professional to install the diesel air heater. On the bright side, it comes packed with plenty of accessories such as an LCD switch, remote controller, metering oil pump, washers, oil pump clip, and more.
Pros
Environmental friendly
Independent heating device
Diagnostic system
Low power consumption
Very affordable
Cons
Requires professional installation
Not all parts are high-quality
This model of diesel heater is quite powerful and delivers a staggering 5kW output capable of use in larger caravans and motorhomes. The diesel heater itself has 4 outlets with one of the lowest fuel consumptions we've ever encountered- 0.06L/h. The remote control is effective up to a distance of 30 meters.
It has a dynamic LCD display showing the state of the heater. The display also has a control system to adjust the temperature, oil mass, and other parameters in the settings. The heat sensor prevents it from running dry and maintains temperature simultaneously.
Pros
1kW to 5kW adjustable heat power
Fuel consumption of 0.06L/h
LCD dynamic display
Automatic temperature control
Extremely affordable
Cons
Tricky to install without a professional
No manufacturer warranty
A Quick Buying Guide To Buying The Best Caravan Diesel Heater in Australia
Even with a list as comprehensive as the one above, it is still confusing to know which caravan diesel heater suits you best. The bombardment of different colour options, features, warranties, and others makes finding the best heater even more difficult. So, to ease your thoughts, here are a few important considerations to look at when choosing a diesel heater.
Safety
The top consideration for diesel heaters is how safe they are when in use. It should have the proper duct sealing or risk carbon monoxide inhalation. To ensure everything is secure, we recommend professional installation. Ideally, the diesel generator should have a design that guarantees safety.
It should be able to prevent issues such as overheating. In line with this, your diesel heater should have an automatic system that shuts off when the temperature exceeds its maximum. The diesel heater mechanism should have minimal inhalation risks, which are why you should check on the duct that connects the combustion chamber.
Size
The size is also another crucial factor to consider. Your caravan diesel heater should have the right dimensions to fit in your car's compartment and still have enough space for proper ventilation and other safety reasons.
Also, if you'll be moving the diesel heater to different locations, you might want to consider a compact design. It is easier to carry, dismount, and install in a vehicle for a warm drive. Here, size really matters, and buyers should note measurements every time they fancy a diesel heater.
Noise
Well, you wouldn't find a ton of diesel generators making noise- the manufacturers have made great improvements in recent years. Nevertheless, fuel pumps and tanks can be noisy, especially the "tik tok" sound most customers complain about.
Most brands have separate air intake silencers that further reduce noise from the heaters. In contrast, others will have a night mode function that automatically lowers the friction to minimise noise. This is a common feature in the Eberspacher models of diesel heaters.
Heat Output
It is basically the amount of power a caravan diesel heater uses to bring power to your RV home.
Ideally, a 2kW model is enough for most caravans, but you might need a 4kW model if you have a bigger RV. The heat output shouldn't be confusing to choose, assuming the normal heater at home is about 2kW.
Additions
A diesel heater unit alone isn't enough to raise temperatures in your motorhome. You'll need a few extra equipment for a full installation, such as a fuel pump, wiring, controller, ducting, exhaust, and mounting kit.
Most decent brands have these inclusions, and the ones mentioned in this article are no exceptions. Most models will come with a diesel fuel tank unless you're already running on diesel. The fuel tanks come in a wide range of sizes, with the larger ones supplying heat for longer. Just be wary of the size of the tank and where it will fit in your van.
How Safe Are Caravan Diesel Heaters?
Caravan diesel heaters are probably safer than other types of heaters, such as LPG heaters. Here are two reasons why:
Fewer Leakage Hazards. Diesel heaters have less danger when leakage occurs than an LPG gas heater. Since LPG is a volatile and combustible gas, leakages can lead to explosions or respiratory and nervous issues. Since diesel has lower volatility, leakages can be managed and generally have a lower health risk than gas heaters. Plus, all combustion fumes are sealed in the combustion chamber, so there is no risk of inhaling the poisonous gases.
Auto-shutdown feature. Diesel heaters have an automatic shutdown feature instead of heating up uncontrollably and causing damage. It contains a thermostat to help detect maximum temperatures and send shutdown signals when they are beyond safe levels.
Final Thoughts
Caravan heaters are functional units that help warm up your caravan effectively in a matter of minutes. It gives the best caravaning experience as you won't have to take winter breaks when installed properly. The above list of diesel heaters is not exhaustive, but it includes our top recommendations due to their beneficial features. All in all, we hope you'll have a better insight into deciding on the best diesel heater in Australia.
Caravan Diesel Heaters Australia FAQs
Are diesel heaters safe in caravans?
Absolutely! Diesel heaters are widely used in motorhomes for heating as the parts are tightly sealed, and all exhaust gases are released outside via the outlets.
Is it safe to sleep with a diesel heater on in the caravan?
Diesel heaters produce minimal amounts of carbon monoxide if they find space. Plus, they are thermostatically controlled and are safe to run while you're sleeping. But we recommend using the diesel heater when operating the vehicle.
How much fuel does a diesel heater use?
Well, it depends. Typically standard caravan heaters consume 0.12 to 0.50 litres per hour.
Is it easy to mount a diesel heater in a caravan?
Yes, and no. It is fairly easy to figure out how to install and assemble a diesel heater. However, you need a proper manual and installation kits in place. Some diesel heaters aren't easy to install as they have lots of components, and the instructions are somewhat cryptic. As a rule of thumb, check with a professional before installing a diesel heater.