As we advance into technology, more and more products are designed to be smaller and portable. One such product that came with a portable version is a generator. Previous events have made it clear that we can't trust our power at all times. Blackouts can be caused by earthquakes, storms, or any weather-related blackout. Having a portable generator in your home can give you peace of mind and have neighbours wondering.
Quick Stats
FREE SHIPPING
Free Shipping
Compact & portable
Super quite
Great for caravan and camping
Electric & pull start
Many more features
But far from powering homes, perhaps the most important use of inverter generators comes during outdoor activities and camping. Whether you want to play music all night, operate mobile businesses, or charge your phone, a portable generator makes camping fun.
Depending on the power and size of the given unit, a portable generator can run power tools, light up bulbs, charge your appliances, and other higher watt devices. While there are plenty of portable generator brands in Australia, this article will focus more on Engel portable generators.
Engel has been a top producer of mini-fridges since the 1960s, but they are also producing powerful portable generators. It may not be a popular brand in Australia, but their current line of portable generators are worth checking out. So are Engel portable generators any good?
Read on to find out everything and anything about Engel portable generators and whether you should have one in 2022.
But first…
What To Look For In Portable Generators?
Browsing through the many lines of portable generators can be stressful. When you want a generator that could power up your fridge, sound system, etc., you need to know a few specifications about your preferred generator. That said, these features are as crucial as the brand of generator. So let's see what will help you make the right choice.
Fuel Type
The most common types of portable generators use gas. The fuel is easy to come by and relatively affordable than other fuel types.
Diesel generators have better efficiency at an extra cost. If you're ready for the upgrade, you'll have more power than gas generators and other fuel types. Plus, they don't have a nuisance carburettor that clogs now and then. The only drawback with dioceses is that it's not easily available in all gas stations.
You can also look at propane generators or a gas generator that's convertible to propane use. If you don't mind the complexity of these generators and need an environmental-friendly alternative, the propane generator is your best pick.
There are also battery powered generators that allow you to recharge your generator via electricity or solar panels. But battery-powered generators are pricey, charge slowly, and produce not more than 2000 watts of power: They are best used in camping and outdoor use.
Power and Outlet
When looking for the generator of your needs, you need to know what size is best for you. It means you need to know which power is more suitable to start up your appliances. Your home theatre system may need 400 watts to run, but what happens when it needs 2000 watts? Stay keen on the startup watts required to run the system and the running watts necessary once everything is powered.
Another consideration when looking at portable generators is power outlets. Smaller inverter generators such as the Genpower range, and Kings generator range, will have a few USB ports and a couple of 230V AC outlets. Once you go up to 4000 watts, you'll also see 240V plugs. Since the generator will mostly be used outside, we recommend looking for one with GFCI protected outlets.
Frequency of Usage
Most generator brands give you a warranty covering for years. Whether for recreational use or emergency power, any brand should provide a warranty. However, if you want to use a generator every day, you might need one that has a branded, commercial engine. Not only will the commercial engine last for years, but it will also come backed with a warranty. But of course, such portable generators come at an extra cost.
Fuel Tank
The bigger the fuel tank, the longer it will last before refuelling. That means you're better off with a larger tank capacity if you plan on using the generator for long hours. Typical generators will have a run time of 7 to 9 hours at 50% usage. If you use a higher percentage of available power, it will run for a shorter time. Also, a large tank capacity means the generator will be heavier in a full tank.
Noise Level
Tiny generators come with a subtle design. Some will be super quiet and allow for normal conversations without strain. It is an excellent consideration if you are using it at home or in camping areas with neighbours around.
However, high-powered generators won't be as quiet. The best way to find a quiet, high-powered model is the fuel type. Gas generators are less noisy than diesel generators.
Engel Generator Review
Engel is still new in the generator industry, shown by the limited catalogue in this section. However, there are a few Engel generator models, and we're expecting them to release more in the future.
So, here are our top recommended Engel pure sinewave inverter generators.
Engel R2000IS 2kW Pure Sinewave Inverter Generator
1800 rated watts and 1900 peak watts at less than 3% THD. Weighs only 22kg.
Amazing choice for home use as an emergency backup or during outdoor/camping activities.
Super quiet, extremely fuel efficient. 68 dBA noise output and 7 hours run time on a 4.8L large capacity fuel tank and an efficient air cleaner.
All Engel Portable Generators are functionally tested in the factory and come with a 4-year limited service, labour, and parts coverage.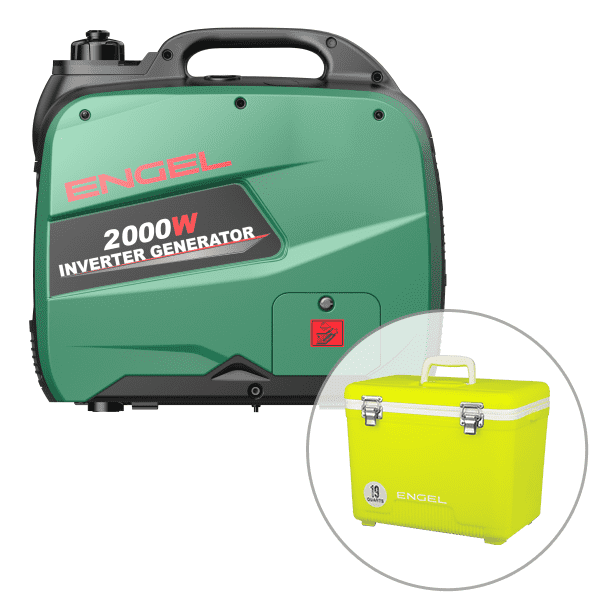 This is the ideal portable generator for motorhomes and households. It is lightweight and easy to carry around, especially camping or outdoor activities. But don't be fooled by the compact generator; it packs a punch and 1900 running watts and 1800 startup watts.
The engine is great and runs on a 79cc capacity. Double that with an eco throttle mode, and you have a pure sinewave inverter generator that's efficient and only uses the power needed while running. This also means you use less fuel for longer.
Since it is an inverter generator, it has stable sine waves with 3% less harmonic distortion. Curved sine waves mean the generator is stable, and even at 50% power load, it won't harm devices.
The pure sinewave inverter generator has a compact design with a handle to carry around for outdoor activities. It is reasonably quiet with an automatic oil alert. The tank capacity is 4.8L and can run on full load consumption for 4.5 hours and 7 hours on 50% load.
Pros
Easy to operate
Fuel efficient
Lightweight
Cons
Not suitable for heavy-duty electrical tools
Lacks wheel kit for transporting
Somewhat costly
Engel R3000IE 3kW Pure Sinewave Inverter Generator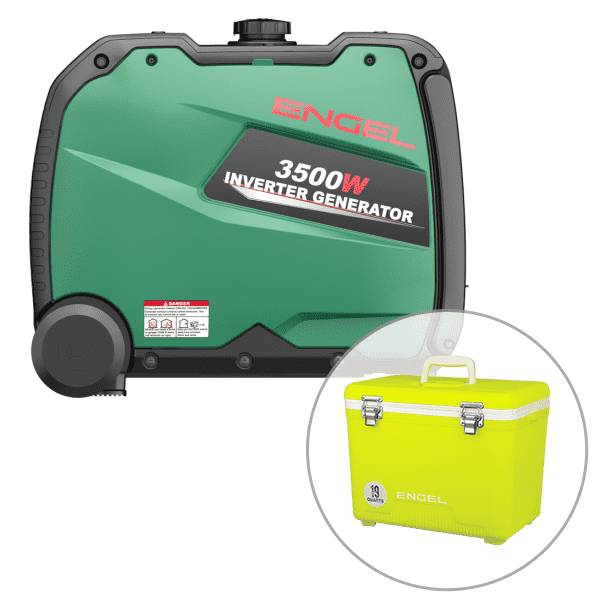 3200 rated watts and 3500 peak watts at less than 3% THD. Weighs 48kg.
Amazing choice for household use and in caravans for powering large appliances.
Two 15 amp outlets.
Runs on an 8L tank and can last up to 8.5 hours at 50% power load.
Electric and recoil start
All Engel Portable Generators are functionally tested in the factory and come with a 4-year limited service, labour, and parts coverage.
The 3kW R3000IE Generator is Engel's most powerful and quiet model. It offers amazing value for money and is a great model for use in a caravan and camping.
This model has the highest power output of all Engel generators at a maximum output of 3500kW and continuous output of 3200kW. This makes it ideal to use in a caravan and power heavy appliances such as air conditioners or power tools. It comes with a massive 8.3L capacity and weighs 48kg.
The Engel R3000IE is quick to start as its upgraded electric start is much faster and efficient than the recoil previously used in R2000IS. However, the R300IE still has a recoil start if you run into electric one problems. Thanks to the latest updates, this pure sinewave inverter generator has an increased engine power of 212cc. The 4 stroke engine gives you enough power to last up to 8.5 hours at a 50% load capacity.
The updated pure sinewave inverter generator has two 15 amp outlets and is quieter than its predecessor at 67 dBA. Another thing that makes this generator is that it's versatile has an oil warning system, large capacity muffler, and fuel gauge displays. It also has a smart throttle ecosystem that adjusts the engine speed to match power requirements. So, when you have a low-power consuming appliance, the throttle won't use much of the fuel.
Pros
Versatile use
High power output
Compact size
Affordable price
8L fuel tank
Cons
Quite heavy
No eco throttle auto choke
Engel R2500IS 2.5kW Pure Sinewave Inverter Generator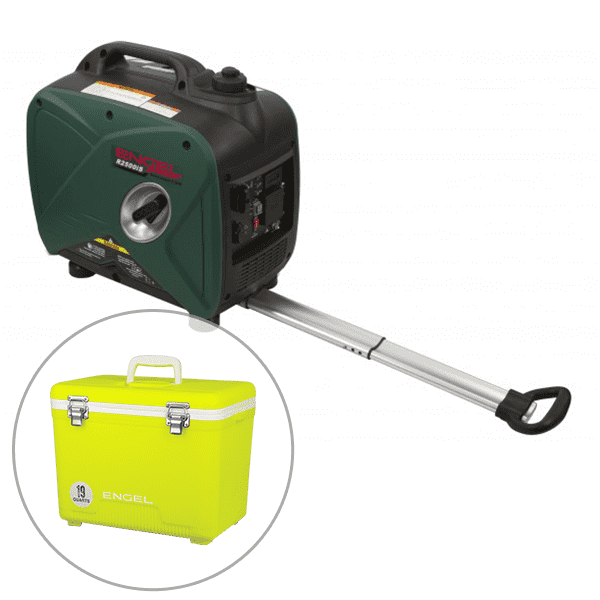 The Engel R2500IS is the most balanced pure sinewave inverter generator with an excellent value to money. It is great for camping and packs enough power to last the whole night.
This kind of inverter generator comes with a smart throttle system that adapts to the appliance's requirements. Its eco throttle mode helps further increase fuel efficiency and lower sound and carbon emissions.
It has a generous 4.8L fuel tank, an easy pull start, and a quiet sound level of 67dBA. The engine and a large fuel tank combine to provide up to 7 hours continuous running time at 50% load and 3 hours run time at full power load.
Overall, the R2500IS is a solid inverter generator due to its compact size and high output power. It is not as premium as the R3000IE, but it comes at a reasonable price. Like all Engel products, this inverter generator comes in a non-fuss 4 year warranty supported by a network of service agents nationally. So, you'll have peace of mind in case something unexpected happens.
Pros
Compact
4.5L fuel tank
Lightweight
Cons
Recoil start only
No auto choke
How Does Engel Compare To Other Alternatives?
One thing to note about Engel is its limited number of portable generators. That said, they may not have the best features compared to giant generator manufacturers like Yamaha or Honda, and growing brands such as Gentrax, Cromtech or Briggs & Stratton. However, the generator has all the features you'd expect from a modern generator today.
But looking at the Australian market, we'd say Westinghouse is a competitor. The company has a wide range of portable generators and has been in business for decades. Moreover, it has a couple of models with similar features as Engel's. So let's make a quick comparison to a few models.
Engel R2000IS vs Westinghouse iGen 2200
The Westinghouse iGen 2200 has a rated output of 1800w and a maximum output of 2200w, slightly similar to R2000IS. The first noticeable difference is noise levels. Engel is definitely louder at 67dBA when compared to just 51dBA in iGen 2200. Plus, the iGen offers an impressive 17 hour run time on 50% power load. That's twice as much runtime as what you'd get from the R2000IS. Both generators have a recoil start system.
Engel R2500IS vs Westinghouse iGen 2500
Both generators pack a punch and are strong professional-grade generators for camping, outdoor activities, and home applications. The Engel R2500IS delivers a total power output of 2500 watts, similar to the iGen 2500. Also, both inverter generators can double up their power with their parallel operations connection ports, allowing an extra generator.
This Westinghouse model has a small tank capacity of 3.8L, smaller than R2500IS, which gives you a generous 4.8L tank capacity. This means the R2500IS can run for longer. However, in terms of noise, Engen is still a tad noisy and produces 68dBA, whereas the iGen has a minimal 52dBA at a 25% load.
Winding Up
After a thorough Engel inverter generator review, it is clear that Engel has all the features of a professional inverter generator with world class quality. They are great for camping, outdoors, and emergency backup in households. Unfortunately, although Engel has high-quality generators, they do not seem to focus much on producing them, at least at the moment.
There are currently three models of inverter generators, and perhaps we'll expect more releases in the coming years. All in all, Engel produces excellent portable generators, and the first models seem to be doing well in the market.