Today's world is full of electronic devices, and we can't live without electricity as the main power source, so investing in a valuable portable generator comes in handy. They are compact, small, and can power your outdoor adventures and camping trips, as well as allow you to keep the lights on at home.
Quick Stats
FREE SHIPPING
Free Shipping
Great reviews
Pure sinewave
2.6 to 4.5 KW
Electric & pull start
Many more features
However, knowing that you need a portable generator is just the tip of the iceberg. You need to know which brands to choose, size, type, power output, etc. And while there are tons of brands out there, this article will focus on one generator brand in Australia- Genpower.
Genpower is a top brand of Inverters, Portable Generators, and Transformers in Australia. The Australian born brand has a wide range of portable generators that have dominated the market and satisfied the demands of Aussies. Genpower uses the latest technology for its models, such as advanced pure sinewave inverter generators and fuel-injected generators.
So, most parts of this article will discuss Genpower's range of portable generators and how they match up in the Australian market. Our insights come from tests, video reviews, and other reviews from customers with verified purchases. So, let's dive in!
Other quality units we have article on include the Gentrax unit, Cromtech unit, Briggs & Stratton unit, and the Engel units.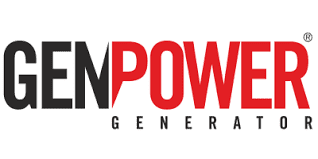 Genpower Portable Generator Review
Genpower SV5000 2600W Peak Pure Sinewave Inverter Generator
Two USB OUTLETS
4.5l tank capacity
2200W continuous power dc output (2600W Peak)
Automatic overload and low oil protection
3 years warranty + 3 months money-back guarantee
Easy starting 98cc 4-stroke engine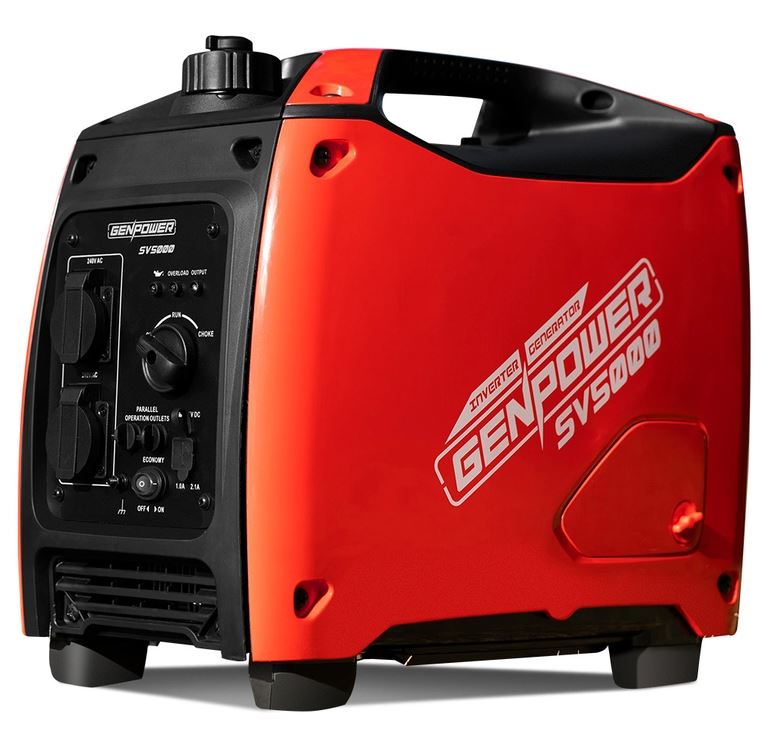 FREE SHIPPING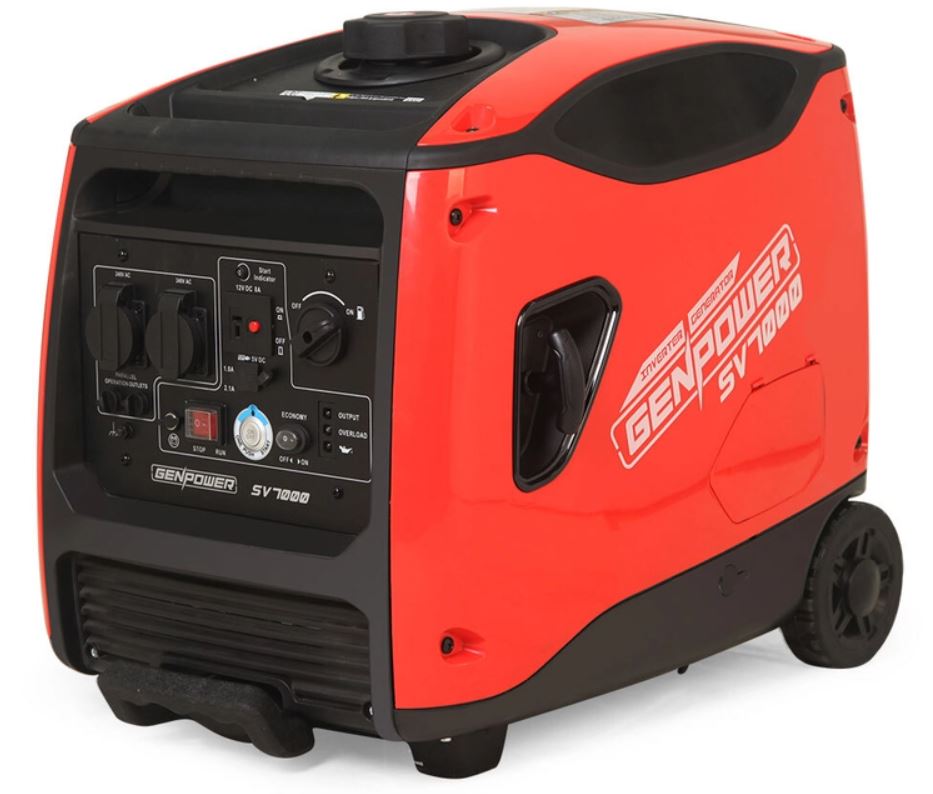 Free Shipping
Great reviews
Pure sinewave
2.6 to 4.5 KW
Electric & pull start
Many more features
The Genpower SV5000 has a compact precision design and puts enough power to power a huge range of gears, especially on outdoor activities and camping adventures. It has a 98cc four-stroke engine combined with sinewave inverter technology. The pure sinewave allows the inverter generator to run sensitive electronic equipment like mobile phones, laptops, etc. Add that to its advanced petrol motor, and you can power anything you want.
Genpower is generous enough to back the SV5000 with three-month money back guarantee and a 3-year warranty! Well, this is perhaps the only company offering such comprehensive levels of insurance in Australia.
With its ability to produce 2200 watts of continuous power output, the Genpower SV5000 can have enough power to run for 6 hours at half load and 3 hours at full load.
It is a reasonably quiet generator producing only 61 decibels at half load. The generator also has a parallel connection option using the GP-PR8 Parallel connection kit to connect to another SV5000.
Pros
Ideal for powering sensitive electronics
Two USB outputs for fast charging
3 year factory warranty plus a 3 month money guarantee
Lightweight at only 25kg
Affordable
Cons
Needs a supply of fuel in place
FREE SHIPPING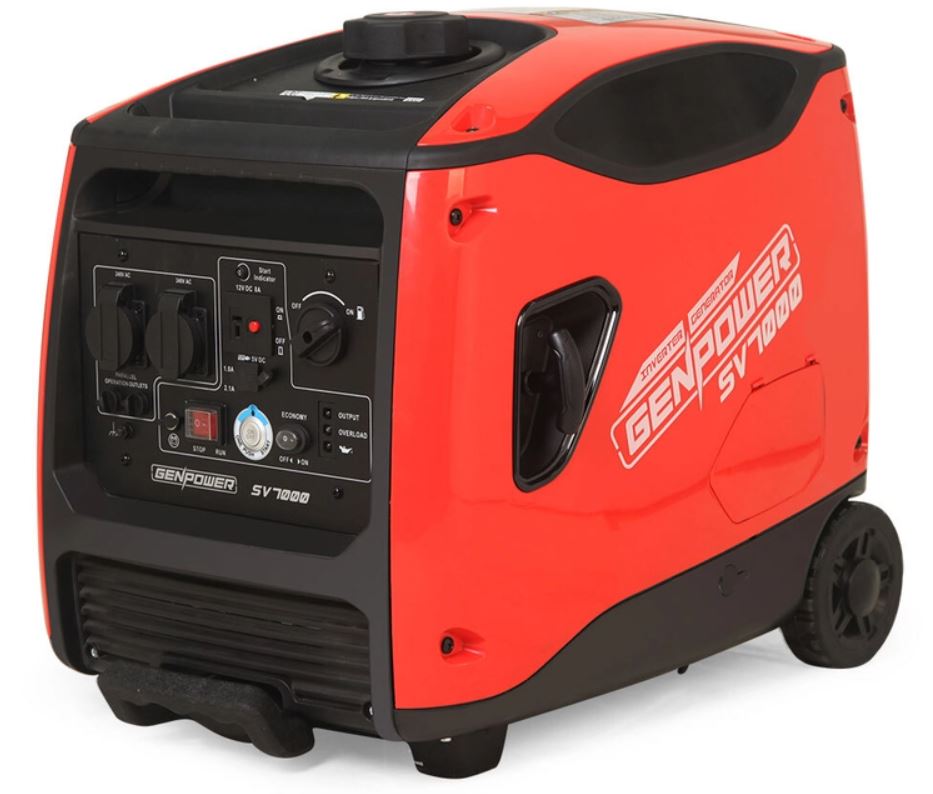 Free Shipping
Great reviews
Pure sinewave
2.6 to 4.5 KW
Electric & pull start
Many more features
Genpower SV7000 4500W Peak Pure Sinewave Inverter Generator
10.5 hours runtime at 50% load
12L tank capacity
59dB noise level
58kg weight
Push start button
The Genpower SV7000 is an upgrade of the SV5000 and comes with incredible features and more power while still maintaining low noise levels. It runs at an amazing 59dB running at 25%, and you'll get 10.5 hours of operation running at half of the power load. It is one of the best silent inverter generators in Australia.
Plus, Genpower added a push start button for easy powering on top of the manual recoil cable. So, you'll have two ways to start this machine. The massive premium fuel tank capacity of 12 litres is enough to make this model run full tank for 5 hours.
While this is heavier than previous versions (58 kg), the generator has built-in wheels and a telescoping handle. The inverter generator is among the best silent generators for camping, RV adventures, and households as a backup power source. It is also neatly designed with a compact and user-friendly design.
Pros
Large tank capacity
Electric button to start and manual pull handle
Longer runtime at full capacity
Two USB ports for fast charging
Good value to money
In-built wheels and handle
Cons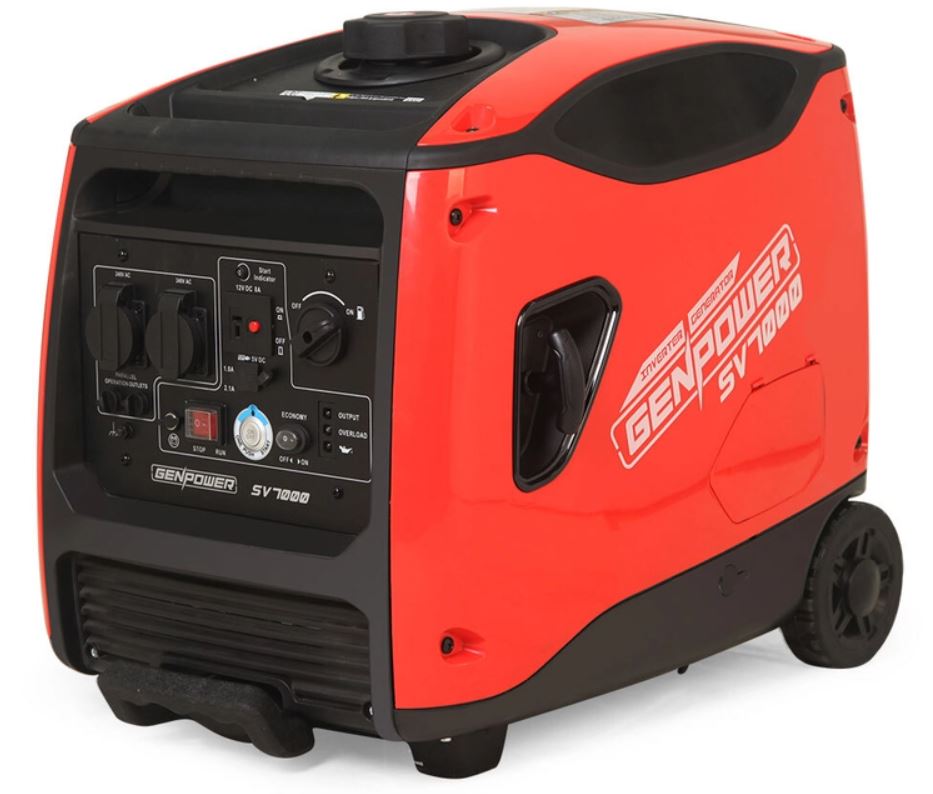 FREE SHIPPING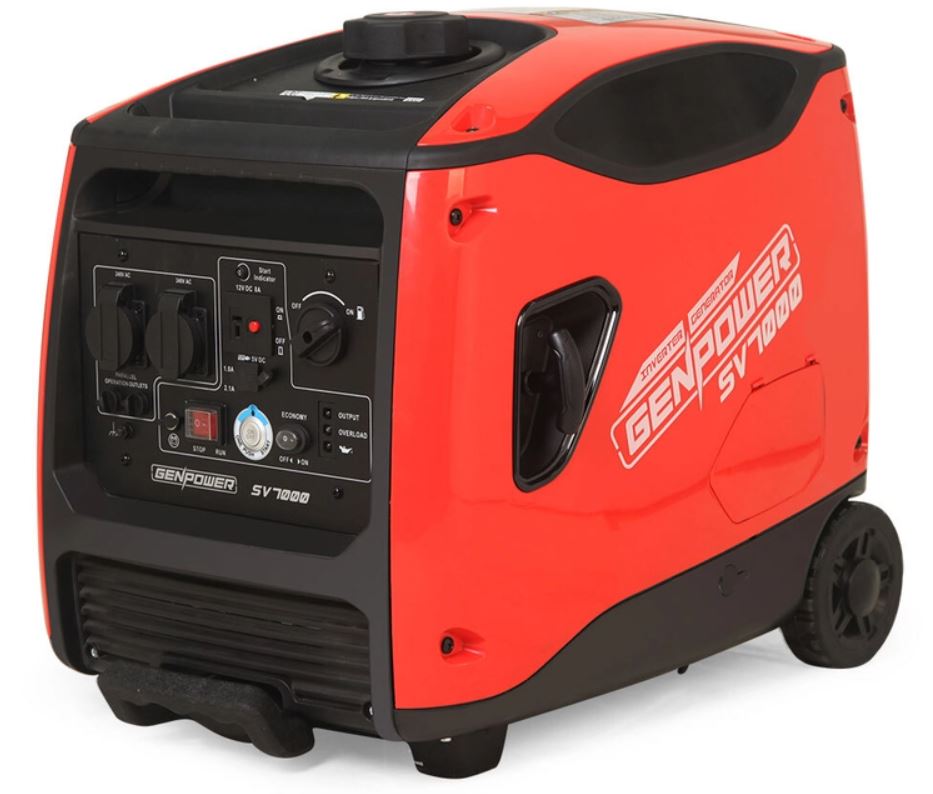 Free Shipping
Great reviews
Pure sinewave
2.6 to 4.5 KW
Electric & pull start
Many more features
Genpower SV6000 3500W Peak Pure Sinewave Inverter Generator
As Genpowers most successful and bestselling generator for motorhomes, caravans, and RVs, this 3500W generator can power most appliances like mobile air conditioners, fridges, laptops, toasters, etc. It is a perfect addition to your next caravanning adventure. Packed with a 4-stroke petrol engine, the inverter generator has a continuous rated output of 3200W and a peak output of 3500W.
Like most Genpower's generators, this Genpower model has pure sinewave technology, so you know your delicate electronics are safe. Plus, the four-stroke engine exceeds Euro V standards and comes with two 10A outlets and two USB ports for fast charging.
Running on a large 5L fuel tank, the WV6000 may not be a quiet inverter generator in Genpower previous models. The generator's noise level is at 71 decibels at 7 meters. If you want serious power, the parallel kit connection option allows you to connect a second generator to provide twice as much. However, you'll need to connect a GP-PR8 Parallel Cord Kit to combine the two generators.
This is an excellent portable generator good for handling power tools and smaller appliances during your next adventure or at a job site.
Pros
Inbuilt wheels and telescopic handle
Low oil detection
Double USB outlets
Parallel connection option
3 month money-back guarantee + 3 year warranty
Cons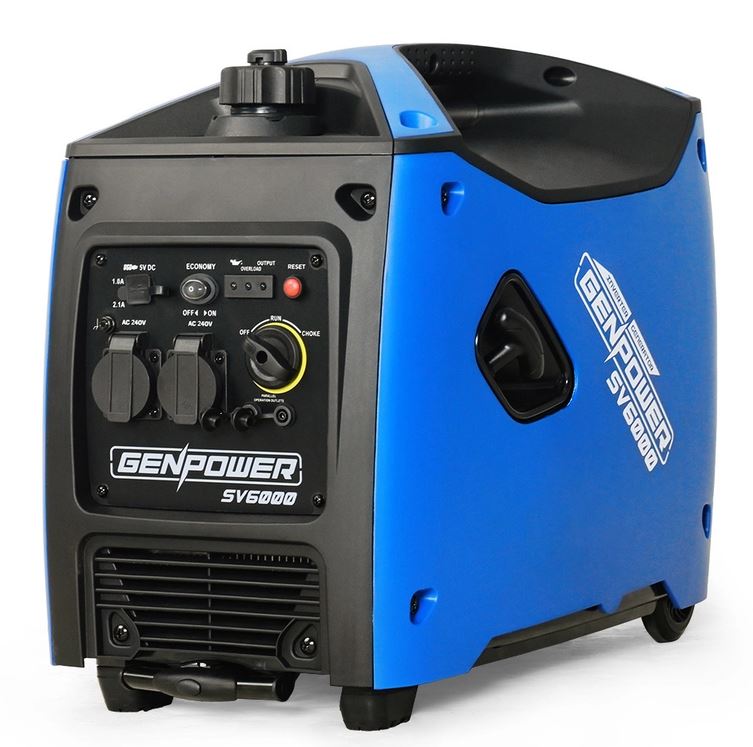 FREE SHIPPING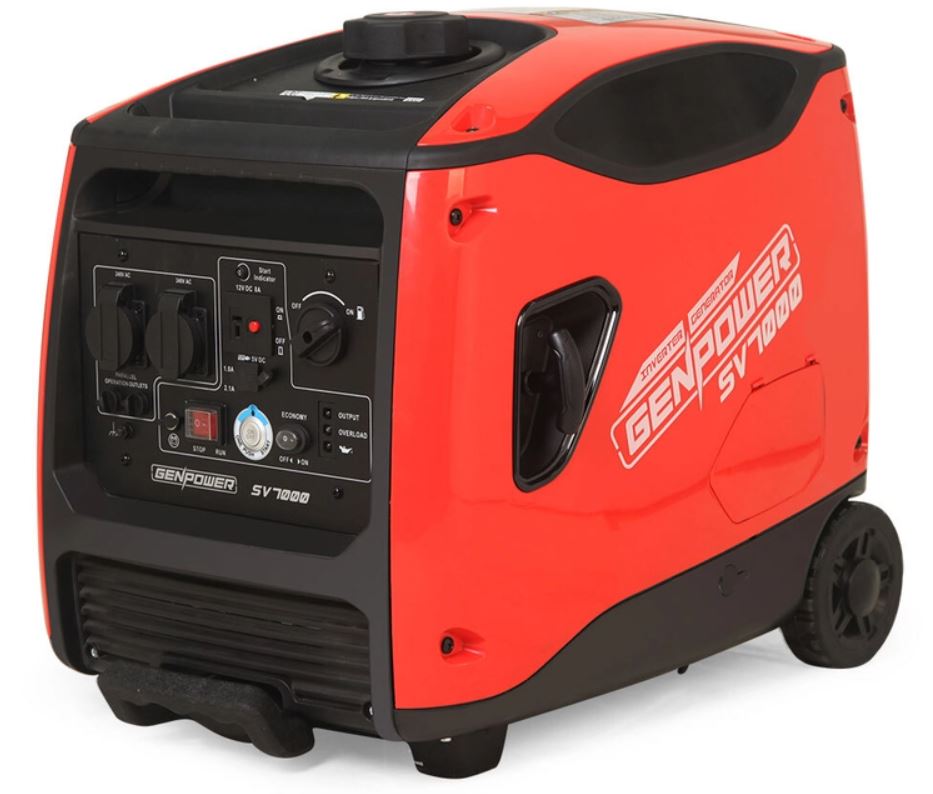 Free Shipping
Great reviews
Pure sinewave
2.6 to 4.5 KW
Electric & pull start
Many more features
Genpower GX 12025I 6000W Single-Phase Portable Generator
25L fuel tank runs up to 9 hours
4-stroke, single-cylinder engine
Peak output of 8400W and continuous rated output of 6000W
Digital Voltmeter
Great value to money
Two 240V commercial-grade outlets
Electric push-button plus recoil pull
One of Genpower's most powerful generators is the GX 12025I 600W single-phase portable generator. It is packed with world class features and top quality electrical components such as the 100% copper alternator. This means there is efficient fuel usage and fewer heat loss that its previous generator.
The massive 18hp 420cc four-stroke engine means business! It packs power and supplies a continuous output of 6000W that can run for 9 hours unattended. That's probably more than enough power for camping outdoors. Ideally, this generator is best for commercial use, but it would be a powerful addition to campers or households with plenty of appliances.
The GX 12025I was made with safety in mind as it is Workcover compliant and meets the Australian Construction Standard. Since it is ideal for commercial use, the Worksafe compliance means the generator can provide dependable power to mining sites, trade shows, special events, and construction sites in Australia.
Running on a huge 25L fuel tank, the 12025I has a stable voltage supply backed by Genpower's Patented Auto Voltage Regulator (AVR). It also has a convenient electric push button to start, high temperature, low oil, and overload detector for safe engine protection. While it is a bit heavy, weighing 90kgs, the single-phase generator comes with inbuilt wheels for easy movement.
Pros
High power output 6000W can supply to large appliances
WorkCover Compliant with RCD safety ideal for construction sites and special events
Digital Auto Throttle allows the generator to run efficiently
100% copper single phase alternator
Inbuilt wheels
Cons
FREE SHIPPING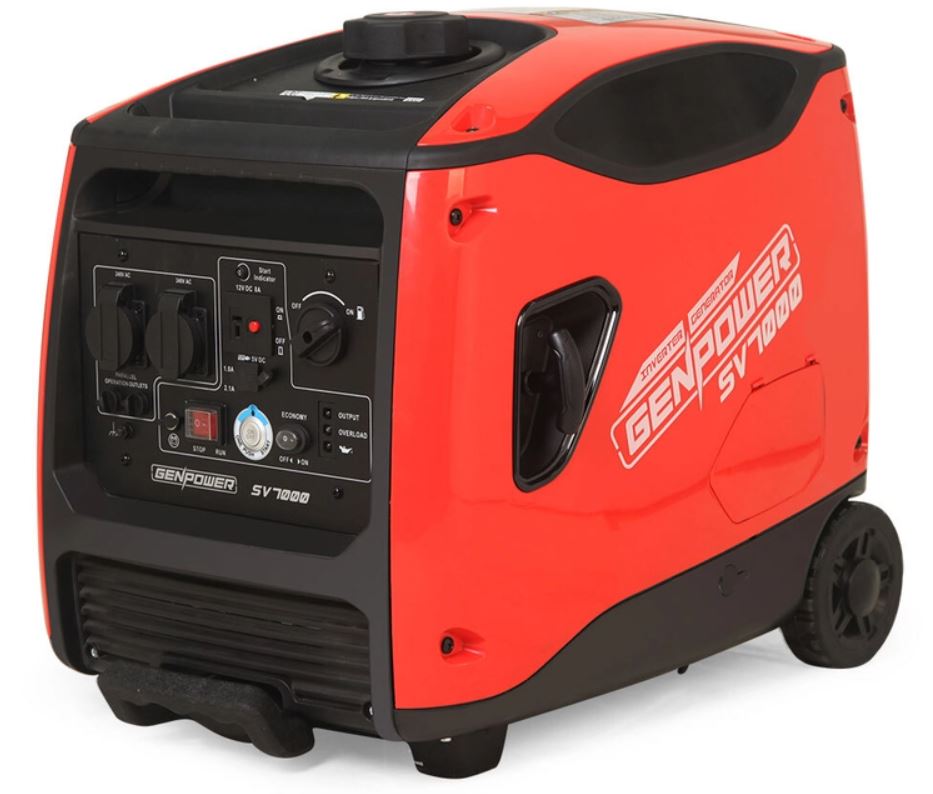 Free Shipping
Great reviews
Pure sinewave
2.6 to 4.5 KW
Electric & pull start
Many more features
What To Look For In a Portable Generator
There are plenty of factors to consider when looking for a portable generator from Genpower or any other brand in Australia. But even with a few of the top-selling models reviewed in this article, it's crucial to know which generator suits you best. Think of what you want to use it for, where you'll use it, and how often.
Let's briefly look at other top considerations when buying a portable generator.
Power Output. If you have several devices to power up, you need to look for a generator with high-rated power output. Check the wattage and the sockets that come with the portable generators.
Noise Level. Noise from a generator can be a nuisance, depending on how you use it. For instance, no one would want to sleep next to the generator at a campsite if it pumps out too much noise. Others don't mind the noise, especially when using the generator at a party or while playing music.
Run Time and Fuel Tank Capacity. How long a generator runs depends on the tank capacity of the chosen model. A large tank capacity means more hours of power, depending on the mode. However, as technology advances, fuel-efficient generators run for longer at sizable fuel tanks.
Size, weight and portability. Size matters, period. When choosing portable generators, you need something moveable and has ergonomic features such as handles, wheels, etc. Some generators can be so big that they require more than two people to carry.
Purpose. As mentioned earlier, how you intend to use the generator matters a lot. You will need a generator that meets your requirements and intent as soon as you have it in your place. An inverter generator would be fine if you wish to power small, sensitive electrical items. Otherwise, if you intend to use power-hungry appliances like air conditioners or fridges, you might need a more powerful, single-phase generator.
In conclusion
Genpower is a reputable brand and has been supplying generators for quite a while now. The company is also a leading brand in inverters and transformers in Australia and beyond. While it doesn't have as much catalogue as bigger brands like Honda, it insists on quality and industry-standard equipment. This Genpower portable generator review shows just how powerful the company's presence is with outstanding models that offer great value. They are user friendly, straight forward to handle, and we hope they'll have more releases in the future.
Don't forget to also check out our Adventure Kings generator review.
FREE SHIPPING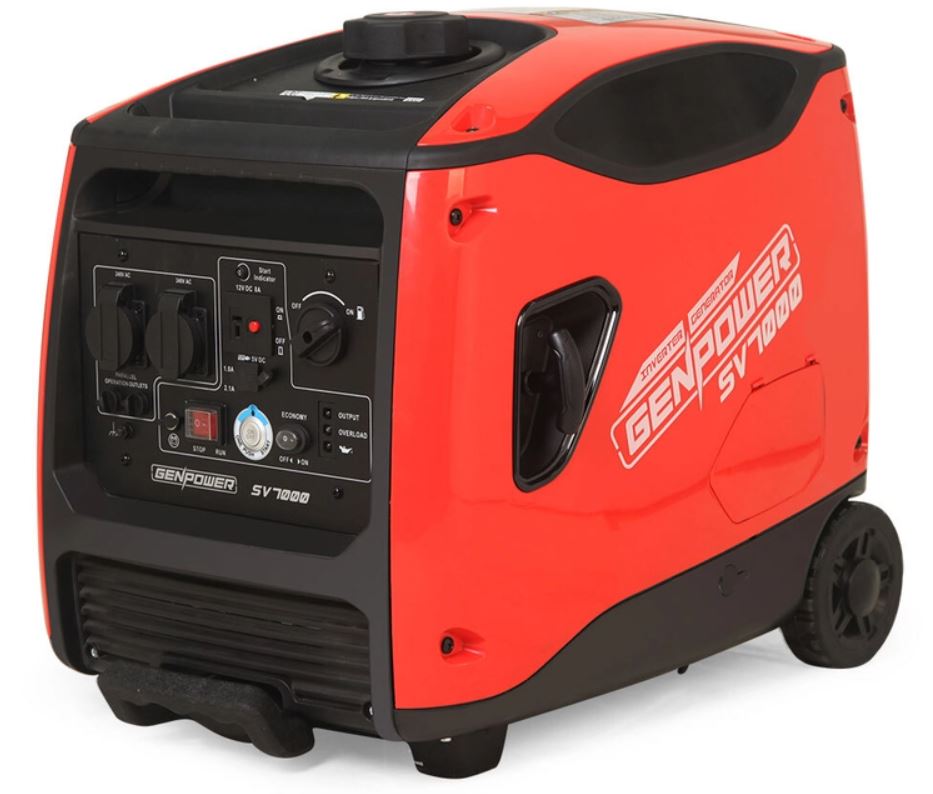 Free Shipping
Great reviews
Pure sinewave
2.6 to 4.5 KW
Electric & pull start
Many more features