There's a reason why so many people like camping in nature. Views of wildlife, pleasant conversations around the campfire, and spectacular views make all discomforts worthwhile.
But, if there's one disadvantage that many nature enthusiasts would choose to dodge, it's the discomfort of staying clean without modern comforts.
Lodging at a campsite which has showers is, of course, a possibility. An alternative is to camp in an caravan or camper trailer with an integrated shower. Staying fresh when you are tent camping or trekking is really difficult.
This may not seem like a major worry on a quick weekend camping getaway. However, it pays to remain clean on longer camping and backpacking adventures.
At this stage, you must already know all about the convenience of a camping shower. From solar showers to rechargeable camp shower models, there is a wide range of camping showers out there to make your camping experiences finer.
The question that pops up now is, how do you differentiate the best camping showers from others? This guide is here to help you with that. So, read on and take a step towards a practical, clean, and hygienic camping trip!
Choosing A Camping Shower That Suits Your Needs: A Buyer's Guide
The price, longevity, and simplicity of installation of these camping showers vary widely. The ideal camping shower for you will be shaped by a number of considerations. These include your budget, the power source accessibility, and the amount of room available to carry additional supplies.
Below are some factors that you must assess before considering a camping shower. Their goal is to assist you in gaining a better understanding of your requirements and in determining the best choice to suit those needs.
Type
Solar showers, 12V camping showers, and portable hot water systems are the three main types of camping showers. They differ in terms of how they heat the water, whether they do this directly, and the power they use to propel the water out from the showerhead.
You must also consider the power supply you will have at your disposal.
Will you have enough power to run the shower pump? Will you have enough gas to light a fire if you buy gas-powered camp showers? Will you be able to adjust your setup to incorporate these elements if you don't have them already? Your responses to these questions will be crucial in selecting the ideal camp showers that best suit you.
Let's take a quick look at the types of showers.
Solar Powered Camp Showers
A solar camp shower may be exactly what you require if you're searching for a simple, inexpensive yet space-saving camp shower arrangement.
Solar showers are the most basic of designs. They convert solar energy into a source of heat for your shower water. For this, there is a black, heat-absorbent substance on the camping shower bag for solar showers. Most solar showers rely on gravity to propel the water out of the shower rose.
The advantages of a solar camping shower are its low cost, lightweight, and lack of carbon dioxide emissions.
12V Camping Showers
12V portable camping showers don't heat up your water, so you'll have to find an alternative or be comfortable with cold showers! They just push water from the showerhead by pumping it from your water container.
Most 12V portable showers come with certain attachments for holding it up, like a suction cap for hooking it onto an overhanging branch.
Portable Hot Water Systems
Portable Hot Water Systems provide the greatest hot shower experience possible while camping- for the longest period and at the highest pressure. However, they are larger and more expensive.
In terms of energy, they often work with a mix of gas and electricity. Most of them require 12v electricity to run the unit and the water pump, as well as some type of gas to heat the heating element.
The heating is provided by a propane gas bottle in a few of the smaller units, while an LPG gas bottle is required in others.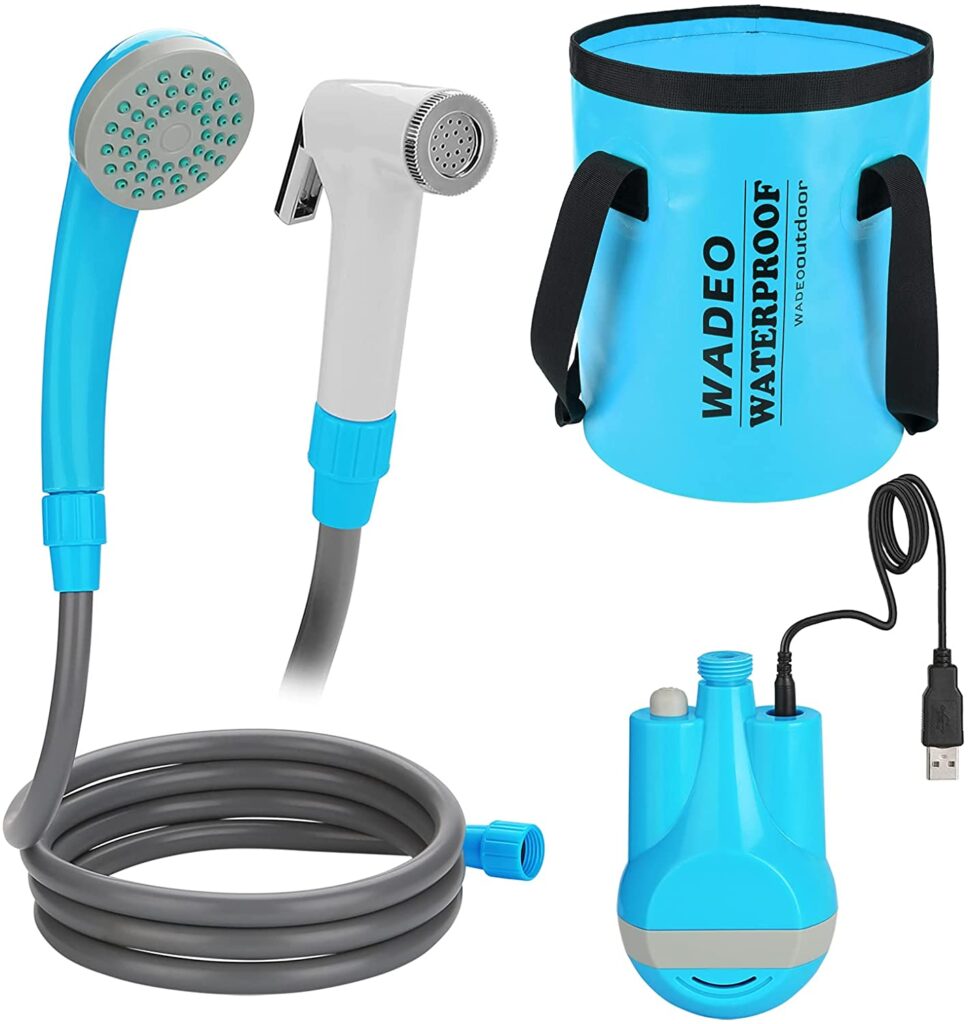 Pressure Camp Showers
Pressure camp showers are generally powered manually. They use a foot pump or hand pump to push the water out from the bag. Pressure showers are excellent options for all other outdoor shower purposes, such as showering your pets or washing vehicles.
Pressure camp showers usually only work with cold water. These portable camp showers are lightweight and easy to store, but with a limited capacity.
Source Of Water
The availability of water will have a significant impact on the shower choices available to you.
Will you have to bring all of your water with you? Or will you be able to pump water into your site from nearby streams, lakes, or rivers? If you're going to camp in a bush or desert area, you may have to resort to the former.
So, consider your camping location and the sources of water available there, and the journey to your destination too.
Varying designs of camp showers utilize different amounts of water and work at different temperatures.
Manual showers, such as certain solar and pressure-based showers, must be full of water before use. However, gas and battery-driven models may be linked to almost any water container or other sources, like rivers or streams, or even via a hose, resulting in a long shower with a quicker flow rate.
Size And Weight
A portable and adaptable camping shower is a lightweight option that contributes to easier travel. They do, however, have a reduced water capacity, so your showers will not be very long. This is just an example of how the size and weight of showers make a difference in their performance.
Solar-powered or pressure camping showers are among some of the finest camping shower solutions. This is because they are easy to store and take up little space when you are not using them.
Alternatively, if you want hot water right off the bat, gas and battery-powered choices may be the ideal camp shower systems for you.
Construction And Materials
Your camp shower, like all camping gear, must be able to withstand the outdoor elements Models in both plastic and cloth are available.
Although plastic is more popular and translucent, allowing you to see how much water is left, the cloth is typically more durable.
Setting Up
No one really wants to spend a lot of time putting together their camping shower. The best transportable shower while camping has to be simple to assemble.
Portable showers may fit your requirements if you desire fast showers, but if you need something that can swiftly regulate the heat of the water, go for gas showers or those with rechargeable batteries.
Brand
The brand of your shower may not dictate its quality and performance. However, it is also something you cannot completely overlook. The reviews and image of a brand reflect how well its products fare.
It can also be helpful to go through testimonials and feedback offered by customers.
Camp Shower Accessories For A Well-Rounded Experience
Did you know that there are several accessories that can further amplify the functionality of the best camping shower set-ups? Take a look at some useful accessories below.
Shower Tents
It is never a very pleasant idea to shower out in the open- especially if you are camping in the wilderness. A shower tent is precisely what you need to avoid that. A shower tent is designed to work with camping showers.
These tents are easy to install and highly portable as well while giving you privacy and safety when you're showering.
Temperature Indicators
Most high-quality camp showers come with in-built temperature indicators or gauges. However, if you choose to buy one without such features, you may want to invest in a separate unit.
It will let you know the temperature of your water so that you do not end up taking freezing or scalding showers with extremely hot water.
Shower Hooks or Handles and Suction Cups
Solar showers and even other types often rely on gravity to push the water out of the head of the shower. You may need S-style shower hooks and handles for this purpose if no suitable branches or outcroppings are available. They will let you set up or hang your bag somewhere high above you so that you do not need to hold it while showering. Suction cups are also useful.
Storage Bag
You'll need a robust and high-quality storage bag for your camping shower. It should be easy to carry while keeping your gear safe. Most of the best camping showers come with their own storage bags.
Microfiber Towels
A microfiber towel is essential for hiking showers since it is lightweight and dries rapidly. These can be an asset to your camping experience since they eliminate the bulk of a usual towel.
Velcro-Strap Pockets
You may need an extra pocket or pouch to store your soap, shampoo, or washcloth. Some showers come with this, while others don't. It can be a practical investment to buy a velcro-fitted pocket that you can strap onto your shower bag, in your shower tent, or onto a nearby branch when showering.
Biodegradable Soap
Showering using biodegradable soap is an environment-friendly option when camping. Look for a product that doesn't include surfactants, phosphates, antibacterial agents, or triclosan.
It's still recommended to stay away from lakes and streams, even if you are using such a soap.
Top 7 Outdoor Shower Systems For Your Camping Trips
Now that you know how to pick a suitable set-up, here are the best portable camping showers for Australian conditions.
The Companion Solar Shower is one of the most durable solar shower options available in Australia. Even the brand is well-known for robust, high-quality gear for camping. It also offers combination showers, such as the Aquaheat Lithium Gas Shower.
This shower is made of 600D ripstop polyester and transparent PVC. It also has a completely heat-welded structure, so you can expect the construction to be solid and long-lasting.
The shower duration is roughly 8 minutes with the 20-liter capacity bag. A huge front pocket for soap or shampoo storage, an indicator of water level, and convenient velcro straps for shower head adjustments are all useful features.
The Companion Solar Shower weighs 460 g and has dimensions measuring 330 mm x 120 mm x 60 mm.
One drawback of this camping shower is that you need to lift the fully-filled shower bag above your head for ideal water flow.
Pros
8 minutes of shower time with continuous hot water is possible
Includes water temperature gauge
Comes with a mesh bag for easy storage
Easy to use the showerhead with On/Off switch
Cons
It might be inconvenient to lift 20 liters of water above head level for good water flow
The Advanced Elements Summer Shower, another good camping showers, integrates the wonders of solar heating with a decent 5-gallon capacity.
The portable solar shower also has one of the best camping shower bag options integrated into the model. It has a 4-ply design and a reflector screen to help heat the water more rapidly.
The bag has additional insulation, so you can have access to hot water for a longer period of time.
Although the capacity of 5 gallons isn't the greatest available, it's more than plenty for one person. When the water is ready, an embedded temperature gauge alerts you.
You can also keep your camp soap or shampoo and towel in a convenient side compartment with velcro straps.
Pros
Exceptional water storage bag with great insulation offers hot water for a longer time
Built-in water temperature gauge
Cons
A short shower hose at 15 inches of length does not offer much flexibility
5-gallon capacity is convenient for only one person's body wash
This Ivation camp shower is ideal if you are looking for a very portable shower. With a weight of 0.7 kg, it's quite portable, and you can keep it in the accompanying travel bag.
The camp shower's rechargeable battery needs 2.5 to 5 hours of charging time. It can run for up to 60 minutes. You can charge it through your car, your phone's charger, laptop, and any other USB outlet.
However, with a flow rate of 3.5 L/min, it's not quite a high water pressure shower.
This portable shower comes with two shower heads: a waterfall and a tiny bidet, both of which attach to the hose's 180 cm length. The showerhead is fitted with a detachable filter you can unscrew whenever you want to clean it for easy cleaning or maintenance.
Pros
Lightweight
Energy-efficient owing to battery power
S-shaped hook and suction cup come with the set-up
Cons
Battery housing and switch are not waterproof
You've already seen a Companion solar shower, but the company also offers a rechargeable camp shower with a built-in lithium-ion battery. You can charge it with a vehicle adapter or a USB connection.
It has a water flow rate of 2 L/min and a maximum run time of 60 minutes. So, even though it has a modest flow rate, several people can use it and can help with washing dishes.
To use this camp shower, place the pump in a water source and hang the shower head wherever it is convenient. It's really simple to use because of its one-touch functionality. It comes with a two-meter hose and two shower heads, each with an On/Off control.
However, it does not heat the water for you, which means you may have to be content with a cold shower!
This outdoor shower is meant to be portable and lightweight, at just 0.9 kg, making it excellent for camping and trekking. It also comes with a bag for easy transportation.
Pros
Simple structure makes it easy to use
Compact and convenient to store and carry
Comes with a year-long warranty
Lightweight
Cons
Smarttek's portable camp shower is a battery and LPG gas-powered camp shower. It can pour out as much as six liters of water every minute, running for up to 50 hours in the summer season and 16 hours in the winter season.
It's quite simple to set up as well. You simply need to hang the system with its anchoring brackets or hooks. Following that, connect one of the hoses, which will be a gas hose, to the gas bottle and the other to the water supply. Then, put in the two D-cell batteries and you will be all set.
This camp shower has a stainless steel finish in addition to an LCD display that shows the water temperature.
It also sports a high-quality head of the shower with two pressure levels and an On/Off switch, and a built-in energy conservation technology that reduces gas usage during the summer months.
Pros
Anti-freezing
High-flow water pressure protection
Resistant to dust, rain, wind, and shock
Comes with 3 years of warranty
Cons
Semi battery-powered pump, which means you need to carry fuel with you
This tankless water heater by Gasland gives you hot water with the help of liquid propane and batteries. With this camping hot water system, you can have a warm shower with up to 8 liters of water every minute.
This device is a terrific alternative if you're looking for camp showers that do not require prerequisite arrangements to heat water.
It's simple to use. Connect the two hoses, attach your gas source, and install the lithium-ion battery pair. After adjusting the knobs for summer or winter, define the gas control and water flow control.
There's a flame viewing pane to keep an eye on the flame of the gas burner, as well as an auto shut-off option when the water temperature hits 77 degrees Celsius. On the LED display, you can also check the precise temperature.
The shower by Gasland just takes 15 kPa of water pressure to get started. It has a weight of approximately 4.75 kg and comes with a lightweight stainless steel handle for convenient transport.
Pros
Involves an air outlet
Lightweight and compact structure
Cons
Unsuitable for high altitudes
Not recommended if your camping trip involves strong winds
This CAMPLUX gas water heater is worth considering if you require a mobile hot water system. This hot water unit is connected to a pair of D-cell batteries.
It attaches to an LPG fuel tank to produce rapid hot water in a matter of mere seconds, with no need to pre-heat.
It also has the benefit of starting up with only 15 kPa of water pressure. A temperature indicator and switch are included, as well as a gauge to cater to seasonal variations in order to maximize efficiency. It's also simple to hang thanks to a stainless steel handle and fastening attachments.
Pros
One of the most compact portable hot water systems
Can begin with water pressure as low as 15 kPa
Cons
Requires a stand for optimal functioning, which is expensive
Frequently Asked Questions
Do you have any questions about camping shower models, functions, and feasibility? Here are some common questions to take care of all your doubts.
Are there more camping shower types?
Yes, there are a few more camp shower types, such as vehicle-fitted camp showers, gravity camping shower models, and combination systems.
Vehicle-fitted camping shower models have a design that includes a heat exchanger attached under the hood of your car. It has a connection to a water pump powered by the battery of the vehicle. They are rechargeable camp shower solutions.
Gravity camp shower systems are usually a simple set-up where the water reservoir is placed higher than the head. This is how most solar shower systems work.
Combination portable camp shower options employ a blend of two types to offer you an efficient and convenient portable outdoor shower.
Is it important to consider the flow rate of a camp shower system?
Yes, it is indeed crucial to take the water capacity and flow rate of a camp shower into consideration when buying a camping shower. Usually, solar-powered showers or pressure camp shower models will be able to offer you only a few liters' worth of a shower before you need to fill the bags again.
The flow rate of your pocket shower also influences how long your water supply will last. Some of the best camp showers allow you to optimize the flow rate.
How essential is it to own a shower that can produce hot water?
The answer to this question is, naturally, different for every camper. It depends on your camping goals and destination. If you are going to camp in a desert area, warm water may not be important, but if you're going to set up camp in the hills, you might want to skip freezing showers! Ideally, the best camping shower would be one that can also play the role of a portable hot water heater. This is because hot water has several highly important uses besides showering.
How long do solar showers take to heat water?
The time a solar shower takes to produce hot water depends upon the weather conditions and the environment. The surface on which you place the bag is also an influencing factor. Under direct sunlight, placed on a rock or heat-absorbing surface, you can have hot water ready for use just within an hour. However, if it is partly cloudy or if the only available surface in the ground, it can take up to a few hours before you have hot water. Generally, the best time to shower is an hour or two before sunset, since the water is bound to be at its peak temperature at this time.
What is a pocket shower?
Pocket showers are another type of portable shower made of high-quality, wear-resistant fabric. They are shaped like bags with a compact water outlet built into their bases. They can also offer hot water using sunlight. However, the water pressure is not always satisfactory. An excellent pocket shower is the Sea To Summit Pocket Shower that zips into a light, compact pouch for easy movement.
How does a vehicle-mounted shower push the water out of the shower head?
Will you be camping close to your car throughout your trip? If so, a vehicle-mounted camp shower might be an excellent choice for you. Water is pushed through a heat exchanger linked to your operating car's engine and out via the corresponding water hose by a pump immersed in a body of water that's nearby. In no time, you'll have access to hot water!
Endnotes
There are a variety of camp showers to choose from. The ideal one for you will be determined by a number of criteria, including the amount of water, electricity, and space you have available. If you aren't too keen on buying a shower, you can also extensively survey other alternatives along your camping route or at your destination.