An awning can be one of the most reliable choices for those who want to cover a small or big space in their property. While some awnings are made for covering small spaces, there are even vehicle awnings on the market, which are designed to cover trucks.
This roof rack type has become popular among travellers since it helps people resist harsh weather conditions whenever they travel. Depending on the model, these heavy-duty products come with a reliable set-up mode which allows anyone to get the awning up within a few minutes.
Still, those new to the awning world may be wondering which one of these products comes with the key features they need. Most awnings are good enough, but if you want to have the best travelling experience, you must go for the absolute best.
Today, we're going to cover the Darche Eclipse 270 Awning, which provides full-length coverage for vehicles, an easy setup, and an additional undercover area for those who want to hang out under their roof rack. If you're interested in what this awning has to offer, keep reading!
You may also be interested in our Darche rooftop tent review.
Generation 2
11.5 m square
Generation 2
Easy set up
1500mm PU waterproofing with HF seam sealing
Dimensions: 6000mm L X 4000mm W x 2100mm H (average height)
Packed down: 2200mm L x 180mm W x 200mm H
Weight: 21.8kg
What Does the Darche Eclipse 270 Awning Include?
The Eclipse 270 awning (made by the brand 'Darche') comes with several good quality features that, according to the company, users already know and love. It's vital to note that this heavy-duty awning comes with additional upgrades since we're talking about the Generation II model.
Lightweight and Strong Construction
According to the brand, you don't have to worry about not being able to set up this awning since it was designed for it to be set up by one person. This is thanks to the pivoting extendable leg poles and heavy-duty aluminium arm rafter poles, which make it much easier for anyone to finish their camping setup.
In our experience, the materials feel lightweight enough, which help for the 'easy one-person setup.' Still, don't let that fool you; this awning is strong enough to resist any weather conditions and provide great wet weather protection for both your vehicle and your valuables underneath.
Mounting Brackets
It's vital to note that the included mounting brackets were made to suit most steel basket set-ups or flat roof rack set-ups, so you may not have a problem with any part of the process.
In essence, you may expect to get the following items from your purchase:
Three Mounting Brackets
One Steel Buckled Tension Strap
Guy Ropes and Pegs
Transit Cover
Wall Kit (Keep in mind this one is sold separately)
Four Pivoting Telescopic Leg Poles
Separate Carry Bag
If you need them, this product comes with another three poles on a separate carry bag.
Wall Kit (Sold Separately)
In case you want to enjoy the full features of this lightweight and strong construction model, you may want to get the transit cover + wall kit combo. While the transit cover is included in the purchase, the wall kit isn't.
If you haven't used one before, a wall kit is mostly used to provide even more coverage than what general market offerings have. While you don't have to get it to set up the awning, it could help you get great wet weather protection.
Freestanding Set-Up Mode
As the name implies, this vehicle-freestanding set-up mode makes it much easier to get this awning up and down much faster than other products on the market. Still, most professionals recommend users keep the awning pegged down at all times to prevent problems.
Keep in mind that this awning comes with a significantly large surface area thanks to its pivoting extendable leg poles. While the awning comes with heavy-duty features like the steel buckled tension strap, strong winds and other harsh weather conditions could pose a problem.
Still, this vehicle-freestanding set has proven to be useful for those who want to make everything easier.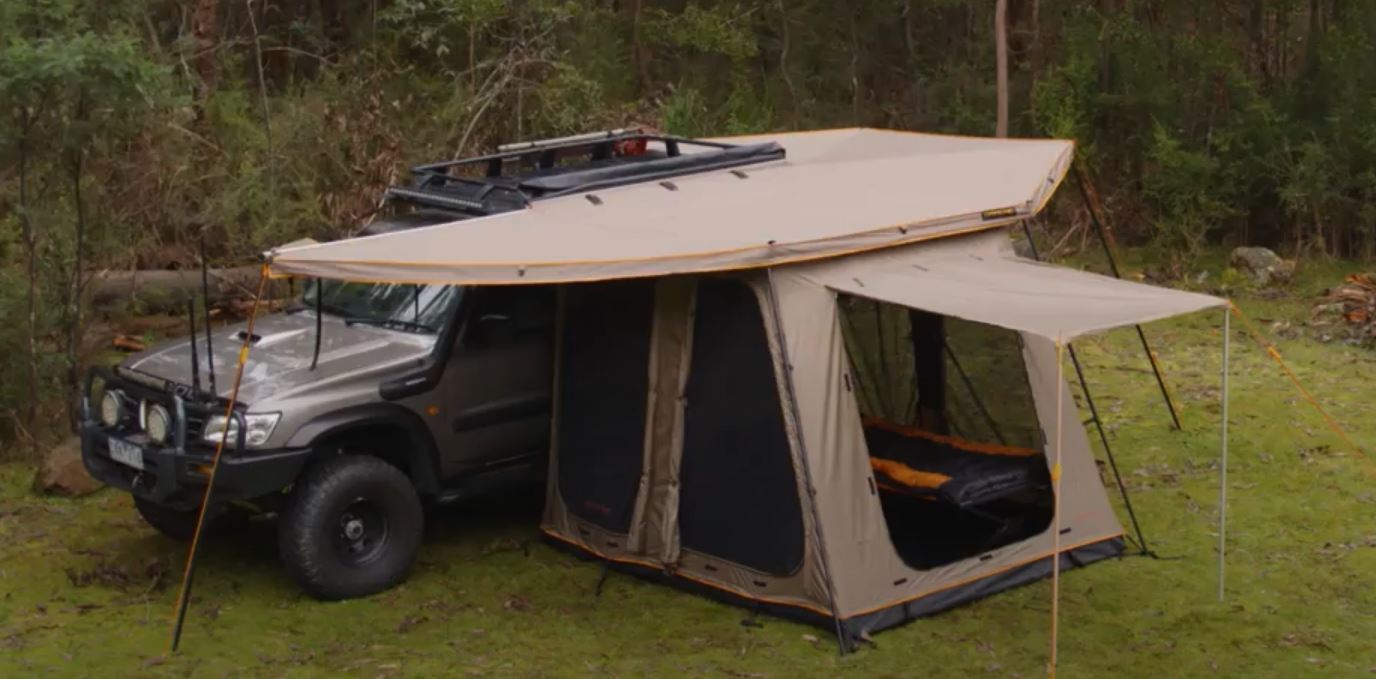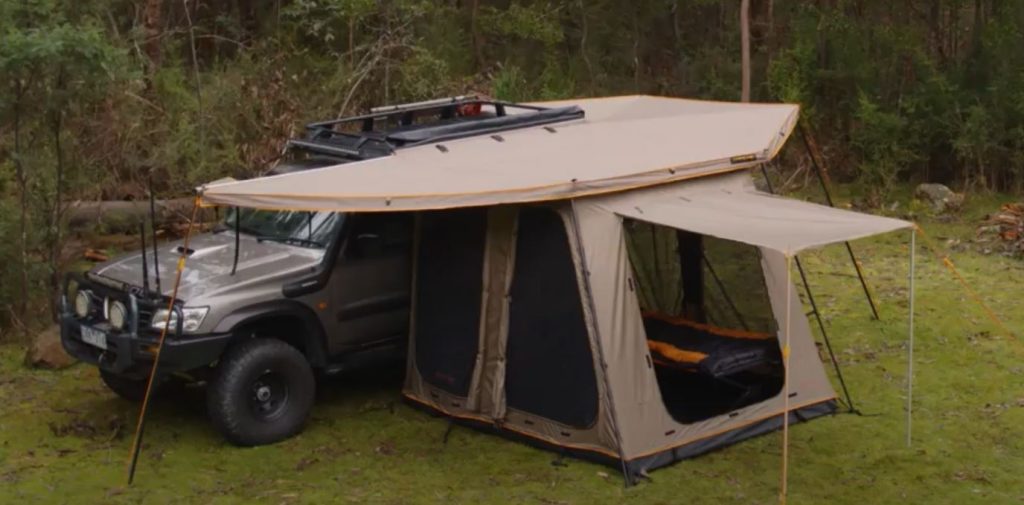 What Else Does the Awning Include?
Some other key features the awning includes include the following:
Aluminium hinge system
Velcro straps
Durable ripstop canvas
Lightweight box tube alloy rafter
We believe the durable ripstop canvas, as well as other features like the telescopic leg poles, make the Darche Eclipse 270 awning one of the most reliable products for any camping setup.
What About Water Run-Off?
If you want to avoid any problems after experiencing harsh weather conditions, you must use the included guy ropes and fix them between the rafters so that you have a water run-off valley.
You may also be interested in our review of the Darche camping swag.
How Much Area Does the Awning Cover?
Now that we've talked about the primary features of this awning, it's time to talk about coverage. While many people may enjoy this one-person set up model, others often focus on the coverage first.
Overall, the awning spans across your entire vehicle's length (including the rear). However, what makes this product special is that it also offers an additional undercover area. In essence, you may be looking at 11.5m²; moreover, it provides 270° of wrap around the shade solution (hence the number 270 in the name).
In case you purchase the wall kit, which is sold separately, you may be looking at even 20.5m² of coverage once you erect these additional walls. Overall, if you choose to use these side material walls as an upright awning extension, you may be looking at 4.2m in height.
An interesting thing about this awning is that it hinges from two sides, promoting maximum shade and much more coverage than other products on the market.
Is There Any Difference Between the First and Second Generation Darche Eclipse 270?
As mentioned at the beginning of this review, we're talking about the second generation Eclipse 270, so logically, it has some upgrades. The main difference between the two models is that the first model comes with a canopy construct of 260gsm, whereas the second one comes with a 320gsm polycotton canvas.
Additionally, the awning features a new aluminium hinge system plus box tube alloy rafters, which make the product much more lightweight without sacrificing the durability of the construction.
Both models are semi designed to use a freestanding setup. However, as mentioned before, it's recommended to peg it down with guy ropes so that a strong wind doesn't pose a problem in the future.
Choosing the Right Model for You
An interesting addition to the Eclipse 270 awning is that you can choose from one of two mounting orientations. If you want it to fit an Australian passenger side, you may get the corresponding model; the same happens if you want to fit the Australian driver side mount.
Does This Awning Feature Any Warranty?
Absolutely! You may expect a two-year warranty from this heavy-duty model, which is more than enough for most users. This means that if you have any problems with the product within that period, you can turn it back to the company.
Still, keep in mind that you must read Darche brand's warranty policy to see if you are eligible for turning the product back.
How Much Does This Awning Cost?
Overall, it depends on where you buy it. Darche's website is currently offering the product at $1,399.00 with the option of making four interest-free payments of $349.75 through the 'Afterpay' service.
Other retailers may offer the product from $1,000 to even $1,800, as well as several payment options. While this awning may be a bit more expensive than other products on the market, keep in mind that this awning provides much more coverage than the average product, and it's also extremely easy to set up by yourself.
If you have the budget for it, we believe this may be an option worth considering.
Should You Purchase the Darche Eclipse 270 Awning?
We've talked about everything the Eclipse 270 offers users. However, is it truly a good option for everyone? Well, it depends.
Not everyone needs such a large coverage area. Moreover, some people don't want to go through the risk of setting up an awning with such a large surface area since that makes it more dangerous in strong wind conditions.
Another vital factor is the price. Not all campers may be willing to spend $1,399 for an awning. If you're one of those who are planning to go camping a lot, a heavy-duty model is what you may need; hence, this product may be a good option.
On the contrary, if you feel you're only going to use the awning occasionally, then you may be better off with a smaller or less expensive product. As for quality, we believe this is an excellent option; you're not going to have any problems, and even if you do, you can use the product's warranty to get any problem sorted out.
Remember that you're not only investing in an awning; you're also investing in many amazing features, such as a UPF 50+ rating, 1500mm PU waterproofing and HF seam sealing, and outstanding coverage for both your vehicle and your belongings.
Awning Buying Guide
If you're new to the awning world, you may be lost regarding what you must do to ensure you're making the right purchase. You may not know what the right height, coverage, or features are good for you.
In case you're considering buying this (or any other) awning currently on the market, make sure to consider the following factors:
Shade
Getting the right shade solution must be your top priority. Overall, getting the shade right isn't as easy as it seems since you must ensure that your awning can provide you with coverage regardless of where the sun is at the moment.
Overall, you may talk to your preferred retailer or manufacturer, give them your current conditions, vehicle size, etc. and use that to get to your correct shade solution.
Fabric
Darche's awnings are treated with high-quality materials, so you don't have to worry about getting poor performance under particular weather conditions. Still, you must look for water-resistant fabrics whenever you buy an awning. Remember, your goal is to protect your vehicle and belongings as efficiently as possible.
Space
Some people don't even use awnings for camping. Overall, some homeowners use awnings in their gardens to make the experience more pleasant. Regardless of the reason why you want to buy an awning, you must consider the space you're going to place it in.
Moreover, you may consider a freestanding set-up mode since that will allow you to erect the awning without the help of a second person. In case you're travelling with your awning, this is a must-have option.
Additional Accessories
Some awnings allow you to get additional features to make the experience even better. The Darche Eclipse 270, for example, may be complemented with additional walls. Thanks to that feature, you can extend your coverage and protect everything much better.
Keep in mind those features aren't necessary, but they can provide significant help.
Design
Finally, go for a design that you like. Logically, no one wants to stay under an awning that looks awful for them. Darche's Eclipse 270 comes in two different colours and models, so you have a couple of options to consider here.
Generation 2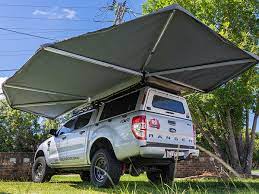 11.5 m square
Generation 2
Easy set up
1500mm PU waterproofing with HF seam sealing
Dimensions: 6000mm L X 4000mm W x 2100mm H (average height)
Packed down: 2200mm L x 180mm W x 200mm H
Weight: 21.8kg
Wrapping Up
Overall, this heavy-duty awning has proven to be an amazing option for most campers out there. Moreover, the second-generation model makes the build even sturdier, making it able to resist much harsher weather conditions.
If you're looking for the most reliable protection possible, you may consider going for this model.