When the power goes out, you don't have a HVAC system and can't keep your food cold. You may not even be able to open cans or cook. With that, you've got no electronics that you might enjoy to relax and unwind.
Instead of waiting to get your electricity restored, it might be time to invest in a Briggs & Stratton portable generator. With this equipment, you can power whatever is important for your home.
No two generators are the same, even from the same brand. This Briggs and Stratton generator review can help you learn about the best Briggs & Stratton portable generators on the market to help you keep normal power levels if electricity fails. We also have a informative article on Gentrax generators, and information on choosing the right size generator.
Top Brigs and Stratton Generators on the Market
Briggs and Stratton P2200 Inverter Generator with Powerful Engine Speed
The Briggs & Stratton P2200 Inverter Generator delivers 2200 watts of power to start and features quiet technology. It can power your laptops, lamps, televisions, and fans easily and contains twice the power of similar models.
Inverter generators like the Briggs & Stratton P2200 Inverter Generator feature a 110-cc engine that runs multiple electronics at once. Plus, it has a recoil start, automatic idle control, and a permanent magnet alternator.
You're sure to appreciate the parallel connector port on the portable generator from Briggs & Stratton. It lets you connect between two units. There is one DC outlet, one USB adapter, and two household outlets for more flexibility.
In fact, these portable generators from Briggs & Stratton feature AC and DC circuit breaker protection. Just push the reset button to protect from damage and a high electrical load.
You also get an LED light on the unit, which shows output wattage in green, red as an overload alert, and yellow to determine a low oil shutdown function. The PowerSmart mode ensures that you don't have a lot of noise and can conserve fuel. Plus, it automatically adjusts your engine speed to protect your sensitive electronics.
Specs:
Features a 1-gallon fuel tank capacity
Has two household outlets
Runs for 6.5 hours at a 50 percent load
Has 120/240 single-phase outlet
Gasoline-powered
Recoil start
2200 starting wattage
1700 running wattage
Pros:
Quieter than other similar portable generators (59 decibels)
Automatically adjusts engine speed for protection
Sets up in minutes
Charges portable electronics with a USB port to save space
Shuts down automatically for low oil to protect the engine
Cons:
No fuel gauge
Heavier than similar Briggs & Stratton models
Briggs and Stratton P3000 Inverter Generator
With the user-friendly control panel and a recoil start, you're sure to like the Briggs & Stratton P3000 PowerSmart Inverter Generator because it gets things going fast.
This portable generator from Briggs & Stratton features a recoil start with a single-power control knob, so it's simple to use. You can see illustrated instructions next to its pull cable, so you know how to start your portable generator.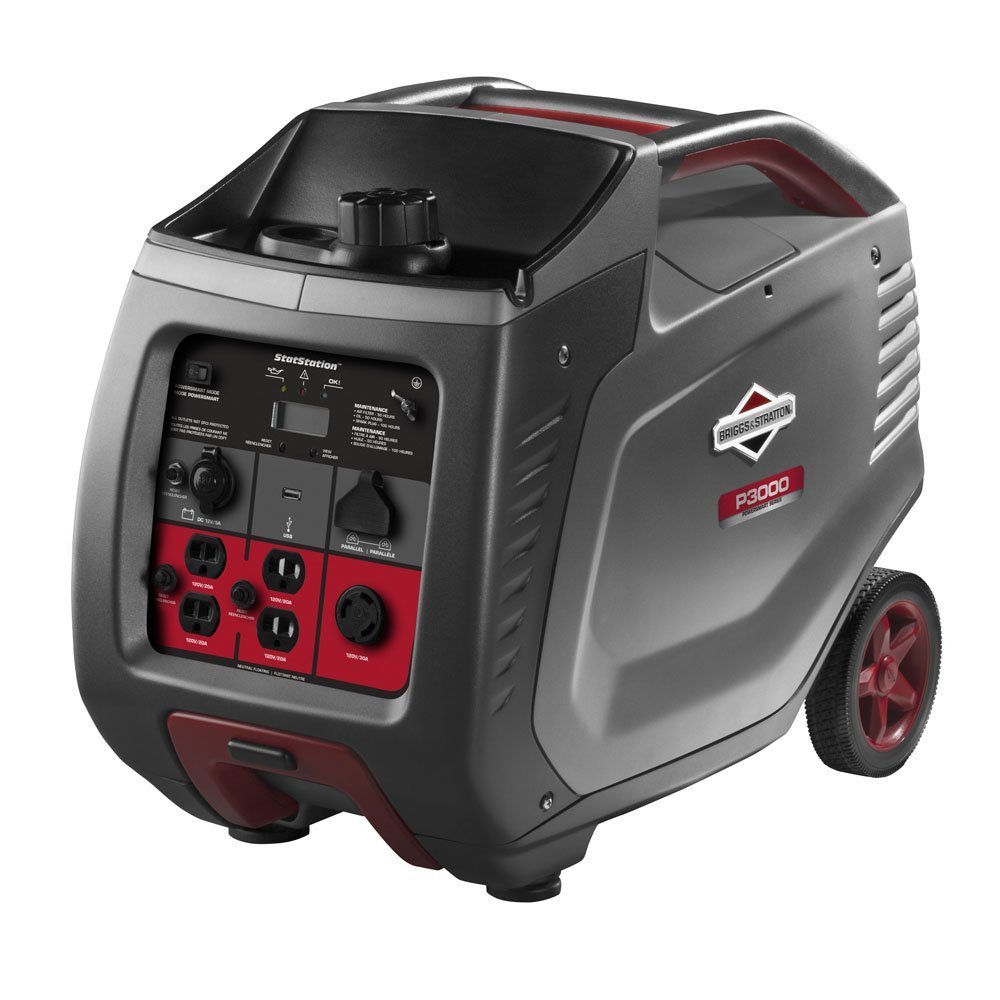 You're sure to appreciate that the Briggs & Stratton Inverter Generator offers a USB outlet to power up your portable electronics. There's also a 12V DC charger outlet. You can plug in your common household appliances or power tools with the four power outlets. In fact, there is a 120-volt 30-amp outlet that locks for convenience!
As with other Briggs & Stratton models, this one operates with QuietPower technology through a toggle switch. Next to that is an LCD message center. You can find out vital metrics to focus on functionality, low oil, and overload issues. If an overload happens, just use a reset button for each power outlet. That way, you can reduce the risk of damage.
Along with everything else, this generator has wheels, so it's easy to move around. The extendable handle lets you move it effortlessly.
Specs:
Four outlets
1.5-gallon fuel tank capacity
Running wattage of 2600
Runs for 10 hours at 25 percent generator load
Recoil start
Gasoline-powered
120/240 single-phase outlet
Pros:
Puts out fewer emissions
Simple monitoring with Statstation display
PowerSmart mode
Low noise levels
Cons:
Needs a better oil tank design
Lower fuel tank capacity
Lower running watts compared to other Briggs & Stratton models
Briggs and Stratton Portable Inverter Generator with Quiet Power Technology
The Briggs & Stratton QuietPower Portable Inverter Generator features a hybrid design. That way, it combines the benefits of inverter generators and portability. You're sure to appreciate the quiet-power technology from the Briggs & Stratton Inverter Generator. It's got an integrated engine and alternator with 260 CC. There is also a low-oil shutdown function to prevent engine damage.
Overall, there are seven total outlets, including a locking one, four 120-20A outlets, and two USB outlets. When you use the twist-lock one as an RV adapter, you get 2500W of full power. It's also possible to connect the Briggs & Stratton portable generator to your home's electrical system with a transfer switch.
Portable generators like this have a shell to reduce noise levels. Compared to the standard models, this one is about 60 percent quieter because of the technology and cover.
With that, this generator is more fuel-efficient. You also get wheels, so it's easy to move it wherever you want to use it or for storage.
Specs:
Operates up to 14 hours at 25 percent load
5-gallon fuel tank capacity
Seven outlets
66 decibels for operational volume
Gasoline-powered
Running wattage of 5000
Starting wattage of 6500
Recoil start
Pros:
Quieter than other Briggs & Stratton generator options
LED lights on the side for easy operation in the dark
Compact and easy to move
Power many electronics because of the various outlet types
Cons:
Not parallel capable
Needs a more durable plastic cover
Doesn't feature electric start
Briggs and Stratton 8000W Generator
With the Briggs & Stratton 8000W portable generator, you can run appliances and other household items. It's quite user-friendly and gives you 25 percent more for surge wattage. You're sure to appreciate the 420CC engine, which offers 21-foot-pounds of torque to be more powerful.
This Briggs & Stratton generator has a larger fuel tank for long-lasting power. Even at a half load, you can run it for about 1/3 of a day with a continuous output. It also shows you vital performance metrics, such as hour gauges, fuel gauges, and much more.
The Briggs & Stratton generator uses an electric start, so it starts up in seconds. With that, the starting mechanism is centrally located with a key and remote choke. If your oil runs low, it shuts down to prevent damage to the engine.
There are five outlets with this generator. You get four 120V outlets and a 120/240V 30-amp outlet. Though there is no USB port, it still lets you plug in various items without the use of extension cords. Plus, it comes with rubber safety covers for each outlet to protect from the elements or moisture.
Specs:
Runs for nine hours at 50 percent load
Starting watts of 10,000
Running watts of 8,000
7.5-gallon fuel tank capacity
Recoil start
Five outlets
Gasoline-powered
Pros:
Quiet operation because of the Super Lo-Tone muffler
Power major appliances with it
Metal fuel tank
Electric start feature
Wheels that don't go flat
Cons:
No automatic idle control
Heavy and hard to move, even with wheels
Buyer's Guide
Before you decide what Briggs & Stratton model you want or compare it to other generators, you need to learn what things to focus on and know exactly what power needs you get. Though a cheaper brand might be less expensive, it doesn't hold true to the Briggs & Stratton specifications you've come to want.
Though most people don't think about LED lights or a steel frame, you do want to make sure it handles small appliances or gives more power for camping trips. Let's take a look at the factors to consider when buying a generator:
Wattage
The wattage you need depends on what you're powering up with the generator. Consider that and look at item specifications to figure out wattage requirements. Make sure that the starting watts and running watts are what you require and can accommodate the power level of the things you're running.
Run Time
The run-time focuses on how long your generator runs with a full tank of fuel at 50 or 25 percent power. For instance, if you need a generator that runs while you sleep, it needs to go for eight to 10 hours with a half load.
Outlets
The outlet types your Briggs & Stratton generator has determines what you can power up. If you need to run items with higher wattages, ensure that it features a 30-amp locking outlet and reset buttons.
Cord Set
The cord set you pick determines the number of extension cords you might need. For example, heavy-duty sets offer four standard outlets. You can run four items with a single cord from the generator.
Features to Consider
When choosing a Briggs & Stratton generator, there are other features to think about, such as:
Control panel protector (protects from debris, dirt, dust, and rain)
OHV engine for more efficiency and longer run times
Wheels to make it easier to move
Muffler to reduce noise level so that people can have a normal conversation
You may also be interested in our review of Engel generators.
FAQs
Are Briggs and Stratton Generators Any Good?
Typically, a Briggs & Stratton generator isn't as expensive as Yamaha or Honda models, but there's not as cheap as those no-name brands. Therefore, they are a great option for those who can't spend tons of money but want something more reliable than a cheap knock-off.
Is a Briggs and Stratton Generator Better than Generac?
When comparing two generators, it's important to make sure that they are in the same power category. For example, you can't compare an 8000W generator with a 2200W generator because they don't have the right power output.
The Generac brand typically costs more than a Briggs & Stratton generator, and it often has a distinctive enclosure. However, there aren't many significant differences between the two brands. Still, the noise level of a Generac is often louder than what you encounter with the Briggs & Stratton brand.
Are Briggs and Stratton Generators Made in China?
No, each Briggs & Stratton generator that comes from the brand is made in one of its US-based facilities. As long as it says "American made" or "Made in the USA," you can rest easy knowing that it's designed for American homes.
What Is the Most Reliable Home Generator?
It's hard to say which generator is the most reliable because there are so many brands and options. However, you can rest easy knowing that your Briggs & Stratton generator is designed to last for many years with the right care and maintenance.
When you need it most, it is there for you. Just make sure that you follow all the instructions in the manual, and it runs when your power goes out!
Conclusion
There are so many Briggs & Stratton generator options out there, so it's crucial to do thorough research on two models at once. That way, you know which one is best for your home. When a power outage occurs, you must be prepared. However, you don't need the noise level to be so high that it keeps you awake.
If you're interested, we also have other reviews including the Cromtech Outback generator,
Any of the models talked about here could be highly beneficial for your home. They go from the lowest amount of power to the highest, so you can easily determine what is necessary for your family. If you want something to handle small appliances, the Briggs & Stratton P2200 is ideal. Those who need the most power possible should go with the Briggs & Stratton 8000W generator.