Are you considering purchasing an iconic Engel fridge but are hesitant to spend over $1,000 on a camping fridge? Thus, in this Engel refrigerator review, we go over what we like and don't like about it, as well as the important characteristics that distinguish it from other brands.
The Engel 60L fridge freezer is well-liked by Australian campers due to its good quality and low power consumption, making it ideal for extended travels. While Engel is a high-quality brand, it is also expensive, thus, it is best suited for more serious campers willing to invest.
We go over the general consensus on what other actual users of these refrigerators have to say about them. After considering everything, we can tell you if we think they're a decent deal or not! We also have reviews on the Waeco CF50, Dometic fridge range, the Bushman fridge, Brass Monkey 12V fridge, and the Evakool brand.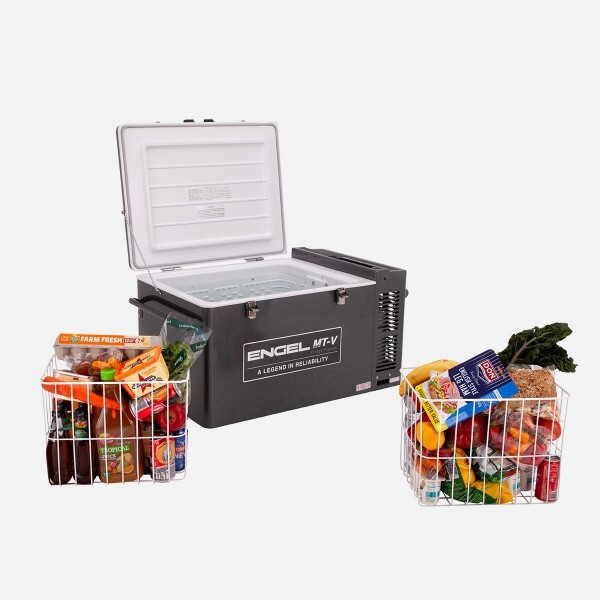 Image Source: caravanrvcamping.com.au
Design
This MT-V series of Engel fridges has been completely revamped. The powder-coated steel body now has a lovely gunmetal grey finish, which achieves a perfect compromise between attractive appearances and low radiative heat absorption (i.e. it doesn't get as hot as a black fridge!)
Capacity
MT-V35F, MT-V45F, MT-V60F, and MT-V80F refrigerators are available in four sizes. All of these refrigerators are single-zone devices by default, which means they can either be used as a fridge or a freezer, not both.
Furthermore, the Engel MT V60F 60L fridge freezer has a comparable dual-zone model. These dual-zone refrigerators are referred to as 'combi' fridges by Engel.
The similar combi fridge has a slightly smaller capacity due to the addition of a divider wall between the two compartments, but it maintains the same outward dimensions.
Engel Fridge Freezer Features
Removable carry handles are attached to the sides of the refrigerators and feel extremely sturdy. Even if it's full of meals and drinks, they are able to sustain the entire weight of the fridge.
Its body is made out of 40-50mm thick polyurethane insulation that wraps around the entire fridge. This keeps the contents cold for a long time.
The lid has two heavy-duty latches to keep it locked even if you're driving in 4WD and bouncing over gravel. Padlocks can be used to secure these latches.
A big ventilation grid can be found on one end of the fridge. The Sawafuji compressor is situated here. They're incredibly dependable, quiet, and efficient, to the point where Engel refers to them as their "secret weapon!"
The two power inputs are located towards the bottom of the unit. You may also notice that each of the base corners has some substantial corner protectors. This is a simple technique to protect your refrigerator from bumps and scrapes while loading and unloading it.
Additionally, the interior of the fridge contains an LED light, as well as a retractable basket(s) for organizing your food and beverages.
What's Missing from Engel Fridges?
These refrigerators lack some of the more advanced features seen in contemporary refrigerators like the Dometic CFX3 series, such as a USB port for charging or Bluetooth remote app control.
It also lacks a hole for draining water from the unit, which is a letdown. This is needed to get rid of collected water, remove everything from the device and turn it upside down. It is a hassle, but hopefully not one you have to deal with too often.
Temperature Settings
On these machines, the temperature is controlled by turning a dial. Select the desired temperature, wait for the display to stop blinking, and the temperature is locked in. It also shows you the current temperature in your refrigerator. The temperature may be adjusted between +8°C and -18°C, which is very normal.
These 'combi' Engel fridges, unlike most other two zone portable fridge freezers, do not feature true, separate temperature control. The temperatures are connected because the fridge side is cooled by the overflow from the freezer side.
It's important to note that the Engel manual explains how to estimate the equivalent fridge freezer temperature for a given set of freezer temperatures.
Power Specs
This range's fridge freezer can be powered by either 220-240V AC or 12/24DC electricity. The accompanying AC and DC cables are all three meters long, so they may work with almost any arrangement.
These wires also contain fuses to protect the fridge freezer from excessive current and damage. This is in addition to the 10 amp fuse found in the refrigerator's main body.
The electrical specifications for some of the camping fridges in this range are listed in the Engel manual. Unfortunately, we haven't been able to locate any information on these devices' real power usage, making it difficult to compare them to other brands.
You can also make use of a low-voltage battery protective device. This is especially beneficial if you're using your car battery to power the fridge and don't want to drain it to the point where you can't start your car.
If you are utilizing your automobile battery, set the battery protection system to HI; otherwise, LO is better for a dual battery arrangement. Even though we don't encourage it, you can run the fridge without battery protection (turn it to OFF).
Extras
Although the Engel MT V60F 60L portable fridge freezers are excellent right out of the box, you can always add a few extras to make your fridge even more convenient to use.
It's important to note that none of these are required to run your refrigerator; they're all completely optional. They're also rather pricey, so we only recommend them if you spend a lot of time driving.
Fridge Slide
These refrigerators are heavy right out of the box, and they only get heavier when you fill them with food and beverages. They can easily weigh 40-50kg or more when fully loaded.
A fridge slide can be a good investment if you plan on putting your Engel fridge freezer in the rear of your 4WD or van. It allows you to simply slide your refrigerator out of your vehicle so that you can access it without having to constantly carry it into and out of your boot.
Transit Bag
While there's no denying that the Engel fridge freezer is strong as a nail, it's also quite pricey. With this in mind, it makes sense to safeguard your refrigerator to extend its life.
A transit bag can protect your refrigerator from the knocks, bumps, and scrapes that are unavoidable when loading and unloading your car. It also acts as an insulator, preventing heat from seeping into your fridge.
This keeps your fridge cooler, reducing the amount of time the compressor has to run. Moreover, this saves you money on electricity and extends the life of your refrigerator.
Batteries
While many individuals choose to operate their Engel fridge freezer off of their car's starter battery, this has a few drawbacks.
If you only run the fridge while the car is running, your food may heat up and spoil before the end of your excursion.
However, if you run the refrigerator while the car is switched off, you risk draining the battery. The battery protection system can help prevent this, but you still need to use a voltmeter to check the voltage of your car battery regularly.
If you intend to stay in one location for an extended period of time, you need to run your vehicle for around 30 minutes each day to keep the starter battery charged. This is frustrating and most likely not what you had in mind when you booked your trip!
Our Favourite Features of the Engel Portable Fridge Freezers
The top may be opened from either the side or the front, providing convenient access for a variety of installations. This is a nice feature to have if you only need to get something from the top of the fridge and don't want to pull the entire fridge out.
A SECOP compressor can allow the fridge to cool to a condition of up to 55 degrees below ambient. This is ideal for visitors in Australia's hotter regions, such as the Northern Territory, Perth, and Queensland.
It includes cutting-edge technology such as wifi connectivity and a handy USB connector on the front that can power a variety of gadgets such as lights and phone chargers.
The fridge also has a roll-bond evaporate, which lets the fridge work in a low-draw mode while also lowering noise levels.
These high-quality refrigerators come with a five-year warranty (whereas it is three years for Engle/Waeco brands and one year for Adventure Kings).
This is when a two-battery setup comes in handy. When your car's engine is turned off, a twin battery allows you to keep your fridge operating. You also don't have to be worried about a dead car battery when it's time to leave.
Engel doesn't produce batteries, however, Dometic (previously Waeco) makes the well-known CoolPower RAPS battery, which has a 44Ah capacity and is tough enough for an Australian camping trip.
Solar Panels
The dual battery setup described above works great as long as you have consistent access to the main power supply to keep the other battery charged.
However, what if you are out in the woods for a few days at a time and don't have access to electricity? In that situation, you can use the sun's energy to keep your battery charged and your refrigerator cool.
Additionally, we like the Dometic portable solar panels because they are compact and easy to store when not in use. They are available in two different power outputs: 120W and 180W.
Build Quality and Warranty
We know it's cliche, but Engel is one of those iconic Australian brands that have become associated with dependability.
You can't read a single camping fridge forum or Facebook post without someone bragging about their Engel fridge freezer, which they bought in 1993 and is still working strong.
Perhaps it's an Engel fridge freezer that they acquired for a low price, had repaired, used for 10 years, and are now passing down to one of their children.
Even when consumers are asked what they think of other refrigerator manufacturers, the answer is almost always the same: 'Just get an Engel!'
In Australia, these products have gained something of a cult status, and with good reason! They make the most dependable portable fridges in Australia, in our opinion.
Every component of its products has been engineered to last for many years. The company also uses Sawafuji compressors, which are known for their durability and efficiency.
Known Problems
After speaking with several owners of these refrigerators, some have discovered that there are only a few problems that arise on a daily basis.
A few users have mentioned that their unit can be noisy at times, particularly if you sleep in the same room as it. Only a few individuals have commented on this, thus it doesn't appear to be a significant problem.
What We Don't Like
When the basket inside the fridge is hauled out, it has huge gaps that allow smaller items to fall through.
How Much Power Does a 60 Litre Engel Fridge Use?
The amp rating of a portable fridge freezer is not the same as the amp hour rating. When compared to a brand-new Engel that may only use two amps, an old Engel that uses roughly 4.5 amps when running can only require a bit more electricity (not twice as much) because the new one needs to run longer to keep the fridge at the same degrees.
Conclusion – Engel Fridge Review
This Engel fridge freezer (60L) is the newest in a long line of incredibly popular freezers. It is highly durable, constructed to last like a brick, and designed to provide you with many years of service.
Although it does lack some of the more advanced amenities seen in current refrigerators, such as Bluetooth app management and USB charging outlets, it makes up for it with pure durability and toughness.
The only major criticism we have for the fridge freezer is that it is fairly pricey. When you consider that you may be using this refrigerator for many years (if not decades), it may end up being a better investment than buying and replacing a cheap fridge every two years or so.