Without outdoor activities, Australia's unspoiled verdure, swamps, and deserts might as well be useless. The Ozzy outback is the best area to set up camp and spend a little time away from the light pollution of electric city skies. While camping allows for isolation and separation, most of us find it difficult to completely abandon electronics.
Naturalists may be perplexed, but Crommelins is aware of the situation. With over 50 years of experience in the market, the company is constantly improving its generators in terms of size and fuel efficiency. The Cromtech range of compact generators is among the company's most popular products, capable of powering RVs, campsites, and everything in between.
Quick Stats
Available in many sizes
Portable options available for camping
Amazing value for money
Made for Australian conditions
Not as well known
Cheaper pricing may be perceived as lower quality (this is not true)
You can get 240V AC power quickly and easily no matter where you are with the greatest camping generators Australia has to offer. See our other article on Engel generators.
An inverter generator is one of the most useful devices you may have in your RV or camping trailer. Some people adore them, while others don't. There are limits on running generators in close proximity to camping sites and vacation parks, ranging from "no generators" to "limited periods and sound levels." This is very understandable.
However, let's take a further look at a few of Cromtech's top-of-the-range options so you can decide if it's time to invest in a generator.
Also see our article on the best camping generators in Australia.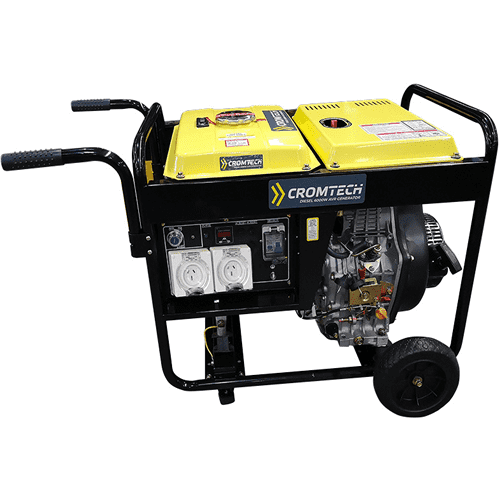 Cromtech Outback Inverter Generator 2.4kw
The Cromtech Outback inverter generator 2.4 kW is the smallest and most lightweight model in its class, making it ideal for home and outdoor usage. Due to its small suitcase size, this Cromtech model is great for camping, RVs, and caravanning. This portable generator was hand-picked by Crommelins for their recreational and home use.
Furthermore, you can rest easy knowing that it's backed by an Australian-wide Cromtech one-year warranty and local Service Agents in every region of the country. Portable refrigerators freezers, a tiny workplace, and small electric tools can all be powered by it. It also comes with a dust cover for storage and protection from harsh weather conditions.
Moreover, two USB charge points, two 15amp single phase outlets, and 12V-8amp battery charging are available power options.
In Australia, the Cromtech Generator series has swiftly become a well-known and well-respected brand. Crommelins Machinery Australia, which has over 500 agents across Australia, provides comprehensive national service and replacement parts support for these budget brand generators.
Cromtech provides excellent value for money: for just a fraction of the price of luxury manufacturers, you receive a high-performance, dependable machine with superb servicing, a warranty, as well as spare parts support.
The 2400w Cromtech Outback is very popular for caravans since its size is ideal for powering a caravan air conditioner, recharging batteries, and powering other camping gadgets (laptops, lights, phones, TVs, and fridges) as needed.
What Features Does the Cromtech Outback Inverter Generator Have?
If you're considering the Cromtech inverter generator, which is ideal for camping, caravanning, and recreational and domestic use, you can expect the following features:
USB outlets
Two outlets
AC reset button
Main LED sensors (overload protection, low oil alarm, output light)
Simple maintenance with easy access ports
Eco-mode adapts output as the load needs and lowers noise
Four-stroke, forced air-cooled, recoil start, OHV
The lightest model in the class
Pure Sine wave
Bonus dust cover
One-year domestic use Cromtech warranty
Product Specifications
Maximum Watts (w): 2400w
Phase: Single
Cont. Output (w): 2100w
Fuel Type: Petrol
Starting System: Recoil Start
15amp outlet s/phase: 2x 15 Amp
Battery Charger: 12V-8 Amp
Voltage (V): 230v – 50hz
Engine Brand: Cromtech
Engine Power/Model: 2.6kw (79cc)
Fuel Tank (L): 5.0L
Noise Level (dB at 7m): 52-59db
Running Time (Rated Output): Five to 20hr
Weight (kg): 19.8kg
Package (LxWxH): 547 x 350 x 505mm
Dimensions (LxWxH): 512 x 315 x 447mm
Manufacturer's Warranty: One year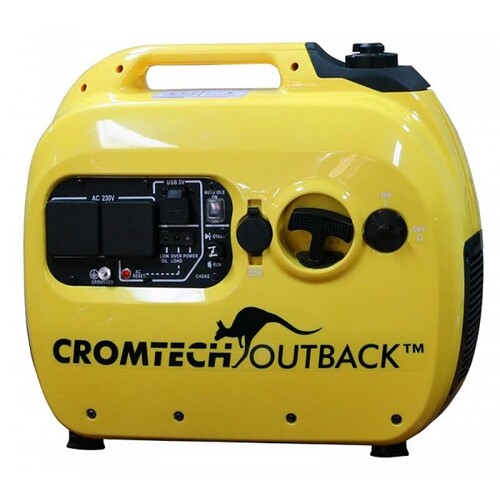 Cromtech 4500w Inverter Generator Electric Start
The Cromtech Outback Inverter Generator 4.5kw is ideal for powering your 'home away from home' whether caravanning, camping, or in a mobile home on the road. You can safely and reliably charge computers, televisions, mobile phones, and other household gadgets with its pure sine wave technology.
Furthermore, a removable multi-function power pack that one uses as the generator's start-up battery can be readily disconnected for use as a power bank to charge electronic devices, use as a torch, or jump-start a smaller vehicle. This is an essential characteristic of this device, also known as a leisure generator.
If you're searching for a larger RV or caravan generator, this one finds the sweet spot of supplying enough power while remaining portable and maneuverable.
What Features Does This Generator Have?
This generator offers the following:
A spark plug
A dust cover so that you can protect your new machine when it is in storage
Eco Switch helps you save money by allowing you to run for up to 12 hours on just seven litres of gas
At 55 to 60 decibels, it's quiet enough to run
It's simple to operate, even from up to 20 meters away, using remote start or electric start
In addition, a Multi-Function Power Pack is included with the Cromtech 4500w Inverter Generator and can be utilized as follows:
LED torch
Jumpstarter for vehicles up to 2.4 litres
Charging devices via its USB outlets
A seatbelt cutter
Product Specifications
Maximum Output: 4500 Watts
Continuous Output: 3700 Watts
Maximum Power Output: 4.5 kVA
Phase: Single
Frequency: 50 Hz
Voltage: 230 V
Starting Method: Remote, recoil, or electric
Engine: 6HP Cromtech LH170F (212CC)
Fuel Tank Capacity: Seven Litres
Running Time: Four – 12 (Based on load)
Weight: 37.7 kg
Fuel: Petrol
Warranty: One year
Noise: 55-60db at seven metres
Does it Include Any Accessories?
Yes, this portable generator includes the following accessories:
Remote start push button
Spark plug
Multi-function power pack
A dust cover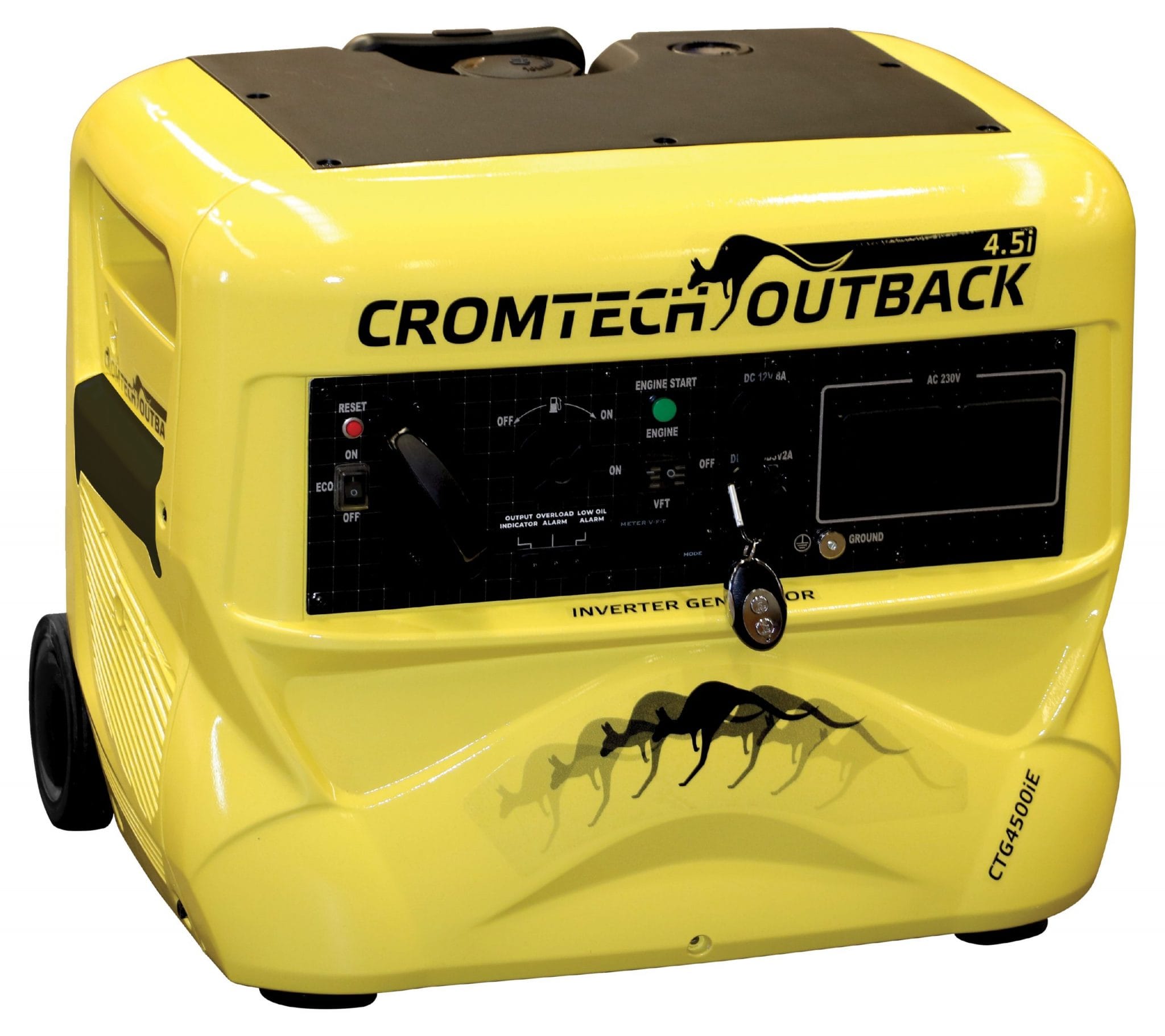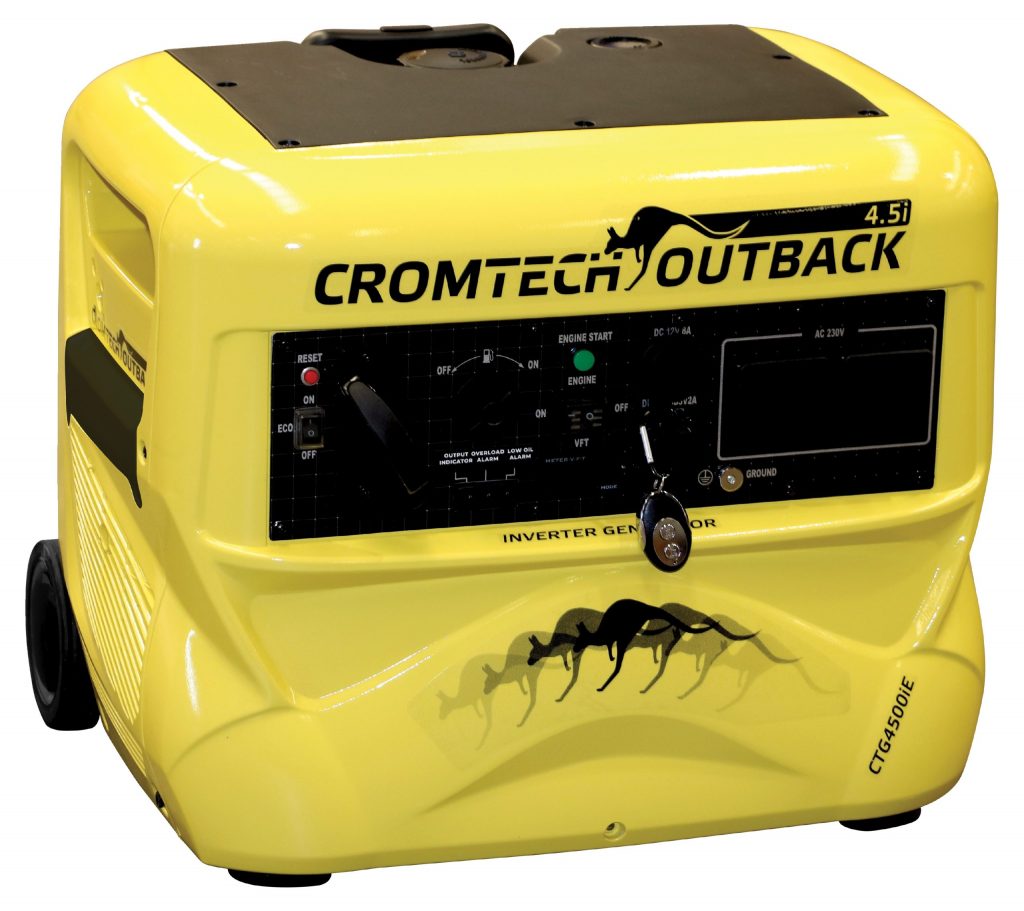 Cromtech 7000w Inverter Generator
Cromtech's 7000ie inverter generator is both powerful and silent. It's perfect for coffee vans, food trucks, events, and home emergency backup power.
The Cromtech Inverter Generator 7000ie is Cromtech's newest member of the family. With a maximum output of 7,000 watts and a continuous output of 6,000 watts, this inverter generator is quite powerful.
Additionally, the Bluetooth start with the mobile app, which is compatible with both Android and Apple smartphones, is one of our favourite parts.
You can use the app to stop and start your generator, adjust the operating modes, monitor fuel levels vs. current load, and receive maintenance alerts, among other things.
What Features Does This Device Have?
Remote and electric start options are available, as well as a recoil start option
1×32 Amp weatherproof IP66 outlet for max power from a single outlet
2×15 amp weatherproof outlets (IP66)
Continuous operating for up to 17 hours (based on the load)
The Eco switch changes the engine speed according to the load (lowering fuel consumption and noise)
Control panel that is interactive
With huge access doors and easy maintenance, this is a great option
Cromtech offers a one-year warranty
The Mobile App
The Bluetooth experience begins with the mobile app, which is available for both Apple and Android devices.
You may turn on and off the generator, adjust the operating modes, monitor fuel levels vs. current load, and receive maintenance alerts, among other things.
Product Specifications
Model Number: TG7000iE
Continuous Output (w): 6,000w
Maximum Output (w): 7,000w
Starting System: Remote, recoil, or electric
Outlets (single phase): Three outlets (2x 15 AMP, 1x 32 AMP)
Voltage / Frequency: 240v – 50hz
USB Power Outlet: Five volts – 2.1 AMP
Fuel Type: Petrol
Engine Model: CROMTECH LC190FD-2
Fuel Tank (L): 25L
Running Time: Up to 17 hours continuous (dependent on the load)
Dimensions (LxWxH): 950x765x773 mm
Noise Level (dB at seven metres): 70-90db
Manufacturers Warranty: One year (domestic)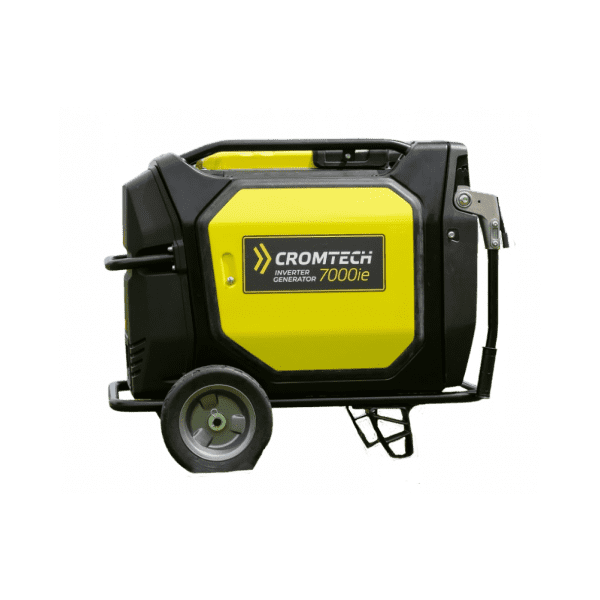 How to Choose the Correct Generator
Determine which items require power.
Add up the total wattage of these items.
Evaluate whether the total wattage is less than the generator's max output. Use Cont. output for continuous loads.
Choose/purchase a generator
If you're in need of a generator, take note of the following key features:
Versatility
The engine
Standard features
Let us breakdown these features in further detail when looking at the Cromtech Outback inverter generator:
Versatility
The Cromtech portable generator's mix of strength and compactness makes them useful for a variety of applications. The Outback can easily run a campground for hours, alternating between low and high power modes to extend its life.
Cromtech can also power larger projects such as remote worksite power equipment, caravan air conditioning, outdoor music and light celebrations, and provide a reliable backup source for businesses and homes.
The Engine
A four-stroke petrol engine with forced cooled powers the Cromtech Outback portable generator, which has a maximum output of 2,400W (2.4kVA). To outshine other generators in its category, the five-litre engine uses a brushless alternator as well as a pure sine wave voltage regulator.
The Outback's overall engine specs and fuel tank capacity should allow you to operate appliances for up to 20 hours, with customers reporting that the Outback has no trouble running RV heating and equipment for periods of up to 10 hours.
When the power load isn't too high, the Outback switches to eco mode to increase its usefulness. This means that this is a very fuel-efficient device.
Standard Features
Because the Outback has a recoil start system as well as a direct gravity fuel supply, you are not going to be pulling cords late at night trying to start your generator.
The Outback contains two single-phase 15Amp outlets, a 5V 2Amp USB charging connector, and a 12V 8Amp battery charger for output applications.
Furthermore, it also features an intelligent mechanism that notifies you if the oil level is low or if an overload is present. (This is known as a low oil alarm overload).
Most people are drawn to the generator because of its modest weight and portability. With a weight of under 20 kilograms, the Outback punches well above its weight class. It is half the size (50cmx50cm) and half the weight of competitive generators with about the same output power.
The Final Verdict: Should You Invest in the Cromtech Outback Generator?
Cromtech models belong to the best compact generators for camping and RVs category. It appeals to us. We also have a full review of the Briggs
& Stratton generators.
Any vagabond's life is made a whole lot simpler with the Cromtech generators. The product's size and efficiency make it ideal for treks into Australia's wilderness. Moreover, they can keep you connected whether you are sleeping under a canvas roof or parking along the roadside near Uluru.
These generators heroically serve as your last link to the outside world, ensuring that you can always receive emergency calls and turn on the lights. Its power and low costs make them handy tools for tradespeople working on isolated locations, or even a backup energy source for residential outages.
It's very quick to start, lightweight, quiet, runs RV air-conditioning systems with ease, has twin USB outlets and quick, convenient access ports, is reliable, and represents real value for money, according to extensive buyer comments. It also has a large dealer network throughout Australia.
What else is there to say? This quiet generator is of great value and can make your camping trip a much more enjoyable experience by powering your caravan appliances and mobile phones with ease! Don't hesitate to contact us if you want further details on this great generator brand!