If you enjoy long road trips that last for several days and enjoy the adventure and thrill of camping, then you need quality camping gear. While spending your nights sprawled out on the hard ground may sound like fun, it isn't very comfortable.
For more information on double swags, check out our best double swag guide.
Thankfully, feature-packed Darche Swags can provide comfortable, warm and dry sleeping conditions for adventure kings on the move. If you need a new swag and are wondering which swag is best for you, here is a swag review of some of Darche's best swags to help you make a good choice. We also have a great review the Weisshorn swag and the Oztrail Mitchell swag.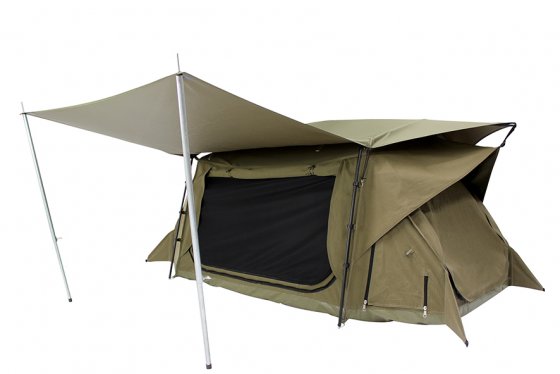 Quick Comparison
About Darche Swags
Darche made a mark on the swag market over 20 years ago when they first introduced a dome-style swag. It is an Australian brand that is often praised for its high-quality products.
The company has since expanded its product range to include outdoor furniture, sleeping bag, and other such outdoor gear, in addition to its tent and swag ranges.
Most Darche products have been tried and tested by those who live for outdoor activities such as camping, fishing, and touring the Australian outback in their 4×4 vehicles.
The brand's steel range of swags was designed with Australia's harsh weather conditions in mind, so you can rest assured that they can provide the comfort you need all year round, no matter where you decide to set up camp.
All models are made of wax-coated Max-Treme ripstop canvas, which provides breathability, strength, durability, and excellent water resistance. Other standard features include a 70mm mattress made from high-density foam and a delicate swag design. You may also be interested in the the Darche 900 Wide All Terrain Self-Inflating Mattress.
Here are some of the most popular swags from Darche, starting with the ever-popular Dusk to Dawn Dome Swag. Don't forget, if interested you can also check out our 23 Zero review.
Darche Dusk to Dawn Swag Review
Darche is an outdoor equipment business that offers well-designed, innovative, high-quality, feature-rich products.
With its well-thought-out, attractive design, and quality materials and build, the Darche Dusk to Dawn dome swag is a traditional swag that is quickly becoming an Australian favourite and is easily one of the best swag in Darche's range.
Darche Steel Dusk To Dawn Swag Features
Darche always does a great job at including valuable features in all its outdoor products. Here are some of the features of the Dusk to Dawn Dome Swag:
Insect mesh to keep bugs out
Two large internal storage pockets inside the swag
The option of rolling up both sides to gaze at the stars
Two big awnings with guy ropes
70mm mattress
Easy set up
Removable high-density 70mm mattress
Durable storage bag
Weatherproof technology
The capacity to house two people simultaneously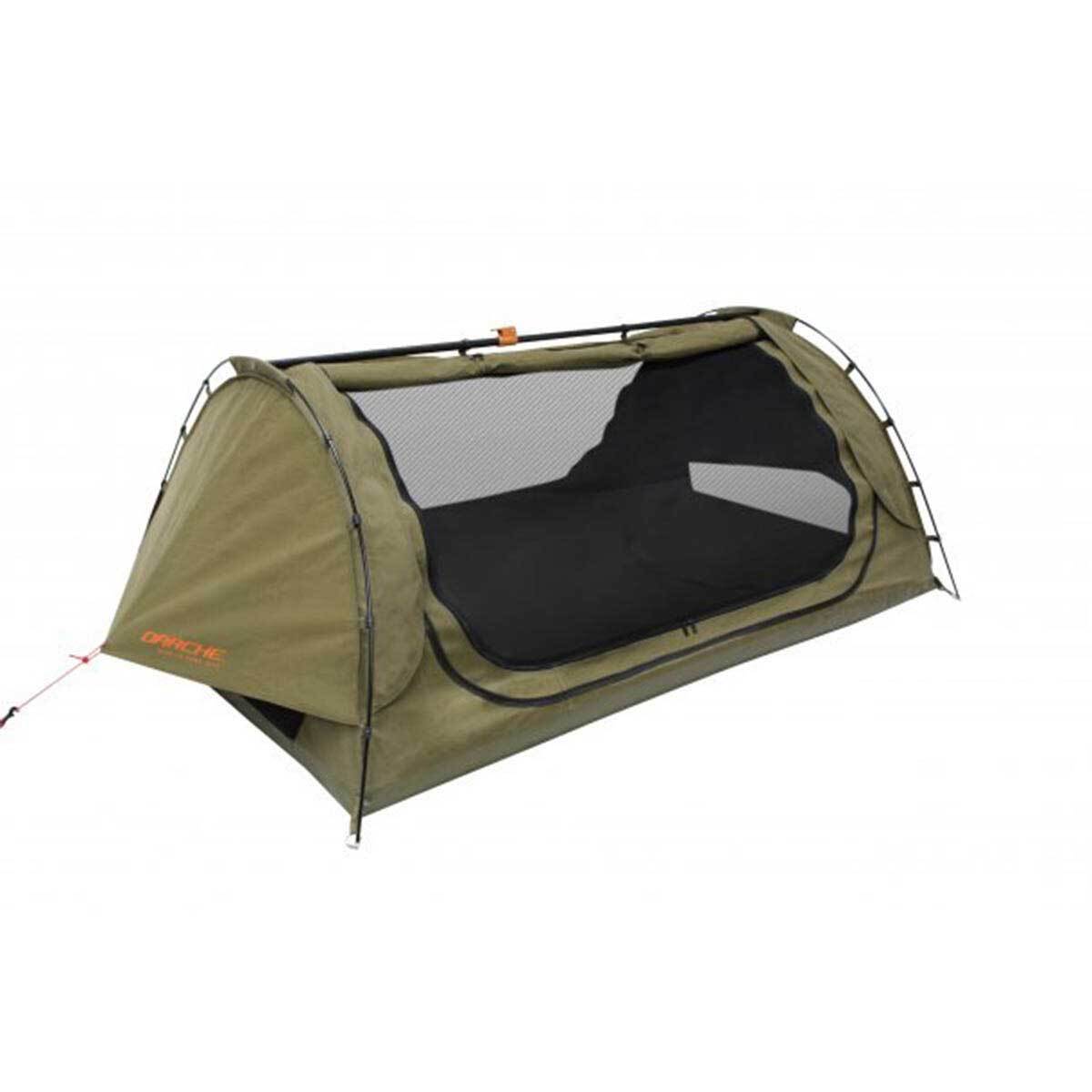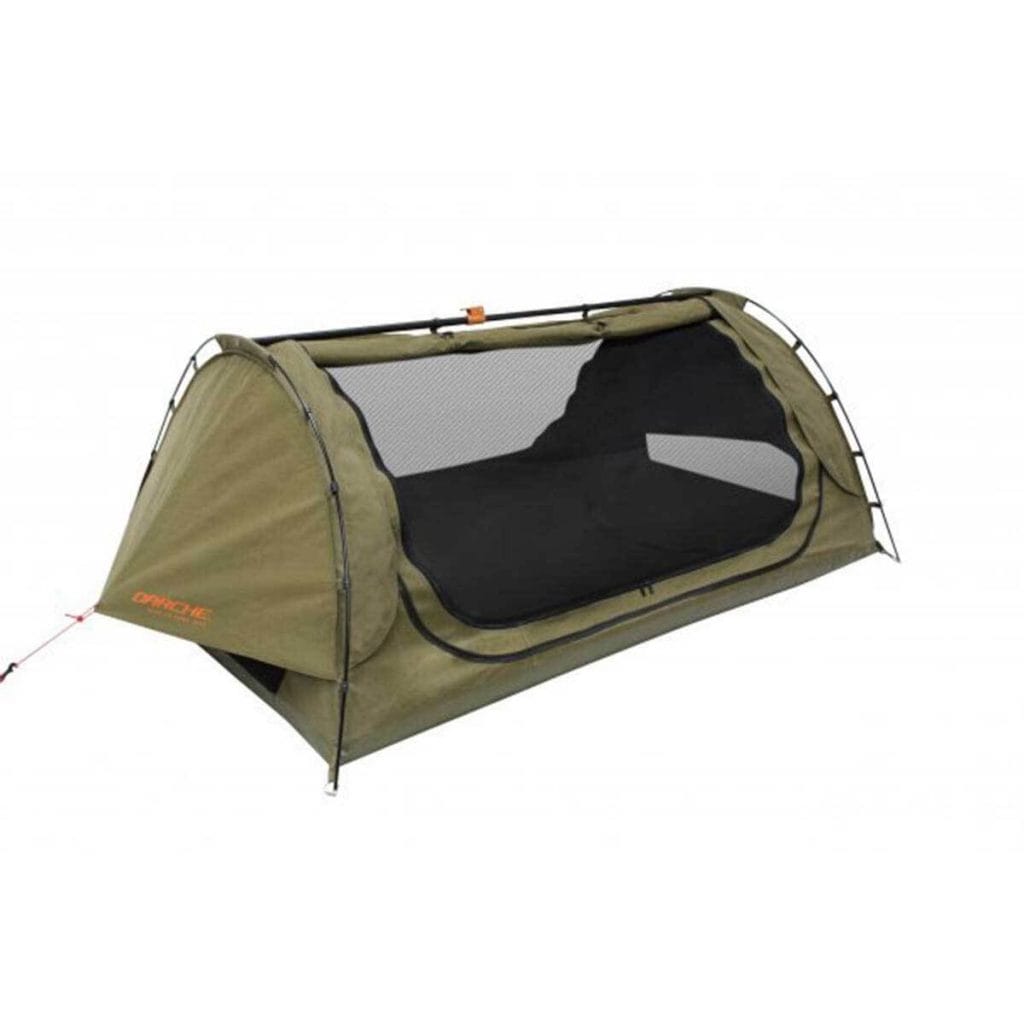 Darche Dusk to Dawn Dome Swag Weatherproof Technology
Australian weather can be unpredictable at times, so having a double swag such as the Darche Dusk to Dawn that is designed to keep you dry even when through a downpour is a must.
The Darche Dusk to Dawn Dome Swag is among the most weatherproof swags you can buy in Australia. This is a bonus for swags at this price point. It is constructed from high-quality materials designed to last through the harshest storm. It's still advisable to season your swag if it's brand new.
In addition to weatherproof material, the Darche Dusk to Dawn swag floor is a welded PVC bucket floor, so no water is absorbed into the tent from the ground. The dusk to dawn swag also has a heavy-duty zipper that does not deteriorate or let water in during heavy rain, and a storm flap is included for extra protection from the elements.
If that wasn't enough, the Darche Steel Dawn to Dusk swag has anodised 7001 alloy poles with a weatherproof pole cover, so you are always protected from wet weather.
Dimensions
The Dusk to Dawn Dome Swag is very spacious, so you should not be uncomfortable while spending the night outdoors. The swag length is 2.15 meters, its width is 1.4 meters, and its height is 0.81 meters. This entire unit weighs 15 kilograms, and it can be stored in a convenient, heavy-duty carry bag.
Although the Darche Dusk to Dawn swag has a cotton mattress that isn't very comfortable, you can add sleeping bags or a self-inflating mattress for added comfort.
Darche Nebula 1550 Hybrid Swag Review
The Darche Nebula 1550 is a fresh take on the traditional two-vehicle-based trekking swag based on the Sydney Opera House. It has 360-degree views that make up its unique window design and has entrances on all four ends.
Nebula 1550 Dome Swag Features
Entrances on all four ends
70mm mattress
Weatherproof
Extra room to allow occupants to change clothes
Cover up all doors on cold nights, or leave flaps altogether during hot sticky nights
Mesh covering keeps bugs out
Comfortable 50mm high-density mattress included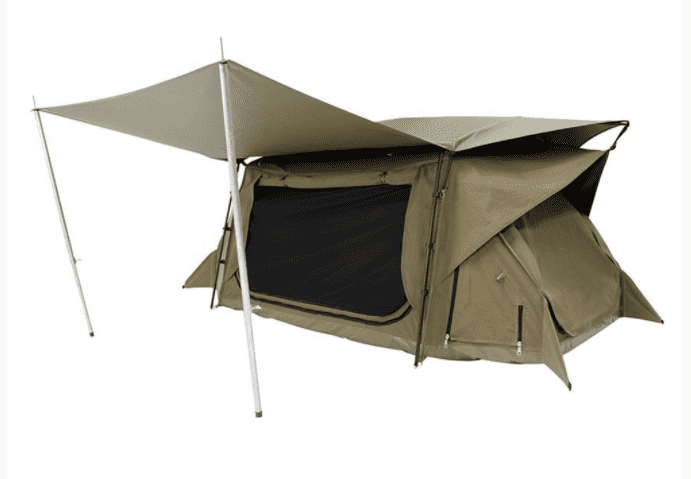 Weatherproofing
The swag has excellent features that keep occupants cool during hot summers and warm during cold winters. All entrances have flaps with a mesh covering that lets you let air in when it is hot and prevents cold air from getting in when it is cold.
Its delicate mesh lining keeps bugs out while still letting air in or allows you to stargaze at your leisure. Closing it up creates a warm air pocket that keeps you warm when temperatures are low, and you can add a storm cover with awning poles to keep you covered while sitting out in the rain.
Dimensions
This hybrid dome swag stands tall at one meter. It is 2.3 meters long and 1.55 meters wide, giving you a tent-like feel while maintaining the rugged durability and comfort of a good swag.
There's enough room for two people in this double swag's interior. The ability to sit up fully provides enough space for occupants to get changed in.
Although the Nebula 1550 weighs 22 kilograms, it adds more comfort and space over a standard double swag. It comes with a carry bag, but it is best carried on a roof rack because it is so large when rolled up.
Darche King Tourer Swag Review
This single swag can comfortably fit an adult and a child (with a sleeping bag) and can be transported conveniently on a roof rack. It also has more headroom than most swags and includes mesh panels to keep mosquitos from getting in at night.
Features
• Made with modern black canvas
• It opens fully with a mesh to keep bugs out
• Conveniently placed stargazing window
• Three-pole setup
• The choice between a 50 or 70mm mattress
• Great for a one night stay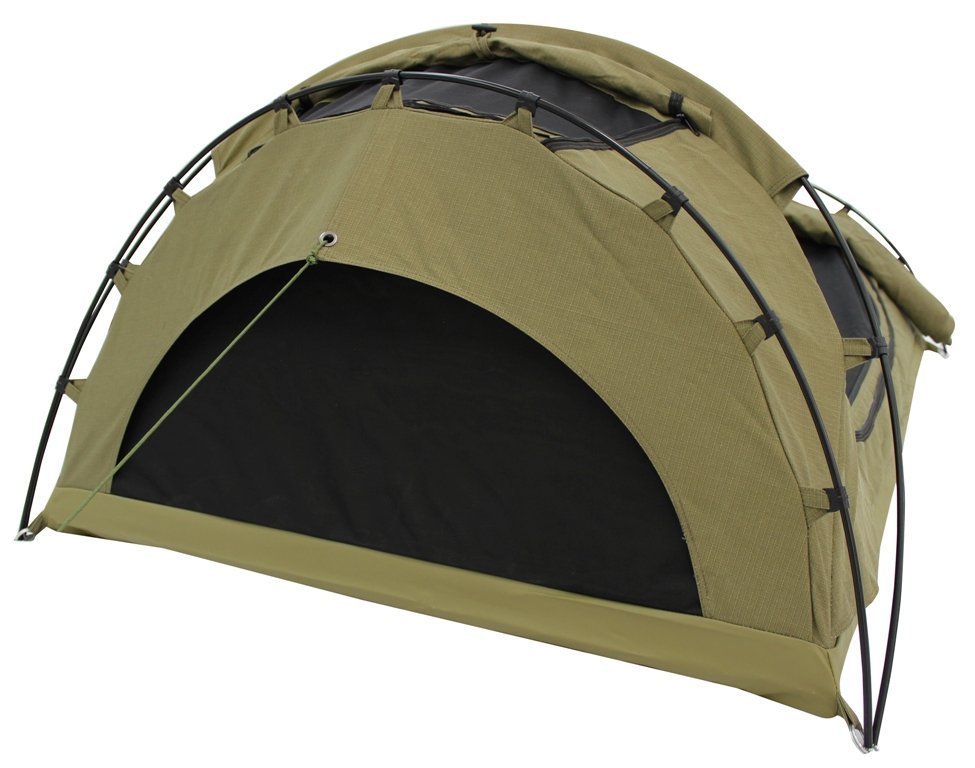 Weatherproofing
The large vents on either side of this dome swag effectively keep the swag cool during warm weather, and you can roll the flaps down halfway to control the amount of air that comes in.
While the tent does include weatherproofing features like waterproof materials, some users have noted that it does tend to leak, unlike other swags in Darche's range, during torrential downpours.
Like other products in Darche's swag range, the King Tourer Swag has a PVC bottom that keeps water from soaking into the canvas of the swag in wet weather.
Dimensions
This swag is roomier than other similar swags. It is 2.15 meters in length and 1.1 meters in width.
Overall, this is an excellent swag, especially if you travel alone. However, having black swag could have its disadvantages, such as low visibility at night. The good news is that this swag also comes in khaki, so be mindful of this when making your choice.
Darche Traditional King Swag
The Traditional King Single Swag is designed for demanding users. A two-way zip at the domed section allows for additional ventilation when needed, and the swag has built-in internal pockets at the head section, which makes this a functional pillow.
Darche has created yet another traditional swag that is simple to set up and take down. Camping, fishing, 4×4 touring, and hunting are all possibilities with this swag.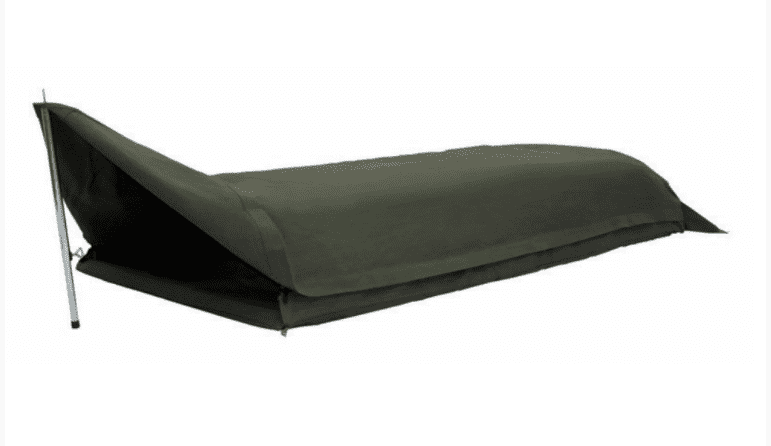 Traditional King Features
• 70mm mattress
• Cotton ripstop canvas
• Extra-large head flap for weather protection
• Open-ended head without a mesh
Weatherproofing
Waterproof canvas outer keeps water out of the swag while you are asleep, and as with other tents, the swag's flaps open to allow for ventilation at night. It also includes an open-ended head, but this does not contain a mesh, so it could bugs in while you are asleep at night, so this is something to be mindful of.
Dimensions
The most impressive feature of the Traditional King Swag is its size. It is 2.35 meters in length, and 0.88 meters in width, providing extra room for a comfortable sleep while on the go.
Final Thoughts
Darche has an impressive list of swags to suit any Australian traveller. Its products are high-quality, so it isn't hard to see why they are one of Australia's most popular brands.
It is without a doubt that with a bit of adventure, and a reliable Darche swag on hand, you can have a great experience in the outback of Australia, with a swag explicitly built to last through any weather or climate.
You may also be interested in the our Darche 270 awning review.