The Mitchell Expedition by Oztrail has long been a favourite swag in Australia. It has a reputation for being strong and reliable, but is it the perfect hoop dome-style swag for you? This in-depth analysis will help you answer the question. Also see our review of the Darche swags and the 23Zero range.
Single & Double
1Available in single and double
tough and reliable
High tensile poles
Full length opening
No See-Um mesh panels
Much more.......
Is Oztrail Mitchell Swag the One for You?
Mitchell Expedition by Oztrail is both functional and comfortable. It is solid and easy to use, making it ideal for seasoned campers, as well as those who camp during their summer holidays. This product offers an outstanding value for money, but it lacks some of the more luxurious amenities seen in some of the other models, such as an oversized mattress.
Unlike many swags, the Mitchell Expedition Swag does not rely on a central ridge pole. Instead, three alloy poles are used, one at each end and one in the centre of the swag. Getting the rod through the canvas sleeve can be difficult at first, but practice does make it perfect.
Although the swag is not freestanding, it is ridgepole compatible if you need it to be. The swag should be fastened down with the durable ropes and pegs that come with it.
Earlier versions of this swag had risks with the poles' durability. However, this is no longer an issue because the poles are now made of a high-quality, high-tensile Durallium 7001 alloy. These 'Alloy Poles' are used to create a full-size triple pole dome-style system.
Features and Benefits
Size
The Mitchell Expedition Single Swag from Oztrail is 210cm x 83cm. It is 64cm tall at the top and 37cm tall at the bottom, making it substantially shorter than other swags. Moreover, we believe that it's a decent size because it fits one person easily with room to spare for supplies.
Its tiny and very portable pack is 28cm x 90cm, making it suitable for 4wds.
Weatherproofing
This swag features a SatProof fabric in addition to its traditional canvas material, resulting in a much lighter swag with all the benefits of canvas. Therefore, this is one of the reasons why the Mitchell Expedition is the lightest swag on the market.
Its canvas is 300gsm, which isn't as thick or sturdy as other swags; this shouldn't be an issue in drier/warmer weather, but it isn't ideal in extremely rainy weather. The zippers are covered with canvas storm flaps to keep water out for added weather protection.
Access
Mitchell Expedition's top entry makes getting in and out simple. Another advantage of the top entry without the ridgepole is that when the canvas is folded back, you can enjoy the views of the night sky.
The tent includes no-see-um mesh panels to keep you safe from the weather and the smallest biting insects. It has easy access to a full-length top opening climate rating too.
Great Ventilation
Ventilation is one of the best aspects of this item. Its 'No-See-Um' mesh provides optimum airflow while preventing insects from entering your sleeping area.
The canvas may be rolled back down the length of the swag, and each end features a mesh window to promote airflow. Even when it's raining, the awnings on the head and foot windows keep the swag ventilated.
Mattress
Furthermore, the Mitchell Expedition comes with a 50mm high-density open-cell foam mattress. This is comfortable to the touch, but it will not give you a great night's sleep.
If you want a bit more padding than the regular mattress provides, you can easily add a layer of foam or replace the mattress with one of your choosing.
The mattress may not be a concern if this swag is only used for occasional overnight trips, but an upgrade will most likely help you sleep better on extended vacations.
How Do You Set up a Mitchell Expedition Single Swag?
Essentially, the Mitchell Expedition Swag comes with three poles, two of which must be threaded through the canvas sleeve and fastened into place. The heavy-duty guy ropes should be fastened after the end poles are in position, and then, the centre pole can be installed. Also, the pins and tabs that secure this pole are visible on the inside of this swag.
If it starts to rain, simply zip the door up and use the head and foot awnings to ventilate your swag. The 5cm high-density open-cell foam mattress provides a firm foundation for sleeping, and you can conveniently store your valuables in the inside storage pockets.
What We Like
Below is a list of factors that we like about the Oztrail Mitchell swag:
Mesh panels for protection
Excellent ventilation
Suitable for some degree of extreme weather
Comfortable to use
Due to its exceptional services, Oztrail Mitchell expedition double swag is gaining clients all around the world. The company offers a two-year warranty and is competitive with other brands. Overall, this product is simple to use and transport, and it's lightweight too.
What Do Users Say about the Oztrail Mitchell Expedition Swag?
The Mitchell Expedition is a basic, no-frills gear that's ideal for experienced campers and those who only go on summer trips once in a while. It is a cost-effective option that has recently received revamps to improve the user experience.
Overall, the reviews are positive, with the majority of consumers praising the Oztrail Mitchell Expedition's quality and value for money. One of the most significant drawbacks is the supplied mattress, which isn't as comfortable as some of the swags' thicker mattresses (as discussed above).
Positives
Great ventilation – many consumers praised the ventilation choices and the way the full-size mesh panels allow plenty of fresh air in while keeping the swag an insect-free zone.
Large, heavy-duty pegs – another user commented on the pegs' quality, stating that they are longer and thicker than the pegs usually seen with swags. These keep the swag in place with very little movement.
Lightweight – thanks to its compact size and low weight of 6.3kg, the swag is easy to transport.
Storage solutions – the swag has two easy-to-locate inner storage pockets (dimensions of swag: 90 W x 210 L x 70 H cm).
Negatives
Thin mattress – the provided mattress isn't ideal, and many customers have replaced it (or added an extra foam layer) to improve their comfort.
It can be difficult to get the poles through the canvas – setting up this swag is a little more complicated than other models, but it gets easier after a few tries.
Lacks a storage bag – because the swag does not include a storage bag, it is more likely to become soiled or dusty between uses.
Single & Double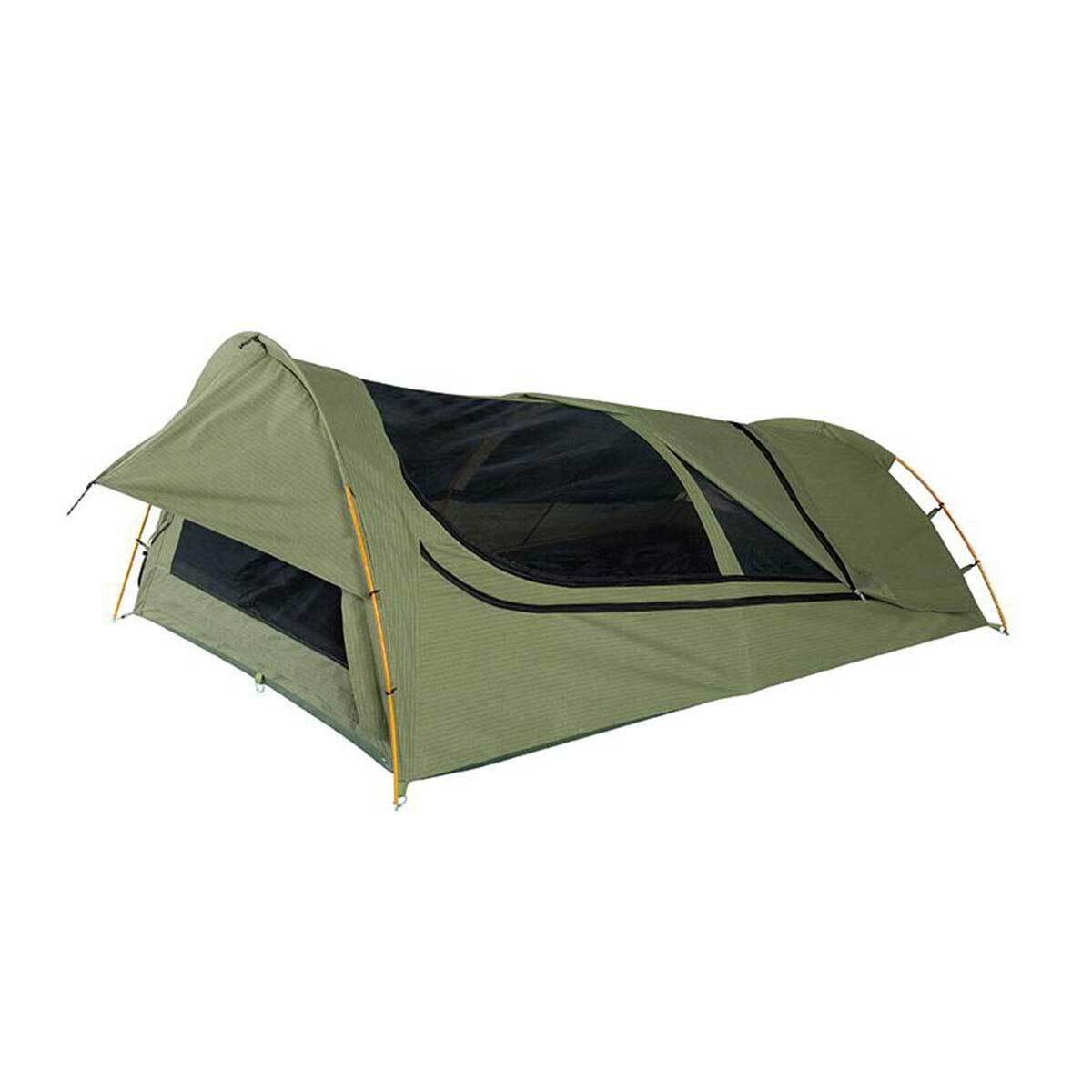 1Available in single and double
tough and reliable
High tensile poles
Full length opening
No See-Um mesh panels
Much more.......
Final Word
The Mitchell Expedition from Oztrail is great for occasional campers looking for a dependable swag without the hefty price tag. Its features and design are solid and simple, making it ideal for experienced campers and those who are planning excursions. Additionally, it's especially helpful in warm temperatures because of the swag's excellent ventilation. This swag provides great value for money, but it lacks the luxury of some other models with a more upscale style or a thicker mattress.