If you're into camping, then you know how handy a swag can be. But what if you're not alone or maybe need some extra space to sleep like a baby? Double swags offer the ultimate camping solutions if you have a partner or friend.
Double swags have been in the market for long and are increasingly evolving into different types, shapes, sizes, etc. Brands such as Darche swags are introducing comfy features whilst maintaining the core concept of the swags.
So, if you're looking to advance from a sleeping bag and advance to a double swag in Australia, then keep scrolling to find out. After hours of research on the internet and other sources, we've come up with the best double swags to keep you safe during those weekend getaway trips. Also, see our article on how to season a swag.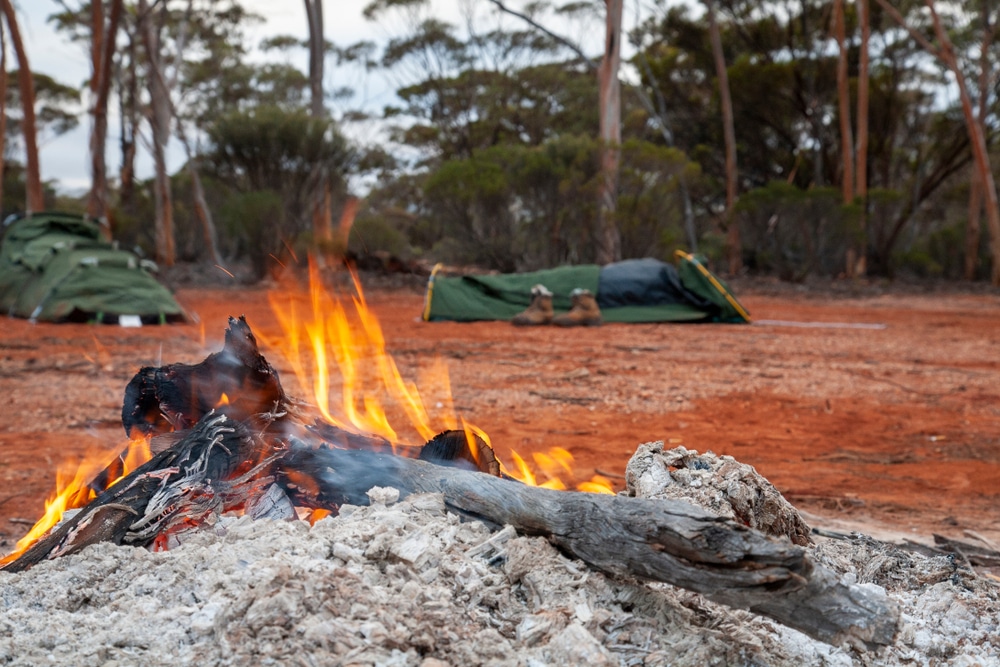 Our Top Pick: Weisshorn Dark Blue Double Swag with 7cm Mattress
For that all-round feeling, you need a reliable and durable tent that keeps you comfortable all night long. The Weisshorn dark blue double swag is the best double swag as it provides you with a robust and durable aluminium steel construction.
It comes packed with a thick 70mm high density foam mattress to keep you away from insects, water leakages in rough weather and provide your back with a comfortable position to lay on. After spending a night in the high quality swag, you won't feel tired.
The Weisshorn double swag is made with double stitched seams and breathable inner fabric to ensure ventilation is taken care of. Perhaps the highlight of this double swag is its UV resistant materials. It is made of materials that can keep you cool during warm weather. The 2 awning poles act as pillars and can handle the weight of the swag, especially in windy conditions. See our more comprehensive review of the Weisshorn swag.
Pros
Breathable fabrics
Thick mattress
Easy to use
Robust awning poles keep it sturdy
Spacious swag
Cons
Requires two people to set up
Best Budget: 4X4 Equip Dual Cab Double Swag
The XTM 4×4 Equip is one of our most affordable picks and the best swag in the market. It offers the same sleeping area as the Darche Airvolution but has a slightly bigger headroom vertically. In addition, the 4×4 is made with a high-quality 400 GSM ripstop canvas with double stitched seams to handle extreme weather conditions.
The swag bag with the 4×4 is not made from the same material, so it may not be as durable as the swag itself. It has lightweight poly-alloy poles that are not as heavy as most double swags in this list.
From its features, the 4×4 double swag is an excellent entry-level swag for beginners or first-timers. It is easy to set up in a few minutes and an ideal option if you occasionally go on field trips. Plus, it is definitely a pick for anyone looking to buy an affordable double swag at the price point.
Pros
Spacious and enough headroom
Easy to use
Affordable
Great for first-timers
Cons
Best Premium: Darche Airvolution AD 1400 Camping Swag
Another top pick is the Darche Airvolution AD 1400 Camping Swag.
It has revolutionized setting up the swag in a matter of minutes. It is so easy to set it up that even a beginner can get around it. Plus, the Air-Volution technology has one inflating point and a hand pump that can inflate the whole tent in 20 seconds. But that's not all that Darche did with this tent.
The deluxe double swag has added comfort and a two-way entry. It is built for rough conditions as the tent is made from a high quality canvas material. The dainty design of this camping swag makes it easy to set up or even fold away when it's time to leave. Plus, the inflatable poles are puncture-proof and ideal to use against different elements.
The inside has a high foam mattress that makes sleeping feel like home. Darche added lots of doors and windows in this swag, which means it has plenty of ventilation. While on a tour or camping, Darche products like this Airvolution swag will make you have a memorable experience and tuck in comfortably at night.
Pros
Robust canvas construction
Lots of windows and ventilation
2 year warranty
Single inflation point
Comes with hand pump
Cons
Slightly expensive
Challenging for a beginner to set up
OzTrail Mitchell Expedition Double Swag
The OzTrail Mitchell Expedition Double Swag is quite a simple tent to set up. It is built to perform best in warmer climates, although, due to its design, you can still camp in colder months. You can enjoy the night views while on it as the tent can be rolled back to unveil a transparent layer on top. It has a nice ventilation system to keep you comfortable and make your nights easy as you slumber in paradise.
Like all double swags, it is spacious enough to fit two adults at a go and comes with mesh panels to protect campers from extreme weather and insects. It is made of a light SatProof fabric and canvas.
The swag does not have a centre pole and instead uses three curved poles to utilize maximum space and give better access to the swag from the top. The pole design also keeps you comfortable inside without any muscle aches. You'll definitely have a good night's sleep on OzTrail's Mitchell Expedition double swag. Plus, it is cheaper than other swags and comes with a two-year warranty.
Pros
Amazing ventilation
Best for extreme weather conditions
Lightweight swag to move around
Has mesh panels for protection
Cons
Needs an extra hand to set up
Thin mattresses
AOS Tracker Double Swag Green
AOS is a well-known name in Australia, not for cutlery and knives, but some top swags for campers. The AOS Tracker double swag is an excellent option if you're looking for something comfortable and durable. It is quite easy to set up and best for warmer conditions. The double swag has enough space to fit two people or one person and a pet. For a memorable night, the swag gives you a fully enclosed sandfly-proof mesh that protects you from insects and, at the same time, gives you thrilling views of the night. You can always adjust the Tracker's mesh in case of bad weather or when it starts to rain.
AOS has bundled this swag with a carry bag to help you carry and protect it when moving around. The bag is big enough to fit any other extras that might go with your double swag, such as pillows or beddings.
Pros
Easy to set up
Durable construction
10 years warranty
Comes with a carry bag
Cons
AOS Bushman Deluxe Apex Swag
Another model from Aussie Outback Supplies (AOS) is the Bushman Deluxe Apex Swag. Just like other Bushman range models, it has a more traditional style and is a bit simpler than most dome swags.
The Bushman Deluxe has a sturdy design and is made with a 475 GSM polycotton canvas that gives you excellent protection from extreme weather and other elements. It comes with a thick 70 mm mattress to keep you comfy all night long. Plus, you can enter the swag from either side of the swag.
We'd love to highlight that a 10-year warranty from AOS covers the AOS Bushman Deluxe. Now, a warranty that long only means that the AOS is confident about its products and guarantees they'll last a while without major issues. But it seems you'll sort of "pay" for this quality as it comes with a high price tag. The dome swag is ideal for folks who want something long-term.
Pros
Accessible from either side
High build quality
10 year warranty
Thick 70mm mattress
Ultrafine mesh
Cons
Oztrail Cooper Expedition Double Swag
If setting up a swag has been a nuisance to you, and you're looking for something that you can roll up and tuck in, OzTrail Cooper Expedition Double Swag does it best. It is one of the simplest double swags in the market and the easiest to set up. Actually, it does not need any setup- you can roll it and get in.
The swag comes with a rope, double D-rings, strong pegs, and webbing roll straps. It is made of 230 GSM ripstop canvas for outdoor protection and a PVC vinyl base for protection against leakages and other elements from the ground. On top of the PVC is a 50 mm thick high density foam mattress with a head clearance of 32 cm enough to fit two adults.
If you're always worried about the weight of your swag, the OzTrail Expedition is lightweight and only weighs 5.2 kg. Plus, it comes with a one year warranty.
Pros
Affordable double swag
Requires no setup
Lightweight
Cons
Darche Nebula 1550 Swag
The Nebula 1550 is a hybrid 2-person, freestanding swag built for outdoor adventure. Its hybrid canvas is made from tough materials that make for a four-season functional shelter for you and your partner or pet.
The swag has different outlets, and each has flaps, and a mesh covering that prevents cold air from getting in when it is cold and lets it out when hot. The mesh also keeps insects away and gives you a nice view of the sky at night.
The swag has enough headroom as it stands one meter tall. This means people can sit upright when inside without touching the top part of the swag. It comes complete with a carry bag, although you'd consider carrying on a roof rack for convenience. Like most models from Darche, The Nebula 1550 comes with a PVC bottom to prevent water leakages in wet weather.
Pros
Extra room to change clothes
Mesh covering keeps bugs away
Entrance on four sides
Cons
Awning poles sold separately
What To Look For When Buying a Double Swag
It is impossible to find a one-size-fits-all double swag, so it's always a good idea to work out which swag is best for your needs. When purchasing the best double swag, a few things should pop up in mind:
How much space do you need?
Where will you be using the double swag, and in what weather conditions?
How fast do you want to set up the swag?
How long do you want it to last?
Such questions will give you a clear direction on what swags suit you. Nevertheless, when buying a swag for two, you need to look at specific issues. Here are the most common factors to consider when purchasing the best double swag in Australia.
Size
The length and width of a double swag are important considerations when shopping for these portable shelters. A traditional swag is typically 1.3 to 1.6 meters wide and choosing the best width depends on what you're looking for. Are you buying the swag for one person or a couple? Does it have enough room to change, or you don't mind? While many people think bigger is better, it doesn't work for everyone. Also, a swag's width is the length when rolled up. So a 1.4m wide swag will pack up to 1.4m long, which can be an issue if your vehicle's car boot is too narrow. But you'd still be able to mount it in a roof rack.
The length of the swag is another consideration. Standard double swags are generally 210 to 215cm long. This length should be enough to leave a gap between your head and the swag or your feet and the canvas. Additions like pillows should fit perfectly inside the swag. The idea is to feel as comfortable as possible with no claustrophobic feelings.
Swag Type
When talking about swag type, we mean the different versions of the double swag. If you look at older versions, they were sort of a canvas that could be rolled on top of the mattress. This wasn't effective as the bottom was left bare with the mattress alone. You couldn't entirely prevent bugs from coming in. These days, most of the double swags sold in Australia are dome-shaped, covering the whole mattress. The dome swag gives more space and prevents mozzies. How spacey it will be, depends on the pole structure, so keep this in mind.
Mattress Thickness
Yes. The thickness of the mattress will determine if you're going to have a rough night or not. Generally, a traditional swag in Australia comes with 50mm and 70mm mattresses. 50mm is enough to lay down but too thin to give you a good night's sleep. Manufacturers mostly make it this thin to cut costs. The 70mm mattress is better, and anyone weighing 90kg or lighter should be comfortable when sleeping on it. However, heavier people may consider larger 110mm thick mattresses offered in some swag brands. The only downside to such mattresses is how big they fold when rolled.
Materials
The materials used to make a swag should dictate how sturdy, long-lasting, and weatherproof the swag will be. Ideally, the best material for double swags is canvas, and it should have the following features.
Minimum 400GSM (grams per square meter) weight or an ideal 540GSM.
Needs to be sewn with high grade cotton that expands when wet to cement joints during rainy seasons.
Ripstop weaves help the canvas stay durable and survive even if a hole develops.
Mould resistance is essential as you'll sometimes find yourself packing swags when it is still wet.
Other materials used in making swags are PVC, polyester, and polycotton. Since PVC has better waterproofing and durability, it is used on swag floors to prevent bugs and keep the inside of the swag dry. Polycotton is a better alternative to cotton, as it is lighter, dries faster, and is more wear-resistant.
Also, check whether the material is UV resistant and how much it blocks sunlight. To check the weight and breathability of the swag, take note of the thread count. The higher the thread count, the heavier the double swag.
Swag Extras
Everyone loves the extra add-ons that make your swags more efficient and comfortable. While there aren't many, the several swag add=ons make your camping trips feel closer to home. They include:
Carry bag. Even if you intend to transport your swag in a roof rack or car boot, carry bags come as convenient pockets to keep your swag.
Storage pockets. To keep your essentials, phones, and other stuff in a safe place, a storage pocket would come in handy.
Awning. Most modern swags have awnings as it makes for a nice shade outside of your swag during hot weather.
Dual entry. This enables you to enter the swag from both sides easily. Some swags have more than two entry points.
Hand pump. If you have any inflatables, a hand pump is essential to setting up the swag.
Final Thoughts
There are lots of swags in the market, which makes finding the best one a tricky job. Luckily, we did all the legwork and boiled down to our list of top double swags in Australia.
Our winner was the Weisshorn Dark Blue Double Swag. It has sturdy construction with aluminium frames and full canvas construction. The double swag also comes with a 70mm mattress for that extra level of comfort.
If you're on a budget, the XTM 4X4 Double Swag is exactly what you need. A simple design with easy set-up, and you still get a decent value to money for this great quality swag.
One brand that didn't quite make the cut but was very close is the 23 Zero swag.
All in all, we hope this list of best camping swag gets you started in your journey to finding the best double swags for Australian residents. It is not exhaustive, and we'll update it as soon as better models come out. In the meantime, these are the most recommended double swags for camping and outdoor adventures.
FAQs
How do you choose the best double swag?
An ideal swag is durable, easy to set up, and comes with a comfy mattress. Swags made from top-quality canvas are the best. Also, ensure you buy swags from reputable brands like OzTrail, Darche, AOS, Weisshorn, etc.
Are double swags comfortable?
Double swags come with extra space for someone who needs more room or a couple looking to spend time together. The extra headroom makes them comfortable and easy to add a pillow or a few essentials.
Swags also come with mattresses to compliment the level of comfort. However, how comfortable it depends on the thickness of the mattress. They range from 50mm to 70mm, although there are queen-sized mattresses up to 110mm thick. But with thicker mattresses, the weight of the swag increases, which makes them less portable.
What are swags made from?
Swags are almost always made from polycotton canvas, and it comes with varying thicknesses and weight donated in GSM (grams per square meter or oz-ounces per square yard).
Are double swags waterproof?
Since most swags are made of polycotton canvas, they are waterproof when seasoned properly. Seasoning is a process done to make your swag more waterproof. It is done the first time you buy a double swag and then repeated every few years. Seasoning wets the threads and thickens them to become better at preventing leakages.
Are double swags warm in winter?
Double swags need to be thick to keep you warm in winter. That said, most canvas material is designed to be breathable, which negatively affects cold weather. Polyester is a better insulator than canvas, but it's still not popular.
If you want to stay warm in winter, look for double swags with thick canvas material. Getting a high-quality sleeping bag is also a better way to keep warm in winter.
Can you fix a sagging double swag?
Some cheap swags have a lot of issues, one of them being swagging on the sides.
Unfortunately, if you find your double swag sagging, there is no simple way to fix this. A few DIY fixes include putting plastic frames made from PVC piping inside the swags to prevent sagging.
How do you clean a double swag?
Swags are meant to protect you from bad weather and other external elements, so they'll get dirty after use. Not to worry, you can easily wash out the dirt from double swags using water. Avoid using the washing machine as the movement can destroy the swag.
If you have tough stains, try using a detergent, water, and a brush to scrub the dirt away.