Camping can be one of the most exciting experiences a child can have with their family and friends. Most kids are often excited to explore and discover all the things that new adventures have for them, which is why it's so important to get them the right gear to fit their needs.
The Right Sleeping Bag Can Make or Break the Camping Trip
Some of the most important items a child must get for a camping trip are camping sleeping bags. These items help keep your kids warm and comfortable on cold nights, allowing them to be fully rested and prepared for the next day. Swags are great, but they also need a good sleeping bag.
Find the Right Option for Your Child
It's important to note that not all sleeping bags for kids may suit yours. You must look for an option that can keep your child warm at all times and that they feel comfortable with. Choosing the best sleeping bags for your children can be a difficult task considering how many of them are on the market today. However, we want to help you choose a quality sleeping bag, which is why we made this guide.
Here, an Overview of Some of the Best Options for Kids
On this page, we're going to take a look at the best kids' sleeping bags, how you can choose the best one for your next family camping trip, and what are our top picks for this year. If you want to make your child's adventures even more exciting with a new sleeping bag, keep reading!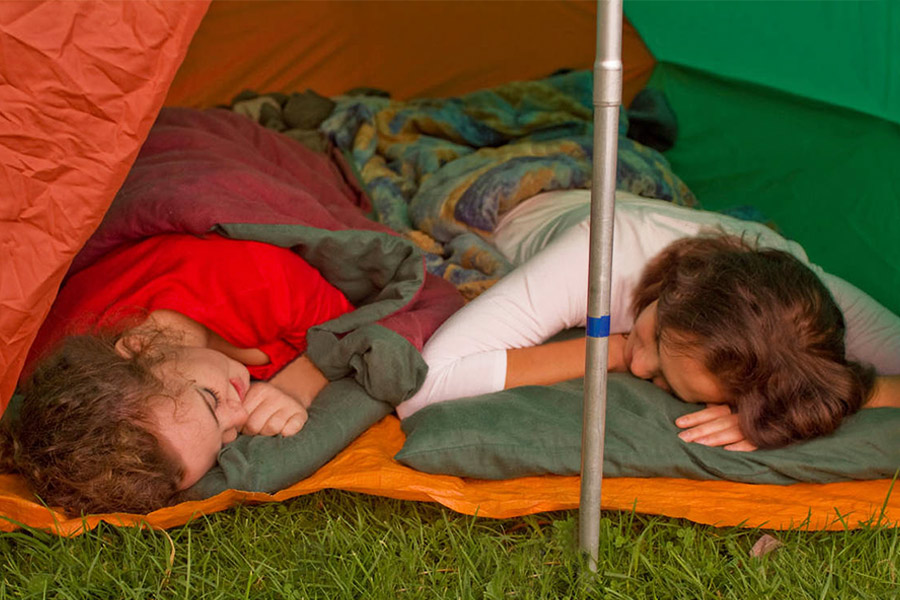 What Should You Consider for a Kid's Sleeping Bag?
As mentioned before, a kids' sleeping bag can come in several different sizes, shapes, and colours, which is why most parents have trouble finding something that helps their children on colder nights. However, there are some key points you may consider before choosing the best sleeping bags for kids.
Overall, keep some of these features in mind before making your purchase:
Pricing
Depending on the sleeping bags' features, you may find a considerably wide price range for some products. Keep in mind that all kids grow, so they may eventually outgrow their sleeping bags. If you're looking for expensive sleeping bags for kids, make sure to consider the factor stated before. There are several amazing sleeping bags for young children at a good price.
Sizing
As the name implies, you must find a child's sleeping bag that can truly fit your child. Some sleeping bag manufacturers create unique sizes for their products. However, other manufacturers create a variety of lengths so that you can get one that fits your child. Consider smaller sleeping bags if you're getting one for younger children. Still, if your child is already large, you may even consider an adult bag.
Zippers
While they may not seem that important, zippers play a big role in your child's comfort. Make sure the sleeping bag you purchase has a significant number of zippers to accommodate your kids' sleeping needs. On the other hand, ensure the zippers are high quality to prevent them from breaking in cold weather conditions.
Additional Features
Some products come with additional features if you're looking for a fully-equipped sleeping bag for kids. These features include double zippers, adjustable hood, stuff sack, warm flannel lining, quilted construction builds, and others.
Temperature Rating
Many sleeping bags for kids come with a different temperature rating to accommodate different weather conditions. In essence, if you're looking for your children to stay warm in extremely cold conditions, make sure to look for products with a higher temperature rating.
Should You Choose Down or Synthetic Insulation?
There has always been a debate on whether synthetic or down insulation is better for a sleeping bag. Synthetic insulation involves polyester where the purpose is to keep a higher weight-to-warmth ratio and provide more heat concentration on your body. On the other hand, down insulation involves an undercoating made from goose or duck plumage; this insulation type does a great job at providing heat, but it may not work as efficiently under humid weather conditions.
Both Options Have Pros and Cons
Both of these insulation types are equally good for keeping kids warm, but down insulating tends to be the preferred option among most people. However, synthetic insulating is typically much more affordable than the down version.
In the end, you must choose the option that you feel is more appropriate for your kids.
Best Kids' Sleeping Bags for 2021
Now that you know how to choose the best sleeping bag for your kids. It's time to review our top picks for 2021. These products were reviewed based on their price, size, temperature rating, and extra features.
Black Wolf Tuff Canvas Sleeping Bag
If you're looking for an all-around sleeping bag for your kids, this may be the right choice for you. Overall, it includes two compartments that your kids can use depending on the different climates they're experiencing. The "Synsilk" lined compartment is amazing for keeping your child comfortable under cold temperatures, whereas the flannel-lined compartment can be used to sleep in a super warm condition.
This is a Very Tough Sleeping Bag!
Black Wolf's "Tuff" sleeping bag gets its name due to its tough polycotton canvas and "tough zips." The entire sleeping bag was designed to protect your kids and itself from any external elements, which is perfect for tough weather conditions. This sleeping bag comes with an all-in-one pack and store carry sack, so you don't have to worry about transportation.
There are Not a Lot of Colour Options, Here
While this sleeping bag fits kids perfectly, it doesn't come in attractive colours, so keep that in mind when making your purchase. Other than that, this is a great sleeping bag your kids are going to love for both camping and slumber parties.
You can read more about this product here.
Big Agnes Kids' Duster Sleeping Bag
One of the best features about the Big Agnes duster bag is that it doesn't necessarily come in a "kids size," but it comes with a loop and closure system that allows smaller children to sleep in it without any cold spots. Additionally, the bag can expand as the kids get taller. In case you're looking for a kids' sleeping bag that can last for many years, this may be the best option to take since it was designed to grow with your child.
This is a Sleeping Bag that Grows with Your Child
Aside from the loop and closure system, this sleeping bag comes with a sculpted contour, which allows you to eliminate any extra air space between the bag and your child. Additionally, it also has a contoured hood that can accommodate your child's head without any problems. If your kids roll around too much while they sleep, this comfortable bag may be the solution to any comfort problems.
The Bag Comes With Extra Storage
This mummy bag features a mesh storage sack and nylon stuff sack, which is excellent for storing everything after you use it. Finally, this sleeping bag offers exterior loops for hang drying or storage. Overall, this is an amazing sleeping bag you can get for your child if you have the budget for it.
Read more about this product here.
Black Wolf Star 300 Sleeping Bag
The Black Wolf Star 300 offers the right balance between pricing and features for a sleeping bag. Overall, this rectangular sleeping bag comes at a decent length, meaning that it can fit both young children and pre-teens without any problems. One of the most remarkable features of this kids' sleeping bag is that it comes with a zipper that glows in the dark; not only is this feature practical for your children when they want to get into their sleeping bags at night, but it's also visually attractive for them.
You Can Hang this Bag and Air it Out Each Day
Additionally, this sleeping bag comes with a cord for hanging and airing, so you don't have to worry about putting your bag away for hanging the next day. As for the temperature rating, the Black Wolf Star 300 offers a -1°C rating, making it a great sleeping bag for any weather condition. In case you're looking for a bag that feels lightweight and can pack small, this is one of the best options you can get today.
Read more about this product here.
Basecamp 200 Mini Sleeping Bag
The Basecamp 200 sleeping bag is for those who are looking for a lightweight sleeping bag for their children. Overall, it's fairly easy to pack, it's insulated with hollow fibre stuffing, and it comes with a carry bag for easy storage. Keep in mind that this bag works especially well under warm nights, summer, and indoor conditions, but it may not perform as well under harsh weather conditions.
Great for Warm Nights
According to the manufacturers, this sleeping bag offers a comfort temperature ratio that ranges from 15°C to 5°C, which is perfect for most conditions. However, if you're looking for a product that can protect your child under extremely cold conditions, you may want to look for another product on this list; other than that, this is an excellent budget sleeping bag that your kids are going to love.
Read more about this lightweight sleeping bag here.
Pipsqueak Kids' Sleeping Bag
Another great option for camping in moderately warm conditions is the Pipsqueak sleeping bag. These sleeping bags offer recycled polyester fibres, which help them be a more sustainable product in the long run. Thanks to its rectangular shape, you can keep your children comfortable and warm on most of your camping trips.
Water Resistant Design
It's important to note that this product is water-resistant, so you don't have to worry about your kids getting soaked in water under some conditions. Additionally, the bag comes with two-way zip, allowing your kid to cool down by opening up the foot end. On the other hand, the bag's foot box allows your kid to move their feet freely without losing any warm air inside.
Hang and Dry
As with other products on this list, the Pipsqueak sleeping bag comes with hanging loops you can use to hang and dry it easily. If you're looking for a high quality, water-resistant product that can fit your child's height regardless of what it is, make sure to consider this product.
You can read more about this product here.
Roman Junior 400 Sleeping Bag
In case you're looking for a bag for smaller children, the Roman Junior 400 could be a suitable product for you. In essence, it features a 175cm length, a polyester shell to ensure good insulation for your kid, and cotton lining for extra comfort.
Easily Converts from a Bag to a Blanket
Additionally, the Roman Junior 400 comes with a full-length anti-snag zipper that can help you transform the bag into a quilt if you're dealing with hot temperatures at night. One of the best features of this sleeping pad is that it comes with a 0°C temperature rating, which is the lowest of this list; this makes it a suitable option for sleepovers and camping during every season.
Might Not Be a Good Choice for Tall or Older Children
The only downside to the Roman Junior 400 is that it's not suitable for taller children, reducing its efficiency rate. Still, it's an excellent and affordable option for those with smaller children. You can read more about this product here.
Wanderer Kid's MiniFlame Hooded Sleeping Bag
This is one of the best options for those looking for a decent price to value ratio. Overall, this bag comes with several interesting features, such as a 0°C rating, a polyester shell, a cosy drawstring hood, and a high-quality, anti-snag zipper that allows your child to get in or out of the sleeping bag as they please. As for transport, the product comes with its stuff sack, so you don't have to worry about anything regarding storage.
Best Suited for Smaller Children
As with the previous product, this bag is better suited for smaller children since it also features a 175cm length. Keep in mind that this bag comes with bright colours, such as blue and pink, that your kids are likely to love, making it a much more attractive purchasing option.
You can read more about this product here.
Apex Mini Square Patterned Sleeping Bag
The most remarkable feature about this bag is that it has the most stylish design among all the other products on this list. As mentioned before, kids tend to prioritize design and fun colours over everything else, so this product may be the one suited for them if that's what you're looking for, too.
This One Is Great for Cool, but Not Cold, Temps
Apex's sleeping bag comes with a rating that ranges from 6°C to 10°C, which is decent for regular camping conditions. Still, the bag may be occasionally used at -0°C, although the manufacturers established that the bag was not designed to be used all the time in that temperature.
Several Features Help This Bag Stand Out
This sleeping bag uses hollow fibre stuffing, two-way zip for better ventilation, and a rectangular shape for those who tend to move a lot in their sleep. Overall, this is a great option for warm weather camping trips, so if that's what you're looking for, you may give this product a try.
You can read more about this product here.
Frequently Asked Questions
Can You Put Sleeping Bags in a Washing Machine?
Most sleeping bags are machine-washable, so you don't have to worry about particular cleaning conditions for those. Still, some manufacturers recommend you not to place their bags in washing machines since they could damage the bag's materials.
On the other hand, some sleeping bags may be machine-washable but only for particular washing machines. In these cases, it's better to ask the manufacturer whether their products are machine-washable or not.
Can You Dry-Clean a Sleeping Bag?
Dry cleaning tends to damage the bag's loft and waterproof coating, so it's not recommended under most scenarios.
Bottom Line
As you can see, choosing the right sleeping bag for your children may not be easy at first. However, if you take your time to check each available option thoroughly, you're likely to find something that fits your child perfectly. If you're having trouble finding something for your child, we highly encourage you to check our list!