Those who love the great outdoors know that investing in a good tent is essential. While roughing it out on the ground the way camping was done traditionally may sound like fun, it isn't very comfortable and can help you quickly lose interest in camping or enjoying the Australian outback altogether.
Darche has dedicated much time and effort to designing products that are high-quality and functional. If you are interested in a Darche rooftop tent, here is all you need to know. We've also included Darche tents in our best rooftop tent available in Australia article, and have an article on the Darche Eclipse 270 awning.
Quick Comparison
What Is a Rooftop Tent?
Before getting into the tent review, it may be helpful to understand what a rooftop tent is. A roof tent is a vehicle accessory that can be attached to the vehicle's roof, allowing you to sleep in comfort and safety while leaving the internal space free. Roof-tents were first seen in Europe in the 1930s but have become a firm favourite amongst Australians.
They are commonly seen on expedition-ready four-wheel-drive vehicles, including Land Rovers, but can be installed on almost any vehicle. In most cases, they attach to the roof rack of the car or on the roof bars.
The Two Types of Roof Top Tents
There is a wide range of rooftop tents on the market, but most fall into one of two categories, namely soft shell and hard shell rooftop tents.
Soft Shell Roof Top Tents
These have a solid base and a fabric or canvas upper construction. When set up, they resemble a traditional tent but are mounted on a vehicle. This is the category where the Darche roof top tent appears.
Hard Shell Rooftop Tents
Hardshell tents are enclosed in a pod or hard shell, allowing users access through the top half that moves upwards on struts and hinges. These rooftop tents tend to be more expensive than soft shell rooftop tents and take up significantly more space on the roof, but they are easier to install, and many allow for the addition of accessories on top. Some examples of these tents include those made by Alucab and James Baroud.
About Darche
Darche made a name for itself in the outdoor equipment market more than 20 years ago when it first launched a dome-style swag. In addition to its tents and swags, Darche has since expanded its product portfolio to include outdoor furniture, sleeping bags, and other outdoor gear.
The company is proudly Australian and is well-known for producing high-quality goods that are functional. Most Darche products have become a firm favourite of people who live for recreational activities like fishing, camping, and touring the Australian outback.
Sleeping atop a vehicle also provides additional safety. It also keeps you away from bugs that tend to crawl around on the ground. While any rooftop tent can give this, the added peace of mind and comfort, and high visibility provided by a Darche rooftop tent are worth noting.
Darche Panorama 1400 Roof Top Tent
The Panorama 1400 rooftop tent was designed and built for Australia's harsh weather conditions. Featuring Darche quality and craftsmanship, this touring rooftop tent is durable and well-performing.
It has a low-profile pack-down styling that helps vehicle handling while producing less drag, and it features a zippered sunroof that lets you stargaze to your heart's content while improving airflow. Its lightweight aluminium frame lugs, plate base, and centre pivoting yoke offer outstanding strength while reducing weight.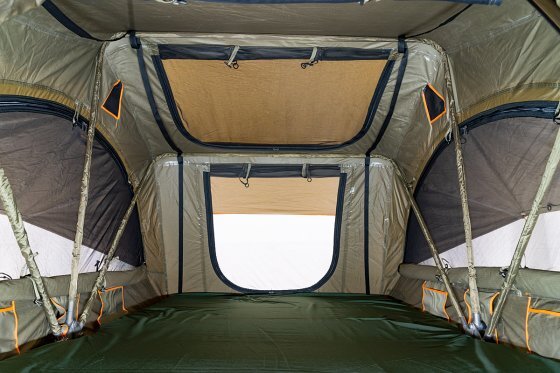 Features
Here are some of the features you can expect from the Darche Panorama 1400 roof top tent:
Compact aluminium checker-plate base with an orange coating
Canopy pole with an adjustable trigger lock
Made from waterproof canvas
All stress points have reinforced bar tack stitching
Center hinges made of stainless steel
Removable bungee cords with three attachment sites that encircle both side windows
Mounting kit, window poles, guy ropes, instruction manual, and pegs included
Telescopic ladder extendable to 2.3m to help you set up and get into the tent
Side windows, a canopy, and fine mesh to keep insects out
Aluminium frame
Zippered Darche panorama roof for stargazing and improved airflow
Water-resistant mattress cover
An adjustable fly aids in the prevention of condensation and the maintenance of airflow
Tonneau cover made of laminated PVC
Integrated air vents
Internal pockets for storage
Standard 50 millimetre foam mattress
Setup
This roof top tent is incredibly easy to set up. Unlike a Darche swag that requires a bit of know-how to get it going, this tent can be done relatively quickly by anyone.
Weatherproofing
Like all Darche Rooftop tents, the Panorama 1400 is made from weatherproof ripstop canvas that keeps you dry when it rains. The outer canopy also keeps rain away from you, while integrated air vents still allow air circulation.
It also features a fine mesh on both side windows that allows you to cool down during summer heat without being pestered by mosquitos. Additionally, there is a stargazing window, so you can get in as much air as possible to keep you cool during harsh weather.
Pros and Cons
To get a good understanding of whether this tent is suitable for you, here are a few pros and cons to consider.
Pros
Easy to install and use
Includes a mounting kit
Sky window for stargazing
Cons
It only sleeps two people, so it may not be suitable if you are travelling as a family
The mattress is not very comfortable, so you may need to add a self-inflating mattress
Dimensions and Other Specifications
The dimensions of the sleeping area of the Darche Panorama 1400 roof tent are 240 by 140 centimetres, with a height of 125 centimetres, which allows it to sleep up to two people comfortably. It weighs a total of 63.6 kilograms, is only available in the colour khaki, and comes with a three-year warranty.
Darche Panorama 2 Roof Top Tent
This Darche roof top tent has enough space for two adults and provides excellent comfort for sleeping outdoors. It includes mesh windows on both sides, as well as larger entryways in the front and back. It also has an upper window or sunroof, which, when the outer drop sheet is removed, improves airflow and gives you a great view of the night sky.
The Darche Panorama 2 roof top tent was built in China using Australian design and engineering. Its build quality is outstanding, and all fittings are made from high-quality stainless steel that has proven to be highly resistant to corrosion. Assembly instructions are straightforward, so even inexperienced travellers can set up this tent.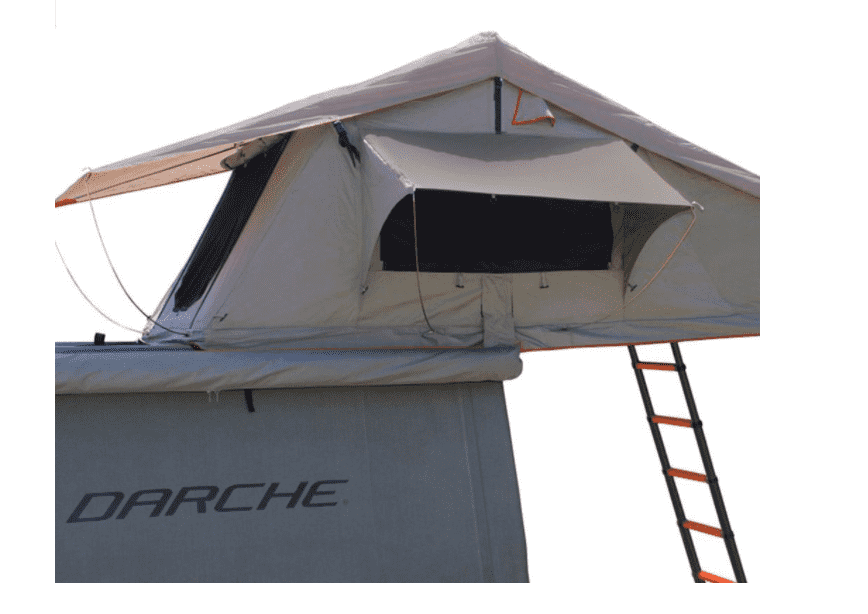 Features
The Darche Panorama 2 is a fantastic tent to take along with you on your next road trip. Here are some of its essential features:
Telescopic ladder ideal for vehicles with a suspension lift
Aluminium base plate
Sky-view roof for ventilation and stargazing
Annex entrance covers for additional protection from the elements (available at an additional cost)
Standard 50-millimetre-thick foam mattress (larger 65 millimetres also available)
Setup
Once you've mastered the procedure, you can set up this Darche tent in less than five minutes with two people, and just a little longer if you are alone. The Darche Panorama 2 has a base that folds in half to accommodate all mattresses within the tent, and it has two straps that hold both halves together.
It has a cross strap to keep the ladder in place. Slide the PVC cover onto one edge and zip the tent shut on the other three sides. Lastly, fasten two straps above the tent to prevent wind from filling the cover while it is in motion.
Weatherproofing
The tent's canvas and PVC makeup are of high quality and durability, keeping wind and water out of the rooftop tent even in inclement weather. Its zips work well, even in inclement weather, with no slipping or binding.
This tent's annex and cover are also weatherproof, with a PVC bucket floor on the annex and a PVC tonneau cover that have both been built to withstand the harshest climates. The Darche Panorama 2 has plenty of ventilation, thanks to the two openings on each side.
Its main entrance includes a one-of-a-kind panoramic sunroof with mesh lining that makes it ideal for hot nights. On cold nights, close the windows and sunroof to trap warm air inside, keeping you warm.
Pros and Cons
Here are a few pros and cons of the Darche Panorama 2 rooftop tent.
Pros
Offers comfortable sleeping quarters
Easy to pack up and set up
Great weatherproofing
Ideal for longer trips
Relatively lightweight
Great build quality
Cons
The mattress is not very comfortable, but you can choose a 65-millimetre replacement of using a sleeping bag or self-inflating mattress
Expensive
Low internally ceiling
Dimensions and Other Specifications
When set up, the Darche rooftop tent measures 240 by 140 centimetres and is 125 centimetres high. Its height is one of the lowest of the rooftop brands available in Australia. The tent's annex is 250 by 200 centimetres, and it offers extra storage space and shelter.
When folded, the Darche Panorama 2 has one of the smallest profiles for a rooftop tent, standing only 25 centimetres above the roof rack, a handy feature for those who want to reduce drag while driving.
This softshell rooftop tent weighs 63.6 kilograms, which is relatively light. Adding an annex increases the weight of the tent by about 7 kilograms.
The tent does not have a load rating, but rather, the limiting factor is the load-bearing capacity of your vehicle, as indicated by the vehicle manufacturer and roof racks.
Darche Intrepidor 2 or Intrepidpor 1400 Roof Rack Tent
Suppose you enjoy escaping the concrete jungle to follow the road, see attractions that no urban inhabitant has seen before, and sleep underneath the stars. In that case, you need a rooftop tent like the Darche Intrepidor 2 for your camping setup.
It has often been described as one of the best rooftop tents money can buy and is ideal for camping solo or exploring the wilderness with a partner.
The initial investment you make in this tent can be repaid in time saved setting up your sleeping quarters. It also provides excellent comfort and safety.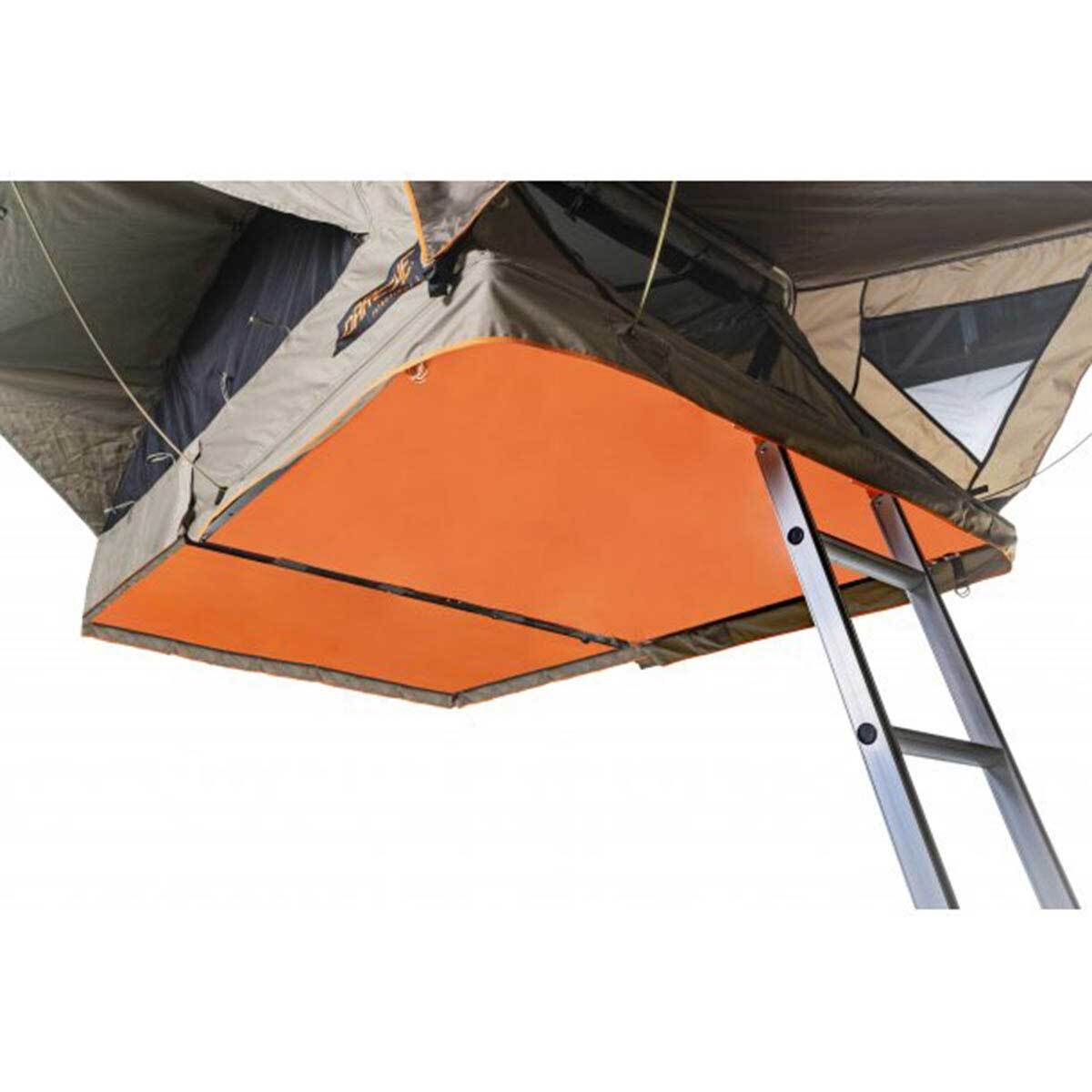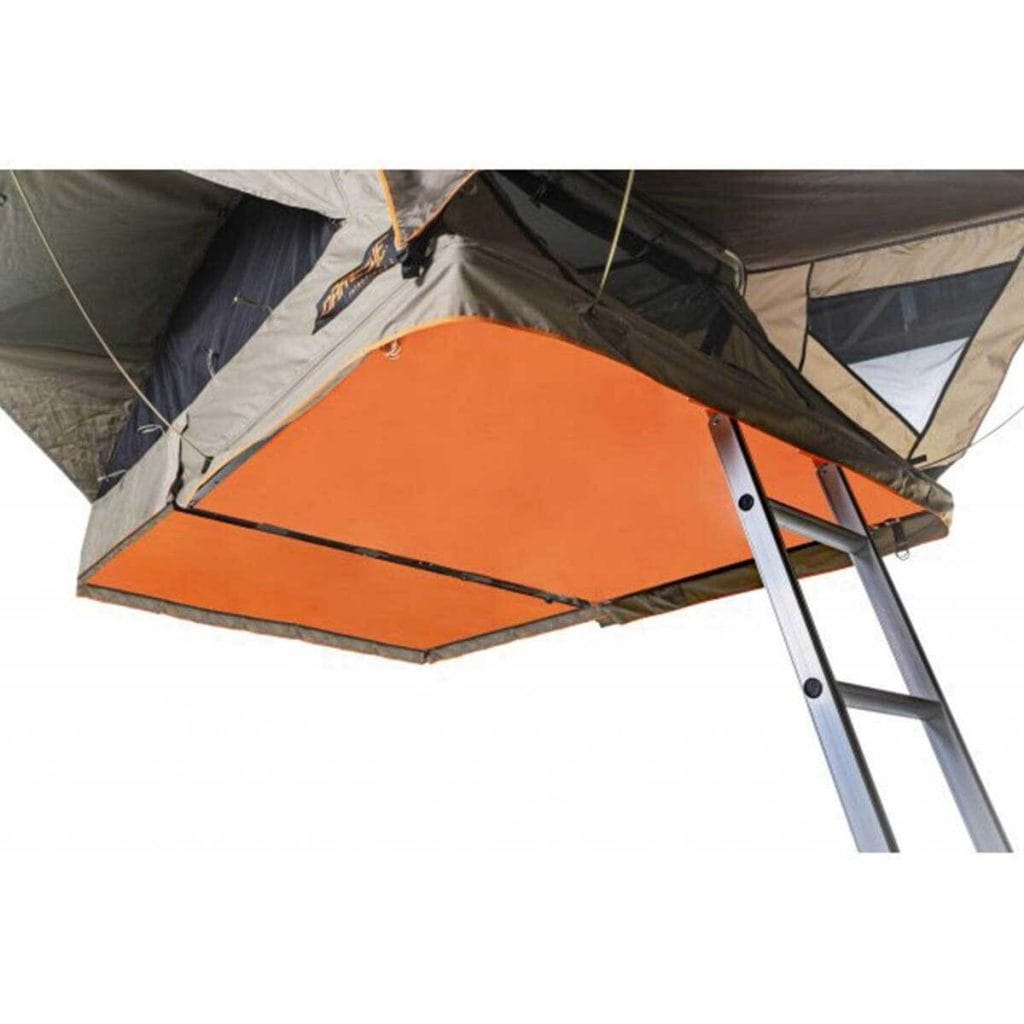 Features
Here are some of the key features you can expect from the Darche Intrepidor 2:
Stargazing roof
Modular design
Annex available at an extra cost
Sturdy mounting plates
Cover zipper
It fits snugly on roof racks
Setup
After the first installation, setting up this tent is a breeze, taking no more than five minutes. Unzip the cover, pull down the ladder, and push it into the ground at an angle. Once the ladder is secure, go inside the tent and insert the frame rods into their holes. Next, set up the tent's rods to hold the window covers open.
Weatherproofing
Thanks to its four large openings, the Darche Intrepidor 2 is well ventilated and can stay reasonably cool even on hot summer nights. If you go outdoors in the fall and spring, fasten the weatherproof covers in place to protect you from the wind and rain.
While it is excellent for most other types of weather, the ripstop fabric may not retain enough heat to keep you warm during a snowstorm. Even if you use an insulated sleeping bag, it is better to wait until the weather improves to go camping again.
Pros and Cons
Pros
Durable material
Easy to set up and pack up
Five-window ventilation system
Larger interior than other models
Lightweight
Cons
Shorter 2.1-metre ladder compared to other models
Cover zipper can snap on the canopy
Dimensions and Other Specifications
Dimensions and Other Specifications
The Darche Intrepidor unfolded is 240 by 140 centimetres, slightly narrower than a standard queen mattress, so it offers a comfortable sleeping area for you and your partner. All this extra space does not make it heavy, as the tent weighs a surprising 52 kilograms.
Conclusion
Finding a tent that can withstand Australian conditions is essential if you prefer the outdoors rather than the concrete jungle. Rather than a full-length tent that takes longer to set up, and offers much less in terms of safety, rooftop tents are a better option.
Darche has an incredible range of rooftop tents, so you are sure to find the right one for you.