Many tools are 'must haves' in the automobile world today. Air Compressors are one of those essential tools. Meanwhile, it's not just valuable for the automobile world; there are many other things these little machines can do, asides from tyre inflation. From outdoor campings to funfair parks, air tools and compressors serve as utility tools all round.
In this article, we'll consider the Dr Air 180 Air compressor as one of the best products on the market.
Best 12V Compressor
Award-winning AC495 PRO-FLOW
8 meter rubber hose
Inflates large 275/70R16 4WD tyre 0 to 42 PSI in under 3.5 minutes
Inflates average 215/55R16 tyre 0 to 42 PSI in just over 1.5 minutes
Many more features
Let's look at a few things that make a compressor and factors to consider when purchasing one.
Quick Link: Camp Outdoors has the best guide and an unending variety of tips for the best camper trailers. Check them out today!
What is a tyre air compressor?
A tyre air compressor's primary function is to inflate a tyre when the pressure is low. It can also aid in the restoration of a damaged tyre when combined with a sealant. Notably, the automobile tyre compressor may be used by just plugging it into a conventional cigarette lighter socket in the vehicle. The terminals linked to the battery can also be used as an alternative.
Many drivers worry about spare wheels, which dramatically limit driving comfort and should not be utilized on long routes. It just takes a few minutes to inflate a tyre on the road. After this period, you can safely continue your journey without encountering any issues.
The compressor is extremely easy to use and does not require specific skills. Furthermore, the compressor is a small and lightweight instrument that is easy to move around.
In an automobile, a tyre air compressor won't take up much room and will come in helpful when you least expect it. A traditional automobile pump requires the driver's power but this compressor when connected and started, the entire procedure is almost automated. It will undoubtedly be appreciated by those in poor health conditions, tired on the journey, and the elderly.
Quick Link: Get a unique short guide for buying your portable inverter generators at Camp Outdoors. Get in touch today!
Types of 12V Air Compressor
Twelve-volt air compressors come in a variety of shapes and sizes. But there are basically three types of 12v air compressors: single-stage, twin-stage, and three-stage. A single-stage compressor compresses the air in one cycle, whereas a twin-stage compressor compresses the air in two processes.
What separates these two types of compressors is what happens to the compressed air once it's created.
Single-stage compressors are the most common because they are economical and straightforward to maintain. At high pressure, any moisture that enters the cylinder during compression condenses.
Compressors with two stages pressurize the air twice, once in each stage. The first step is a high compression stage, during which moisture in the air may condense and be discharged from the system after passing through a wet/dry filter. Then to the second stage, which compresses and pressurizes the dry air. Air compressors from Dr Air are usually twin-stage compressors.
However, this method helps to remove any moisture from the air before it enters the tank. Therefore reducing the number of times you have to drain and dry your system. Compressors with two stages cost more than single-stage compressors. They do a better job of keeping their tanks clean and dry, resulting in higher air quality.
Image credits: Toughtoys
What are the advantages of a dual-stage compressor?
As 12v air compressors are powered by a 12v adapter (cigarette lighter adapter) in your automobile, they must be tiny and portable to be readily carried. For starting off, a 12v air compressor supplied by a cigarette lighter accepts amps between 10 and 15 amps. On the other hand, a twin-stage compressor uses only 5–7.5 amps.
Because they don't allow any condensation to build in the tank, twin-stage compressors recover faster than single-stage compressors. This enables your compressor to recover its high pressure considerably faster, which is essential when using it as a tyre inflator.
What is the distinction between a three-stage and a twin-stage system?
A three-stage 12v air compressor is superior to a twin-stage compressor in efficiency and air quality. A three-stage compressor requires the same amps to operate as a twin-stage compressor.
A regular piston cylinder is used in the first stage of the three-stage 12v air compressor. Cycling the air through the cylinder pressurizes the air similarly to a single-stage compressor. When pressurized air reaches the second stage, a piston diaphragm with an oil chamber is attached. The compressed air rises to vents in this chamber, which is charged with oil droplets.
This oil provides lubrication to your compressed air, preventing rust and corrosion, which is ideal for inflating tyres. A rotary screw compressor is used in the third stage of the three-stage 12v air compressor to pressurize the compressed air once more.
Is it true that three-stage compressors are more efficient than single-stage or twin-stage compressors?
Three-stage compressors are more efficient because they recover the air to its original pressure in just one cycle. In contrast, a twin-stage compressor requires two processes to reach full force. This extra step guarantees that your tyre is correctly inflated with oil-charged air.
Portable Air Compressors with 12 Volts
12v air compressors come with various attachments and nozzle tips that can be used to inflate tyres, air mattresses, pool toys, and other items.
Before you buy, double-check that all parts, notably connectors are included. 12v portable air compressor attachments are standard, but some models have unique attachments, so double-check. Some come with heavy-duty clamps that allow you to connect the air hose to the tyre valve without removing the connector.
Ensure you have a standard tyre pressure gauge in your vehicle toolbox when you need one. Some 12v air compressors include digital pressure indicators that allow you to keep track of your tyre pressure. The compressor's pressure gauge is nearly constant in the 20-50 psi range, which is ideal for inflating tyres.
What is the best compressor for a car?
When choosing a compressor, the capacity measured in liters per minute is a crucial factor to consider. It's important to fine-tune the compressor to the wheels so that you can swiftly inflate them if you break down on the road. Also, it is vital to invest in a device from a respected brand with good performance, so we can be confident it won't let us down.
It's often wise to look for a car tyre compressor that can satisfy a premium class expectation, regardless of what car we have – whether a larger automobile, such as an SUV, a luxury vehicle, or a classic small vehicle. It's also a good idea to look for a compressor that can satisfy your needs in any situation.
Check if the product has all of the necessary certifications and is approved for usage in Australia.
Factors that Determine a Good Air Compressor
Here are the factors to consider when choosing an air compressor for your needs:
The capacity of a tyre air compressor
The bandwidth determines whether or not the tyre will inflate. The higher the efficiency, the faster the flat tyre can be inflated.
It's also crucial to know how much current the compressor draws to avoid blowing fuses or damaging the cigarette lighter socket. Those designed for larger vehicles may cause damage to smaller vehicles if the installation is not appropriate. As a result, current and voltage should be considered while selecting a compressor.
Tyre inflation compressor certifications
The following are essential aspects to consider when building a compressor:
The compressor casing has information on how noisy the gadget is. The manufacturer states that his noise will not surpass the specified amount.
Certificate IATF 16949:2016
Choose a product from a company with this certification. All major automobile manufacturers demand it. It is owned by a corporation that manufactures high-quality products. It ensures that the manufactured product is reproducible instead of home-made products, which can vary significantly from one another. It also demonstrates that the company maintains high defect prevention and waste reduction standards.
Compatibility with Electromagnetic Fields
If you want the compressor to function with other electrical equipment and not damage the car's electronics, you should choose a certified device in this area. The EMC directive regulates the amount of electromagnetic radiation emitted by equipment.
Ease of Use
To sum up all, the use of an air compressor shouldn't be more complicated than these few steps:
Connect the compressor cable to the tyre valve
Connect the device to a power supply; the cigarettes lighter sockets or battery terminals with clamp
Turn on the compressor
Wait till the pressure reaches the recommended level.
Maximum Pressure
It's pointless to buy a compressor that can only inflate low-pressure toys if you want to inflate your tyres to 40-50psi. All you need for low-pressure pumping that requires a huge air volume is a lower pressure pump with a high flow rate.
There is no way to estimate flow rates without knowing the internal specs of the compressors. So check specs like the bore, rpm, internal design, air filter material, chuck type, stroke, wiring length, and pressure gauge. Note that even if several products are rated the same size or look-alike doesn't imply they have the same capacity.
Cycle of Duty
In a compressor, having a good duty cycle is critical. The duty cycle is the difference between when the pump is actually running and when it is not working when it needs to cool down. When you're attempting to fast pump something up, for example, two minutes on and two minutes off isn't ideal.
According to the manufacturer's specifications, the duty cycle is determined by dividing the run time by the run time plus the off time, multiplying the result by 100, and finally expressing the result as a percentage.
An internal thermal cut-out pressure switch prevents the air compressor's motor from overheating or burning out. You won't be able to regulate the thermal cutoff; once the tough unit reaches a predetermined temperature, it shuts off, leaving you twiddling your thumbs, waiting for it to turn back on.
Price
This is the most difficult one. We all want to save money, but we also want to get the most out of our purchases. According to your preferences, ensure that the air compressor can serve your needs before purchasing it.
Cord And Hose Quality
Another thing you need to consider is the quality of its cords and hoses. If the hoses aren't of excellent standard and quality, they can easily burst during use as high-pressure air travels through them.
Fortunately, Dr air compressors offer an excellent warranty for their products, which usually covers the kit's power cord and air hose.
Quick Link: It's not all about compressors! Look no further for the best camping equipment reviews. Hurry to Camp Outdoors and equip yourself for your next trip!
Dr Air 180 Review
The sole aim of the Dr Air 180 air compressor 12v is to inflate your tyres quickly. It produces 180 LPM, which should be sufficient for any large 4WD, and it only takes 3.5 minutes to inflate tyres. The compressor from Dr air compressors usually has a five-year warranty, with interesting other features.
It features thermal overload and circuit breaker protection and is housed in an ammo box for enhanced protection. Although it isn't the most powerful available, it is one of the most popular among off-road campers.
The product should cost around $270 – $300.
Description
The new Dr Air compressing unit based on the renowned AC495 Pro-Flow Air was recently upgraded to 180LPM from 150LPM. Weighing five pounds, this is a strong piece with tons of force. The AC685 was originally designed to perform severe off-road usage.
The new product has the same excellent features used on the predecessors like temperature overload protection and circuit breaker safety. 180 LPM inflating a 275 70 R16 4 wheel drive vehicle is amazingly fast.
Air compressors may appear similar, but they are not as robust and reliable as the Dr. air.
Other characteristics include:
An output of 180 LPM
At 0 PSI, CFM is 5.29.
It has a duty cycle of 45 minutes at 42 PSI.
Thermal overload and circuit breaker protection
Permanent magnet motor with 0.73 horsepower (0.54 kW)
Air tank or cylinder with a diameter of 60mm
Air filter built-in with 2-stage foam
8-meter rubber hose long, and a 12v cable with heavy-duty battery clips
Five-year warranty
Airflow at 0psi, and a max pressure rating of 180LPM for tyre inflation and air bed.
Ammo bag for storage and protection
Heavy-duty battery clips
Rubber feet with metal sand tray
Soft carry bag to move the device around
Pros
The built-in two-stage foam filter offers excellent protection from breakage
Unique inflation speed
The Air compressor from dr is specially designed for off-road users.
Cons
Air compressor pressure gauge readings are not precise
Tyre deflator is not hands-free; users must have their hands pressing down a button
Best 12V Compressor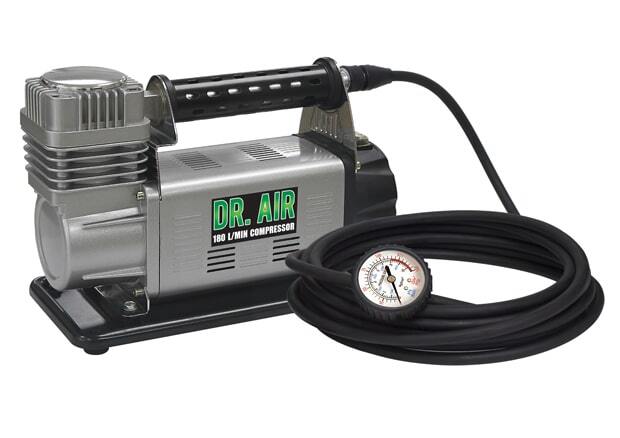 Award-winning AC495 PRO-FLOW
8 meter rubber hose
Inflates large 275/70R16 4WD tyre 0 to 42 PSI in under 3.5 minutes
Inflates average 215/55R16 tyre 0 to 42 PSI in just over 1.5 minutes
Many more features
Wrap Up
Whether the Dr Air 180 air compressor is the best for you depends on your needs. Nevertheless, after thorough testing and review, we can ascertain that it is one of the best 4WD air compressors on the market.
We hope this review helps you decide on buying the compressor that suits your needs and lifestyle.
Quick Link: Are you looking for the best outdoor tips for your family? Find the best collection at Camp Outdoors.
FAQs
What's the best 12-volt air compressor for your 4×4 off-road ventures?
In the realm of 4×4, there are a few necessities. It's not a negative thing that an air compressor exists because it can be helpful in a variety of scenarios other than tyre pressure. When choosing a compressor, it's critical to consider vital parameters such as airflow and maximum pressure. We'd want you to take a closer look at it in the following sections.
What maximum rubber hose length should I use with my air compressor?
This depends on the size of the air compressor and CFM required. Ensure to check the user manual or get another 8-meter rubber hose.
How long until a compressor is completely damaged?
The 4wd Dr Air Compressor will take a long time to pack up completely. About 6 to 10 years
How often should I service my compressor?
This depends on how often you use your air compressor. If it's only occasionally, then an annual service is recommended for your 4wd air compressor.
How often should I change the oil?
New oil is needed every 7000-8000 hours.
Do 12V air compressors work?
The twelve-Volt compressor is a cheap air compressor. The best 12-volt air compressor will work without the cost of an expensive more giant, heavier machine for quick clean-up or for filling.