Are you looking for camping equipment that can keep your drink cold and food fresh for a long time? Then perhaps you should take a look at the myCOOLMAN range of portable fridges. Some camping enthusiasts claim that myCOOLMAN is the best option out there. But, does it deliver on its claims?
Quick Stats
Great Value For Money
Money back guarantee
Rugged nylon exterior
Fridge / freezers
Great for camping and trips
Excellent value for money
Besides, myCOOLMAN locks horns with big portable freezer brands such as Evakool, Engel, and Dometic. So, does the myCOOLMAN fridge have what it takes to beat these biggies?
This myCOOLMAN review will analyze the fridge's clever features and innovative design. By the end of this review, it'll be clear if these fridges are a good company for your adventure or not.
So, without further delay, let's get started with the myCOOLMAN fridge review so you can get going!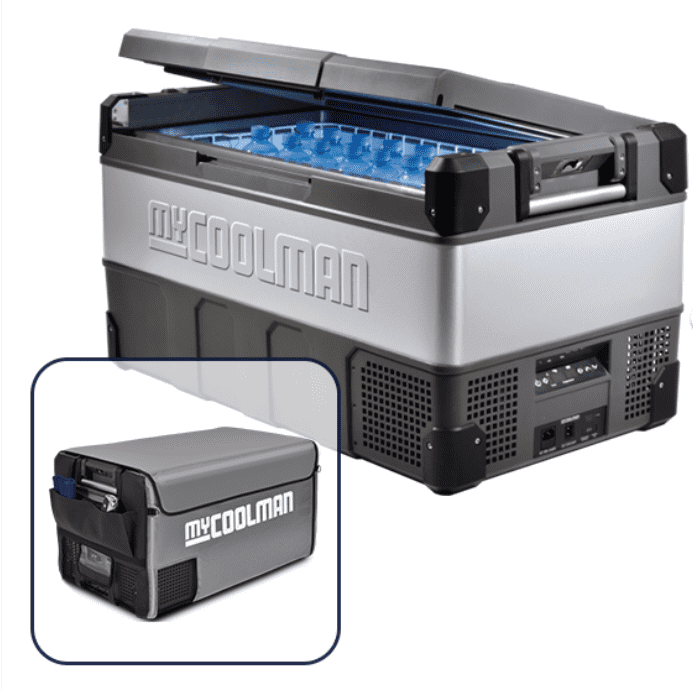 About myCOOLMAN
myCOOLMAN is a brand that exclusively deals with portable fridges and freezers. It is an Australian brand that entered the market in early 2019. The founders of myCOOLMAN were the brains behind the original Waeco fridge.
Despite being a new entrant, myCOOLMAN has a good share of customers. myCOOLMAN offers cutting-edge design and technology that makes your journey with food and drinks easier (and cooler!).
The powerful range of fridges can endure the demanding Australian conditions. One off-beat pointer about the brand is its patented blue compressor range. In short, myCOOLMAN is all about functionality and good quality.
Pros of myCOOLMAN Fridge
Size is apt for most cars
It comes with a 3-5 year warranty
Bluetooth connectivity is helpful
3-stage battery protection
Includes a water drain plug
Keeps drink cold for a long time
Power connection on both sides of the fridge
Some models come with a digital display
Long-lasting and sturdy handles
Cons of myCOOLMAN Fridge
Cheaper fridges with similar features from alternative brands are available
AC and DC power cables fall short in length for certain setups
A minimum ventilation of 100mm around all the vents is mandatory during operation
Not all myCOOLMAN units support a dual-zone setup
myCOOMAN Fridge – Is It Worth It?
In this section of the article, we'll rate the different aspects of these freezers. You'll come across a lot of additional information to help you make your decision. Let's see how the myCOOLMAN freezers fare under various parameters!
Design – Apt for an Aussie Camping Trip
Let's talk about design. This portable fridge uses a gunmetal-grey polypropylene durable case. The design is primarily smooth and sleek and has a modern appeal.
The manufacturer has made a great choice by including reinforced plastic in the edges, protecting the structure from bumps and dents. Overall, you'll feel they are pretty sturdy and always up for your new adventure.
The usual zone models come with two separate compartments for the fridge and freezer. Surprisingly, both the compartments have individual temperature control.
We also love the sturdy handles that sit flush with the rest of the fridge case. In simpler words, the handles do not stick out and occupy extra space. You'll also love the fridge all the more when we tell you that you can open the lid from any direction.
What we like the most about this portable fridge is the insulation which runs 60 mm thick. Along with the tight lid and insulation cover, the portable fridge does a pretty great job of keeping your drinks cold.
Wait, that's not it! The design also includes a 12V power connection on either side of the fridge. It means wiring and setup will not be as much of a trouble as you thought.
Likewise, the fridge also comes with bottle openers on both ends. If you inspect the fridge further, you'll also spot a helpful USB port(that can power your devices) and an emergency override switch.
Last but not least, there are bright lights in the interior that make the fridge's design even more stunning!
Temperature Settings – Cooler Than Most
Temperature control is one of the first features you should check out while buying a portable fridge. You can set temperatures ranging from -22 degrees Celsius to +10 degrees Celsius.
Most of the other coolers in the market offer a lower temperature limit of only -18 degrees celsius to -20 degrees celsius. So; you can rest assured and depend on myCOOLMAN fridge to keep your drinks cold.
You might have missed it in the specs list, but the fridge also has a turbo mode. This mode lets you boost the compressor speed. The portable fridge can quickly reach the set temperature from the ambient temperature thanks to this mode.
Next to the temperature control, you'll also spot an emergency override switch. You can use this switch if the temperature display is not functioning.
The emergency override pushes the compressor to run at full speed. It sure does sound like a great backup until the technician checks the unit. We appreciate having this emergency override feature as no other fridge offers it.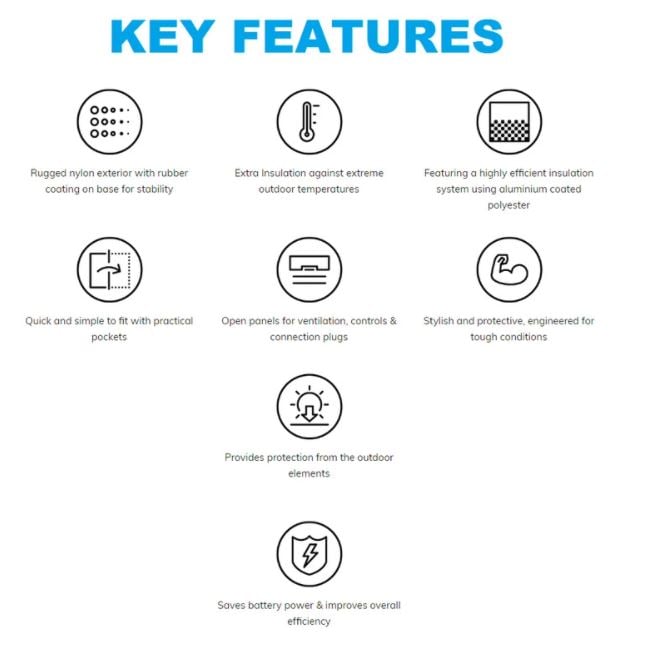 Power Specs – Pretty Solid!
Power specifications are yet another field where the portable fridge scores full marks! The myCOOLMAN gets our applause owing to its incredible power abilities. The units run on either 12/24 DC power or 100-240V AC power.
Before you doubt it, let us tell you that it has separate DC and AC power cables. The only downside we could spot here is the power cables being only 1.2m long. In certain circumstances, the power cord's length might fall short of what's actually needed. We suggest that you pre-plan your setup and purchase additional accessories and extension cables if needed.
You should also know that running the fridge in the dual-zone will consume twice the amount of power. Next, we love how the manufacturer has thoughtfully included a USB port for device charging.
We also want to highlight that the fridge has low-voltage battery protection features. This feature prevents the fridge from entirely draining your car's battery. There are three modes – low, medium, and high.
We suggest that you operate the portable fridge in high or medium when powering the fridge through your car battery. If you use a second battery to power the refrigerator, running the refrigerator on the lowest power setting is better.
Accessories
Insulating Cover
The insulating cover adds an extra layer of protection to the fridge. The cover will prevent your fridge from regular wear and tear and easy damage. Moreover, it restricts the amount of heat coming in contact with the refrigerator. As a result, the insulating cover adds to the ambient temp of the fridge.
Solar Panels
If you do not have access to power outlets during specific moments in your journey, consider equipping the fridge with some solar panels.
A solar panel will keep the battery charged throughout the day. Solar panels are also a good option for portable fridge owners who want to go off-grid.
myCOOLMAN Power Pack
Thanks to the myCOOLMAN power pack, you don't have to make trips while lugging around with a heavy battery setup.
The brand offers a 15AH power pack compatible with all their portable units. These batteries add to the portability of your fridge. What's more, myCOOLMAN also offers a one-year warranty on the power pack.
Below, we have mentioned the run time for different myCOOLMAN fridge models:
30 L: 18 hours
36 L: 18 hours
44 L: 14 hours
60 L:13 hours
69 L:13 hours
73 L: 11 hours
85 L: 8 hours
96 L:8 hours
105 L: 8 hours
Fridge Slides
Fridge slides make it pretty convenient to reach out to your drinks and food. You don't have to haul with the whole unit for taking out your food.
But myCOOLMAN does not come with such accessories. Nevertheless, the brand offers a helpful table that lets you check the unit's compatibility with other popular slides in the market.
What About Build and Warranty?
Most online reviewers claim to have chosen the product due to its exceptional build quality paired with the prolonged warranty. Here's our take on the warranty and build of this unit:
Warranty
The best part about bringing home a myCOOLMAN is that it comes with a generous 3-year warranty. Additionally, the compressors on the unit have a 5-year warranty. It is worth highlighting that most brands in the market do not offer this level of security.
Regarding the manufacturer's warranty, the product is at-par with Engel, Dometic, and other top-notch brands in the market.
Build Quality
The overall build of this product is much better than you would expect from a brand-new company. After all, this product has a German make! Besides, the online reviews do not have any complaints with the build by and large.
The workmanship on each unit is consistent and impressive.
FAQs
Are myCOOLMAN fridges any good?
Yes, the fridges are worth every penny. You can obtain great utility from the brand's cooling equipment. The fridge adopts advanced features and construction. Moreover, you can find many great features in the fridge which are not available in its rival brands.
Where are myCOOLMAN fridges made?
The myCOOLMAN units boast of high-quality German construction. Though the fridges are produced in German facilities, they comply and possess specifications apt for Australian conditions. The German engineering and production grant these fridges with sophisticated technology.
How long does the myCOOLMAN battery last?
You can enjoy a whopping 18 hour run time with myCOOLMAN freezers. Note that the run time offered by these fridges is much more generous than other high-end models.
Final Verdict – Should You Buy the myCOOLMAN Fridge?
After considering the different feature aspects of these fridges, we think that myCOOLMAN equipment will be a perfect pick for typical Aussie camping journeys.
Even though they fall in the higher pricing range, the quality and features make up for it. Besides, the portable freezer comes with add-ons such as charging ports, and bluetooth connectivity
It is worth mentioning that the many great features of the fridges dwarf the few downsides it has. So, if your pocket allows you to afford a myCOOLMAN fridge, don't give it another thought!
Great Value For Money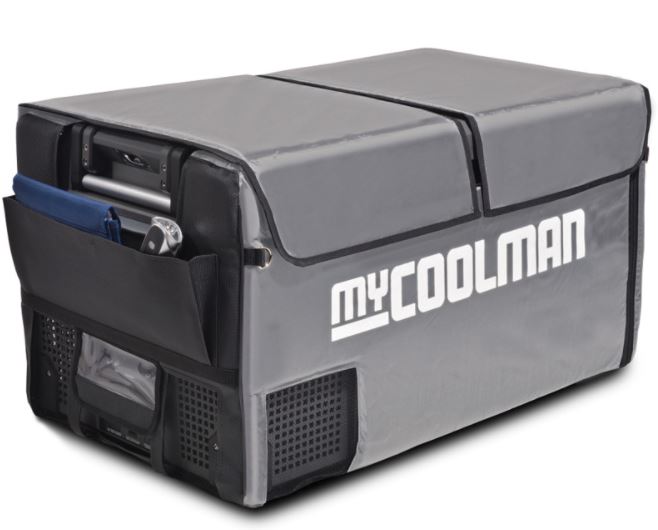 Money back guarantee
Rugged nylon exterior
Fridge / freezers
Great for camping and trips
Excellent value for money