Carrying bikes is crucial if someone loves the sport of cycling. The person may even need to transport one bike for a partner or friend when on a road trip into the bush. Likewise, adventures and camping on the road always end up having to go up hills with camp trailers in tow.
Most people, by habit, tend to carry bikes with them when they go camping. It provides the person with an additional activity to perform while enjoying their picnic or camping endeavors. If there are multiple people on the trip, the individual may even be required to carry more than two different bikes, including the children's ones.
With that said, most people have already wondered how to transport a bicycle on a camper trailer. While there are multiple ways to consider bringing a bike on travel trailers, some of the best options are mentioned below.
Popular Racks
Simple Ways of Carrying Bike on a Camper Trailer
Travel trailers or campers are non-motorized RV types that come in many styles and sizes. Most camper trailers comprise extra security through locking systems and are a breeze to set up for the average person. The size of one of these vehicles can range anywhere between 13 to 50 feet and can sleep up to 10 humans.
Well, if it's that big, it should also carry multiple bikes. That is an option, but it may not be the best solution to store the bikes inside the trailer if many friends share the space.
Use the Right Bike Rack
Perhaps one of the most common ways for carrying bikes on a travel trailer is using a bike rack. It is also one of the most convenient and safest ways to take a bike out camping and can sometimes carry up to four at a time.
Most bike racks offer people the simplest unloading and loading methods, which only take them a couple of minutes to complete. Besides that, bike racks feature customized straps and locks that aid the bike's stability when connecting to the camping trailer. If someone requires a secure, affordable, and durable option for transporting their mountain bike, this solution is perfect for them.
Nobody wants their bike to wobble and crash with their vehicle as that can damage the camping trailer and the bike's frame.
However, every bike carrier is different and designed to suit various users' needs, so some research is required to find the one to meet a particular requirement. These factors can determine which bike rack is suitable to carry someone's bike on a camper trailer along the highway.
Knowing how many bikes the individual wants to carry at once is the first step in finding an ideal rack for their camper trailer. Another thing to look at is affordability plus the user experience while attaching and removing the bike from the vehicle.
Unless the person has some help with the unloading and loading process of the bike, they may want to avoid utilizing roof-mounted bike racks. Other more easily accessible carrier options are tire mount, bumper mount, and hitch-mounted racks, all fantastic bike carriers.
Using a cover can provide a particular degree of protection for people who are worried about the natural elements ruining their bikes.
On the other hand, some bike racks contain a weak integrated lock system that could leave a person's bike prone to theft if they have pulled over on the side of the road for too long.
This article discusses various bike rack options to consider and lays out the details of each one so people can make an informed decision.
Hitch Mount Or Towbar Bike Rack
A hitch attachment is found on nearly any travel trailer on the market, and rightfully so. That is how a hitch mount frame can fit perfectly on almost any trailer and is ideal for carrying bikes on camper trailers.
It's also good to note that not every towing vehicle has enough space for a hitch installment. A hitch receiver should only be attached if the trailer is sturdy enough to carry more than a single bike at a time. In such situations, a trailer may be prone to damage under the weight of the bikes.
Besides the high stability and being extremely accessible to install, the most significant benefit of such a bike carrier is carrying up to four or five bikes safely.
Many people like the fact that a hitch can be mounted on a rear bumper, making it way more versatile in a range of scenarios. However, coupling a hitch mount to the trailer's bumper may not be the most fabulous idea.
Once the bikes are affixed, there is no telling how the bumper may respond carrying so much additional weight.
While traveling on the road, the attached bikes tend to sway, sometimes more aggressively on dirt roads. This can lead to potential damage to the bumper or the bicycle itself due to the extra downward pressure created by the contact.
Resolving this issue requires removing some of that downward pressure on the bumper by strapping the bikes to the travel trailer's side, which creates additional support for both the bikes and the travel trailer's bumper.
If the trailer is not equipped with a bumper compatible with a rear hitch attachment, a reliable and quick fix is a frame mount hitch receiver. Even then, the person would need a flawless welded bumper, with a dimension of four inches by four inches preferably.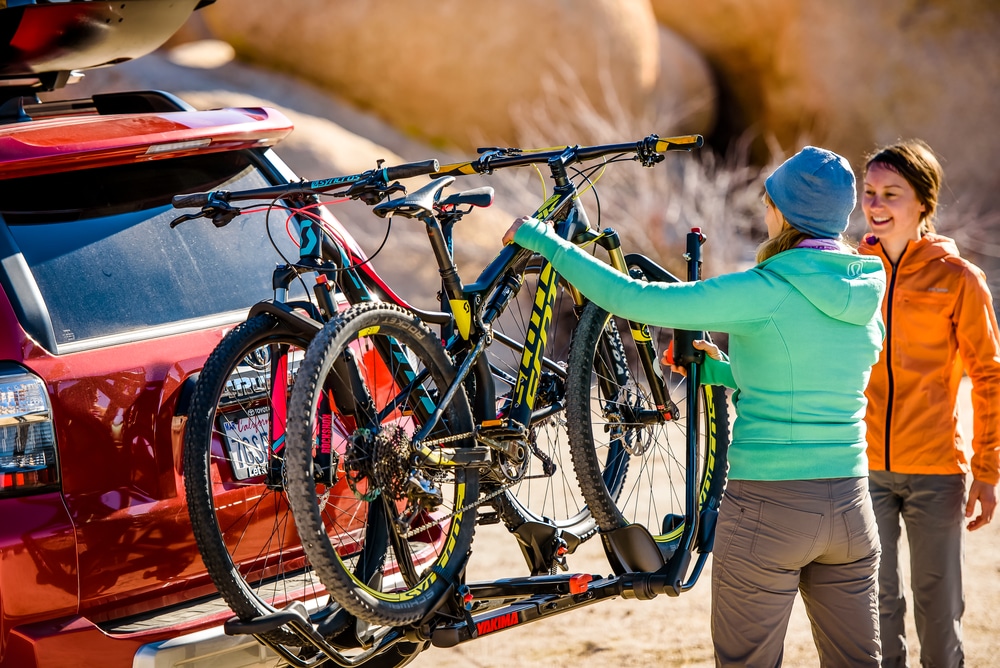 Bumper Mount Bike Racks
Bumper mounting bike racks are the most trusted and popular bike racks to use second to hitch mount alternatives. Unlike a hitch-mount rack, this bike rack does not require a receiver and has available hanging platform-style racks.
U-bolt attachments are required for a bumper mount bike rack to secure and load the bikes. Another advantage of having a bumper mount rack is its straightforward installation and keeping the rear area access free of obstruction.
People must remember that not every car is manufactured to carry a bike on the rear end. Bumpers with a four by four dimension range manufactured with superior-grade metal and a continual design can support a bumper-mounted bicycle rack.
The Roof of the Towing Vehicle
Many motorists prefer hindrance-free views on both the rear and front of their vehicle, especially when towing a significant thing like a camping trailer. If someone wants to ensure that no side of the car has obstructed access, they can rely on a roof rack to get the job done.
The name suggests that roof racks are a device that allows someone to mount a bike or two to the roof of the towing trailer. However, if the towing vehicle roof is high, it may make it challenging to unload and load the bike from the roof rack.
A single person may struggle to remove the bike from the roof rack without the assistance of a friend or ladder. That should be considered when traveling solo with a camper van or trailer.
This may not be an option though if you have a rooftop tent on your vehicle. In this case, other options would be better considered.
A-Frame Tongue Mount bike Carrier
The bike rack is fixed and bolted onto the tongue mount frame close to the top of the travel trailer's flammable gas tank. Furthermore, the tongue weight for these carriers is typically no more than two bikes and is used when traveling across the country for multiple days.
Motorists can watch the bike through the rear mirrors due to its position at the vehicle's back end.
This kind of setup may be a problem for someone who wants ease of hauling and more security. Removing the bikes can become arduous because the rack is hoven up so high on the tank. One person may find it challenging to complete the loading and unloading of the bikes from the tow vehicle.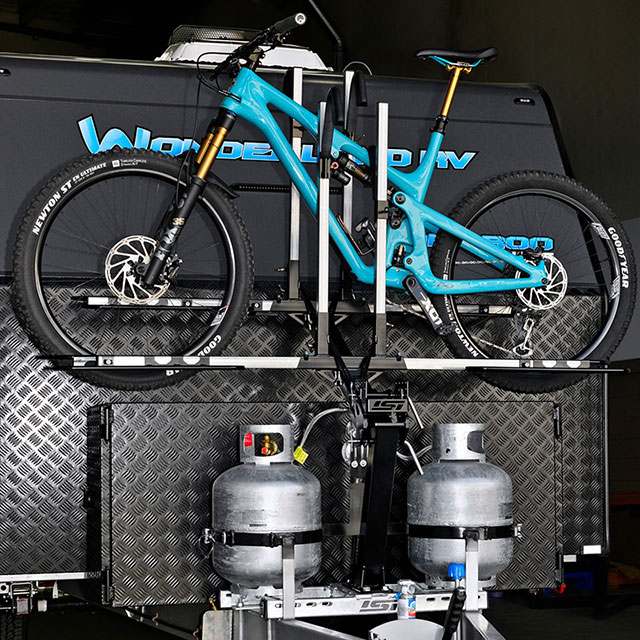 Use The Back Of Your Ute
It's not always the tow vehicles required to take all the burden of the added weight of bikes or other equipment like a spare wheel. In most cases, people use their pickup truck to tow around their camper trailer when road tripping with the family. Off-road camper solutions can be pulled on any terrain, but it must be done with the right vehicle.
If the truck bed is at least 85 inches in length, a person can carry bikes on the back of their automobile with ease. A smaller truck bed may require an automatic hitch to allow more flexibility during slopes and sharp turns. Additionally, truck mount bike racks can be used for extra steadiness and security.
One of the ways to keep the bike safe and damage-free is by using the vehicle's tonneau cover or putting the bicycles in bike covers. That can help protect the bike from damage due to the elements or gravel on the dirt roads.
Using a ladder bike rack can also work if someone wishes to carry multiple bikes on their truck while towing a camper trailer. The drawbar takes only a few minutes to install and can be especially useful for anyone with a car and travel trailer. It gives them easy access to their bicycles while towing at the same time.
A more solid option is not the hitch type but bed bike racks. These racks help keep a bike stable at the rear end of a pickup truck without compromising all available space. The double rail support of tonneau covers is also a viable option to store the bike under for total security.
Take It Inside the Camping Trailer
Generally, a travel trailer can easily accommodate more than a single bicycle because of the additional space inside of the vehicle. Although there are various sizes of camping trailers, the average size ranges from 13 to 50 feet. The most fantastic thing about carrying bikes and camping trailers is the security inside the tow vehicle.
Another great thing about transporting e-bikes on a travel trailer is that the windows, roof hatch, and door can be locked. That is one way to protect a bicycle or bike rack from theft, so it's something people should consider when traveling without a weight-mounted system.
What is excellent about transporting the bike in the tow vehicle is that it requires minimal effort from the person loading and unloading it. Some trailers have what people refer to as a bike door, which is a specialized area where the bicycle can be hauled into the trailer. This innovation has helped bicycle enthusiasts remove the effort of mounting a bumper or hitch attachment.
When a bicycle is stored in a vehicle, there is already a limited amount of space, whether looking for storage space or simply wanting to move when cleaning or cooking. If someone intends to use the washroom, the individual may have to move the bike to create room for the activities. However, a few modern campers contain a gear garage, which assists in solving the storage issue.
Final Thoughts
Whether using a roof, bumper, hitch-mounted bike rack, or optional extra hardcover set up to protect a bike when transported by car, it's crucial to find the one that suits the motorist's criteria. The way it's mounted to the vehicle or its wheels to support the distributed weight evenly.
It can also play a considerable role when taking tight corners when the bicycle's seat post is removed and attached higher up or stored on the back wall of the travel trailer. Lastly, people who want to save money and don't mind a minor inconvenience can throw their ride in the back of the trailer for the ultimate security.