Bribie Island is one of the most popular islands in Australia due to the history of the place and all the things you can do there. One of the main attractions of this Island is the Bribie Island National Park and the Bribie Island Caravan Park. Both offer you excellent things, but the former allows you to go camping there.
Camping is one of the most exciting things one can do by themselves or with their family, but it's often difficult to find a place to camp that is not that expensive and that is safe for everyone going there.
Fortunately, people can enjoy a safe and comfortable camping experience by going to Bribie Island. Bribie Island National Park features several camping areas, so you can choose the one you feel more comfortable with. Some of them even allow you to four-wheel drive there, which makes things easier when moving from one area to another.
Here, you can find everything you need to know before camping on Bribe Island. You can also find some information about Bribe Island Caravan Park. Naturally, fees apply for this park, and you need camping permits to park there. We also have a great article on Byron Bay camping grounds and the most popular camp grounds on the Gold Coast.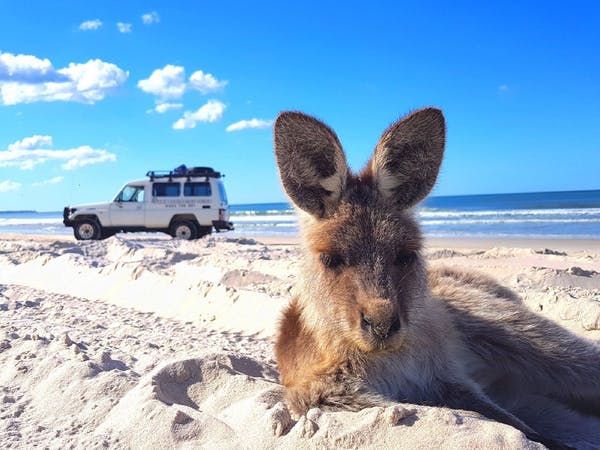 Why Should People Go Camping to the Bribie Island National Park?
As we mentioned before, it's not that easy to find camping areas that are safe and not that expensive for people to camp there. That's one of this park's strong points. You only need to pay camping fees, which are $6.85 per person and night, and $27.40 per family and night.
Park authorities consider a family a group of at least two adults with children under the age of 18. Children under five years old don't have to pay any fees, but you can't go with a group with more than eight people. If you, for example, go with two adults and three children above thirty, you'd be nine people in total.
Hence, you have to pay for the family fee and the fee of an additional person. Regardless of that, fees are reasonable considering how each area looks and all the things you can do while camping there.
Regardless of the budget you need to camp in Bribie Island, the best thing about this national park is all the different environments and areas it offers you. Beaches in this area are beautiful, and the weather is optimal for camping since it's neither too hot nor too cold.
Something that makes this park different from others is that some of its areas allow you to drive a four-wheel drive there, which is excellent to avoid losing a lot of time while moving through different areas. However, depending on the one you want to camp in, you may need to use a boat to get there.
Nonetheless, you need a vehicle access permit if you want to use your vehicles there. Unlike other camping spots that don't offer you anything, this park has things such as toilets, water taps, picnic tables, and fire rings available for its visitors.
Camping Areas in the Bribie Island National Park
If you want to go camping at Bribie Island National Park, this is the most important part of the page for you. Here, you can find a brief overview of what each camping area is and what all of them have to offer you. This park has five different camping spots.
Ocean Beach Camping Area
The park's ocean beach camping area may be the most popular and demanded camping spot in the park. This area's main appeal is its beach behind the dunes, which allows you to camp, boat, and even fish. You can also explore Fort Bribie's ruins when going to this area.
As we mentioned before, each camping area in this park offers several benefits, and the ocean beach camping area offers the most perks among them all. Read some of the things you can enjoy in this camping area:
Apart from that, this camping area is only three kilometres long, so you don't have to walk that much to get to your tent.
Take into account that you need a vehicle access permit if you want to camp in your camper or car.
Gallagher Point Camping Area
Unlike the ocean area, this is a bush camp spot, so you can go there to get in touch with nature and admire all the views of the Pumicestone Passage and the Glass House Mountains.
You can get to this spot by boat, canoe, kayak, or four-wheel vehicle. The only downside to this camping area is that it doesn't have any toilets or facilities, so campers should make their own portable toilets with them to avoid any issue. This is what the Gallagher Point Camping Area offers you:
You can set a campfire
You can go tent camping
Fishing, swimming, canoeing, and kayaking are allowed
You have wood-fired BBQ
Anchoring is allowed here
You can camp beside your car or four-wheel vehicle
You can camp inside your trailer
You can get to see the Pumicestone Passage
Poverty Creek Camping Area
What we know as Poverty Creek was a cattle property before. This is one of the largest areas in the park, and it's surrounded by shady trees. You don't have to bring portable toilets here since it has functional toilets and waste disposal centres.
This is what you can do there:
You can tent camp there
It offers cold showers
It has fire rings
It supports wheelchair access
You can boat, canoe, kayak, and swim there
You can camp in your trailer or beside your car
Mission Point Camping Area
Getting to one of the camping areas where you need to go boating, we have the Mission Point camping area. One of the best parts about this area is that it's far from all of the others, so it's perfect if you want to escape crowds and take some time for yourself and your loved ones.
In Mission Point you can:
Go anchoring
Use fire rings
Use picnic tables
Take cold showers
Boat, swim, fish, canoe, and kayak
Tent camping
Lime Pocket Camping Area
Lime Pocket is the last camping area in this park, and like the previous one, you can only get there by boat, canoeing, or kayaking. This may be the smallest area among them all, but it's the one that offers the best fishing possibilities. Here's what you can do here:
Go anchoring
Go swimming, canoeing, or kayaking
Using campfires
Camp on your tents
What About the Bribie Island Caravan Park?
Once on Bribie Island, you can visit the Bribie Island Caravan Park. Naturally, this park is more expensive than other Queensland national parks, but it offers several possibilities for people new to Bribie.
You can, for example, visit the Australia Zoo, Glass House Mountains, or even the Moreton Bay Region. The beaches in this park are beautiful, and you can choose from several suites and cabins to spend the night.
Final Thoughts
As you could see, you have many areas to choose from when talking about the Caravan Park and the National one. Regardless of the one you choose, you need to book a reservation before going, so make sure to do it.