Adelaide's diverse campgrounds are calling!
Whether it's the rustic charm of Gum Gully Heights in Rockleigh or the river views at Tailem Bend, you've got options.
Fancy a farm stay? Breakaway Farmstay has you covered. Or maybe city camping near Fleurieu Peninsula is more your style.
Remember to pack your adventurous spirit and respect seasonal fire bans.
Let's dive into Adelaide's best camping spots!
Key Takeaways
There are a variety of campgrounds available in different regions near Adelaide, including Rockleigh, Palmer, Waitpinga, Riverton, Tailem Bend, Bright, Pindari Park, Heyson Base Camp, and Marion Bay.
Each campground offers unique features and experiences, such as scenic views, opportunities to interact with farm animals, access to hiking trails, and proximity to attractions like vineyards and national parks.
Camping options in Adelaide range from traditional tent sites to glamping tents and unique lodging options, catering to different preferences and comfort levels.
The Fleurieu Peninsula, Barossa Valley, and Yorke Peninsula are nearby regions that offer additional attractions and activities, including beachfront walking trails, wine tasting, wildlife spotting, and outdoor adventures.
Exploring Rockleigh: Gum Gully Heights Campgrounds
If you're exploring Rockleigh, don't miss out on Gum Gully Heights. This hidden gem is one of the most serene campgrounds Adelaide has to offer. You've got 8 sites to choose from for your RV or tent, set on a generous 83 acres of land.
Nestled in the heart of the stunning Adelaide Hills, Gum Gully Heights Campgrounds offers an unrivalled camping experience. As soon as you arrive, you'll be captivated by the sweeping vistas of undulating hills and dense woodland that surround you. The crisp air fills your lungs and immediately soothes your soul.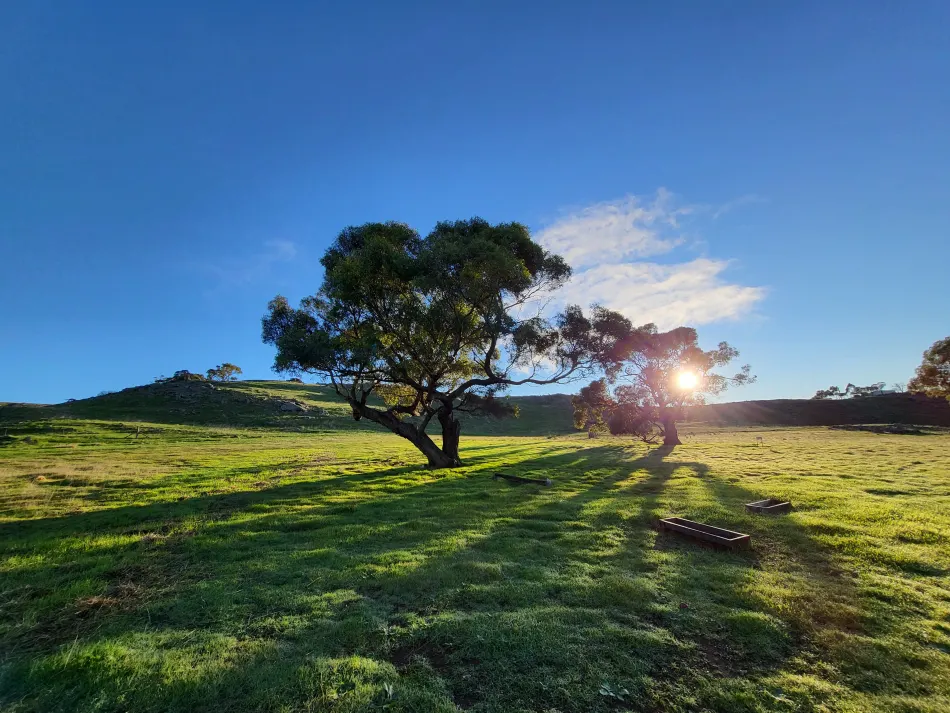 You can spend your days trekking through the verdant forest trails teeming with wildlife or simply unwinding under the shady canopy of towering gum trees. As dusk falls over Gum Gully Heights, prepare for an awe-inspiring spectacle when kangaroos emerge from their hideouts – a sight that truly epitomizes Australian bush camping.
Here at Gum Gully Heights, it's not just about connecting with nature but also reconnecting with yourself away from the hustle and bustle. So pack up your gear and start exploring Rockleigh – there's no better place for camping in Adelaide Hills!
Palmer's Hidden Gem: Currawong Corner
You'll love the abundant bird-life and well-sheltered sites at Currawong Corner, nestled on an impressive 86 acres in Palmer, SA. This camping site is one of Palmer's hidden gems, offering a relaxing environment where you can commune with nature.
The Wildlife: At Currawong Corner, you're not just a visitor; you're part of the landscape. Native wildlife such as kangaroos and echidnas roam freely around the campgrounds. Waking up to the chorus of kookaburras or spotting a family of currawongs foraging in the undergrowth is all part of the experience.
The Grounds: The campsites are spacious and well-sheltered, providing ample privacy for your stay. Each site has its unique charm – whether it's overlooking a gentle brook or nestled amidst towering gum trees.
Recreation Activities: There's no shortage of things to do here. From hiking trails that wind their way through native bushland to evening stargazing sessions by your campfire – every day offers a new adventure.
Currawong Corner isn't just one among many camping grounds Adelaide has to offer; it's an immersive wilderness retreat where you can relax, recharge, and reconnect with nature in its purest form.
Farm Stay Experience at Waitpinga's Breakaway Campgrounds
Breakaway Farmstay in Waitpinga, SA provides an authentic farm experience where you'll get to spend time with animals and enjoy the rustic charm of rural life. You'll wake up to the crowing rooster and quacking ducks, all while breathing in the fresh air that only the Australian countryside can provide.
This farm stay experience at Waitpinga's Breakaway Campgrounds isn't just about relaxation though. It's about stepping out of your comfort zone, trying new things, and making lasting memories. If you've never milked a cow before or collected eggs from a chicken coop, here's your chance!
The camping spots are generously spaced out, so you won't feel crowded even during peak seasons. Each site comes equipped with a picnic area perfect for family meals under the starry night sky.
And don't worry about roughing it too much – there are hot showers available! After an eventful day exploring Adelaide's countryside or engaging in various farm activities, nothing beats washing off the day's grime under a warm shower.
Edgehill Farm Stays: Riverton's Best Camping Experience
Edgehill Farm Stays in Riverton's a top choice for those seeking serene and beautiful camping spots. This idyllic location, nestled between the Barossa and Clare Valleys, offers you a unique fusion of tranquility and adventure. It's undoubtedly one of Riverton's best camping experiences.
Location: Edgehill Farm Stays is located on a 200-acre sheep and cropping farm. You'll wake up to stunning sunrises over picturesque fields and fall asleep under starlit skies.
Amenities: The campgrounds offer plenty of space for both RVs and tents, providing flexibility in your camping options. Facilities are well-maintained, ensuring your stay is comfortable.
Activities: With its proximity to Barossa and Clare Valley, wine tasting tours are an enjoyable outing. On-site, you can also explore the expansive farm or simply relax by your campfire.
The Edgehill experience isn't just about the best camping Adelaide has to offer; it's about immersing yourself in nature without sacrificing comfort or convenience. Whether you're seeking solitude or an adventure-packed getaway, Edgehill Farm Stays meets all expectations with aplomb!
Waterfront Camping at Tailem Bend's Holiday Park
If you're looking for a picturesque place to park your RV or pitch your tent, Waterfront Holiday Park in Tailem Bend is an ideal choice. Nestled at the heart of South Australia, this caravan park offers a serene retreat by the Murray River.
It's more than just a weekend getaway; it's a haven where you can unwind, reconnect with nature, and create lasting memories.
You'll be spoiled for choices with both powered and unpowered sites available. Each site is spacious, offering ample privacy while preserving that sense of community that makes camping so special. The vast expanse of the park coupled with its stunning river views guarantees an unforgettable outdoor experience.
Whether you believe in waking up to sunrise over the river or indulging in fishing during the day, there's no shortage of activities to keep you engaged. As night falls, gather around a campfire under the star-studded sky – it's simply mesmerizing!
Unplug and Unwind at Bright's Burra Creek Camping
Leaving behind the tranquil riverside vistas of Tailem Bend's Holiday Park, you now set your sights on a distinct camping experience, deep in the heart of Adelaide's luscious green landscapes. Welcome to Bright's Burra Creek Camping – one among the many campgrounds Adelaide has to offer where you can unplug and unwind.
Location – Tucked away amidst rolling hills and sprawling bushlands, you'll find this hidden gem. The serene atmosphere is punctuated only by the gentle burble of Burra Creek that meanders through the property.
Facilities – The camping facilities are all designed with your comfort in mind. There are numerous spacious spots for pitching tents or parking RVs, each featuring its own fire pit perfect for those cozy evening gatherings under the starlit sky.
Activities – Unwind from digital distractions and immerse yourself in outdoor recreational activities like hiking, bird watching, or simply relaxing by your personal fire pit.
The simple charm of picnic tables placed strategically around offers an ideal setting for communal meals or playing board games.
Pindari Park: A Cliff-Top Camping Experience
You'll find Pindari Park perched atop a cliff, offering breathtaking North and South views of the River Murray. This camp grounds in Adelaide provides an unparalleled cliff-top camping experience. Just a short drive from Adelaide CBD, you're transported to a haven of spectacular scenery. Imagine waking up to the sun rising over lush greenery and falling asleep under a blanket of stars.
Here's what makes this place stand out:
| | | |
| --- | --- | --- |
| Feature | Description | Benefit |
| Location | Cliff-top, overlooking River Murray | Spectacular sunrise/sunset views |
| Proximity | Close to Adelaide CBD | Easy access for city dwellers |
| Camping Experience | Spacious grounds with native vegetation | An authentic outdoor adventure |
| Scenery | Sweeping river views and local wildlife | A nature-lover's paradise |
| Activities | Nearby attractions like Cadell Ferry and Old Wharf Port in Morgan | A nature-lover's paradise |
Pindari Park is more than just your average campground. It's an escape from the everyday hustle, where you connect with nature without sacrificing comfort or convenience. So why not pack your tent and come explore? This cliff-top camping experience promises memories that will last a lifetime!
Heyson Base Camp: Blend of Camping and Farm Life
Next on your outdoor adventure list should be the Heyson Base Camp, where you'll get a unique blend of camping and farm life. This hidden gem amongst camp grounds in Adelaide gives you a chance to experience South Australia's national parks while embracing the rustic charm of farmland living.
Imagine waking up to crisp air, with sheep grazing nearby and birdsong accompanying your morning coffee. Here at Heyson Base Camp, that's just an average day!
The camp offers:
A slice of rural tranquillity within access to hiking trails.
An authentic taste of farm life complete with cattle, sheep, and horses.
Proximity to heritage sites in Burra and Jamestown for enriching day trips.
During school holidays, it becomes a haven for families seeking an education outside the classroom walls. Children have opportunities to learn about farming practices firsthand while developing a deeper appreciation for nature.
But don't worry if you're not traveling with kids; there's plenty here for adults too! From exploring the blue stone ruins near Dry Creek or hiking along the scenic Heyson Trail, every day brings new adventures at the Heyson Base Camp!
Marion Bay Bush Camping: Where Nature Meets Comfort
If you're into both privacy and wildlife, Marion Bay Bush Camping is a perfect choice for your next South Australian getaway. Nestled within 200 acres of land that was once used for grain and livestock, this bush camping site offers you the comfort of solitude amid nature's beauty.
You'll be sharing your space with local residents like kangaroos, emus, and various bird species. The campsites here are developed from naturally occurring breaks in the scrub, ensuring each spot provides ample privacy. It's as if every camper gets their own private slice of wilderness.
Don't worry about leaving civilization behind though. You're within easy reach of Marion Bay town center for any supplies or a quick bite at the local tavern. After all, who says bush camping can't come with a side serving of creature comforts?
With sunrises that paint the sky in shades unseen and sunsets that leave an ember glow on everything they touch, it's no wonder this place is one of the top campgrounds near Adelaide. So pack up your gear and head to Marion Bay – where nature meets comfort in an unforgettable bush camping experience.
Popular Questions
What Are the Pet Policies at the Different Campgrounds in Adelaide?
You'll find varied pet policies at Adelaide's campgrounds. Some, like Levi Adelaide Holiday Park and Hindmarsh Island Caravan Park, warmly welcome pets. However, others may restrict or not allow pets. Always check before booking.
Are There Any Campgrounds in Adelaide Specifically Designed for Disabled Access?
Yes, many Adelaide campgrounds provide disabled access. For instance, Levi Adelaide Holiday Park and Brownhill Creek Caravan Park have facilities designed for accessibility, ensuring a comfortable camping experience for all visitors.
Can Campfires Be Made at All the Campgrounds Around Adelaide, or Are There Any Restrictions?
You can't make campfires at all Adelaide campgrounds due to safety regulations. Always check the specific rules of each site, as restrictions often apply during summer and times of high fire danger.
Do Any of the Adelaide Campgrounds Offer Guided Tours or Activities?
Yes, some Adelaide campgrounds offer guided tours and activities. For instance, Breakaway Farmstay in Waitpinga provides a unique farm experience with animals. Always check their official sites for the most current offerings.
What Are the Booking and Cancellation Policies for the Campgrounds in Adelaide?
You'll find that each campground in Adelaide has its own booking and cancellation policies. It's best to check directly with the chosen site for specifics, as they can vary widely from place to place.
Conclusion
So, you're all set to explore Adelaide's camping scene!
From the serene Gum Gully Heights in Rockleigh to the vibrant Waterfront Holiday Park at Tailem Bend, there's a site for every camper.
Remember, spring and autumn are ideal times for an outdoor adventure.
Don't forget your personal vehicle and respect all fire bans.
Happy camping!